REAL MADRID
Real Madrid turn to Chukwueze
Los Blancos need goals added to the team and are interested in the situation of the Villarreal player, whose contract ends in June 2024.
During the summer of reconstruction and thorough market analysis, Real Madrid is faced with the departures of Karim Benzema, Marco Asensio, and to a lesser extent, Eden Hazard and Mariano Díaz. This necessitates a significant effort to replenish their attacking options. At present, Vinicius and Rodrygo are left as the only options, with Joselu's arrival and the club's plans for Brahim's return eagerly anticipated. The top priorities to strengthen the forward line are Harry Kane and Kai Havertz, but additional signings will be required for a complete rebuild.
One player that Los Blancos are closely monitoring for this is Samuel Chukwueze. As AS has learned, Madrid has approached Villarreal to inquire about the winger's availability. Chukwueze, a 24-year-old Nigerian, is set to complete his contract with Villarreal in 2024, making this summer an opportune time for the groguet club to secure a transfer fee, potentially in the range of €40 million (c. $43m).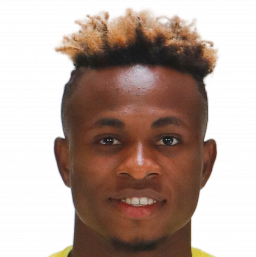 Chukwueze shines at Bernabéu
The impressive exhibition of Chukwueze a couple of months ago at the Santiago Bernabéu did not go unnoticed within the offices of Real Madrid. The Nigerian forward had already scored a goal against Carlo Ancelotti's team in a Copa del Rey match, but it was at La Castellana Coliseum where he truly dazzled and made his mark. After effortlessly bypassing Nacho in the penalty area, he leveled the score to 1-1, ultimately sealing Villarreal's victory over Real Madrid in Chamartín (2-3) with a powerful long-range shot that eluded Courtois. This outstanding performance was duly noted by the decision-makers at Valdebebas.
The potential arrival of Chukwueze would undoubtedly intensify the competition for the right flank. The versatile Rodrygo has been settling into that position but has shown his adaptability across various roles. Additionally, there is the possibility of having a number 9 like Havertz, who is also capable of operating on the right side. Furthermore, the situation regarding Brahim is yet to be resolved. Although he has excelled as a midfielder during his loan spell at AC Milan, his preferred position doesn't align with the 4-3-3 formation that Ancelotti has been employing.
Chukwueze's contract renewal at the end of 2019 established a release clause of €80 million (c. $86m). However, considering the proximity of the end of his contract, the price is likely to decrease. Last summer, Villarreal received an offer of 20 million from Everton, which they ultimately turned down. The valuation has since increased. Initially, Chukwueze's role in Unai Emery's plans had diminished, but with the arrival of Setién in October, his situation took a positive turn. He regained prominence and delivered impressive performances on the field.
Chukwueze's numbers in Villarreal
Chukwueze's last two goals at the Bernabéu marked the end of a remarkable season for him, during which he accumulated 13 goals and 11 assists in 50 games, totaling 3,262 minutes on the pitch. This has been, by far, his most successful campaign, as he had never reached double digits in either goals or assists before. Consequently, his market value is estimated to be around the 40 million stated above. This figure would equal the highest transfer fee in Villarreal's history, previously set by Bakambu.
In a recent interview with El País, Chukwueze expressed his desire to stay at the club until his contract expires in 2024, highlighting the positive relationship he has with the Roig family, who own Villarreal. He also emphasised his intention to ensure that the club receives a substantial fee if he were to leave, acknowledging their good treatment and support throughout his career.
After the conclusion of the season, Setién expressed his feelings regarding Nicolas Jackson and also extended his regret towards the situation concerning Chukwueze. Setién stated that Jackson would need to make a decision about his future and that while they would love for him to stay, they also acknowledge the possibility of his departure. The same sentiment applies to Chukwueze.
Setién further commented on the nature of the club, explaining that it is inevitable for some players to be transferred. However, he emphasized the importance of enjoying the presence of these players while they are still at the club and appreciating the contributions they have made, including those of Chukwueze, even if they may not be there in the following year.
The making of Chukwueze at Villarreal
Chukwueze became a part of Villarreal in 2017, when he was just 18 years old, after joining from the Diamond Academy in his hometown of Umuahia. Approximately a year later, in September 2018, Javi Calleja provided him with an opportunity to make his debut in the final minutes of a Europa League match against Rangers (a competition he would later go on to win with them in 2021). At that time, he was 19 years old. During that season, he continued to play for the reserves, but he started to make a more significant impact with the first team than with the B team.
Over the course of the past five seasons, Chukwueze has made 207 appearances for Villarreal, scoring 37 goals and providing 27 assists. His standout performances in the recently concluded season have not gone unnoticed by Madrid, and their interest in the talented winger has been lodged.