Real Madrid vs Athletic Bilbao summary: score, goals, stats and highlights, LaLiga Santander 2022-23
Goodbyes, goals and questions
On a night when most would have been expecting something more akin to a testimonial styled match, Real Madrid and Athletic Bilbao put on an intense but tidy demonstration of how to play counter attacking football.
Indeed, it was the visiting Basques who were rewarded early in the 2nd half when Sancet - a problem for Madrid all night - controlled a lovely pass from the right side in the box. His initial shot was blocked, but the midfielder made no mistake with the second, such that Courtois could only watch helplessly as it flew into the roof of his net.
Yet, tonight's game will likely be remembered for one single thing, and that's the fact that it was Karim Benzema's final game for the club to which he has given so much. Across his 14 seasons in Madrid, there was literally hundreds of goals, a plethora of titles both nationally - La Liga - and continentally - the UEFA Champions League - as well as Ballon d'Or trophy in 2022.
Fittingly, the 35-year-old was given the task of equalizing for Madrid from the penalty spot after, a foul on Militao in the Bilbao's area. As expected he converted and the entire stadium rose to its feet to pay homage to their star. Even some Bilbao players could be seen applauding the Frenchman. With that, it's also worth mentioning that the night marked the end of Marco Asensio's time with the club as well. The young Spanish international will be playing with PSG in France's Ligue 1 from next season, having recently signed with the Parisians.
As we look forward, to the coming campaign, the immediate question that comes to mind is how will Real Madrid replace Karim Benzema, as well as the other key positions in which they starters are beginning to show signs of age. Following the convincing beating that they received at the hands of Manchester City in the Champions League, these questions will soon become more pressing than ever as Europe's most successful club looks to get back to winning ways. As we always watch this space. With that, we wish you a good night and thankyou for joining us!
Benzema's last goal for Real Madrid
The Frenchman was given the honor of converting from the spot. It was the last time he will do so for the side with which he's won everything there is to win. Again, what a player and what a career.
And that's a wrap folks! It's ended 1 - 1 in the Spanish capital between Real Madrid and Athletic Bilbao. Though there weren't many goals to speak of, it was without doubt and exciting match.
90+4 the corner is taken quickly and it's Nacho with a shot from distance but it's way too high.
We're approaching the end of stoppage time and it's still Bilbao in possession., but they're finally halted and Madrid mount a counter through Vinicius Jr., who sees his shot from close range blocked at the last minute. A Madrid corner.
A lovely effort from Williams brings a save out of Courtois, but the ball is only cleared as far as the midfield. Bilbao at it again.
Off we go again and it's Toni Kroos who tries to work some magic, but his long angle pass finds nobody. Bilbao to begin anew.
Marco Asensio leaves the field to a standing ovation. As mentioned before he will leave the club when the season concludes, to begin a new adventure with PSG. It's Lucas Vasquez who comes on his place.
We will have 4 minutes of stoppage time.
As we approach the 90th, it's Bilbao with a deep free kick into the box - too deep in fact. Madrid with the goal kick as we enter the 90th.
Incredible work from Vinicius Jr. on the right side. The Brazilian glided past his marker to run along the by-line, but his cut back to Tchouameni is only ruined by the fact that the latter can't quite direct his shot on goal. It lobs over the bars.
What a lovely piece of skill by Munian in the middle to evade Tchouameni, who should have been booked for repeatedly holding him, but nothing in the end. Bilbao continue.
Rodrygo is unleashed down the left, but he quickly plays to Modric in the middle who changes to Carvajal on the right. The right back's cross is intended for Vinicius Jr. but it's too long. The Brazilian goes down and seemingly wants a penalty. Nothing.
Bilbao are not lying down as Berenguer and Williams combine on the right side. They're causing real problems now, but in the end are forced out of play and it will be a goal kick to Madrid.
Carvajal is booked for a harsh foul on Vencedor
Tchouameni's ball from the right side is too long and it will go out of play. Bilbao take the resulting goal kick short and immediately launch a counter, which almost sets Munian free, but it's just too long.
In the end the switched ball is too long and it will be a Bilbao throw from the left side, it's quickly taken and lost.
We're now in the final 10 minutes of the match and it's Madrid who have it with Asensio working on the left with Vinicius Jr., until they are forced to retreat to Rudiger in central defense.
Bilbao almost get in after Williams is played into space on the right side of the box, but his cross is too deep. It's headed clear and they have a throw from the left side.
As quicjkly as they got it they lost it and Vinicius Jr. is played in. He manages to round Simon and puts it in the net, but he's been called for offside.
Modric who entered for Benzema is now working along the left side, but uncharacteristically, he's dispossessed an Bilbao try to mount an attack.
Another change from Bilbao. Munian is on for Sancet and Raul Garcia enters for Gorka Guruzeta.
The action continues and it's Madrid on the attack now, but it's short lived as Kroos is dispossessed and Bilbao are off and running down the left side.
Karim Benzema is substituted following the penalty as the entire stadium rises to its feet. What a player and what a career he's had in the Spanish capital. Indeed, even Bilbao's players offer a round of applause to the Frenchman as he leaves the field for the last time.
Who else? Karim Benzema puts it in the net and the Bernabeu is on its feet as they applaud the Frenchman in what will be his last game for the club. A side footed shot straight down the middle is what he needed to equalize.
Madrid have a penalty after Berchiche is ajudged to have hit Militao in the face when jumping to head the ball clear of his area.
Madrid try to get going again with Rodrygo on the left, who tries to combine with Vinicius Jr. but they are closed down and it's out for a throw. It's taken quickly and there is a foul on the left side. Kroos to take.
Simon with a confident catch off of the corner.
A lovely run from Rodrygo, but his shot from the op of the box is blocked and out for a corner.
Mikel Vesga is not able to continue due to his injury - he's taken a seat on the ground - and will be replaced by Unai Vencedor
Madrid appear to be more in damage control at this point than anything else.
Another wonderful counter attack from Bilbao which stretches MAdrid, but Carvajal manages to block the resulting cross. Bilbao with the corner.
It will be WIlliams' last contribution as he's changed for Oier Zarraga, while Ander Herrera departs for Alex Berenguer
Niko Williams is on the ground having fallen awkwardly after contesting a header with Militao
From the resulting counter, Vinicius Jr. goes to work along the left side, but is finally halted by two defenders after entering the box. He wanted a penalty but the referee was having none of it.
A clever counter is just brought to an end by Rudiger's timely intervention. That could have been a real problem for Madrid had he not done so.
In the end it comes to nothing and Vinicius Jr. is set free along the left side, but he's chopped down by his marker. Again no card. Kudos to the referee for keeping his cards in his pocket this evening.
The Basques are threatening to run riot at this point as they have a throw in deep in MAdrid's half. Can they get something here?
Madrid makes a double change with Marco Asensio coming in for Nacho and Camavinga leaving the field for Tchoumeni. Interestingly, this will also be Asensio's last game as his move to PSG has now been confirmed.
How is that not 2-0? After a delightful ball to Inaki Williams on the right side of the area in space, the young Spanish international saw his vicious shot saved by an on rushing Courtois.
Bilbao get us started once again with a throw in from the left. It's quickly changed to the right, but an incisive ball to Williams in the central channel is too hard and it runs through to Courtois.
There is a real ebb and flow to this game now with both sides exchanges quick passes as they go end to end. For the moment it remains a 1-0 Bilbao lead.
A heavy foul on Sancet in the middle after some tidy play to escape the press, but there is no card for Militao who committed it.
It's a Madrid throw on the right side deep in Basque territory.
Madrid are trying to get themselves into this one, but they're promptly dispossessed and it's a Bilbao counter. Inaki Williams manages to round Rudiger and provides a low cross into the box, but there is nobody to receive. the Madridistas will breathe a sigh of relief.
Here's a look at that 1st goal
Some great build up play from the Basques resulting in their 1st!
Though they're outnumbered, the Basque fans are making themselves heard in the capital.
An just like that the Basques have a 1-0 lead! After Nacho was robbed, the counter was as quick as can be. It was Berchiche who played the ball into Sancet, who saw his initial shot blocked, but his follow up was put into the roof of Madrid's net. Bilbao look good for the lead if we're honest.
It's Carvajal on the right, but his cross is blocked and Bilbao go on the hunt. Unfortunately, a long ball that was intended for Inaki goes begging.
Madrid play home to Courtois once again and make their way out slowly.
It's immediately played to Niko Williams who plays a decent cross into the box and it's helped on by his brother toward Courtois, but not with enough power to trouble the keeper.
It's Inaki Williams who gets us going in the 2nd as he touches the ball into play.
We're ready to go again
The players are making their way onto the field as we prepare for the 2nd half kick off.
Karim Benzema watch
Though his first half was relatively quiet by his standards, it's hard not to keep an eye on his every move, knowing this will be the last time we see him playing in a Real Madrid jersey. With that in mind, here's another statistical piece of history that the Frenchman achieved.
Breaking down the 1st half
Though Real Madrid have definitely out possessed their opponents 64% - 36%, it would be fair to say that the Basques have done quite a lot with a little. Indeed, they've out shot Los Blancos 7 - 5 with four shots being on goal, compared to just one for Madrid.
On the other hand, it would be inaccurate to say that the team from the capital haven't had some decent looks. In truth, Rodrygo should have done better with his opportunity. Yet, we can't take any credit away from Simon's quick thinking which prevented a certain goal just before the end of the half.
Here's a look at Courtois's stunning save
Is there anyone better than the Belgian between the sticks today? Hardly likely and here's a good look at why.
With that last piece of action, the half is promptly brought to an end by the referee. The score remains 1-1
Chaos in the box. After what seemed to be Rodrygo in 1-on-1 with Simon in goal, somehow the Basque side's keeper was able to palm the ball away from his feet. The follow up cross and resulting header from Carvajal brought no joy either as it sailed just over the bars.
A heavy foul on Inaki Williams in midfield by Nacho, but no card. We're in the last few minutes of the half now.
It's MAdrid as the half winds down toward its end. Once again Bilbao with the high press and Madrid is forced to retreat to Courtois, who distributes to Vinicius Jr and the Brazilian is fouled on the left side. We've got a free kick in midfield.
Kroos with a free kick from outside the area. The German lofts it in and it's cleared for a throw from the left side. They attempt to retreat to draw Bilbao out, but the Basques aren't taking the bait.
On the balance of play so far, it's got to be said that Bilbao have looked the more dangerous, but one can never forget this is Real Madrid that they're playing against. A team that can score out of nothing and then again and again if they have to.
The corner is again wasted and Madrid begin their march forward in a slow manner.
This time it's Inaki on the right side who's getting in on the act. After rounding Rudiger, he releases a fierce shot. that forces a corner from Courtois.
Bilbao are forced into a long clearance after Madrid again apply the high press. Los Blancos now with the ball, but seemingly unsure of how to break down what's proving to be a resolute Bilbao effort this evening.
Bilbao once again on the left with Niko who is causing real problems for Madrid, but this time Carvajal has the reading of him.
After a decent attack it's Niko Williams who completely confuses Carvajal in the area. If not for the intervention of Camavinga, it's quite likely we could've been looking at 1-0.
Camavinga dispossessed once again - he'll need to watch that - and Bilbao are away with Herrera in the middle once again pulling the strings.
Courtois is able to claim and he sets Carvajal off and raining.
Off the corner, it's Niko Williams who has a shot this time, but sees it headed out for yet another corner by Militao.
Off of a slick pass from Herrera, it's Berchiche who unleashes a thunderous shot, which forces a save out of Courtois. Bilbao have a corner.
We've hit the half hour mark and it's Bilbao in possession as they play to the left.
The throw is quickly lost and Madrid have it again with Camavinga on the right.
Madrid are now showing their own defensive work ethic as they press Bilbao higher and higher. With that it's Camavinga on the ball who changes it to Vinicius. The Brazilian fails to control and Bilbao will start with another throw from their right side.
Surprisingly, Simon's goal kick almost finds Niko Williams directly in the center forward channel. Courtois is able to collect.
Taken short, the corner is wasted in the end and Bilbao have a goal kick.
Madrid come forward with Toni Kroos who looks for Camavinga. The Frenchman's cross is deflected and his side have another corner.
As we approach the half hour mark we've got to say that this match has been an exciting one, with both teams displaying a high technical level.
Rodrygo wwith a decent run, but his attempted cross is blocked and Inaki Williams is almost set free as a result of it. Militao manages to rescue the situation as he plays home to his keeper.
Now it seems Bilbao have switch to full field pressure and they almost catch Madrid napping. Were it not for a a miscontrol in the area, we'd be looking at yet another chance from point blank range.
Bilbao appear to be employing a half-field press and it appears to be paying dividends and Carvajal is robbed once again and Niko Williams is off and running.
Madrid are beginning to take a more control of the game as Kroos switches to Vinicius Jr. who cuts in field and has a shot, but in the end it is half blocked and collected without problems by Simon in Bilbao's goal.
So far we've got a fairly even match, but it goes without saying that Bilbao will be ruing the missed opportunity they had from the penalty spot. On the other hand, Courtois was spectacular.
Once again Madrid are forced to retreat, but they will have a throw from the right side of the field.
Ye another dangerous cross from Inaki, but Madrid are just able to cope. The ball goes to the right side where Carvajal awaits.
Berchiche's cross is blocked an Bilbao have a throw deep in Madrid territory.
Bilbao again to the right with Inaki Williams, but he has no room to operate and so the ball is switched to his brother on the left, who in turn plays home. Bilbao are prepared to be patient.
Though cleared, Madrid retain the ball and they try once again, but are quickly dispossessed by Bilbao who break through Herrera. His pass into the box goes wanting, however, and it will be a goal kick.
This game is opening up now and we're loving it. It's Rodrygo with a deep cross from the right, but it's headed behind for a corner and MAdrid have their first.
Vinicius is set free down the left side and his run is decent as is his cross, but it's cut out and Bilbao go on the hunt once again after some tidy play to escape Madrid's press.
In the end it comes to naught as his cross is cut out and Madrid escape.
Madrid have it once again as they play around their own defense. As I say that, a poor pass from Nacho is intercepted by Niko Williams and Bilbao start their counter.
We've got a player on the ground and it appears to be Ceballos. Replays show that there was indeed contact from Inaki Williams. He's slow to get to his feet but he's up and running once again.
WOW. Thibaut Courtois with a spectacular save against Vesga to keep the score at 1-1. What a goalkeeper he continues to be!
After Niko's deep cross into the box, the ball is headed back across goal by his brother Inaki. It's Toni Kroos who is adjudged to have handled the ball although he was backing Williams at the time of connection. Harsh maybe? None the less the referee has pointed to the spot!
Inaki's play down the right is getting better, this time he's got the first corner of the game after his cross is blocked by Rudiger.
Madrid one again with a right sided change. This time it's Carvajal with a lovely piece of control, but he's got no support and is forced to play home. Rodrygo's poor touch leads to a loss of possession and it will be Bilbao who go on the attack.
It's clear that Bilbao understand they will need to protect their right flank, with Vinicius Jr. on the prowl.
Again a lovely switch to Vinicius from Kroos this time, but the Brazilian is forced to play home with Camavinga who in turn is robbed.
It's Courtois with the ball at his feet and plays to Rudiger who goes down the left, but is tripped by Inaki Williams. There's a foul called, but no card.
These opening exchanges appear to be more intense than precise, but as I say that, there's a lovely piece of play from Bilbao's Sancet in the middle. He tries to connect with Inaki Williams but his pass is thwarted by Militao.
A lovely change from Rudiger to Vinicius on the right but the attack is halted by Bilbao before Kroos commits a heavy foul on Ander Herrera in the middle. Bilbao's ball.
Bilbao manage to dispossess Rudiger on the left side and they take it into their own defense as well before a long ball is played out to Inaki Williams who tries an early cross to his brother Niko in the box, but it's too long. A Madrid throw from the right and off we go again.
Madrid have immediately taken the ball into their own defense as they get a feel for what Bilbao intends to bring to the table. The crowd is in full song.
Karim Benzema himself gets us off and running as he touches the ball into play for Los Blancos and away we go!
And here we go
The players are ready, the fans are on edge and the referee is in the middle. It's time!
So said so done
At this time, Real Madrid's basketball team are presenting their new trophy to a pack Santiago Bernabéuo. Congrats to the newly crown European champions!
The players are on the field
Handshakes are being exchanged and anthems are being sung. It's that time folks! It's Real Madrid vs Athletic Bilbao here in the capital city of Madrid. Karim Benzema will be playing in his last game for the Merengues, which only adds to the flavor of what promises to be a memorable occasion.
The Brothers Williams
The pair have been stellar this season, as they continue to mature. Playing on opposite wings for Athletic, they will be key to their side's hopes tonight in the capital city.
It's almost game time
We're now less than 10 minutes away from kickoff and while there is nothing major at stake other than a positive end to the season, we can still expect these two sides to go for it.
To be clear, Madrid secured second spot in La Liga's table behind already crowned champions, FC Barcelona, while Athletic Bilbao had a decent campaign which was good enough for an 8th placed finish in the standings.
Could there be more changes ahead for Real Madrid?
To be clear there are a trio of top players who will see their contracts come to an end this summer. Kroos, Ceballos and Nacho could all be on the move in what would most certainly be a summer of change for Real Madrid.
While it's safe to say that Madrid have a bright future with the likes of Vinicius Jr. already demonstrating that he's among the world's best players, it goes without saying that the end of an era of success always brings a degree of uncertainty and anxiety.
For the moment, there's been no word on what the above mentioned players will do, but don't be surprised if we see extensive movement in the market in the next few months.
It's bitter sweet
With the Bernabeu beginning to fill up and the players now on the field going through their paces, it's hard not to feel some degree of sadness - Madrid fan or not - about the idea that Karim Benzema will no longer be gracing Spanish fields with his presence.
Indeed, the French star isn't just leaving the capital's club after 14 seasons, he's leaving the league entirely to embark on a new adventure in Saudi Arabia's league. With that, we can only hope to enjoy what will be his last 90 minutes of football in La Liga. Be sure to stay with us so you can enjoy it too!
Good news for the Basques
A key part of Bilbao's set up, his renewal with the Basque side can only mean good things for them going forward. Needless to say, he will be key in their quest for a win tonight.
Now let's focus on the game...
Though there is likely to be much more focus on Benzema as the evening progresses, let's not forget that we've got a football game to watch. With that, Madrid's starting lineup is in, so let's have a look.
Eden Hazard is leaving as well
With both stars set to leave, the club has at the least given itself some serious room to work with in terms of potential new signings. What happens from here is anybody's guess, but we're sure it's going to be exciting.
Off he goes...
Having already achieved so much in his career, it's incredible to think that he could still achieve more in his last game for the club from the capital.
Karim Benzema by the numbers
In case you're wondering what the Frenchman's stats looked like across his Real Madrid career, then here they are and as you can plainly see, he's among the best to ever do it. We've also taken a look at this season's performance alone so you can have a clear idea about the fact that he's only gotten better with age.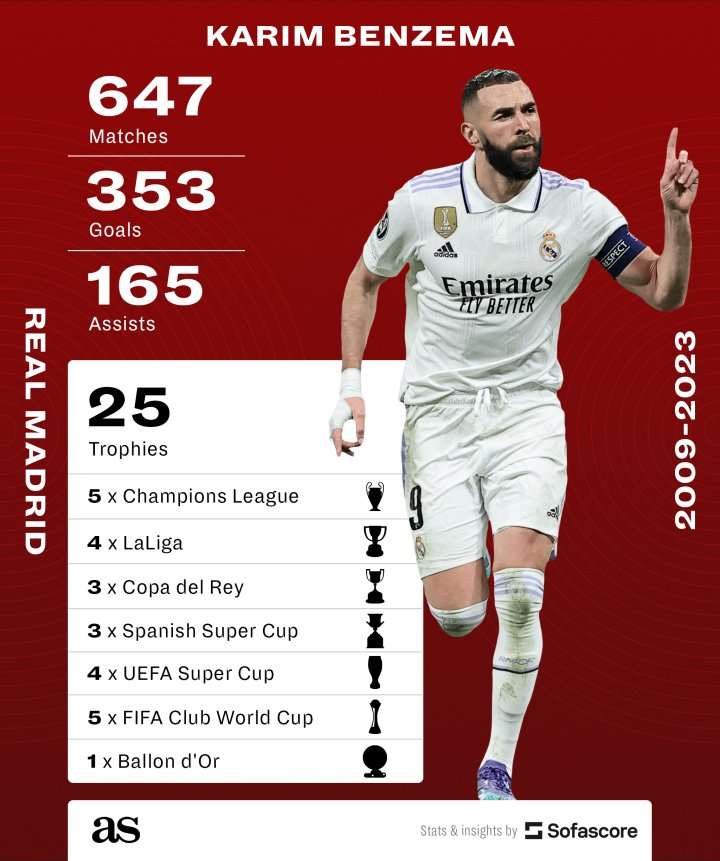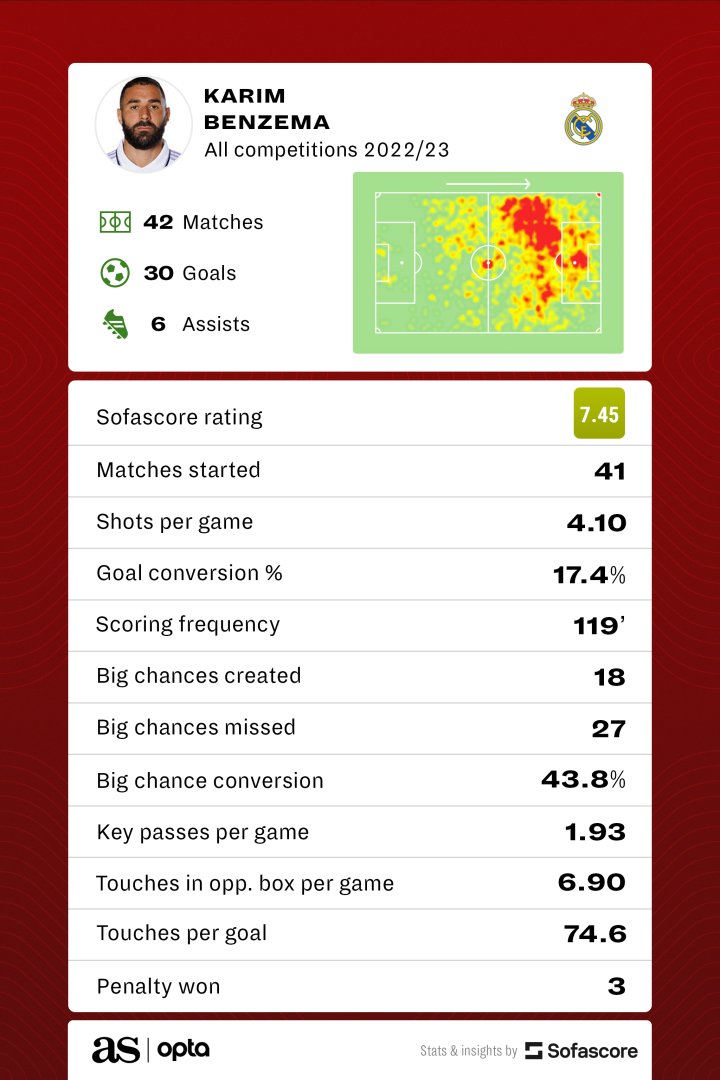 As mentioned before, Benzema has now stated that he will be leaving Real Madrid, the club he has played for and won titles with since he signed for them in 2009. Take a look at the the lowdown on how the move came about and of course the effect that its had.
Welcome Welcome Welcome
As we all know, football is a team sport, however, there is no way to deny the fact that today's game between Real Madrid and Athletic Bilbao is going to be all about one specific player.
Having announced his now imminent departure, French star and club captain, Karim Benzema is set to leave the club after 14 seasons with them. Needless to say, it's not only a blow to the team but a shock to the football world as well, with the 2022 Ballon d'or winner opting for a new adventure in Saudi Arabia's league.
With that, we'd like to welcome you to our coverage of this exciting game from La Liga Santander. Regardless of the great rivalry that exists between the clubs, the Frenchman's coming exit will undoubtedly have an effect on the evening's proceedings.
Expect this game to be both intense and emotional as we literally witness the end of an era for Real Madrid, which leaves the question, 'where does the club go from here?'