Real Madrid vs Getafe summary: score, goals and highlights, 2021/22 LaLiga
Real Madrid vs Getafe: as it happened
Real Madrid vs Getafe: headlines
- Casemiro heads Real Madrid into the lead
- Vázquez seals win with cool finish
- Bale jeered by home fans in first Bernabéu appearance in two years
- Casemiro booking means Brazilian will miss Sevilla game
Peeep peeep peeep! It's been a very comfortable evening for Real Madrid, who have beaten Getafe thanks to goals by Casemiro and Lucas Vázquez. Madrid have reestablished their 12-point lead - at least for the time being, that is. Barcelona still have that game in hand.
The only black mark on the evening is that yellow card for Casemiro, which means he'll miss Madrid's top-of-the-table clash with Sevilla next week.
The other main talking point of the night was that frosty reception for Bale from the Bernabéu. "It's a bit sad," Marcelo has just told Spanish television. He's not wrong; Bale has some pretty big achievements on his Madrid CV, but his career at the club has petered out in the most agonisingly protracted fashion possible.
Thanks for reading!
Ünal hits the post! That's by far the best moment Getafe have had going forward. The Turk strides past Alaba on the right and shoots powerfully across Courtois' goal, but the ball rebounds off the upright!
Three minutes of time added on at the Bernabéu.
Óscar sows brief panic in the Real Madrid box with a low, whipped ball from the left, but Ünal is adjudged to have handled and the chance is lost for Getafe.
At the other end, Bale latches on to a loose ball to the sound of rising whistles. He almost turns those jeers into cheers - or, at least, something other than jeers - but his half-volley from 25 yards out is too close to Soria, though, and the goalkeeper grabs hold.
Another Real Madrid substitutions: Nacho is on for Alaba.
Ceballos lifts a ball to Vázquez's run into the box towards the right-hand byline, but his cut-back is blocked. Asensio then winds up for a shot from outside of the box, but that's also repelled.
Asensio is on for Real Madrid, Vinícius making way to warm applause.
Getafe make a change, replacing Cuenca with Erick Cabaco.
Real Madrid are preparing to bring Marco Asensio on.
Djené won't be forgetting his experience marking Vinícius in a hurry. The defender goes into the book for bringing the Brazilian down on the left wing. Real Madrid have a chance to swing the ball into the Getafe area, but it comes to nought.
Whistles every time Bale touches, or even looks like touching, the ball.
And on comes Bale, to very loud whistles from the Bernabéu crowd. A wry smile breaks out across the Welshman's face. He's one half of a double Real Madrid substitution, with Dani Ceballos also brought on. Benzema and Casemiro make way.
And right away Real Madrid create an opportunity to score again. Militao rises highest to meet a cross into the box from the left, but can only nod it wide. He yells in frustration.
Moments later, Marcelo shoots from the edge of the box, but can't beat Soria.
Goal! Lucas Vázquez double Real Madrid's lead! It's a neatly-worked goal.
Vázquez receives on the right, before slipping the ball into the box to meet Rodrygo's run towards the byline. Vázquez then continues into the area to receive the Brazilian's return, before rolling it calmly into Soria's far corner with his left.
Gareth Bale is warming up over on the touchline, by the way. The last team he played at the Bernabéu? 26 February 2020, against Manchester City in the Champions League.
My, that one stayed hit, as they say. Real Madrid win a free-kick some 30 yards or so out from the Getafe goal, in a fairly central position. Alaba looks like he's going to hit it, but Rodrygo rolls it instead to Valverde, who well and truly puts his foot through it. His shot appears to be thundering across the turf towards Soria's goal, but finally flashes a couple of inches wide of the post.
Just as I write that, Madrid step the pace back up. Marcelo lifts a cross to the back post, the loose ball falling to Benzema. His shot is blocked, and when the hosts recycle it out to Alaba, his low cross is dealt with.
Not much happening at the mo. The game has hit a bit of a lull. Madrid seem content for the time being to knock it about and conserve a bit of energy.
Camaving plays the ball around the corner to Benzema on the edge of the Getafe box. He touches it on to Marcelo, who's arriving like the proverbial express train, but the Brazilian can only fire his shot into Soria's side-netting.
Vinícius twists and turns just outside of the Getafe box, and draws a foul from Djené. Rather than swinging it into the area, Alaba plays it short to Rodrygo, who knocks it on to Marcelo. The left-back then knocks it into the box towards Alaba and Rodrygo, who have advanced into the area, but neither can collect the pass.
Casemiro ends long run without a goal
That Casemiro goal was his first for Real Madrid in 45 games in all competitions - the Brazilian's second-longest sequence without scoring for Los Blancos.
Óscar drifts a right-wing free-kick into the area, towards the back post. It's an extremely decent delivery from the substitute, but Olivera can't get his head to it and the ball plops up off a shoulder and over the crossbar.
Peeeep! Back underway in Madrid.
Getafe have made a double half-time substitution, introducing Óscar Rodríguez and Sandro Ramírez for Aleñà and Mayoral.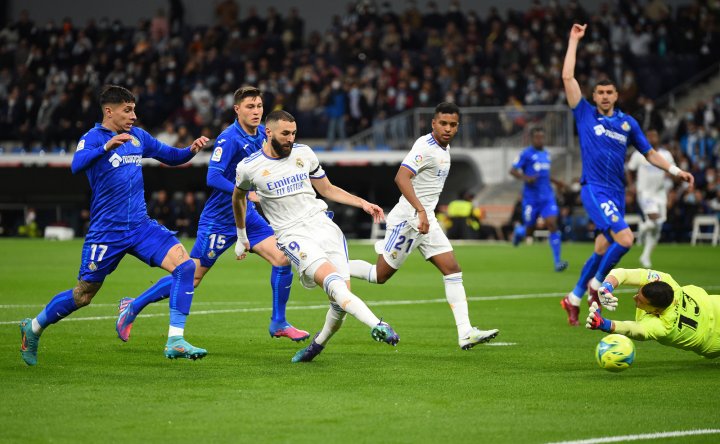 Karim Benzema slots home early in the first half, only for an offside flag to deny him a 38th goal of the season.
(Photo by Denis Doyle/Getty Images)
Peep peep peeep! Real Madrid have spent the entire first half knocking at the Getafe door, and Casemiro finally managed to force it open with that header shortly before the break. He rather blotted his copybook with that needless, ban-incurring yellow, though.
Now Valverde goes into the book, after a bit of a rash tackle on Aleñà.
One minute of time added on at the Bernabéu.
Well, well. Casemiro is a silly boy. He's only just escaped a booking for giving the referee an earful, and now he does go into the book for dissent. He's miffed about an apparent Aleñà handball that goes unpunished, and talks himself into a yellow that means he'll miss Madrid's next league game. It's a big one, too - against Sevilla.
Again Madrid aren't far away from doubling their lead. Marcelo controls and shoots from the left-hand corner of the penalty area - and his strike flashes across the face of Soria's goal, via a deflection off a Getafe boot.
Right away, Real Madrid pin Getafe back once more, and Benzema almost sets up a quickfire second with a fine low ball into the box. Rodrygo can't get on the end of it though.
Real Madrid lead! Casemiro scores! It's a scrumptious cross into the box from Vinícius.
Camavinga sprays a pass out to the left to Vinícius, who whips an outside-of-the-boot ball into the corridor of uncertainty. It's just too high for Benzema, but Casemiro arrives behind the Frenchman to nod in from point-blank range.
That's a bit of a let-off for Real Madrid. A long ball is headed on and suddenly Mayoral is streaking through towards the Madrid box. Before he can pull the trigger, however, Alaba slides in to dispossess him. Not the most controlled challenge you'll ever see, but it got the job done.
Camavinga gets the ball out of his body and shoots from 30 yards, but sends his strike well, well over the bar.
Vinícius skins Djené for a second time, drifting away from the centre-back with a cute drop of the shoulder that takes him into shooting space in the Getafe box. A delegation of defenders is quickly in position to close down that shooting space, though, and Vinícius' effort is blocked.
Ünal plays it to Olivera on the left wing with a neat flick, before Casemiro slides in on Olivera and is adjudged to have brought him down. He makes his displeasure at the decision plain to César Soto Grado, and is lucky not to be booked, to be honest.
Once more Getafe have an opportunity to swing a dead ball into the box, but Madrid deal with it.
Again Vázquez slings the ball into the box from the right wing, and again it's headed clear with ease. Rodrygo is then penalised for a foul, and Getafe can bring it clear. A little bit of frustrating setting in for the hosts.
Real Madrid work it out to the right to Lucas Vázquez, who swings a cross into the six-yard box. It's far too close to Soria, though, and he gobbles it up.
Here's a chance for Getafe to do something with a dead-ball situation. Damián Suárez prepares to deliver a free-kick from about 35 yards out, slightly to the right of centre... but when he clips the ball into the box, it's headed clear.
That's filth from Vinícius, who bamboozles Djené with a nutmeg on the left-hand byline before bursting into the box. His shot isn't quite as good, though, and Soria saves without too much fuss.
That's a decent stop from Soria, albeit it's pretty much straight at him. Benzema's cross from right to left finds Valverde in space at the back post, where the Uruguayan pings a bouncing volley towards goal. Soria blocks.
Valverde leads a quick Real Madrid break, but Benzema's first touch lets him down and Getafe have the chance to get themselves back in position.
Madrid recycle it out to Vázquez, who lifts it into the box to Benzema. He spots Casemiro's burst into shooting space behind him, but Djené is alive to the danger and blocks the striker's attempted backheel. A good job he did; Casemiro would have been one on one with Soria.
Lucas Vázquez chests the ball down on the right, before cutting inside Olivera and firing at goal with his left, but he drags his strike into the side-netting.
Not a whole lot from Getafe in the way of attacking play, but their defensive organisation is drawing purrs of approval from the commentary team on Spanish television.
We've just been shown a super-slow-mo replay of the moment at the heart of that Benzema disallowed goal, and it confirms that it was indeed Rodrygo who played it to the Frenchman. With his trailing leg, it seems.
Real Madrid have 80% win rate without Kroos and Modric
Soccer stats specialists Opta note that Real Madrid have won 28 and lost four of the 35 games they've played with both Toni Kroos and Luka Modric absent from their starting XI.
A Real Madrid corner is cleared only as far as Marcelo, who's lurking 25 yards or so outside the box with the intention of mopping up a loose ball and having a ping at goal. He controls and swings at the bouncing ball with his less-favoured right - and although he gets a decent enough connection on it, his shot is right at Soria.
Benzema has the ball in the net, but it won't count. He and Rodrygo both set off after David Alaba's long punt down the middle, and when the ball breaks to Benzema in acres of space to run in on Soria and finish with his customary aplomb. He's clearly well beyond the last man when the ball is played towards him, but the crucial question is whether it was Rodrygo or Getafe's Olivera who did so. Rodrygo, is the VAR call. Benzema isn't convinced, but 0-0 it remains.
Real Madrid have the ball for the first couple of minutes at the Bernabéu. Marcelo almost does himself some damage in a collision with Borja Mayoral, but is soon back on his feet to send a high ball into the left-hand corner for Vinícius Júnior to chase. Djené Dakonam is quickly across to shepherd the ball behind for a goal kick, though.
Peeeep! We're underway at the Bernabéu!
Our match referee is César Soto Grado.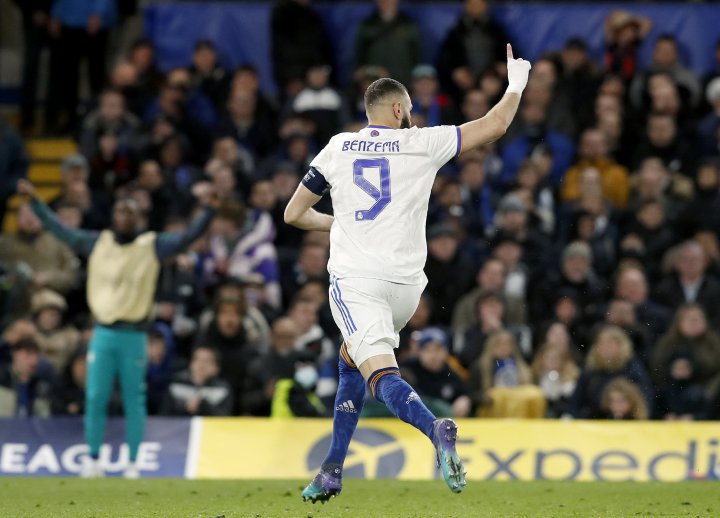 Benzema "more of a leader" - Ancelotti
Asked about Karim Benzema's brilliant performances in his pre-match press conference yesterday, Real Madrid boss Carlo Ancelotti highlighted the leadership role the Frenchman has taken on in recent seasons.
"He's improved his character and leadership on and off the pitch over the years," Ancelotti told reporters. "He's always been good, but he's standing out more at the moment because he's more influential, thanks to his personality and that's why he's more of a leader."
(Photo: JESUS ALVAREZ ORIHUELA/DIARIO AS)
Ünal level with Benzema in 2022
Getafe's fightback from such a dreadful start to the season is in no small measure down to the performances of top scorer Ünal, who has 14 LaLiga goals to his name so far this term.
Such has been the Turk's sterling form, indeed, that he is tied with Karim Benzema on nine league goals this calendar year. In Europe's major leagues, only Bayern Munich's Robert Lewandowksi has scored more in 2022.
(Photo by Angel Martinez/Getty Images)
Madrid on long run of home wins against Getafe
Getafe haven't beaten Real Madrid away from home since February 2008, when Ikechukwu Uche's second-half strike gave a side coached by former Madrid star Michael Laudrup a 1-0 win at the Bernabéu.
In the 12 meetings that have followed at the Bernabéu, Madrid have been victorious on every occasion.
However, Getafe did beat Los Blancos the last time the sides played. Enes Ünal's early goal gave Los Azulones a 1-0 win at the Coliseum Alfonso Pérez in January.
Getafe six points clear of the drop
As for Getafe, Mallorca's win over Atlético means the six-point gap separating Los Azulones from the relegation places has now been provisionally clipped to four - and, if they are to reestablish greater daylight between themselves and the drop zone, Quique's side will need a first positive result at the Bernabéu for 14 years.
That said, it's some achievement that Getafe are out of the bottom three at all. After all, they lost their first seven games of the season - prompting club president Ángel Torres to replace Míchel with Quique - and didn't win a match until the very last day of October.
Pts
MP
W
D
L

12

ESP

36
30
9
9
12

13

RAY

33
29
9
6
14

14

GET

32
30
7
11
12

15

ELC

32
30
8
8
14

16

GRA

29
31
6
11
14
How things stand at the top of LaLiga
Here's how things look at the top of the LaLiga table, where Real Madrid's lead has been cut to a provisional nine points thanks to Sevilla's 4-2 win over Osasuna on Friday. A resurgent Barcelona are 12 points behing Madrid but have played a game less, while Atlético Madrid missed the chance to join Sevilla on 60 points when they lost to Real Mallorca today.
Getafe boss Quique makes trio of changes
There are three changes to the Getafe side that beat Real Mallorca last time out in LaLiga. Head coach Quique Sánchez Flores, once a player and youth team coach at Real Madrid, brings in Jorge Cuenca, Gonzalo Villar and Real Madrid academy graduate Borja Mayoral for Okay Yokuslu, Mauro Arambarri and Sandro Ramírez.
Getafe team news
Starting line-up: Soria, Djené, Mitrovic, Cuenca, Suárez, Maksimovic, Villar, Aleñà, Olivera, Mayoral, Ünal
Vázquez, Marcelo, Camavinga and Rodrygo in for Real Madrid
Real Madrid boss Carlo Ancelotti makes four changes to the team that began Wednesday's 3-1 Champions League win over Chelsea.
Both full-backs are changed, as Lucas Vázquez replaces Dani Carvajal on the right, and Marcelo comes in for the not-quite-fit Ferland Mendy on the left.
In midfield, Luka Modric and Toni Kroos are both given a breather, with Eduardo Camavinga brought into the team and Federico Valverde dropping back into a deeper role than he played at Stamford Bridge.
Up top, Rodrygo Goes returns to the XI, joining Vinícius Júnior and the unstoppable Karim Benzema in the front three.
Real Madrid team news
Starting line-up: Courtois, Vázquez, Militao, Alaba, Marcelo, Valverde, Casemiro, Camavinga, Rodrygo, Benzema, Vinícius
Real Madrid vs Getafe: welcome
Hello! Fresh from planting one foot firmly in the semi-finals of the Champions League in midweek, Real Madrid can take another big step towards a 35th Spanish title today, as they welcome Getafe to the Bernabéu.
Team news is in, so let's get right to it.