Real Sociedad vs Barcelona summary: score, goal and highlights LaLiga 2021/22
Real Sociedad vs Barcelona: as it happened
Real Sociedad vs Barcelona: headlines
- Aubameyang's early header wins it for Barcelona
- Real Sociedad the better side in the second half
- Barça return to second, Real Sociedad stay sixth
Peeep peeep peeeep! Barcelona were second best in that second half, but have held on for a win that takes them back into second. That's the first time this year that Real Sociedad have been beaten at home in LaLiga - or indeed have conceded a goal. The Basques miss the chance to overtake Real Betis, and remain in sixth.
Thanks for joining!
Barcelona keep possession in the Real Sociedad half, and look to be almost there.
Gorosabel dashes forward and crosses from the right, but Lenglet heads clear. Merino then fires the ball back into the Barça box, towards Sorloth, but again the away side get it away.
Sorloth wants a penalty after tangling with García in the Barcelona box, but he's not going to get one for that.
A minute later, Real Sociedad are again after a spot-kick for a handball by Alba. But after a short pause for a VAR check, Carlos del Cerro Grande says no.
Dembélé's ball into the box is cleared, after Real Sociedad make another substitution. Guevara on for Zubimendi.
Le Normand is booked for scything down Luuk de Jong, and Barcelona have a free-kick in the right-hand channel. Dembélé to deliver.
TEN minutes of time added on. Have we had that many stoppages? Hmmm.
Real Sociedad continue to press for an equaliser, but when Barcelona break, the visitors work it to Dembélé to cross from the right. His ball can't find a Blaugrana shirt, but it runs through to Alba on the other wing. His cross looks to be sailing onto the head of Luuk de Jong, but Le Normand heads away.
Real Sociedad make another double switch: Isak and Januzaj off, Ander Martín and Portu on.
Lenglet is left in a heap on the turf after a late challenge by Isak, and Gavi takes his complaints to the referee a little too far. Yellow card for the youngster.
Five minutes to go at Reale Arena, plus time added on. After Real Sociedad domination for much of the half, it's a more even contest now.
Luuk de Jong helps Ter Stegen's long ball on to Ferran, who is suddenly racing clear of the Real Sociedad backline - but the flag is up. Ferran was well offside.
Barcelona also make a twin substitution, withdrawing Aubameyang and Piqué and introducing Clément Lenglet and Luuk de Jong. Deafening whistles for Piqué as he leaves the field.
Real Sociedad make a double change, replacing Zaldúa and Rafinha with Gorosabel and Guridi.
Rico draws roars of approval from the Reale Arena fans when his perseverance earns Real Sociedad a corner on the left. When it's delivered, it finally falls to Zaldúa on the right, 25 yards or so out. He fires the bouncing ball at goal, but Ter Stegen grabs hold fairly easily.
That's an excellent chance for Gavi to make it 2-0 to Barcelona! Frenkie de Jong slips Ferran into space on the left-hand side of the box, where the forward gets his head up and cuts it back to Gavi on the penalty spot. His shot flies off target!
Barça have looked more dangerous in the past couple of minutes.
Alba steps forward on the left and lifts a cross to the back post, but Rico is there to chest the ball back to Remiro.
Frenkie de Jong lifts a through ball into the path of Dembélé, who for a moment looks like he's going to scamper clear of the Real Sociedad defence and in on Remiro. Rico gives valiant chase, though, and shepherds the Frenchman away from goal.
Once again Ter Stegen has to be on his mettle to save Barcelona! Januzaj drifts over to the right wing, before curling in a lovely inswinging ball towards the far post. All it needs is a touch, but it doesn't get one, and Ter Stegen beats it out before it can sneak into the far corner.
Sorloth cuts in from the left and drives into the Barcelona box, but is dispossessed. Real Sociedad really have been very dominant since the break.
Barcelona replace Dani Alves, who has hurt himself, with Sergiño Dest.
Barcelona launch what is, I think, their first attack of the second half. Alves lifts the ball over the top for Dembélé to chase it down the right wing, before firing a low cross towards the penalty spot. It's easily dealt with, however.
Barça are rocking, they really are. Again Real Sociedad open the visitors up, and only a fine Ter Stegen save prevents the Basques from equalising. Sorloth is released in behind the Barça defence by a fine through ball by Januzaj, but Ter Stegen gets a firm hand to his angled finish!
Back come Real Sociedad, Merino trying to wriggle himself into crossing space on the right-hand byline. Piqué again looks to be in some physical discomfort after challenging Merino. It'll be no surprise if Barça have to replace him, too.
Eric García is on for Araújo.
Nope, Araújo can't go on. He drops to the turf clutching his knee. Alba was also down and in pain a few moments ago; work to do for Barça's medical staff.
It's been all Real Sociedad so far in the second half. Isak dances his way into the Barcelona box and to the byline, before firing the ball across the face of goal. It's hacked clear.
Zubimendi then dinks the ball into the box, where Ter Stegen and Alba flirt with disaster by getting in each other's way, but Barça get it away nonetheless.
The game is halted for a good 90 seconds or so, because the fans behind Ter Stegen's goal are throwing objects at the Barcelona goalkeeper as he tries to take the goal kick.
Now Araújo also looks like he's got some sort of issue. It's not clear whether he'll have to come off.
It's a really good start to the second half for Real Sociedad, who twice carve out openings inside the Barcelona box.
First, Januzaj scuttles down the left wing and plays it inside for Sorloth, who's well placed - but can't quite bring the ball under his spell. Januzaj's pass was just behind him, to be fair to him.
A minute later, Januzaj whips a lovely ball across the box to Sorloth, who's all on his own at the back stick, but slices wide! Another excellent chance for the hosts.
Peeeep! We're back up and running at Reale Arena.
No changes for either side. Piqué will soldier on.
Peeep peeep peeep! Barcelona lead through Aubameyang's very, very close-range finish, but are currently busy thanking their lucky stars that Isak wasn't wearing his shooting boots a few moments ago. The Swede really should have levelled the scores.
Piqué didn't look right, and we'll have to see whether he returns for the second half.
One minute of time added on in San Sebastián.
That's a wonderful chance for Real Sociedad to equalise - and Isak spurns it. The Swede feeds the ball forward for Sorloth, who runs at Araújo and Piqué before returning it to Isak, who's bursting into shooting space in the box. He's in on Ter Stegen, but drags his finish past the far post! Over on the touchline, Imanol Alguacil holds his head in his hands, and well he might. The hosts' best moment in the game by a distance.
Again Barcelona create a dangerous opening. It's worked forward to Aubameyang, who bursts into space on the edge of the Real Sociedad box before unleashing a pile driver. His shot is angled just past Remiro's right-hand post, though.
That's very nearly an absolute peach of a goal from Ferran. Busquets plays the ball inside to De Jong, who helps it on to Ferran at the left-hand corner of the Real Sociedad penalty box. He takes one touch before quickly whipping a curling shot towards Remiro's far top corner - and is not far away from finding his target.
Piqué looks very much like he's got some sort of muscle problem. Has twanged his groin, it appears. He seems to be in some discomfort, but for now signals to the Barcelona bench that he can continue.
Piqué brings Isak down on the left, but with the home fans screaming for a booking, Carlos del Cerro Grande says Real Sociedad must content themselves with a free-kick and no more.
The dead ball is delivered to the far post, where Sorloth gets plenty behind his header - but steers it straight into Ter Stegen's arms.
Araújo, who is just back from suspension, is booked.
Sorloth drives forward towards the Barcelona box, before looking to slip Merino in on the right with an angled pass. He hits it just behind the midfielder, though.
A moment later, Ter Stegen has to look alive to punch clear a deep cross towards Sorloth.
Close from Frenkie de Jong! The Dutchman controls the ball in the left-hand channel, some 10 yards outside of the Real Sociedad box. With the hosts' defence back-pedalling, he cuts onto his right foot and aims a low shot at Remiro's far corner, but sends his effort just wide!
La Real on long winless run against Barça
For all Real Sociedad have been on a good sequence of form in LaLiga, they are tonight up against a side they haven't beaten in 11 league meetings, Opta note. It's their worst run against Barça in over 60 years.
Sorloth puts on the after burners on the right wing and gets himself into a promising crossing position, but his waist-height cross is comfortably dealt with.
Moments later, Sorloth is again involved, bringing down a left-wing cross at the back of the Barça box. Piqué is quickly on him, however, and the striker can't get his shot away.
It's all Real Sociedad ball at the moment, though.
Busquets overtakes Iniesta's appearances haul
Incidentally, Barcelona captain Sergio Busquets has become the Blaugrana's third-highest appearance maker tonight. This is his 675th game for Barça in all competitions.
Busquets moves past Andrés Iniesta, and only has Xavi Hernández (767) and Lionel Messi (778) ahead of him.
Alves pushes forward down the right wing and cuts it back to Ferran to shoot from the edge of the box, but his effort is well over the bar.
That's now 11 goals in 17 Barcelona appearances for Aubameyang - and 9 in 11 in LaLiga.
Goal for Barcelona! Aubameyang nods in from about a yard out!
It's decidedly ropey defending by Real Sociedad. First, Dembélé is left in acres of space inside the area to shoot across Remiro and against the post.
Gavi is then allowed to recover the loose ball far too easily, before turning and clipping a cross to Ferran at the back stick. He nods it across goal to Aubameyang, who has the easy task of finding the net pretty much on the goal line.
At the other end, Busquets almost releases Aubameyang into the Real Sociedad box, but Remiro is quickly off his line to nick the ball of the striker's toes.
Pretty much for the first time this evening, Barça then knock it about in what is a sustained period of possession. The home supporters whistle Piqué every time he touches it.
Isak produces a couple of stepovers on the right wing, before fizzing a low ball into the Barcelona box. It's cleared, however.
Now Barcelona do put together a couple of attacks. First, Dembélé scampers forward down the right wing, before cutting inside and clipping a low, left-footed ball into the box.
That one's cleared, but back come Barça with Frenkie de Jong, who takes a pot shot at goal - but sends a trundler wide of Remiro's left-hand post.
Araújo is bundled over by Sorloth as he looks to bring the ball forward. It's been a really aggressive start by Real Sociedad, who haven't really let the visitors out of their own half yet.
Diego Rico does magnificently to bundle his way through two Barça challenges and get to the left-hand byline, before winning a corner kick.
The corner comes to nothing, but as Barça play the ball out from the back, Ter Stegen almost has his pocket picked by Isak, a la Mané on Steffen. The Swede gets a foot to the goalkeeper's clearance from underneath his posts, but the ball flies out of touch.
Ter Stegen clearly feels Piqué's pass back to him didn't do him any favours, and makes sure to let the centre-back know.
Peeep! Referee Carlos del Cerro Grande gets us underway in San Sebastián.
Tribute to Zurutuza before kick-off
The teams are out at Reale Arena. Before we get underway, there's a tribute to David Zurutuza, who spent 12 seasons in the Real Sociedad first team after coming through the club's youth system, before retiring in 2020.
He says a few words in Basque, before switching to Spanish - and raising a huge cheer from the home fans when he shouts: "Tonight we're going to win!"
La Real yet to concede in 2022 at home in LaLiga
While Barça's past two matches have seen them relinquish a 15-game unbeaten run in all competitions and a 15-game unbeaten run in LaLiga, Real Sociedad are now undefeated in their last five matches, all of which have been in the league.
What's more, Imanol Alguacil's men haven't lost any of their last seven at home in LaLiga (W5 D2) - and haven't conceded a single goal at Reale Arena in the Spanish top flight for four months.
La Real last let in a league goal in San Sebastián in a 3-1 defeat to Villarreal on 18 December.
How things stand in LaLiga
Following Sevilla's win over Levante and Atlético Madrid's draw with Granada, Barcelona have, for now at least, slipped to fourth in LaLiga.
They do still have that game in hand to come, against Rayo at the weekend - but Barça's place in the top four is looking a little shakier now that their 15-game unbeaten league run is over.
Mathematically, the Catalans can still catch leaders Real Madrid, but, realistically, a win tonight will do more than make Los Blancos wait slightly longer to seal the title.
If Real Sociedad win, they'll leapfrog Real Betis into fifth - and move to within two points of Barça, albeit they'll have played one more.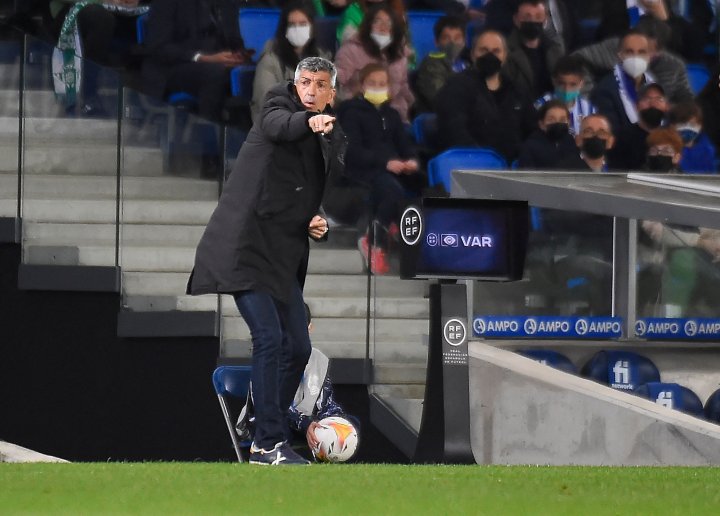 What the coaches said: Imanol Alguacil, Real Sociedad
Piqué:
Knowing his experience, I don't think all that will affect him if he plays against us. I'm not even going to get into what a great player he is and all that he has achieved on the field. If he plays, we'll be up against a great Piqué once again."
Xavi's Barcelona:
"Their figures are frightening. In the second half of the season, and with a game in hand, they've won more points than any other team. They've scored four against Osasuna, Real Madrid… If it weren't for the slip-up against Cádiz, they wouldn't be far off challenging Real Madrid for the league title. They've really turned their team around, as their figures demonstrate."
Real Sociedad's goal-shyness:
"If we have missed out on points because of the goals we haven't scored, it's because we haven't been clinical enough in front of goal. But that's down to the whole team. Having created all the chances we did in the games where we've deserved more, we should have at least six more points."
(Photo: Ander Gillenea/AFP)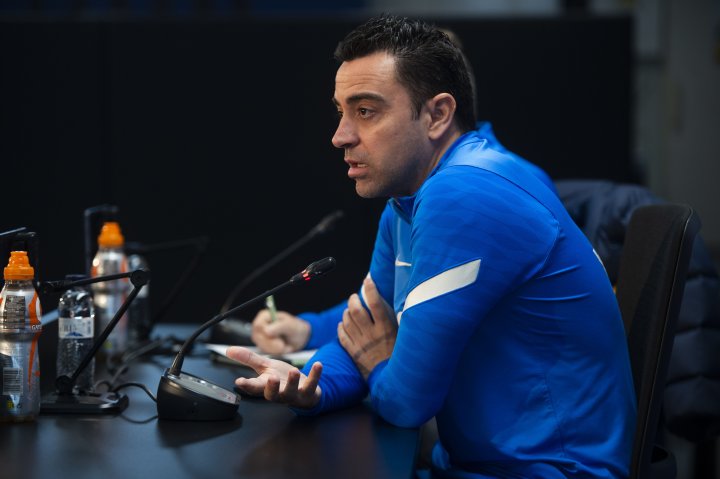 What the coaches said: Xavi, Barcelona:
Super Cup controversy won't affect Piqué:
"He is outgoing and likes to be on people's lips. I am more diplomatic. I know him. If he wasn't focused, I would warn him, but it [attention] gives him fuel. It's adrenaline for him. It's like a drug, in a good sense of the word. He's focused.
"Piqué's Twitch [press conference] didn't bother me, it would bother me if he didn't give it his all or didn't follow the rules. It's Gerard and I know him. I know how to manage him and he needs it. He's doing well to compete, he needs this stimulus."
Cádiz defeat:
"There was no anger, but I told them things clearly. I feel bad, I like to win, but I have to face reality. I will not change what I believe. In the league we had a good run until Cádiz."
More from Xavi's pre-match press conference
(Photo: Rodolfo Molina/Diario AS)
Two changes for Real Sociedad
For Real Sociedad, there are two changes to the team that began the 0-0 draw with Real Betis last time out in LaLiga. Joseba Zaldúaa and Adnan Januzaj come in for Andoni Gorosabel and the suspended David Silva.
Real Sociedad team news
Starting line-up: Remiro, Zaldua, Zubeldia, Le Normand, Rico, Zubimendi, Januzaj, Rafinha, Merino, Isak, Sorloth
Araújo, Piqué back as Barcelona make four changes
Xavi Hernández makes a quartet of changes to the Barcelona side that began Monday's 1-0 home defeat to Cádiz.
Ronald Araújo and Gerard Piqué return at centre-back, having missed out last time through suspension and injury, respectively, while Dani Alves is in at right-back and Pierre-Emerick Aubameyang starts up front.
Sergiño Dest, Eric García, Clément Lenglet and Memphis Depay make way.
Barcelona team news
Starting line-up: Ter Stegen, Alves, Araújo, Piqué, Alba, Gavi, Busquets, F. De Jong, Dembélé, Aubameyang, Torres
Real Sociedad vs Barcelona: welcome
Hello! Having followed up European defeat to Eintracht Frankfurt with a league loss to Cádiz, Barcelona need a victory to put themselves back on track for a top-four finish. Hosts Real Sociedad, meanwhile, are among the clubs out to usurp the Blaugrana in the Champions League spots.
Team news is in at Reale Arena, so let's take a look.