FC BARCELONA
Reports suggest FC Barcelona are close to agreeing a deal with Iñigo Martínez
The Athletic Club centre-back is a target for the Catalan side when he becomes a free agent in the summer of this year.
Various reports in Spain and around Europe are claiming that Athletic Club centre-back Iñigo Martínez is increasingly close to a deal with FC Barcelona, with some Catalan media reports emerging that his wife has even begun to look for a house in the city.
Laporta pulled his levers last summer to make sure manager Xavi had a squad that could compete (domestically, at least) and they signed Marcos Alonso, Andreas Christensen and Joules Koundé to the back line. Now it seems as though more reinforcements are wanted, and the Basque defender is top of the list.
Who is Iñigo Martínez, and why do Barça want him?
Iñigo Martínez is a centre-back for Athletic Club in Bilbao, northern Spain. He has played for the club since 2018 and has made close to 150 appearances for the side. His rise to prominence came, however, for Athletic's Basque rivals, Real Sociedad, who saw him cherry picked by their bigger cousin and brought to Bilbao. Before his move to San Mamés, Martínez had established himself as one of the top defenders in the league and made the controversial switch after amassing over 200 appearances for La Real.
Transfer specialist and ferocious Tweeter, Fabrizio Romano, has said that a verbal agreement between the player and FC Barcelona was, wait for it, "really close". Thanks, Fab. Anyway, Martínez has a contract that runs to the end of the season so agreeing a fee with Athletic - a herculean task at the best of times - will not be necessary. Mundo Deportivo also wrote that Iñigo has been a Barça target since 2017 and that they even had him down as a second place option if the deal with Joules Koundé fell through last summer.
What is the problem?
Why do you always think there is a problem? Just because it's FC Barcelona? Well, you'd be right.
The tiny issue has to deal with Financial Fair Play, everybody's favourite rulebook in the football library. FC Barcelona, due to financial silliness, have to clear money off of their books before they bring anyone else in. The same thing happened with Marcos Alonso last season. His signing was all said and done but Barça were unable to officially register the defender as a new player on their squad list as they did not have the financial wiggle room to squeeze him into the wage limits placed on the club by the league's rules. The same situation is just around the corner for Barça as the summer window approaches. But this time, they've got a plan.
More levers? No, just straight player sales. The club are looking at selling up to four of their players from the first team, moves away which would allow Laporta to stretch out fully across the bed like a home alone dog and get whatever he likes from the fridge. And Iñigo Martínez is top of that list.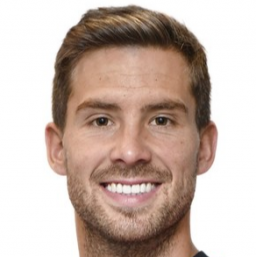 LaLiga Santander 2022/2023
*Data updated to date Mar 23rd, 2023