REAL MADRID
Reports suggest Hazard to see out Madrid contract until 2024: MLS could also be an option
The Belgian wants to stay with the Spanish club until the end of his current deal, but MLS could tempt him.
Belgian forward Eden Hazard wants to see out his deal at Real Madrid, which ends in 2024, according to a report from The Athletic. Hazard, 32, had a meeting in February and it appears as though the decision was made then, that he would stay, due to "a variety of professional and personal reasons".
Hazard has featured just 7 times for the European champions this season, not once completing 90 minutes. The longest he has managed on the pitch for Real Madrid was 67 minutes against Cacereño, a team from Spain's fourth division, in the Copa del Rey; "he's barely touched the ball and when he has done, he's not done anything significant with it", said our AS reporter on the game. Less than 20 seconds after leaving the field, Rodrygo scored the winning goal in a 0-1 victory for Los Blancos.
Why does Hazard want to stay at Madrid?
Yes, my tongue is firmly in my cheek with that question. As per the report, Hazard's wish is to stay at Real Madrid until the end of next season, when his deal with the club expires; he is the highest-paid player in the Madrid squad and does not want to give up his salary. He is also the most expensive player Real Madrid have ever signed (initially €100 million/$105.5m, but potentially up to €160m/$168m), with his fee going above what they paid for Gareth Bale in 2013 (€101m/$107m).
Injuries have kept the player on the sidelines for a large chunk of his time in Spain but nonetheless his efforts have been questioned by fans. The Gareth Bale treatment, one might say, but let's stop there: Hazard, with about as much thinking power as he is using to see out his contract, can only wish to achieve what Bale did at Madrid. Bale won a Copa del Rey with an unforgettable solo goal in a Clásico final; in four seasons, Hazard is yet to play against FC Barcelona.
Hazard's performance data this season
It's probably best to look away now, Eden. Sofascore have provided this handy, if not damning, graphic of Hazard's season at Real Madrid. As we can see, his 7 apps and 1 goal come with a heat map that is neither here nor there; a complete lack of concentrated positioning probably speaks to the fact that in the 7 times he has played, Hazard has averaged less than a half of a game of football. He has had only 4 shots all season: 2 on target, 1 blocked and 1 off the target. Reading these stats is like chasing the wind - where do I even begin to grab onto something?
Is Hazard going to MLS?
"Only a potential move to the United States could convince him to leave Madrid", says the report. In other words, if MLS comes calling, then it could well happen. But, as of yet, no club has made a firm approach for the player.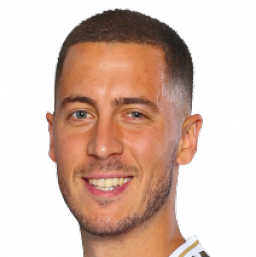 LaLiga Santander 2022/2023
*Data updated to date Mar 9th, 2023