REAL MADRID
Rodrygo adds more fuel to Ancelotti managing Brazil national team
Real Madrid's Brazilian, interviewed in Globoesporte, comments about the possible future of the Italian coach with the samba nation.
What began as a rumor after the the resignation of Tite from the bench of the Brazilian team following an unsuccessful World Cup in Qatar, a replacement by the name of Carlo Ancelotti is beginning to take shape. A desire from the Brazilian federation, fueled by loud murmurs during the most recent Club World Cup held in Morocco, places the current Real Madrid boss in charge of the five-time world champion once this season for Los Blancos ends.
Rodrygo Goes all in on Ancelotti
Adding a little extra spice to the rumor sauce is Rodrygo Goes. The 22-year-old Madrid foward gave an interview to Globoesporte where he left us with various takeaways, some a little tongue-in-cheek, and suggesting that he'd be rather happy if his club manager, now 63, was the future Brazilian coach.
"He has experience and has won everything. He knows how to manage a group, something that is very important. Sometimes a coach doesn't have to be the best tactically, because the team already runs for him. He manages the dressing room very well and that makes the difference", explained Real Madrid number 21.
"He makes everything simple and doesn't invent too many things. He does what needs to be done. He doesn't go crazy tactically, he does simple things and it works," he added.
Asked how his teammates Militao and Vinicius see the potential of their club boss taking over the national side, Rodrygo revealed that it had come up in conversation with Ancelotti.
"We told him: 'Gaffer, we'll wait for you there.' He joked back that we are going to do the next call-up together. We talk more jokingly, but every joke has a bit of truth. The situation there is difficult, you have to leave Real Madrid to come here [Brazil]. So I can't say what's going to happen, but of course it would be an honor to have him here."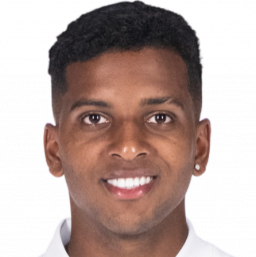 Rodrygo also talked about his time at the World Cup, where he missed a penalty against Croatia.
"It never crossed my mind that I could miss it. I have never hidden from responsibility. Only those who take them can miss and unfortunately it happened to me and Marquinhos.
"I think it was one of the saddest moments of my life because of everything we had been doing."