FC BARCELONA
Sergio Busquets given FC Barcelona contract offer; linked with MLS move
The FC Barcelona midfielder has been offered a one-year extension with the possibility of a further season, depending on performance.
Sergio Busquets has received a formal offer from FC Barcelona to renew his contract with the club. The captain, who is still in the race to become the player with the most caps in Barça's history (he has 712, Xavi 767 and Messi 778), has received through his representative, Josep Maria Orobitg, a proposal for a new deal. The contract is somewhat similar to the offer given to Sergi Roberto, although obviously with different financial weighting.
The contract itself is a one year extension with an option of one more if he reaches a certain percentage of appearances (in the case of Sergi Roberto it is 60%). Right now, Busquets is simply undroppable at Barça; he has played no less than 32 games this season out of a possible 39, which is 82%.
Busquets rejects MLS in favour of Barça
A few months ago, Barça had given up on Busquets, who had his mind set on leaving the club at the end of the season. However, Xavi's insistence and the positive football results, which are at least occurring on a domestic front, have shaped the opinion of the midfielder. For a long time, Sergio Busquets has been linked to a move to MLS, where a formal offer was even presented to him. This, along with a potential move to Saudi Arabia, were the only two formal offers the player had received until now.
Busquets feels useful within the current group of Barça players: against Valencia and Athletic he provided two assists for Raphinha and he is still untouchable in the eleven. If the season ends in the positive way it is currently headed, Busquets' renewal will become a reality.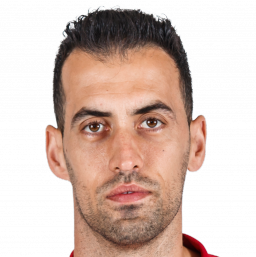 LaLiga Santander 2022/2023
*Data updated to date March 15th, 2023