Valencia vs Barcelona summary: Lewandowski late winner, score, goals, highlights, LaLiga 2022/23
Valencia 0-1 Barcelona: as it happened
Peeep peeep peeeep! Barcelona have snatched it at the death, and go provisionally top.
The visitors had more of the ball and, Lewandowski's winner aside, did have other chances, too - most notably when Ferran Torres missed a late sitter. That said, you could hardly say Valencia ever looked positively overwhelmed.
Barça move above Real Madrid on goal difference, but Los Blancos will return to the summit with any kind of positive result against Girona tomorrow.
As for Valencia, it's now four league games without a win. Los Che end Saturday in 10th, having been leapfrogged by Rayo Vallecano.
Thanks for reading!
Oh dear, it's all boiling over a little bit. Lewandowski and Foulquier square up on the left-hand sideline, before Ferran also gets involved.
It all finishes with a yellow for Ferran, and nothing else.
Goal! Valencia 0-1 Barcelona - Lewandowski has surely won it!
Receiving the ball from Pedri on the right, Raphina scoops a cross over to the back post, where Lewandowski has peeled off. He sticks out a boot to turn the ball back across Mamardashvili's goal and into the far corner, and that must be the winner!
That's now 13 goals in 12 LaLiga games for the division's top scorer.
Marcos André nutmegs Pedri, then does exactly the same to Piqué, who responds by pulling him down. Yellow card for the defender. The home fans absolutely loved that.
Six minutes of time added on at Mestalla.
Gavi gets involved in a bit of nonsense with Gabriel, barging into the defender as the players make their way back to await Mamardashvili's goal-kick. The teenager is rewarded with a yellow card.
What a miss by Ferran! Collecting a chipped ball into the box, Pedri gets to the byline and squares it to Ferran, who is five yards out. All he has to do is sidefoot the ball past Mamardashvili and into the net, but he misses his kick! Raphinha and Lewandowski both pounce on the loose ball, but Foulquier puts them off sufficiently, and the Brazilian thrashes it over.
That really, really should have been 1-0 to Barcelona.
Lino nutmegs Gavi on the left wing, before whipping a ball into the box. There are loud shouts for handball by Piqué, but replays show it hit the defender square in the face.
Barça break, working it to Ferran on the left. He plays it into the Valencia area, where Lewandowski is waiting. He tries to work himself a yard of space to shoot, but finally is only able to toe-poke the ball well wide of Mamardashvili's left-hand post.
Another change. Correia, who also seems to have picked up an injury issue, is replaced by Jesús Vázquez.
Ter Stegen lifts another pinpoint high ball forward. It drops right on Lewandowski's toe, the Pole pulling it down expertly inside the box, but Correia does magnificently to stick a leg in and dispossess the striker. He draws roars of approval from the Mestalla crowd.
Koundé is replaced by Gerard Piqué, who is caught slightly off guard by the injury to his club-mate, and isn't quite ready. Busquets has to help him sort out his boots so he can come on quickly.
A minute earlier, Valencia made a double substitution. Toni Lato is on for Gayà, who does seem to have hurt himself, and Samu Castillejo is on for Kluivert.
Oh dear. Koundé drops to the turf holding his hamstring. He's just missed a number of games with a muscle injury, and is now going to have to come off once more.
Lino shoots, but Ter Stegen saves with ease! Valencia break, working it out to the Brazilian, who's in space on the left. If his first touch had been a bit better, he might well have been clear. His control isn't good at all, however, and he gives the Barça backline time to get back into position. He finally digs out a shot from the edge of the area, but it's not all that powerful, and it's a comfortable take for Ter Stegen.
Pedri slips the ball into Gavi just inside the Valencia box, but Gayà is quick to get his body away and clear the danger. He ends up in a heap on the turf. It's not clear whether he's hurt himself or is just knackered, but either way he's soon back up.
Lino was booked a couple of minutes ago, by the way. Gave the ref just a little bit too much lip.
That's excellent defending by Guillamón. Barça work it to Torres on the left-hand byline, and he fires the ball across goal. Raphinha is arriving at pace at the back post, and is preparing to turn it home - but Guillamón gets himself in the way and does enough to put the Brazilian off! Guillamón hurts himself in the process, but is soon back on his feet.
Barcelona keep it inside the Valencia half for a good 90 seconds or so, before Alonso tries to find Alba with a lofted pass into space behind the Valencia defence. Alonso's pass is too long, and that's attack over.
Torres receives on the left, to a chorus of whistles from the Valencia fans. With Correia and Gabriel tracking him, he cuts inside, advances to the edge of the box and shoots - but his strike is partially blocked, and runs through to Mamardashvili.
Gayà touches the ball inside to Lino just inside the Barça area, but his touch is poor and he loses it to Koundé, much to the frustration of the home support.
One shot on target for Barça in first 45
Opta note that Barcelona's first-half total of one shot on target is their second-lowest in all competitions this season.
Barcelona make a triple change. Dembélé, Busquets and Fati all make way for Ferran Torres, Gavi and Raphinha. Torres, a former Valencia player, gets a frosty welcome from the home fans.
Right away, Barcelona go up the other end and create a decent chance to go in front. De Jong carries the ball over the halfway line, before sfeeding a low ball through to Fati's run in behind the Valencia defence. Receiving on the left, he cuts inside, takes the ball forward into the box and shoots... but can only fire a good couple of yards wide!
Valencia think they've snatched the lead, but the goal is ruled out for handball! Correia crosses high from the right, but André can't get on the end of the ball. However, it runs through to Lino, who strokes the ball past Ter Stegen and into the far corner.
The Barcelona players surround the referee, complaining that André handled the ball before it reached Lino - and replays show the forward did indeed touch it with an outstretched hand.
De Burgos Bengoetxea trots over to the pitchside monitor, and promptly disallows the goal.
Back come Barcelona. Dembélé brings the ball forward down the right, then slips a low pass into Pedri's run towards the Valencia the byline. Pedri immediately tries to turn the ball across the face of goal, but it's too close to Mamardashvili, who scoops it up.
Barcelona start the second half of the front foot. Busquets sweeps a pass out to the left to Alba, who feeds it back inside to Amsu Fati at the top of the box. He drops a shoulder, jinks right and shoots, but his strike is blocked by Gabriel.
As the Brazilian gets in the way of the short, he seems to turn his ankle a little, and is left in some pain. He's back up quickly enough, though, and should be fine.
Peeeep! We're back underway at Mestalla. No changes for either side at the break.
Villa tribute: in pictures
Courtesy of Valencia' social-media team, here are a couple of pictures of that pre-match tribute to David Villa: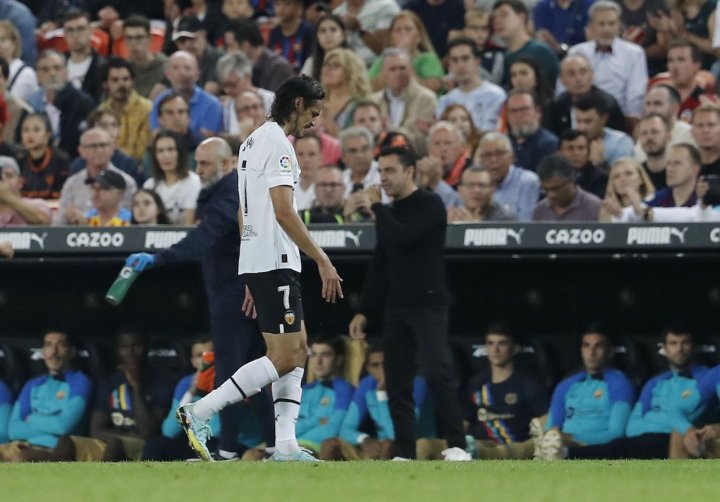 Edinson Cavani trudges off the Mestalla pitch after being forced off with an injury.
(Photo: Alberto Iranzo/Diario AS)
Peeep peeep peeep! That Gabriel header is the final action of the first half. Barcelona have been well on top, and came closest to scoring when Lewandowski headed against the post a couple of minutes ago. For all their dominance, though, it's not as if Barça have created a glut of gilt-edged chances.
Alonso has only been on the pitch for a minute, but he's already in the book. He brings Marcos André down with a nasty challenge, and there are even suggestions that VAR might turn yellow into red. Alonso gets away with it, though.
Valencia win a corner, and there's a minor set-to between Balde and André over the former's unwillingness to hand the ball over to the latter. When the corner is finally delivered, Gabriel heads just past Ter Stegen's post! That is without doubt the best scoring chance the hosts have created so far.
Lewandowski hits the post! Alba pings in a cross to the back stick, where the striker rises highest to nod downwards. An inch to the left and it's into the corner, but it bounces back off the woodwork!
One minute of time added on at Mestalla.
Alonso is on for Barcelona, and it's García who makes way. He has picked up some sort of issue.
García is too easily beaten by Kluivert, and suddenly the Dutchman is bursting forward towards the Barça box. To Kluivert's right, Foulquier makes a darting run into the area, but Koundé does very well to read the forwards' intentions and cut out his pass towards his team-mate.
Marcos Alonso is preparing to come on. It's not clear who he'll be replacing.
Dembélé crosses from the right, his delivery finding Koundé at the back post. Koundé's header is firm enough, but off target.
Barça remain dominant, but we're creeping towards half time and it's still goalless at Mestalla.
Ter Stegen pings a terrific long ball out to Fati on the right. I'm not sure how, but he's in acres and acres of space. He brings the ball forward before playing it low into the area, where Lewandowski is in position and preparing to pull the trigger. Gayà does excellently to put the Pole off, however, and the ball rolls harmlessly behind. Fine defending by the Valencia captain.
Now Valencia do finally get forward. Correia receives on the right, before lifting a pass into Kluivert's run into the Barcelona box. It's a little too long, and Ter Stegen is swiftly off his line to come out and grab the ball.
It's all Barcelona, but they haven't created much at all that could be described as clear-cut. That Dembélé chance, and that's it, really. Unless you also count the offside Fati goal.
Dembélé jinks away from Gayà on the left, before crossing on to Fati's head. The teenager is in plenty of space on the penalty spot, but Dembélé's delivery is just too high for him, and he can only nod the ball well off target.
A moment later, Lewandowski slips the ball to Fati in space on the left, but as he prepares to put his head down and charge into the area, the flag goes up. Just offside.
De Jong receives the ball some 30 yards out, before bringing the ball forward and letting fly from inside the left channel. He slices his strike a good yard or two wide, though, and Alba isn't happy at all that the Dutchman didn't pass it to him.
For a good 10, 15 minutes or so, all the play has been in the Valencia half.
Dembélé pings a low cross into the Valencia box in search of Lewandowski's run towards the near post. His pass is hit a little too close to Mamardashvili, however, and the keeper steps of his line to claim.
Goa... but the flag is up. Lewandowski slips it through to Fati on the penalty spot, where he strokes a low finish underneath Mamardashvili and into the net. Fati is a yard or so offside, and the goal won't stand.
García becomes the first man to go into De Burgos Bengoetxea's book, after tugging back Marcos André as the Brazilian sought to escape his clutches on the right wing.
Lewandowski bursts away from his man and feeds it out wide to Dembélé, who is in a good position to get to the byline. His touch his heavy, though, and he's dispossessed. Lewandowski really is so good at dropping deep, spinning and spraying the ball out wide, before charging into the box for the return. He didn't get one this time.
Cavani is off to a warm ovation from the Mestalla crowd. Marcos André is on in the Uruguayan's stead.
Correia loses it to Lewandowski 15 yards shy off the halfway line, in an area where he doesn't really want to be losing to Lewandowski. The Pole advances towards the Valencia box before feeding it left to Fati... who is offside. That's a waste.
Cavani seems to have a hurt himself; he drops to the turf and is going to have to be replaced.
That's a fine save by Mamardashvili! The clearest chance yet, and it goes to Barcelona.
Pedri carries the ball forward before slipping a delicious little slide-rule pass through to Dembélé, who's suddenly scampering in behind the Valencia defence and into the box. The hosts' goalkeeper is very quickly off his line to make himself big and narrow the angle, and Dembélé's shot bounces back off the Georgian.
Gayà whips in a cross from the left, but it's a yard or too in front of Kluivert, who can't make contact.
Cavani has been over on the touchline for a good minute or two, as he seems to have an issue with some ankle strapping.
Dembélé scuttles forward towards the Valencia box, as Los Che's defence backpedals furiously. Cömert does well to dispossess the winger, however, and the chance is lost.
If you're wondering why Gavi is on the bench for Barcelona, by the way, he has been carrying a niggle that also saw him take his place among the subs against Bayern in midweek. "He's available, but we'll see how much he can play," Xavi said yesterday.
Having just gifted Valencia a shooting opportunity with misplaced pass in a dangerous area, Barcelona now benefit from one. Mamardashvili's ball out from the back is wayward, and Pedri cuts it out. He plays it inside to De Jong, who in turn touches it on to Dembélé on the left-hand side of the area. A gaggle of white shirts is quickly on the Frenchman, though, and he is crowded out before he can get a shot away.
Alba lifts the ball forward for Fati to chase, but Gabriel is quickly across to shepherd the ball behind. Fati gives the Brazilian a little but of a shove, prompting an angry response from the home crowd, but that's as far as it goes.
Right away, Koundé's loose pass at the back gives Valencia an opportunity to work it to Lino in shooting space just inside the box. He tries to beat Ter Stegen at his near post, but the German is quickly down to grab hold of the ball.
Peeeeep!
After David Villa is brought out onto the Mestalla pitch to take the honorary kick-off, Ricardo de Burgos Bengoetxea blows his whistle and we're underway!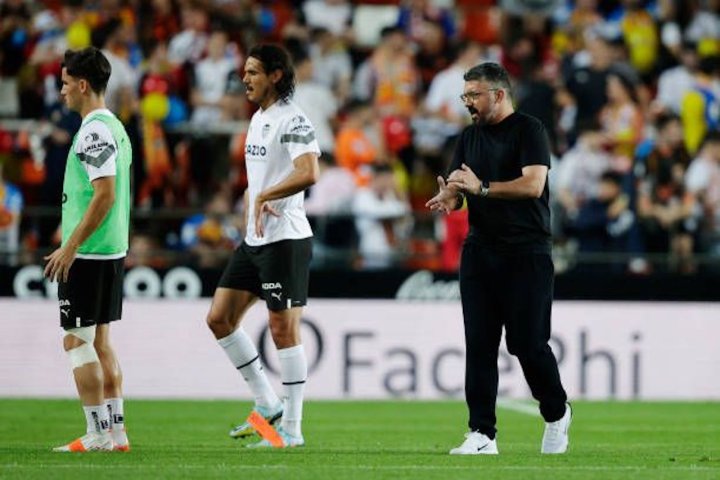 Valencia boss Gennaro Gattuso (right) oversees the home team's warm-up ahead of kick-off at Mestalla.
(Photo by David S. Bustamante/Soccrates/Getty Images)
Valencia pay tribute to Villa
Valencia have been paying tribute to David Villa pre-match, by the way. Villa, who also spent three years at Barcelona, scored 130 goals in 225 appearances for Los Che between 2005 and 2010.
The club have hung an image of the former striker on the outside of Mestalla, adding his face to those of other Valencia legends who adorn the stadium's exterior. Indeed, they've placed him next to fellow World Cup winner Mario Kempes.
Before tonight's game, Villa will be brought out on to the pitch to take the honorary kick-off.
Valencia seek first win over Barça in nearly three years
Barcelona are unbeaten in their last four games against Valencia, and have won each of the sides' last three meetings.
The last time the teams met in LaLiga in February, Pierre Emerick-Aumeyang plundered a hat-trick in a 4-1 win for Barça at Mestalla, with Frenkie de Jong also on target for the visitors. Carlos Soler, who has since left for Paris Saint-Germain, replied for the hosts.
Valencia's most recent victory over Barcelona came in January 2020, when a Maxi Gómez double gave Los Che a 2-0 league triumph at Mestalla.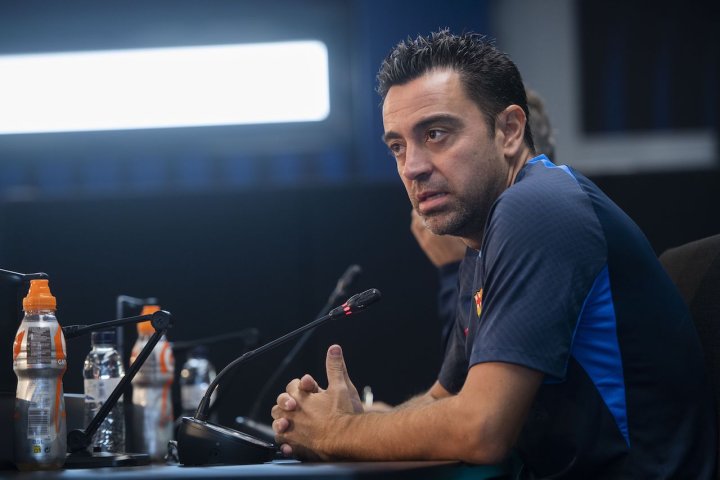 What the coaches said: Xavi Hernández, Barcelona
Valencia:
"With Gattuso in charge, you might expect the opposition to be more defensive, but it's just the opposite. They're brave, they press high, they're dynamic. It could well be a similar game to the one against Athletic Club. I think it'll be a good game for the fan to watch."
Team's reaction to Champions League exit:
"They're staying positive. What happened in the Champions League is a bitter disappointment, but we have other competitions left to compete in and we can still have an excellent season. We have to fight tooth and nail."
Nico's 'fear clause':
"I think it's the right thing to do. He's our player, and there have been many cases [of loanees coming back to haunt their parent clubs]. We have a lot of faith in him and what we don't is for him to be harmful to our interests."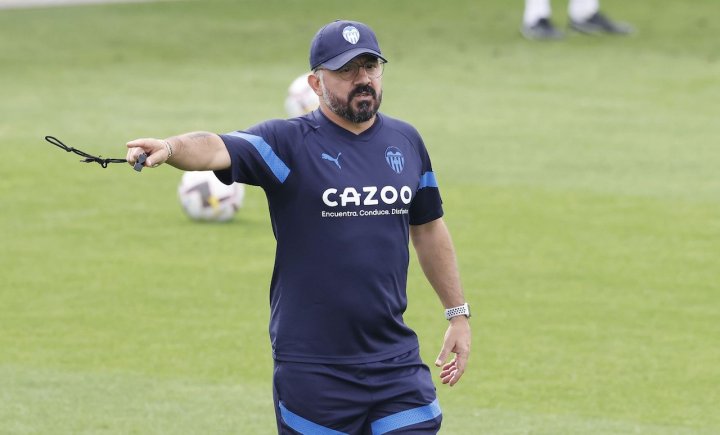 What the coaches said: Gennaro Gattuso, Valencia
Facing Xavi:
"I'm very happy to be coming up against Xavi. For many years [when we faced each other as players], he'd play and I'd just be running after the ball, because his Barça side played some really good stuff. I have huge respect for him, because he's a real football lover. It'll be a pleasure and an honour to go up against him."
Running out of steam late on:
"In 11 games, we've been ahead eight times. It's no coincidence that we don't perform in the same way after the 60th minute. We're working to improve on that. I have high hopes for this team and I think we're going to improve. When I look at the table, I feel like we should have 19 or 20 points [rather than 15]."
Message to the dressing room:
"I don't have to say too much when you play these kinds of games. The history books tell you all you need to know about the Barcelona players. It's a game where the team talk gives itself. It's harder when it's a game against someone like Elche."
(Photo: Alberto Iranzo/Diario AS)
Valencia have taken two points from last nine
While Barça go to Mestalla on a sequence of two wins in five, Valencia's recent form hasn't exactly been stellar, either. Los Che have won one of their last five games, and none of their last three. After draws with Elche and Sevilla, they were beaten 2-1 at home by Real Mallorca last time out.
Gennaro Gattuso's men headed into matchday 12 sitting ninth - and are actually just about to be leapfrogged by Rayo Vallecano. Rayo are just a couple minutes away from a 1-0 win over Sevilla that will push Valencia provisionally down to 10th.
Three changes each for Valencia and Barcelona
Valencia boss Gennaro Gattuso makes three changes to the side that lost to Real Mallorca last weekend. Eray Cömert, Dimitri Foulquier and Hugo Guillamón come in for Mouctar Diakhaby, Yunus Musah and Nico González.
Diakhaby is injured, Musah is suspended, and Nico is unable to play under the terms of his summer loan move from Barcelona - what's known in Spain as the 'fear clause'.
Foulquier is usually a right-back, but with Musah, Nico and Ilaix Moriba all unavailable to Valencia, the Frenchman is set to play in midfield tonight.
Barcelona also make three changes, meanwhile. Jordi Alba, Eric García and Ansu Fati all return to the line-up, and Héctor Bellerín, Marcos Alonso and Franck Kessié make way.
With Alba in the team, it looks like Alejandro Balde will move over from his customary position on the left to play at right-back.
Barcelona team news
Barcelona's XI was also confirmed a few minutes ago. Xavi has gone with: Ter Stegen, Balde, Koundé, García, Jordi Alba, De Jong, Busquets, Pedri, Dembélé, Lewandowski and Ansu Fati.
Valencia team news
Valencia have just announced their starting line-up. It is: Mamardashvili, Correia, Gabriel, Cömert, Gayà, Foulquier, Guillamón, Almeida, Kluivert, Cavani and Lino.
LaLiga: how it stands at the top
Here is a look at the top of the league table, where Barcelona can move level on points with Real Madrid with victory at Mestalla. Ultimately, teams' head to head records are the chief tiebreaker used in LaLiga, but for now goal difference is king, so Barça would provisionally leapfrog their arch rivals at the summit.
Madrid face Girona tomorrow at 10:15am ET/7:15am PT, in a game that you'll also be able to follow right here at AS USA.
Below Barça, by the way, Atlético Madrid were beaten by a 99th-minute Cádiz winner earlier today - so victories for the top two this weekend would see them pull further away from the chasing pack even if Real Sociedad beat Real Betis tomorrow.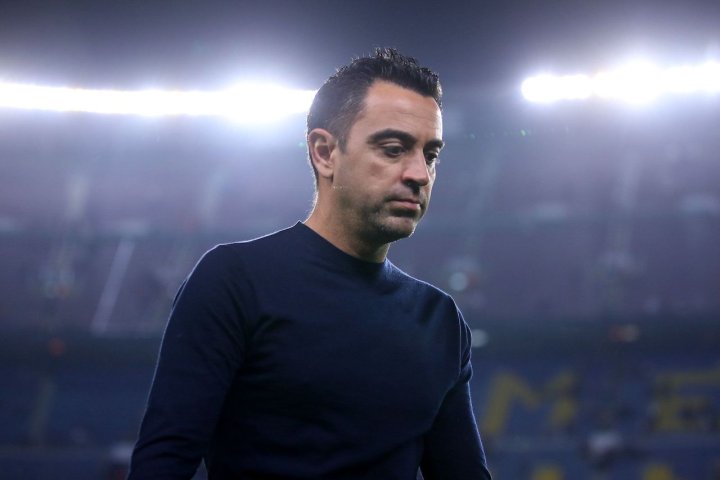 Barcelona bid to soothe UCL pain
Barcelona can actually go top of the league tonight - albeit provisionally, ahead of Real Madrid's clash with Girona tomorrow - but the Blaugrana arrive in Valencia feeling thoroughly in the doldrums.
They were condemned to a second straight group-stage exit in the Champions League in midweek, Inter's win over Viktoria Plzen eliminating Barça shortly before they took to the Camp Nou pitch to be given a 3-0 boshing by Bayern Munich.
Having tugged on every 'lever' in sight in order to splash the cash on a host of signings in the summer, this is certainly not what they had in mind.
And that defeat to Bayern means Barça are now on a decidedly iffy run of two wins in their last five games in all competitions. Xavi Hernández's men can ill afford to make that two in six tonight.
(Photo: Eric Alonso/Getty Images)
Valencia vs Barcelona: welcome
Hello! Welcome to our live coverage of Saturday's primetime LaLiga matchup, as Valencia host Barcelona in week 12 of the top-flight season. The game at Mestalla gets going at 9pm local time; in the US, that's 3pm ET/12 noon PT.
Team news should be with us by an hour or so ahead of kick-off.