LALIGA
Vinícius all but confirms his breakup with Nike
The Brazilian winger did nothing to hide the fact he is most probably leaving his deal with Nike; negotiations with Puma have already started.
Real Madrid bagged three vital points against Valencia to continue on their hunt towards catching Barcelona in LaLiga Santander with Vinícius Júnior once again the protagonist. The Brazilian, on his 200th appearance, was the main architect of the Whites' victory in which he scored a goal and survived what seemed like thousands of challenges - including a ludicrously dangerous lunge from Gabriel Paulista that earned him a red card. It was a match in which he ended up confirming what had been an open secret: his breakup with Nike.
As previously confirmed by AS, Vinicius, who is LaLiga's most fouled player, has been feeling undervalued by the American brand for some time and, despite having a contract until 2028, the 20-year-old attacker has decided to end the agreement.
More detail:
Vini's wink to the breakup
During the game, Vinícius made a very obvious gesture that shows his disagreement with Nike. The Brazilian stepped out onto the pitch at the Santiago Bernabéu and played the first part wearing completely black boots, with no trace of any logo or brand name. In the second half, the winger decided to change his boots and he appeared on the pitch with yellow and white boots. Again, the sports logo was not distinguishable.
And so, the relationship between Vinícius and Nike began in 2013 when the Brazilian was still a youth player has finally come to an end. Things weren't looking promising before Christmas, as at the World Cup in Qatar, Vinicius played wearing boots that belonged to an old model of the Mercurial collection; today we have seen the definitive confirmation. And now Puma have already designed a strategic plan to pounce on the Brazilian and they are in the best position to obtain the services of the 22-year-old attacker.
Who is that, lurking in the shadows?
But there's more. If Vinicius were to move to Puma, the figure of Neymar would step into the light. Vinícius' teammate signed an astronomical contract with Puma at the end of September and is currently the main asset for the German brand to end up convincing the Real Madrid striker to make the leap.
Whatever happens, Vinicius will no doubt continue to light up the left wing, whatever boots he's wearing.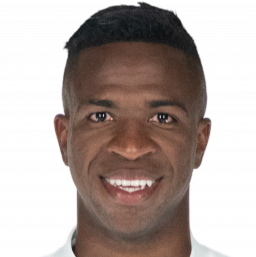 LaLiga Santander 2022/2023
*Data updated to date Feb 2nd, 2023