DESIGN
How are football shirts designed?
With teams now releasing their new 2023/24 shirts, we spoke to two expert kit designers who have worked for Nike, Puma and Umbro.
It's that time of year again. The football season may be coming to an end but already we can see the first signs of life from 2023/24. There are countless rumours online, the odd in-person sighting and the gradual drip of official announcements, giving concrete details of what is to come.
We are talking, of course, about football kits.
For supporters, next year's kit is the subject of great interest and frequent controversy. Should you stick to the formula or shake things up? Hark back or look forward? A traditional collar or an ergonometric crew neck? These are all questions that designers must consider.
And when it comes to football kits, few can match the design expertise of Craig Buglass and Rob Warner. Both have decades of experience working with top brands to produce some of the most iconic kits of recent years.
Craig was formerly creative directing manager at Nike, overseeing the brand's designs at the 2002 World Cup. Meanwhile Rob has been a football kit designer at both Puma and Umbro. Incredibly both parts of the duo, who now run football design courses through the Spark Design Academy, have designed World Cup-winning kits. Craig helped to reinvent the iconic yellow and green for Brazil in 2002, while Rob took Italy's offering in a new direction for their 2006 triumph.
In short, there are few people as well-placed to run their expert eye over the past, present and future of football kit design. Speaking to AS USA, here's what they had to say...
What do you want to see on new football kits?
Rob Warner:
I think for us, there's always going to be two ways that we look it. Partly it's going to be looking at it through the eyes of a fan, in terms of the history of the club and what we like. Not just for our own club, but any club.
And then obviously there's going to be the critical design angle from us. Are they trying something different? Are we seeing any overarching patterns across different teams? Recently we've seen a lot of different brands and teams doing work around maps and cartography. The streets of Barcelona on this season's away kit, for example.
Craig Buglass:
The thing that I look for is provenance. I look for things that relate back to the history of a club or the history of a city or a moment in time. I want something that's going to make me consider the kit in a slightly different way.
Which kits have impressed you the most?
Craig:
When I look at a kit there are three things that I look at. The first is the technology, the ways that the company has innovated. Then I'll be looking for really interesting graphics. And finally it's the colour, have they come up with exciting colour combinations?
There's Denmark 1986, the half-and-half Hummel kit. The famous 1990 West Germany kit with the stripes that go across the chest. They are both iconic designs that bring everyone together.
More recently, the Mexican shirt and the French away kit from the last World Cup, with a pattern of all the different regions of France. The Mexican one had an Aztec print all across it, really good.
Who designs football kits?
Craig:
During our careers we found that most people who design football kits studied as fashion designers. That's why we set up our Spark Design Academy, so we could teach everyone how to design football kits. It was actually inspired by the career of Ian Wright. He didn't come through the academy system, he was discovered playing Sunday league football. From that we thought there must be thousands of amazing designers out that who haven't been to university and so won't get the opportunity.
Since setting it up we've been absolutely inundated. People do the course, work on their projects, and get critiqued by us. Then we can use our contacts to get their designs in front of people from Nike and Adidas, for example. We've been able to get designers access to these big brands.
Who are football kits designed for?
Rob:
When you think of really elite athletes, most of them drive Ferraris and supercars. What we do is design is what they wear to work, so it is a serious piece of kit. It's got it's got to fit in with their expectations for everything else in their life, the amazing products that they interact with all the time. We've got a promise to keep to those athletes.
But you've also got to think about where kits show up now and 90 minutes on a pitch once a week is a fairly minimal level of exposure compared to all the other places. Young people might interact with a football shirt more on FIFA Ultimate Team than they will in real life. So things like the graphic, the typeface and the colour play a really important role.
Juventus have been really innovative in recent years, will other clubs follow their lead?
Rob:
I don't know this for certain, but I think that when Juventus moved into a very futuristic stadium they wanted to be more forward-thinking with what they were doing, hence the new club crest.
And now they're starting to do it with the shirts, making them a little more adventurous. They started off by working with Palace on a fourth shirt, then there was a Pharrell Williams collaboration. So maybe it's just a positioning for them as a club, rather than something that we'll see right across the industry.
Craig:
I think graphics are just going to get stronger and stronger. I'm in love with the Juventus kits, I love anything that really pushes the boundaries. I'm a Newcastle United fan and no one's ever played around with our stripes. I'd love to see that.
What other trends would you like to see in kit design?
Craig:
Well, I think the one thing that I'd be really keen to see is for fewer kits to be released. From an environmental perspective, the world doesn't need any more polyester.
But it's also because kits just don't seem to hold as much meaning anymore because you're only getting one season with them. Teams don't have time to win cups and competitions in them so there's not as much history.
Alongside that, I think there will be more trends around 'cradle-to-cradle' technology. I know Adidas is looking at it; they just released a shoe that you can drop into a machine and it comes out as little polyester beads, ready to be reused. That's where we need to get to with football kits.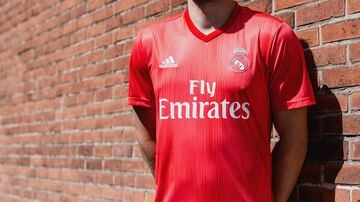 How do you think kits will change in the future?
Craig:
Technology is going to be a massive part of the changes that we see. For me the two big trends to watch out for are technology and graphic expression.
I think as FIFA bring tournaments to different countries there will be a need to solve problems presented by those climates. The 2026 World Cup is going to be held in the United States, Mexico and Canada; depending on where you're playing your game it could be very different temperatures.
I'd like to see brands looking at different fabrics now. We've put up with polyester for so long, it would be great to see if there were some plant-based materials, maybe some cottons and wools. Something that could give a different aesthetic.
And then the world of FIFA, social media and gaming is really going to push the graphic expression. I'm really excited about it all to be honest. It's the one part of life where you know you're going to see something different, all on a global catwalk.