REAL MADRID
Who is Brahim Díaz? From Real Madrid to Milan and back
The man from Málaga returns to Real Madrid after a successful stint with Italian giants AC Milan.
Brahim Díaz is back with the same enthusiasm with which he landed more than four years ago in Madrid (January 2019), but with the confidence that comes from three seasons abroad. The Spanish international is a far cry from that promising youngster with the makings of a star. "When I came here the other time I was a kid, with the same talent, but now I have played more minutes, more games in big competitions, in the Champions League... that makes you more mature," he said on 13 June, at his presentation as a Real Madrid player. Neither age nor inexperience are valid arguments against him today. He is ready and that is how Madrid also see him as the ideal replacement for Marco Asensio. His role, from the outset, will be different to the one he was used to at San Siro, but Brahim is not shying away.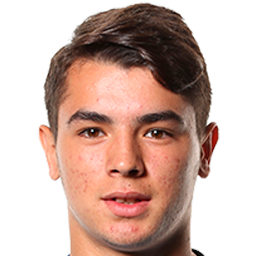 Three years is a long time. Four and a half, in fact, not counting his time at Manchester City. Because it was at the Etihad where he began to taste professional football. He came through Málaga's youth academy, and went on to play 15 games for the City's first team (over three seasons) before signing for Madrid. He was only 19 years old and had a talent that attracted a lot of attention. He arrived in the capital on 6 January 2019 and his game has naturally gone from strength to strength. Madrid paid $18.5m for him. It didn't matter that, according to Transfermarkt, his market value was $5.5m at the time. It was a gamble, in line with the club's policy of acquiring promising young players on the world stage in good time.
That season (2018-19) was marked by instability in the Madrid dugout. Up to three coaches took over. Santiago Solari took the reins in November of a Madrid side that had started the season under Julen Lopetegui. Subsequently (in March), Zinedine Zidane was appointed and stayed in the role until 2022. Under him, Brahim played in eight of the last ten league games. Under Solari, by contrast, he only featured for eight minutes against Betis and 16 minutes in the Copa del Rey tie against Leganés. The competition for places was fierce and after a quiet 2019-20 campaign, only playing 206 minutes, he was forced to look elsewhere.
Idol at San Siro
It was obvious that he needed minutes and in Milan he found them. He became a reference point for the Rossoneri fans and one of the most talented midfielders in Europe. Three years at San Siro have put him in the spotlight, especially the last two. He led Milan to the Serie A title after eleven years (2021-22) and helped the team to reach the Champions League semi-finals (22-23) after 16 seasons without doing so.
In 2022-23 he played 45 games in which he has scored seven goals and provided another seven assists. He has also proved to be one of those who are not intimidated by the big games.
How does he fit into Ancelotti's system?
On paper, with Jude Bellingham recently signed and plenty of options going forward, he has returned to Chamartín to play the role of a first-choice substitute that Asensio had been playing, but he is not resigned to the fact that his destiny is to systematically start from the bench. He knows that it will be a long season and that the new system, which makes room for a fourth midfielder, benefits him; not only for space, but also in terms of positioning. The 4-3-1-2 that Carlo Ancelotti will implement in July brings back a position - that of the playmaker, which had not existed at Madrid in recent years. That is where the Malagueño performs best: the position that has led him to succeed in Milan and in which he feels most comfortable. Brahim is back.