ANDRÉS INIESTA
Why is Barcelona legend Andrés Iniesta leaving Japanese club Vissel Kobe against his wishes? Will he retire?
Iniesta tearfully announced his departure from Vissel "by mutual consent", revealing he imagined he would retire with the J1 League club.
Barcelona legend Andrés Iniesta has announced that he is leaving Japanese club Vissel Kobe "by mutual consent" at the end of the season and confirmed that he would be looking to continue his playing career elsewhere.
"I think we always imagined that I'd retire here, it was what everyone wanted," Iniesta said as he broke down in tears at a press conference which was also attended by Vissel owner Hiroshi Mikitani.
Why is Iniesta leaving Vissel Kobe?
Iniesta revealed that his intention is to "continue playing" and "continue competing", and insisted that he and the club had "by mutually agreed" that he would move on, claiming current head coach Takayuki Yoshida "had other priorities", with Iniesta having had little game time this season.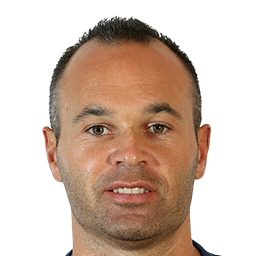 The former Spain international kicked off by saying that coming to Japan had been "one of the best decisions of my life", and reminisced about some "wonderful moments" with the club, including winning the Emperor's Cup in 2019.
He also reflected on "other really tough ones", such as last season, when Vissel were in the relegation zone for most of the campaign, which he missed parts of through injury. "I've kept working very hard and I've been feeling really good", Iniesta said of his return to fitness during last few months.
Iniesta's lack of game time in Japan
The Japanese league season started in February, since when Iniesta has only played 85 minutes in five appearances in all competitions. Despite his lack of game time, Vissel are top of the J1 League after 14 matches.
"I would like to try to finish my playing career by being out there on the field, and that's complicated at the moment," Iniesta said when asked about his future. "I don't know, I want to keep playing, I feel as if I still have the ability and the desire to continue. But we'll see what options I have once this adventure is over".
The ex-Barça midfielder continued by focusing on the positives, thanking the club and fans on several occasions. "I'm really proud of this part of my career, of having helping the club keep growing".
When did Iniesta move to Vissel Kobe?
Iniesta, who won the World Cup and European Championships (twice) with Spain, was given a bouquet of flowers from his teammates and posed with them in front of the cameras after the press conference, which his wife and children also attended.
The playmaker, who turned 39 earlier this month, joined Vissel Kobe in July 2018 and and was named in the J1 League's best XI in both 2019 and 2021, since when he has been hampered by a series of different injuries.
Will Andrés Iniesta return to Barcelona?
Iniesta went on to explain that he would be looking for a new club in the short term and also spoke about his long-term plans after hanging up his boots. "I like to think in the here and now, and that means playing. I'll try to keep playing for the years that I have left, then we'll see".
What seems certain is that the two clubs he has played for, Barcelona and Vissel Kobe, will continue to play an important role in his life in the future. Iniesta confirmed that he had an agreement with Vissel to return to the club in some capacity after retiring.
He also spoke about the possibility of going back to Camp Nou. "As I have said many times, I would love to return to Barcelona at some point in my life, but I still think that's some way away. More than anything, I hope that Xavi will coach the team for many years, that would be great news for soccer".