Gareth Bale cuts holes in his socks to try and prevent injury
The Welshman took to the field against Celta on Saturday having snipped bits out of his socks in a bid to avoid a recurrence of his calf injuries that have plagued his seasonSevilla-Leganés: Copa del Rey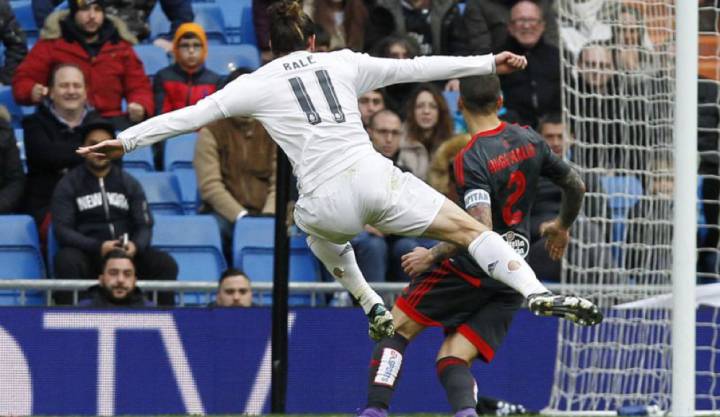 Bale came back against Celta after 47 days out with an injured soleus muscle in his right calf, and he did so not only taking part in the 7-1 thrashing of the visitors, but also showing off two rather curious holes in his socks. The reason for snipping out sections of his lower leg-wear? To 'release' the soleus muscles in both legs, and try and prevent yet another injury.
As a Real Madrid player he's now suffered six calf injuries, three in this season alone. In addition to his most recent problem with the right calf, he suffered minor tears to the muscle in his left leg against Shakhtar (missing six games) and again against Levante a month later (another games out of action).
Medical sources consulted by this newspaper said most of the benefit from the holes in his socks was likely to be psychological than physical in terms of preventing injury.
Modern football socks are designed to improve circulation, by slightly compressing the tissue, which also helps avoids aches, cramps and bruising. Avoiding the feeling of pressure may however help the player in terms of mental confidence and fear of the injury recurring, particularly given that Bale is aware of the weakness and concerned about the injury coming back.
Physical or psychological, on Saturday the holes did their job, as the Welshman played without injury and got on the scoresheet, as he said "It's been nice to come back, the last five or six weeks were frustrating".
Now the Champions League beckons and the challenge of opening his account in this season's edition… will he be sporting the holes against Roma tomorrow night?
Bale bins Lamborghinis
It's not just tight socks that Bale has decided might be causing him injury problems. Back in November last year the player admitted he'd given up driving Lamborghinis because their driving position "played havoc with his hamstrings".
Bale had taken out membership of the Auto Vivendi Super Car Club, an exclusive association which allows the use of top-of-the-range sports cars in the UK, but he ended up cancelling his membership in a bid to try and keep himself on the road.