CHAMPIONS LEAGUE DRAW
Quarter-final draw: Wolfsburg-Real Madrid, Barça-Atlético
Completing the Champions League last-eight pairings are Bayern Munich-Benfica and PSG-Man City. The ties will be played April 5/6 with the return a week later.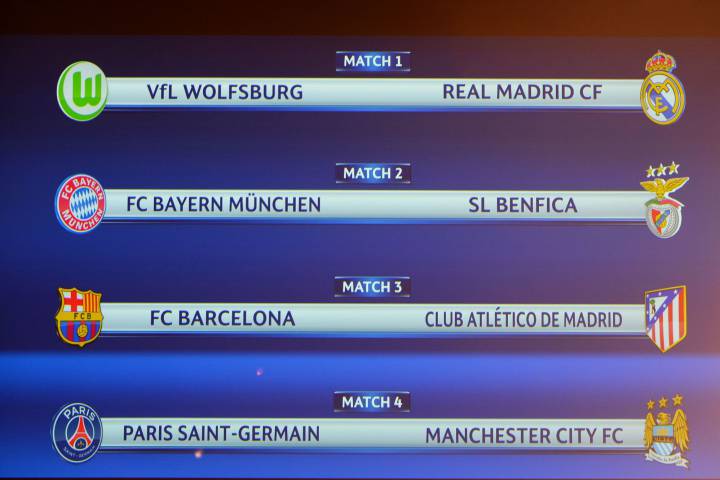 Three of the remaining Champions League teams represent LaLga and with the same number of competitors in the last eight of the Europa League, the sensation is that Spanish football is clearly the dominant force in European football. Whilst the Spanish claim they want to avoid Bayern Miunich in the draw for the quarter finals, all other competitors themselves will be anxious to avoid drawing one of the remaining Spanish clubs: Real Madrid, Barcelona and Atlético.
Madrid and Barça are recent winners of the trophy and this week Diego Simeone's Atleti side showed that they will be ready for any opposition with the Argentine coach a master in the mental approach that he transmits to his side. There are no seedings in today's draw and teams from the same country can face each other with prompts the real possibility of a LaLiga head to head in the ties that will take place on April 5/6 and 12/13.
The Spanish sides would be delighted to face, what are unanimously considered the weaker two sides in the draw, Wolfsburg and Benfica and all will be revealed later this morning in Nyon where Giorgio Marchetti will oversee the draw. He'll be joined by Gianluca Zambrotta for the Champions League draw (and Sebastian Frei for the Europa League draw, taking place at the same event).
The teams qualified for the Champions League 2015-16 quarter final draw are:
Atlético Madrid
Real Madrid
Barcelona
Wolfsburg
Bayern Munich
Manchester City
PSG
Benfica