ATHLETIC | ARTETXE 1930-2016
Athletic legend José Luis Artetxe passes away aged 86
He was part of the legendary side which beat Di Stéfano's Real Madrid in the 1958 Cup final at the Bernabéu. He passed away this morning in Vizcaya.Athletic vs Barcelona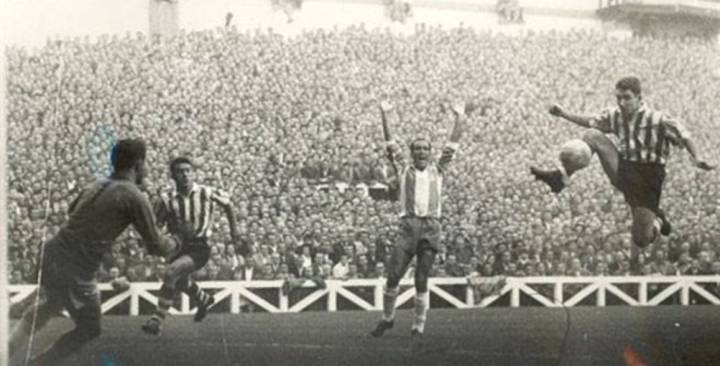 In an incredibly short space of time, way too short, Athletic Club have lost another member of their family. The Basque club was still reeling from the loss of Rafael Iriondo when they learned that another iconic player: José Luis Artetxe, who ironically was brought in as Iriondo's replacement, passed away this morning in Vizcaya aged 86. Born in Getxo on 28 June 1930 and the father of former Diario AS journalist José Luis Artetxe, he made 346 appearances for Athletic and scored 133 goals for the club - the ninth top scorer in club history behind Zarra, Bata, Dani, Gorostiza, Iraragorri, Arieta, Panizo and Gainza.
During his 15 seasons at Athletic, he won the league title (1955-1956), three domestic Cups (1955, 1956 and 1958) and the Copa Eva Duarte in 1951. He represented Spain at full international level six times, scoring in the 2-3 win over Turkey on his debut.
Together with Carmelo, Orue, Garay, Canito, Mauri, Etura, Uribe, Arieta, Koldo Agirre and Gainza, Artetxe was one of the legendary 'villagers' side which pulled off one of the most historic triumphs in Athletic's history when they defeated Di Stéfano's Real Madrid in the 1958 Cup final at the Santiago Bernabéu.
That isn't Artetxe's only mention in Athletic's club history; he was also the first player to score for the club in European competition - hitting a hat trick in the team's maiden outing against Porto at San Mamés on 26 September 1956. His contribution put the Bilbaínos into the European Cup quarter finals.
Artetxe was a very different footballer from the norm. He lived in Algorta, Getxo - far from the hustle and bustle of the modern football world, and would regularly stroll through the town where he was occasionally stopped by fans hoping he would regale a few anecdotes from his playing days. But he was a not a man who was interested in wallowing in nostalgia. Apart from football, his passions were travel, reading and studying. After hanging up his boots in 1965, he kept a low profile. When he found out that he didn't figure in the plans of Athletic coach Antonio Barrios, he spoke directly with the club, severed his contractual arrangement and renounced the salary he was due to collect until the following June to undertake a new job in the animal feed factory he had set up in Mungia. José Luis was a genius on the field but shied away from the limelight off it. Neither praise or criticism interested him.
During tomorrow's game against Espanyol, Athletic's players will wear black armbands as a sign of respect.