Cerezo: "Something's afoot if one of the top 5 clubs in Europe is considered a nuisance"
The Atlético Madrid president is rejecting any suggestions of an impending UEFA sanction out of hand following the club's statements about Tuesday's officiating.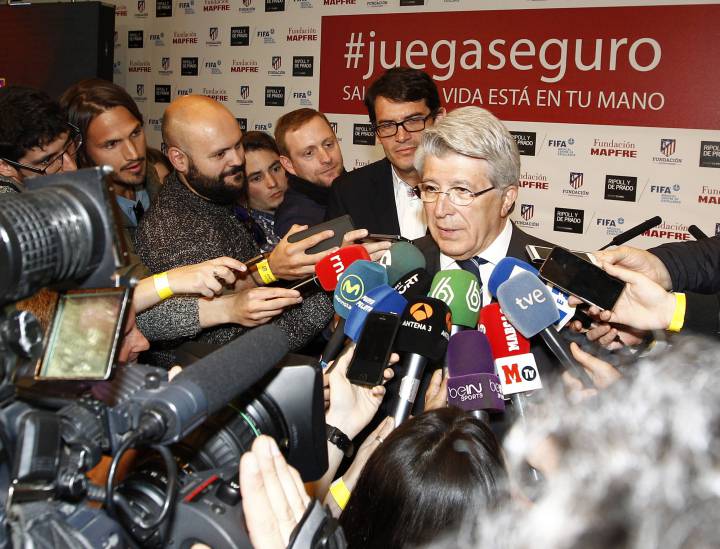 Enrique Cerezo, the Atlético Madrid president, was in full voice during the presentation of the 'Juego Seguro' campaign at the Calderón, an initiative aimed at preventing sudden death among football players.
How do you feel following Tuesday's events at Camp Nou?
That match is in the past now and the second leg is coming up soon. Our minds are set on the next game, which will also be in Barcelona, albeit against Espanyol.
Do you agree with the complaints from Atlético fans?
We said what we had to say after the game. There's no denying that the officiating was poor. But if you look back on the history of refereeing in football, you'll see that these things happen.
Will the club lodge a formal complaint with UEFA?
We're focused on winning on Saturday in Espanyol's ground and coming back here to put in a great performance on Wednesday to march on in the Champions League.
Will you appeal Torres' red card?
I don't think so. Even though I'm a lawyer I think we'll leave that one go.
Do you expect to receive a sanction from UEFA?
No, absolutely not. We did nothing but play a football match and try to win it.
Are Atlético a thorn in the side of UEFA?
Atlético are widely considered to be among Europe's five top clubs. So if one of the top five clubs is a nuisance, then something odd is going on. I don't think we're a thorn in the side of anyone, apart from on the pitch, where we clearly rattle every team we play against.
Did you watch Real Madrid's defeat in Wolfsburg?
I was told one of our players (Guilavogui) had a great game. I'm delighted for him. That was a phenomenal result.
Any news on Torres' contract extension?
We've said the same thing time and time again: we'll sit down with the player and the coaching staff at the end of the season and make a decision then.