Cricket
Phillip Hughes review recommends compulsory helmets
A review of the death of Phillip Hughes said more stringent helmet standards wouldn't have saved the player, but made several safety recommendations.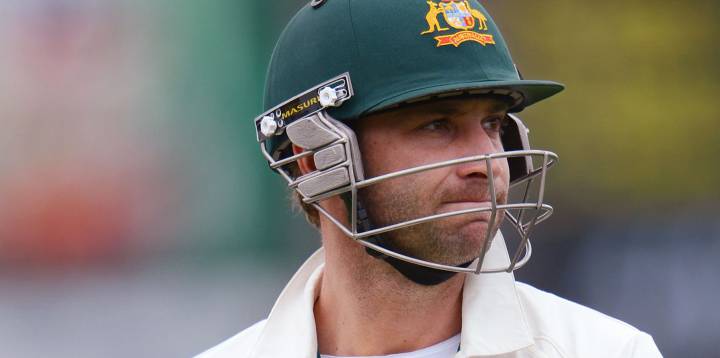 A major review into the death of Australian cricketer Phillip Hughes has recommended making helmets compulsory for batsmen and fielders close to the wicket. It also said substitutes should be considered for concussed players.
Philip Hughes, who played 26 Tests for Australia, died from bleeding on the brain in November 2014 after being hit on the base of the skull by a rising ball while batting in a domestic match in Sydney.
His death, which was a freak accident, stunned both Australia and the world cricket community, sparking an outpouring of grief.
In the aftermath of the incident Cricket Australia ordered an independent review, which concluded the medical treatment the 25-year-old received was appropriate and timely.
New helmet standard would have made no difference
When the incident occurred Hughes was wearing a helmet which was compliant with the standards in force in Australia, but did not meet the more recent, and more stringent, British Standard, which extends the grille protecting the face further towards the rear of the helmet.
However Barrister David Curtain, who conducted the review, said even if Hughes had been wearing the newer model, it would not have saved him.
"I do not believe that the new helmet would have afforded additional protection against the blow given the location of where Phillip was struck, as the protection to the neck, at the rear, is no different," he said.
The 62-page report also found limited scientific evidence that current clip-on neck guards would prevent a similar tragedy. It said these safety items required further evaluation before being mandated.
But, to minimise the risks of a similar incident occurring, it recommended all first-class cricketers in Australia wear helmets made to British safety standards while batting against medium or fast bowling, in both nets and games.
Helmets should also be worn by wicketkeepers standing up to the stumps and fielders within seven metres of the batsman, apart from those in the slips, and protective headwear for umpires should also be considered.
There must also be a defibrillator available at all first-class matches in case medical staff need to deal with trauma-related cardiac incidents or coronary conditions.
Concussion substitutes
Curtain added that concussion substitutes may be a good idea as they would encourage players who have been hit to leave the field, with Cricket Australia requesting that the International Cricket Council look at the issue at a meeting this month.
This could be the first step towards replacement players becoming part of the international game, allowing cricket to follow a similar approach to concussion rules implemented by rugby league and other contact sports.
"It remains to be seen how that discussion will go in May but I think it's complicated and it needs to be thought through because it's not just a simple issue about health and safety," said Cricket Australia chief James Sutherland.
"It's also about some of the fundamentals in terms of the way the game is played and has always been played."
Report fully endorsed
Sutherland fully endorsed the report's recommendations, and said some had already been implemented.
"We received Mr. Curtain's review last season and since that time we have been considering his recommendations and discussing with relevant bodies as to how we best make changes necessary to prevent an accident of this nature happening again," he said.
"While there will always be a small risk we believe that the measures we have already taken and will enact following this review will reduce that risk even further."
Former Test fast bowler Ryan Harris said he felt player safety was already "spot on", but welcomed any way to improve it further.
"Bottom line is, we don't want to see ever what happened to Phil," he told national radio.
A full coronial inquest into Hughes' death is scheduled for October.