Novak Djokovic through first test in aim for French Open crown
The Serbian is not only looking to add a further grand slam title to his haul of trophies but also sees this as the one that could set him up for holding all four together.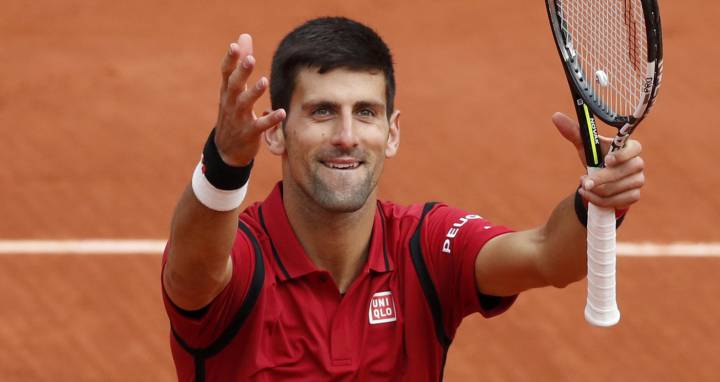 As he passes 200 days as the best in the game, Novak Djokovic is looking to his 'great passion for tennis' to be the crucial factor in him getting his hands on the French Open title.
Twelve months after surprise champion Stan Wawrinka used his wondrous backhand to knife Djokovic's Roland Garros dreams, the Serbian was hoping he would be able to mend his broken heart by becoming the first man in almost 50 years to hold all four grand slam titles at the same time. Looking to achieve a feat that was last achieved by Rod Laver in 1969, Djokovic began his pursuit of the only major title missing from his collection with a no-nonsense 6-4 6-1 6-1 win over Taiwan's Lu Yen-hsun in the first round on Tuesday.
'Well, it's not the first time that I'm experiencing such anticipation and expectations,' the 11-times grand slam champion told reporters. 'It's been five years in a row ... where I'm approaching this tournament as one of the favourites. Obviously people wonder if this is the year or not, and I wonder myself.'
In 2012, the world number one also had a chance to emulate Laver but was thwarted by a rampaging Rafael Nadal in the final. Last year it appeared as if the stars had finally aligned for Djokovic when he safely navigated past Nadal and Andy Murray to reach the final to face an opponent barely anyone thought would win. But it was not to be and Djokovic was left in tears.
'Of course it is a particular sensation approaching this tournament. It's quite different than others,' said the 29-year-old. 'It does depend on how I'm going to use this emotion. So I try to use it as a motivation to inspire myself, to play well, to stay calm and focus only on the present moment.'
He certainly did that on Tuesday when he appeared to be a in a hurry to escape the cold and damp confines of the Philippe Chatrier court. In fact, facing an opponent who had not played a top-tier match since last October, Djokovic's only blip was when he dropped serve in the eighth game of the opening set. But having levelled for 4-4, the wheels came off for Lu and the 32-year-old only won two more games before Djokovic safely secured a second-round clash with Belgian Steve Darcis.
So how does he keep himself going after more than a decade on the tour? 'Deep inside of my heart I have a great passion for tennis. That's the main source of drive and motivation,' he said after beginning his 46th consecutive appearance at a grand slam event.