BARCELONA
Dani Alves owes 1.3 million in upaid taxes to Spanish authority
The ex-Barcelona player, who has recently joined Juventus, appears on a list issued by the tax office. Also on the 90-page list are Gabi Milito and ex-Madrid president Lorenzo Sanz.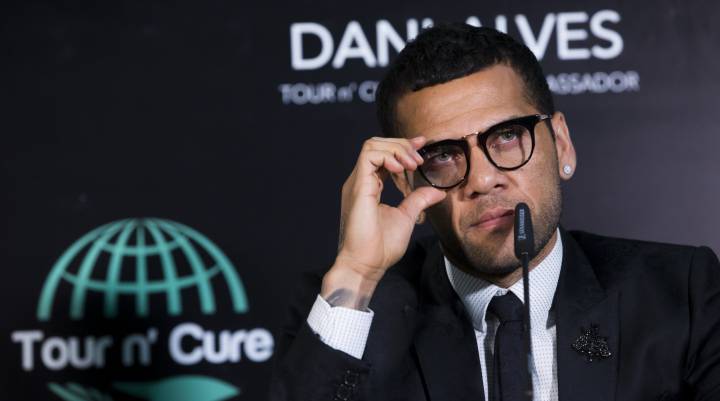 On a list issued by the Spanish tax authorities on Thursday, it emerged that Brazilian international defender Dani Alves owes 1.3 million euros ($1.45 million) in unpaid taxes. the Spanish authorities disclosed on Thursday.
Alves, who quit Barcelona after eight seasons last week to join Italians Juventus, is behind on late payment fines and interest on overdue sums.
In good, or bad, compamy
Other names on a 90-page list issued by the Spanish tax office - which consisted of 4,468 people or groups owing a total of €15.7 billion euros - include former Barcelona and Zaragoza player Gabriel Milito (who owes 1.8 million euros) and MotoGP's Daniel Pedrosa, who is being pursued for 7.9 million euros. The ex-Real Madrid president Lorenzo Sanz also features with 1.36 million owed. Spanish football clubs were also included with Elche, Real Murcia and Racing Santander owing €13.5m, €10.6m and €9.8m respectively.

Barcelona superstar Lionel Messi was in court in June charged with avoiding paying 4.16 million euros in taxes while his club was then forced to pay 5.5 million euros in tax for Brazilian striker Neymar's contested 2013 transfer.
Conspiracy?
And FC Barcelona president Bartomeu suggested that there was something more underhand in the list issued. "I am not surprised that Dani Alves is on the list of delinquent taxpayers because Barcelona are always being targeted," he told the media. "I am sure there are others who owe money to the authorities, but it's always Barcelona who appear on the list."