BARCELONA
"Madrid didn't sign because they have costly players who aren't getting games" - Robert
Barcelona's Technical Secretary Robert explained his theory on why Real Madrid didn't enter the transfer market as buyers this summer.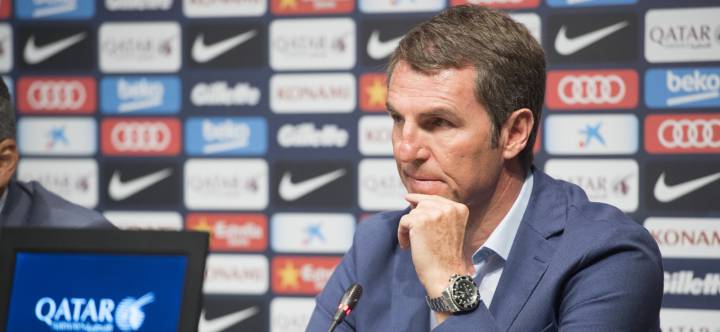 Barcelona's Technical Secretary Robert spoke to RAC-1 programme Al Primer Toc about the most recent transfer market. When asked why he felt that Real Madrid had not made any reinforcements over the summer, he replied: "Sometimes, the big clubs in Europe cannot make any investments because they've already spent a large amount on players who don't even get to play. In those teams, sometimes it's difficult even to reinforce the subs' bench. They have players who are not playing on a regular basis but have cost a lot of money".
Robert also touched on a few other issues during his chat with RAC-1.
Messi. "All we want is that any decisions he takes, he takes in his own time and without pressure from outside. He's on his way back and we are delighted. At the end of the day, what matters is that the player is happy because that means his performance levels will be higher. Just looking into his eyes you can tell right away that he's happy".
Neymar being granted time off: "It was a decision which the coach made and I would have done the same".
How did you see Barça's trading in the tranfer window? "I think we can feel quite satisfied. Before the summer there were a lot of issues which needed a solution but one of the most important aspects was understanding the idea about the team. You need to look at which positions you can bring players in and in which areas they are going to help us become a stronger side. From Andoni [Zubizarreta] I inherited a team which had won practically everything and which played very good football which is important for the club.
"We are involved in thre competitions, and that requires a great exertion. The new signings are all internationals - and we already have a big number of international players - [their commitments with their national sides] causes stress and tiredness. We need players who, when the team is in a moment of weakness or fatigue, can give us something".
The Bravo-Ter Stegen situation couldn't go on for a third year… "Bravo has helped Ter Stegen to become a better keeper. He received an offer and although we fought to keep him, he wanted to leave so we decided to negociate. He's a player who had two years left to run on his contract".
Were you convinced by Alves' goodbye? "His comportment has always been fantastic and we were sad that he decided it was time to move on".
Why did the club let Bartra go? "He wanted to play more. You can't force the coach to field a player. And the buy-out clauses are there for a reason. These are real situations and you have to respond, which is what we did".
Arda: "Last season was difficult for him because he spent quite a while not being able to play and then adapting to a club like Barça is not easy. It was tough for him. The Arda we are seeing this season is another thing entirely - he completely different. He's back with great strength, you can see how keen and determined he is… and seeing him like that is really fantastic for us. What we want is to see him in this form all the time. He's shown us the category of player he is. And it's always the player who knows whether they are well or not".
What the plan for Alcácer? "Goals, presence, quality... he's a striker. Will he be played out wide? No because he is a No.9 and that is precisely what we were looking for. I can't bring in a player for 80 million euros who sin't going to play".