Casemiro almost certainly ruled out against Villarreal
Real Madrid will almost certainly have to do without the services of Casemiro after he was injured against Espanyol. Cristiano Ronaldo and Bale should be back.Real Madrid-Deportivo: LaLiga matchday 20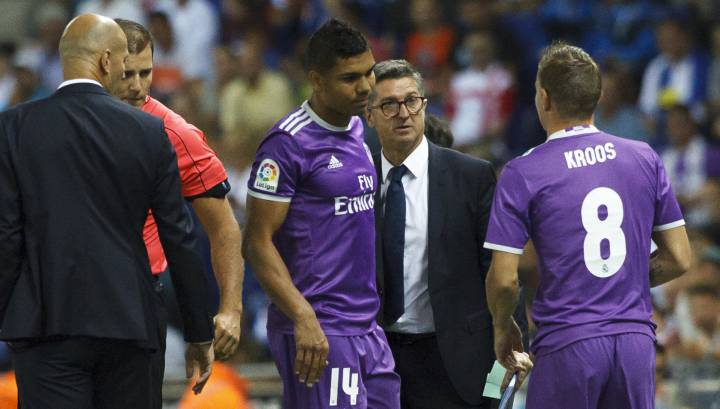 Real Madrid vs Villarreal live online
The alarms went off on the Real Madrid bench against Espanyol when they saw Casemiro collapse to the ground hurt after challenging Diop for the ball in the 19th minute. The Brazilian took a knock to his left calf and had to be substituted, Kroos coming on for him.
Casemiro undergoes preliminary tests
Casemiro has had initial tests on the injury and doctors confirmed it is simply a knock. However until the inflammation goes down the medics are unable to carry out a full investigation to determine how long it will take to heal.
On that basis Casemiro is almost certainly ruled out from the game this Wednesday against Villarreal in the Bernabéu. Real Madrid will be going for their 17th consecutive win in the Liga, which would be a new record. Casemiro didn't train today, Monday, and Zidane is standing firm in his policy of not risking any player who isn't fully fit.
Real Madrid's demanding calendar
Zidane does so with one eye on the calendar too: three days after Villarreal, Real Madrid head to Las Palmas to play the in-form side, on 27 September they travel to Dortmund and on 2 October they host Eibar.
Against Espanyol Kroos did Casemiro's job perfectly and will no doubt stand in again on Wednesday against Villarreal.
Good news for Zidane: Ronaldo and Bale
The good news for the Real Madrid coach is that Cristiano Ronaldo and Gareth Bale were back training after being out for flu and a knock respectively. In principle the two will be in the squad for Wednesday's game and could well start.