San Marino U-21 0-3 Spain U-21: goals, match summary
Goals by Munir El Haddadi, Denis Suárez and Jorge Meré saw Spain keep themselves on course for at least second in Group 6 on WednesdayCopa del Rey live:Quarter Final Draw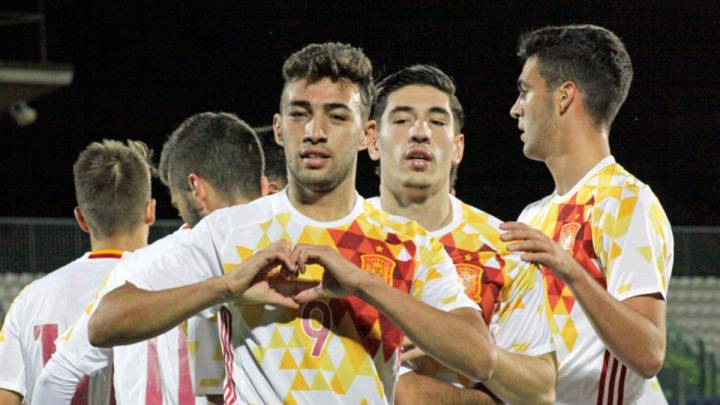 San Marino Under-21 0-3 Spain Under-21: full-time summary
Spain Under-21s did what they needed to in Wednesday's Euro 2017 qualifier in San Marino, with goals from Munir El Haddadi, Denis Suárez and Jorge Meré sealing a (here comes the understatement) comfortable victory for Albert Celades' men.
It was attack against defence throughout in Serravalle, and once Munir had headed the Spanish into a 16th-minute lead, it was a question of how many the visitors would win by. A statistic of 23 shots to nil for 'La Rojita' tells you all you need to know.
Qualifying Group 6 reaches climax next week
Now Spain's focus turns to Monday. If they beat Estonia, they'll take at least second place and a play-off berth - while if the result of Sweden-Croatia goes their way, three points will secure top spot and an automatic ticket to the finals in Poland.
If Sweden defeat Estonia in their penultimate group fixture on Thursday, Spain need the Scandinavians to draw with Croatia. Should the reigning European champions drop points in Pärnu, however, a Swedish triumph over the Croats would also do.
Here's how it happened:
San Marino Under-21 0-3 Spain Under-21: second half
Min 93 | Asensio cuts inside from the right and tries to curl a left-footed effort into the far post, but Benedettini parries. And that's full time!
Min 90 | Three minutes of time added on at the San Marino Stadium.
Min 89 | Ceballos is almost in for a solo fourth, bamboozling his man with a cheeky nutmeg and advancing into the box - but he's crowded out and, despite getting a shot of sorts away, it's not a firm connection and Benedettini holds on.
Min 88 | Bellerín is down with what appears to be a muscle issue. He's receiving treatment over on the sideline. If he has to come off, Spain will finish with ten men as they've already made all their permitted subs.
Min 84 | Mayoral shoots off target. San Marino are proving quite the 3-0 specialists in this group. If it finishes like this, it'll be their fourth such defeat in Euro 2017 qualifying.
Min 81 | Iñaki Williams is on to replace captain Gerard Deulofeu, who has been fantastic. He's had D'Addario on toast all evening.
Min 80 | Meré almost gets another! Deulofeu whips over another cross from the right and the centre-back is there at the far post with another well-timed run into the area, but can't find the net this time!
Min 79 | And it's three to Spain! Deulofeu curls over a cross to the back post, where Mayoral heads it back into the path of Meré's run into the box, the Sporting Gijón defender guiding it home on the volley.
Min 77 | Shots for Spain: 18. Shots for San Marino: 0. Nuff said.
Min 76 | Celades makes another substitution, withdrawing Torres for Dani Ceballos.
Min 75 | So, barring any late surprises it's all going to come down to Monday's final Group 6 games. San Marino make their first change by bringing off Righi and sending on Cesarini.
Min 72 | First substitution of the match, Borja Mayoral replacing Munir.
Min 70 | Merino controls just outside the 18-yard box, winds up his left and thumps a low shot on goal, but Benedettini is down quickly to parry.
Min 68 | Gooooal! Spain double their lead! Gayá is again the provider, sending in yet another terrific cross from the left that this time finds the bonce of Suárez, who plants a firm header past Benedettini.
Min 64 | Gayá feeds Asensio ten yards or so inside the San Marino half, and the ex-Real Mallorca man looks up and pings it towards goal - but it's a tame daisy-cutter that's comfortable for Benedettini.
Min 60 | Spain win a dangerous free-kick just outside the area, with Asensio lining it up...but the Real Madrid man can't beat the wall.
Min 58 | Spain have created a glut of opportunities in recent minutes, and here's another as Suárez (I think) heads off target! I'm struggling to keep up.
Min 56 | Now Gayá crosses from the left, and again it's Bellerín with the shooting opportunity - but he sees his volley saved by Benedettini!
Min 54 | Now it's a double chance for Torres! Deulofeu is again the creator, dancing past D'Addario on the right before his centre finds the Atleti academy graduate, whose first effort is blocked before he retrieves it and shoots again...but his low, angled attempt is just wide!
Min 52 | First major opening for the Spaniards since the break, but Bellerín fires over! Deulofeu crosses and it falls to the Arsenal man, who at the second bite of the cherry shoots high!
Min 51 | Merino heads wide from Asensio's corner, before moments later he's taken out by Zafferani after dispossessing the midfielder, who earns himself the first yellow card of the night.
Min 49 | San Marino earn a free-kick midway inside the Spain half - I make that their fourth such dead-ball situation so far, and it's definitely their best (or only) avenue if they're to trouble the scorers - but Meré heads clear.
Min 48 | Deulofeu begins where he left off, zipping a low cross into the San Marino box - but it's too close to Benedettini. The idea was right, though, as Barry Davies would say.
Min 47 | No new faces in for San Marino, either. Two minutes in and it's all been in the hosts' half, you'll be flabberagsted to learn.
Peeep! We're back up and running at the San Marino Stadium. No changes for Spain. As for the home team...I'll get back to you.
San Marino Under-21 0-1 Spain Under-21: first-half summary
Peeeep! That's half time. As expected, proceedings have almost exclusively been conducted inside the San Marino half in Serravalle, where Spain go in for the break one goal to the good courtesy of Munir El Haddadi's header.
San Marino Under-21 0-1 Spain Under-21: f
irst half
Min 45 | Meré is penalised for climbing and concedes a free-kick on the left. This one's closer to the visitors' box. If San Marino were to snatch a goal now, that would really put the proverbial cat amongst the pigeons...but Battistini's delivery comes to nought.
Min 44 | Merino slaps one well wide from range.
Min 41 | Ooooh, just over from Gayá. Asensio's first-time cut-back into the box is right onto the full-back's left peg, but he sweeps it over!
Min 40 | Merino heads over! Suárez delivers the corner from the left, but the Borussia Dortmund man can't keep his effort down.
Min 39 | You'd imagine San Marino's only hope of scoring is from a set-piece, and they win another inside the Spain half. Battistini flights it into the box from the left, but the flag is up for offside.
Min 37 | Deulofeu is in the mood tonight. A delightful twinkle-toed piece of skill sees the Everton man create a yard to dink in a cross to the near-post run of Asensio, who can't quite get his foot round it to direct it on target.
Min 32 | The ball again falls to Munir at the back post after splendid play from Suárez, but the Barcelona youth product seems not to have been expecting the midfielder's cross to reach him, and he fails to bring it under his spell.
Min 31 | Should be two to Spain. Deulofeu pings in a corner from the left, the ball ricochets off Bellerín and Tomassini and drops to Munir, who's in acres at the back post. All he has to do is nod it into the corner, but he heads wide.
Min 29 | Just as I type that, Gayá - who already has one assist to his name tonight - swings in a lovely low cross towards Munir, but the striker can't quite get a hold of it.
Min 28 | Deulofeu skins his man on the right and skips into the box on the byline...but he slices his cross into the side-netting. Shame. Still, they do say it's all about width when you're playing against the parked bus of a minnow, and 'La Rojita' are looking very dangerous on both flanks.
Min 26 | Spain attack, San Marino hoof it clear. Repeat.
Min 20 | San Marino finally contribute something in attack, Bernardi winning a free-kick off Merino just past the halfway line and giving the hosts have the chance to send it into the box. Carlini takes, but Kepa is quickly out to grab the second ball after it's glanced on, earning a free-kick in the process.
Min 18 | Asensio tries his luck from range, but its off target.
Min 16 | Gooooal! Munir El Haddadi opens the scoring! Gayá takes on Righi on the left, makes a yard of space to cross and whips in a delicious ball that Munir nods past Benedettini and into the far corner. All about the cross that; Munir couldn't miss.
Min 14 | Deulofeu runs at the packed San Marino defence, drifting inside from the right before playing a cute little through-ball...to no-one. It's all being played in the San Marino half.
Min 11 | Benedettini almost gets himself in trouble as he fails to clutch on to Gayá's cross at the first attempt, before Óliver Torres hits a shot right at the San Marino keeper and Suárez fires one over from outside of the box.
Min 8 | Ufff, that's the first really clear opening for Spain! Gayá finds Munir with a lovely chipped ball over the top into the box, and the Valencia man's shot on the angle is deflected wide! Could have been 1-0.
Min 6 | Marco Asensio flights in a dangerous cross from the left, but Suárez can't get on the end of it. Deulofeu then wins a free-kick on the right-hand edge of the San Marino area, which Asensio cleverly plays low to the run of Deulofeu - that's one they clearly worked on on the training ground. It's reminsicent of a run Teddy Sheringham made frequently in his pomp. He strikes it first time, but the sting is taken out of it by a blue shirt.
Min 4 | Spain are in their, ahem, interesting away strip, despite San Marino being decked out all in blue. It's fair to say it isn't a packed house in Serravalle - you can hear all the on-pitch and touchline chat.
Min 2 | The game immediately has an attack-versus-defence look about it as Spain begin on the front foot, Denis Suárez winning a corner, which is dealt with by the home side, before Gerard Deulofeu attacks down the right, but it's out for a goal-kick.
Peeep! Spain get us underway!
Two mins to kick-off | Toin-coss done, and Spain will kick off. Here we go.
---
San Marino U-21 - Spain U-21: Team news
Spain XI: Kepa, Bellerín, Meré, Jonny, Gayá, Merino, D. Suárez, O. Torres, Deulofeu, Munir, Asensio
Substitutes: Remiro, Rubén Blanco, Grimaldo, Vallejo, M. Llorente, Ceballos, Castillejo, Mayoral, Williams.
San Marino XI: Benedettini, Righi, Biordi, Rossi, Carlini, D'Addario, Tomassini, Battistini, Censoni, Zafferani, Bernardi
---
San Marino U-21 - Spain U-21: Latest news
19:27 | TV update: San Marino - Spain is go! We cut to the coverage in the middle of the hosts' national anthem. We've missed the Spanish one. I'm fuming: I love a good anthem. I'll be composing a jolly stern email at half time, and heads better roll, let me tell you.
19:25 | With the clock ticking towards kick-off, Spanish TV is still firmly ensconced in what looks like some sort of low to mid-budget hospital drama. Looks like it's going to be a quick changeover...
19:21 | Incidentally, that 14-0 walloping of San Marino back in February 2005 was Spain Under-21s' biggest ever win.
19:20 | Tonight's referee is Mr Martin Lundby of Norway, in case you were asking.
19:16 | If Spain go into the play-offs, they'll face a two-legged tie in November.
19:09 | Having had to settle for a draw against Sweden, the basic rub for Spain appears to be as follows (and bear with me, please: group permutations always leave me immediately reaching for the aspirin)...
Spain can guarantee at least second and a play-off spot as one of the four best runners-up (if my maths is correct, and I did get an A in my GCSEs), if they win both their remaining games, against San Marino today and Estonia on Monday.
Finishing top is out of their hands. To come first, they need to beat San Marino and Estonia, and hope results elsewhere involving Croatia and Sweden go their way.
The chief scenario being discussed in Spain is this: a draw between Croatia and the Swedes in their final game on Monday will be enough to hand the Spaniards first place in Group 6 if Albert Celades' boys take six points.
That's assuming Sweden beat Estonia tomorrow in their penultimate fixture. If the defending European champs drop points, a victory for the Scandinavians against Croatia would see Spain reach Poland automatically with two wins.
If Croatia beat Sweden on the final matchday, Spain can't come first as the Croats have the upper hand in the sides' head-to-head.
Clear?
18:55 | As we noted in our preview below, Spain's hopes of topping Group 6 and qualifying automatically suffered a dent with that stalemate against Sweden. Leading 1-0 through Deulofeu's second-half opener, a Mikel Merino own goal with just four minutes remaining saw 'La Rojita' let two crucial points slip through their fingers. It leaves them third in the section, one point behind the Swedes and three off a Croatia side who have played one game more.
18:51 | Just under 45 minutes to go to kick-off in Serravalle, and Spain Under-21s boss Albert Celades has named his side, with just the two changes to the team that started the 1-1 draw with Sweden in September as goalkeeper Kepa Arrizabalaga and Real Madrid starlet Marco Asensio come into the line-up.
18:32 | With seven goals, Gerard Deulofeu currently sits third on the list of the top scorers in qualifying for the finals in Poland. Tonight looks like as good a chance as any for the Everton man to bolster that tally...
18:22 | It'd be an understatement to say these two teams' previous meetings have been one-sided: in just three clashes Spain have racked up an eye-watering 30 goals, registering 14-0 and 10-1 wins in 2005 (with the likes of David Silva and Andrés Iniesta in their ranks) before their 6-0 stroll last month.
16:50 | Spain should aim to be quick out of the gate this evening, says AS writer Aritz Gabilondo. San Marino lie bottom of the group and should struggle against a Spain side that moves the ball around very well. Albert Celades' men will be keen to impose themselves early on against a team they comfortably beat just over a month ago and save as much energy as possible for Monday's clash with Estonia.
15:10 | San Marino's keeper this evening is expected to be Elia Benedittini. And he in turn is likely expecting to have his work cut out - he shipped six goals against Spain when they met a month ago in Castellón.
14:30 | The Premier League will also have some representation as San Marino's under 21s take on Spain's best young players in Serraville. That will come in the form of one Hector Bellerín, the Arsenal fullback. Many Gunners fans have become well used to seeing the 21-year old bombing it up the right flank over the past couple of seasons, yet most people are oblivious as to just how quick the Spaniard actually is. If Arsenal's training ground stopwatches are to believed, then Bellerín is technically faster than Usain Bolt over 40 metres. Incredible if so!
13:10 | Another player to watch this evening, will of course be Marco Asensio. The Real Madrid star has dropped down from the senior side after being named in Julen Lopetegui's first Spain squad last month. Asensio exploded on to the scene this summer with his performances in preseason and has now seemingly risen in the Bernabeu pecking order ahead of both James and Isco. It's quite a turnaround for a young player who spent the last two seasons on loan to Mallorca and Espanyol. Asensio has already made an impression this season, netting twice in six games in LaLiga. He was also named on UEFA's Golden Boy shortlist last week.
12:00 | One player that Spanish football fans, and Real Madrid supporters especially, will have their eyes on tonight is Marcos Llorente. Unless you followed RM Castilla last season or have managed to tune into any of Alavés' games in La Liga (where Llorente is on loan) during the new campaign, then you may not have seen what all the fuss is about. Indeed, with both Casemiro and Modric injured for Los Blancos at the moment, the club is eager to call the defensive midfielder back to help cover, but that won't be able to be done until at least January.
11:00 | Spain's squad is full of well known names this evening, including Hector Bellerín (Arsenal), Marcos Llorente (Real Madrid, on loan at Alavés), Denis Suárez (Barcelona), Marco Asensio (Real Madrid), and Munir (Valencia). It could be a long night for San Marino with that kind of talent on show. You can view the full squad here.
08:30 | Good morning! We'll be bringing you all the latest news in the lead up to kick-off as San Marino U-21 take on Spain U-21 tonight in Serraville at 19:30.
---
San Marino U-21 - Spain U-21: Match preview
With just four games remaining in Group 6 of the U-21 Euro 2017 qualifying campaign any one of Sweden, Croatia and Spain can still top the group thus guaranteeing their ticket to Poland automatically, with a play-off place also awaiting the runner up. One of the three will be left empty handed and only time will tell how costly Mikel Merino's 86th minute own goal in Sweden may prove to be for Albert Celades' 'La Rojita'.
Spain U-21
First up for Spain is a trip to the mountainous micro-state of San Marino where anything less than three points and a hefty injection to the goal difference tally will be seen as a disappointment.
There are no surprises in Celades' squad for tomorrow (and the final game of the campaign against Georgia next Monday). Well known LaLiga names such as Marco Asensio, Iñaki Williams, Munir, Denis Suarez along with the likes of Arsenal's Hector Bellerin and FC Porto's Oliver Torres are anticipated to start for "La Rojita" .
San Marino U-21
Pride and avoiding a humiliating score-line are the only objectives for the local side who have just managed one goal in the qualifying campaign whilst shipping 27.
Rest of Group 6
Spain will be anxiously watching events in Pamu (Estonia) on Thursday night and be hoping that Estonia could pull off a shock and deprive the existing U-21 champions, Sweden, of maximum points. However, given the state of the affairs at the top of the table everything points to the group going down to the wire on Monday when current leaders Croatia travel to Sweden as Spain entertain Estonia in Pontevdera
---
San Marino U-21 - Spain U-21: live build-up