TENNIS
Djokovic: I'm exhausted
"There are things that I need to regain from the emotional, mental point of view," said the Serb after losing in the Shanghai Masters.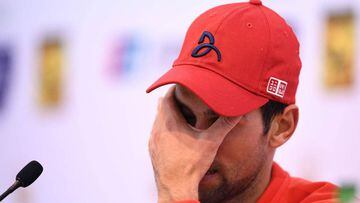 Novak Djokovic admitted he was worn out from his dominance of the tennis circuit over the past two seasons after his nosedive in form grew steeper on Saturday.
Out of Shanghai Masters to Spaniard Bautista
The world number one said he was exhausted and emotional after a brilliant run in which he has snared six of his 12 Grand Slam wins, including four in a row up to June's French Open.
He was speaking after a 6-4, 6-4 defeat to 19th-ranked Roberto Bautista in the semi-finals of the Shanghai Masters, a tournament he won for the third time last year.
Since grabbing his first French Open title, Djokovic won in Toronto and reached the US Open final but he was also an early casualty at Wimbledon and the Olympics.
"In terms of results it was up and down, but there are definitely things that I need to regain from the emotional, mental point of view," Djokovic said.
"So I guess I'm focusing on that more. It's a transition somewhere in between, maybe just exhausted by the amount of matches I have had in the last 15 to 20 months.
"Maybe all in all that's the cause of me feeling this way. But... I had to experience this sooner or later. I knew I could not go on playing at the highest level for so many years all the time."
Djokovic, who skipped his China Open title defence last week with an elbow problem, arrived in Shanghai insisting that mental equilibrium was now his focus, rather than trophies.
But he departed with neither after a bad-tempered defeat to Bautista in which he smashed his racquet, tore his shirt and lashed out at the chair umpire.
Djokovic has admitted he's been dealing with 'private issues' in recent months and in Shanghai he hinted that his coaching tie-up with Boris Becker may be at an end.
"Every day is a lesson"
The question now is how quickly the 29-year-old can recover, and whether he can return to the levels that made him peerless in the game.
"I guess this is one of those days. You know, things go in an opposite direction than you want them, but again, it's a lesson," he said.
"Every day is a lesson. You learn from these kind of days and matches more than when you're winning."