Ballon d'Or 30-player shortlist revealed: Ronaldo, Messi, Neymar, Bale...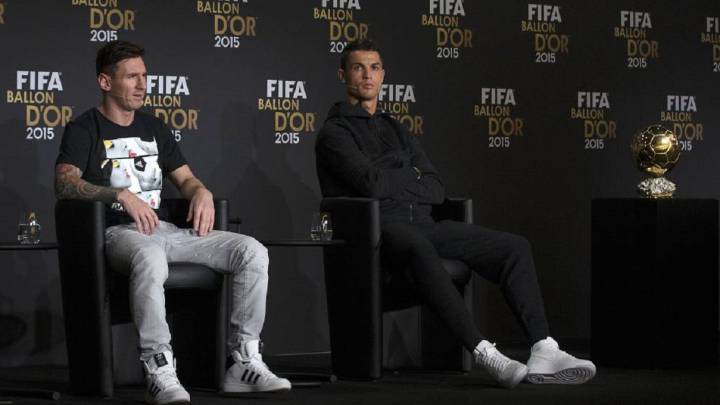 Ballon d'Or 2016 shortlist
The Ballon d'Or, recognising the best player in the world in 2016, will be awarded before the end of the year, and throughout the day on Monday, 30 candidates for the trophy were released in batches of five players at a time, with the last group announced at 18:30 (CEST).
The nominees were chosen by France Football, the organisers of the competition.
As expected, all the game's biggest stars, such as Cristiano Ronaldo, Lionel Messi, Neymar, Gareth Bale, Luis Suarez and Paul Pogba are present on the list. However there are a few surprises too! You can view the full list of nominees below.
Full list of nominees (in alphabetical order)
Sergio Aguero (Manchester City)
Pierre-Emerick Aubameyang (Borussia Dortmund)
Gareth Bale (Real Madrid)
Gianluigi Buffon (Juventus)
Cristiano Ronaldo (Real Madrid)
Kevin De Bruyne (Manchester City)
Paulo Dybala (Juventus)
Diego Godin (Atlético Madrid)
Antoine Griezmann (Atlético Madrid)
Gonzalo Higuain (Napoli/Juventus)
Zlatan Ibrahimovic (PSG/Manchester United)
Andrés Iniesta (Barcelona), Koke (Atletico Madrid)
Toni Kroos (Real Madrid)
Robert Lewandowski (Bayern Munich)
Hugo Lloris (Tottenham Hotspur)
Riyad Mahrez (Leicester City)
Lionel Messi (FC Barcelona)
Luka Modric (Real Madrid)
Thomas Muller (Bayern Munich)
Manuel Neuer (Bayern Munich
Neymar (Barcelona)
Dimitri Payet (West Ham United)
Pepe (Real Madrid)
Paul Pogba (Manchester United)
Rui Patricio (Sporting Portugal)
Sergio Ramos (Real Madrid)
Luis Suarez (Barcelona)
Jamie Vardy (Leicester City)
Arturo Vidal (Bayern Munich)
Ballon d'Or returns to France Football
This edition of the Ballon d'Or, 2016, sees the trophy return exclusively to France Football. Since the 2010 edition it's been run in conjunction with Fifa. However the agreement with Fifa has now come to an end and France Football will be running the competition. One of the main changes this brings is that the voting returns to its original format, with only journalists in Europe voting; with Fifa's involvement coaches and captains of national sides also voted.
The last eight awards have been won by only two men - Cristiano Ronaldo and Lionel Messi - and the Real Madrid and Barcelona stars are expected to be among the front runners this time around too.