Torres dreaming of Champions League goal at the Calderón...
Fernando Torres has never scored a goal for Atlético at the Calderón in the Champions League - a feat he wants to achieve before the club ups sticks and moves to La Peineta.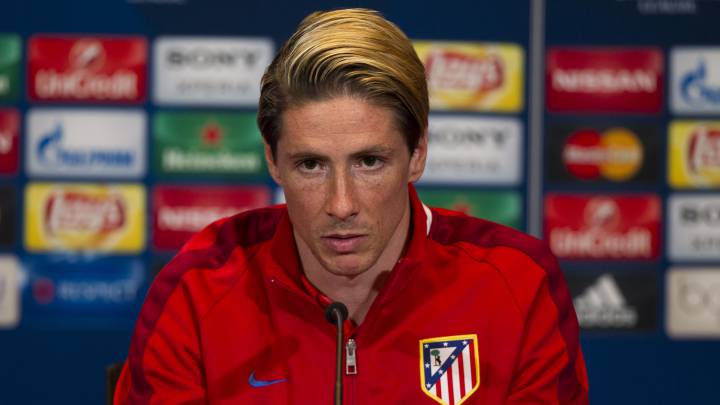 Fernando Torres joined coach Diego Simeone in attending the press ahead of tomorrow's game against Rostov.
Great spirit within the squad

Champions League: "I'm happy to be here, at an Atleti which approaches every game as though it was the last. I hope this moment lasts as long as possible. We have a very competitive squad and it's difficult to enter the side; it's a healthy competition though, and we all know that we have to contribute when we are called on. I can't fault our squad in any way.
"This is an important game for us as we can secure our passage to the next round, and we want to be top of the group, that is important for the team.
"We know that the most important game is always the next one. When this game is over, we will start thinking about the next one. We cannot afford to drop intensity from one game to the next. If we start thinking things will be east, we'll be in for problems".
Humility: "You should never forget to be humble - that's one of the first things you learn here at Atleti. This Atleti side, which has reached the highest level the club has ever known, has to show humility, and respect for the rival we have in front of us, and to compete with every side we face... All of that is what the boss has achieved with us, we believe his message because we know it's true, it's real. We can't relax because in the league or Champions League, one lapse and you can throw it all away. I think with this group of players, the best is yet to come".
Calderón wish
Scoring for Atleti in the Champions League at the Calderón: "I know that for striker, it's our job to score, and I hope I can grab a goal against Rostov - to get off the mark in this season's Champions League. I haven't scored in the Champions League for Atleti at the Calderón, and I would love that goal to come tomorrow because I really want that memory - of scoring at this stadium. But it's not something which I am obsessed by; first, I need to help the team".