Argentina facing uphill battle to qualify for World Cup 2018
Leo Messi's Albiceleste side are sixth in the Concacaf table after losing to Brazil and have seven games to save their campaign. Spain v Colombia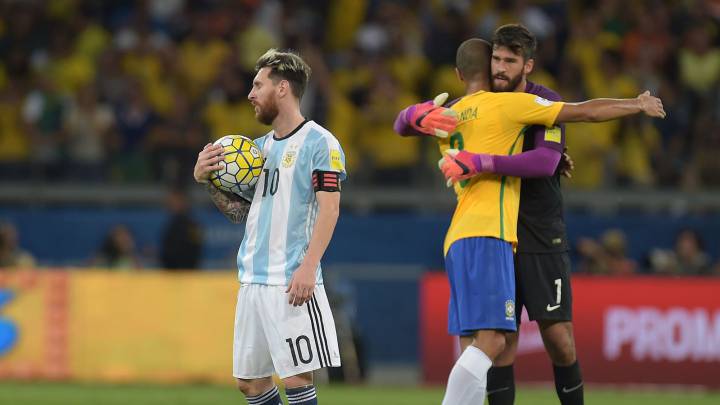 A World Cup without Argentina seems an impossible scenario but as things stand in the Conmebol qualifying group for Russia 2018 the Albiceleste are out of the running after their humbling defeat by Brazil in Belo Horizonte. The South American Super Clásico did not go well for Leo Messi and his teammates as the game was very much a key fixture in their goal to qualify for the World Cup.
Argentina sixth in qualifying group
Argentina are currently sixth in the qualifying group on 16 points, one behind Chile and Ecuador and two behind Colombia, who they face on Wednesday in San Juan. A defeat in that match would leave Argentina in serious trouble with six games to play.
Edgardo Bauza's side have remaining fixtures against Colombia, Chile, Bolivia, Uruguay, Venezuela, Peru and Ecuador. Any further slip-ups will be very costly for the double World Cup champions and the current top-ranked team in the Fifa standings.
Won four, drawn four, lost three
So far in qualifying, Argentina have won four, drawn four and lost three of their matches. Positive results against Colombia and Chile, who are direct rivals for qualification, will change the panorama considerably but the team's performance against Brazil was a cause for considerable concern.
Argentina's remaining fixtures
16/11 Argentina - Colombia
23/03 Argentina - Chile
28/03 Bolivia - Argentina
31/08 Uruguay - Argentina
05/09 Argentina - Venezuela
06/10 Argentina - Peru
11/10 Ecuador - Argentina
Current standings
1. Brazil - 24
2. Uruguay - 23
3. Colombia - 18
4. Ecuador - 17
5. Chile - 17
6. Argentina - 16
7. Paraguay - 15
8. Peru - 14
9. Venezuela - 5
10. Bolivia - 4