Gerard Piqué goal wrongly disallowed for offside
Gerard Piqué had the ball in the net as the game was closing in on a nil-nil but the assistant referee, De Burgos Bengoetxea, ruled his position to be offside. We disagree.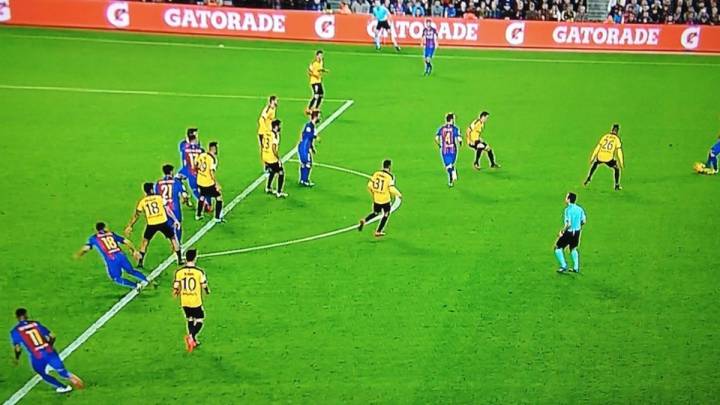 Piqué almost wins the day
The end of the game was just a few minutes away and Barcelona were at risk of dropping more points at home against a team that they are expected by many to roll over. But as we entered the 83rd minute the play developed ending in Gerard Piqué knocking the ball into the back of the net.
But Barcelona had not escaped their frustrations - in the way that they had in their last home game against Granada - as the assistant referee, De Burgos Bengoetxea, raised his flag ruling a player offside. There was little backlash aimed at the officials at the time but maybe there should have been more.
As Mascherano lifted the ball forward to the onrushing André Gomes the Málaga backline stepped up leaving four Barça players ahead of them but two can be ignored for this debate. Gomes then beat the stretching Kameni to head the ball goalwards but as it rebounded off the bar Piqué, who had followed his teammate into the area, was there to finish it off, and then turn to see the assistant's decision. But what offside decision was actually made?
Two key questions need an answer
"A player is in an offside position if he is nearer to his opponents' goal line than the ball..."
So, the first question to ask is: was Piqué offside at the moment when Gomes headed the ball onto the bar? This is very simple: no. He was behind the ball at the point of contact and therefore onside.
Next, was Gomes offside when Mascherano played his lofted pass? This is more difficult but from the replay and still images we've seen we don't believe so.
With the second question in mind it was certainly not an easy decision to make in real-time but we feel that the goal should have still stood. If, however, the decision was made regarding Piqué's position - which the timing of the flag and standing location of the assistant suggests - then oh dear Señor De Burgos Bengoetxea. It definitely should have stood.