Real Madrid 3-2 Deportivo La Coruña match report and as it happened
Deportivo La Coruña looked like they could cause an upset at the Bernabéu until Mariano pulled Madrid level and Sergio Ramos scored a stoppage-time winnerCopa del Rey live:Quarter Final Draw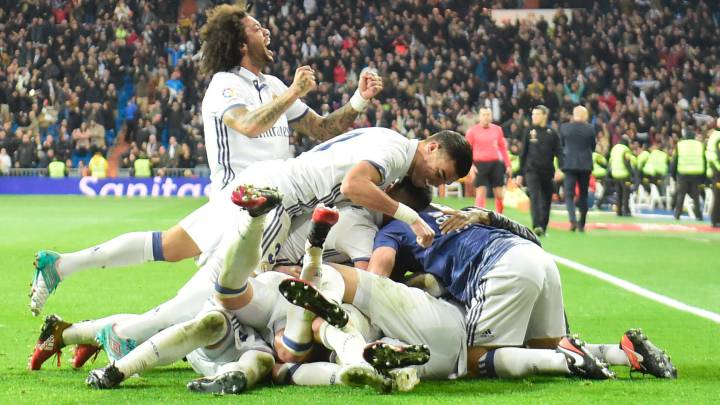 Cristiano Ronaldo Ballon d'Or 2016
Real Madrid 3-2 Deportivo: match report
What a white knuckle ride we went through this evening in the capital. Zidane sets a new club record after a night in which everything seemed to be ebbing away from his Madrid side.
Morata's terrific opener was cancelled out, ironically by his old strike partner at Castilla, Joselu who produced an equally fine finish to find Keylor Navas' top corner, then put Depor ahead two minutes later. Madrid, spurred on by their courageous captain Sergio Ramos, showed that persistence pays and in football, it ain't over until the the final whistle goes...
---
Real Madrid 3-2 Deportivo: as it happened
90+5 | FULL-TIME: What a comeback, phew! Ramos and Marcelo, grinning from ear to ear, do a basketball-style jump 'n' bump celebration.

90+4 | And it looks like Zidane will overtake the club's all-time record for going unbeaten in all competitions - 35 games without defeat now.

90+2 | Scenes... 'Mister Stoppage Time' It's Ramos O'Clock the skipper comes tearing in to head in the corner!. 3-2!! Unbelievable.

90+1 | Morata sends a header looping goalwards which is brilliantly tipped over by Tyton who crashes against the post and requires treatment, looks like he's OK.

90 | Madrid putting every man forward as regulation time is reached. Five minutes of stoppage time added.

88 | Booking: Ramos goes into the book

87 | Uyy!! Marcelo's ball into the box is fisted behind by Tyton. Fighting breaks out and it all goes a little ugly. Handbags time.

83 | Gooooooaaal!!! Supersub! Mariano 2-1 rose to meet Lucas Vázquez's flighted ball into the box, seems to come off Sidnei's shoulder. 2-2!! The Berna errupts

82 | Substitution: Fayçal on for Babel - midfielder for striker

80 | Substitution: Marcelo replaces Danilo

79 | Babel brought down on the edge of Madrid box - play on! says the ref. Replay shows no contact from Danilo.

76 | Great ball into the box from James out wide on the left -headed clear while Raúl Albentosa dances 'the Chotis' with Morata.

72 | Substitution: Mariano comes on for Isco

70 | Booking: Morata for dissent
65 | Gooooaaaal!!! Madrid are exposed at the back again and Joselu tucks his shot under Keylor and over the line. In the space of two minutes it's 1-2.
Madrid had been piling the pressure on around Depor's area but the Galicians are a dangerous bunch on the break and capitalized on Casemiro's indecision. Zidane's team looking shaky at the back and leaving the last man to guard their defence - a bit like in the days of yore when poor old Iván Helguera was left to mop up whenever Madrid were caught on the break.
62 | Goooooaaal!!! Joselu Sanmartín (Morata's ex-strike partner in the Castilla days) tonks one right into the roof of the net. 1-1!

61 | Handball! shouts Morata, corner, says the ref.

59 | Possession update: Madrid 60% - Deportivo 40%

58 | Booking: Albentosa for going through Nacho

56 | Danilo is down and calls for attention. He slipped and seemed to twist his right ankle.

52 | Let's face it a goal was always on the cards - the last goalless draw at the Bernabéu was the Week 6 meeting with Málaga in September 2015.

47 | Goooooaal!!! What a wonderful finish! Morata, on the turn and 20-odd yards out, curls one inside the post. 1-0 Madrid lead!

45 | Depor kick off the second half and go straight onto the attack but can find no way down the right wing and are forced back into their own half.
45 | We are back underway at the Bernabéu, another 45 minutes to settle this.
Quite a frustrating first 45 minutes for a makeshift Madrid side who are being closed down at every move by Deportivo. The question is whether Gaizka Garitano's side can maintain their high-intensity defending for another 45 minutes. Every time Morata, James or Isco shape to shoot, there's a Depor player on him instantly to whisk the ball clear. The visitors meanwhile have struck the same section of Keylor Navas' right-hand post twice. Both teams go in goalless at the interval, with Babel on a booking for taking out Casemiro for the umpteenth time - he'll need to be careful not to go into the book again in the second half. 0-0 it stands.
45 | Ryan Babel goes into the book bang on the half-time whistle. He's been looking 'uncompromising' shall we say during the first 45 minutes. 0-0 at the break.

44 | Danilo goes down in the penalty area after either having his ankles clipped accidentally or just flinging himself to the floor, no penalty says Mr Jaime Latre.

40 | Another corner for Madrid which is eventually cleared. Sidnei and Juanfran (the ex-Celta full-back) are man-marking Madrid's frontmen every time the hosts go forward.

38 | Again the ball is whipped away from Morata's feet. Corner to Madrid.

36 | Casemiro lashes a shot over - out of frustration. Depor defending well.

33 | How did that stay out! Borges glances a header against the post! The ball bounces dangerously along Keylor's goal mouth and just over Guilherme at the other post.

33 | Asensio fouls 30 yards out on the right. Free-kick to Depor...

29 | Madrid go straight down the other end and James, clean through, has his effort saved by Tyton, Isco cannot stab home the rebound...

28 | Close!! Navas appears to tip Borges' first-time shot onto the post and wide. Goal-kick says the ref.

27 | Babel makes a beeline for the touchline but slips... corner to Depor. Headed behind, another corner, from the other side.

25 | Uyy!! Ramos sends his free-kick a good few inches over the bar.
24 | Surging run from Casemiro, scythed down by Borges who becomes the fuirst to go into the book. Free-kick to Madrid on the edge of the penalty area. Ramos over it.
20 | Babel shoulder-barges Casemiro to the floor. Depor win possession and Pepe just avoids the ball going out for a corner. Still goalless. Madrid gradually taking control of the game but they'll need to be careful with Florin Andone and Babel lying in wait to hit them on the break.

19 | Great diagonal through ball from Isco to Danilo, but out sprints Tyton to smother again.

16 | Saved by the keeper! James throws his arms up in disbelief his ball into the box was smothered by Tyton inside his 6-yard box, with Morata prowling and about to pounce.
Asensio playing out wide on the right with Morata and James through the middle and Isco on the left. Interesting to see Toni Kroos in a more advanced position, providing support for the front three during these opening minutes.
12 | Close! Nacho! The defender chests down Asensio's curled cross just outside the 6-yard box - but the ball is whipped away from his toes just as he was about to shoot. Corner.

9 | Andone is clean through but the ball's superbly intercepted by Pepe in the box. Timed his tackle well.

6 | Uff! Kroos unleashes a shot from distance, which hits a Depor defender in the nether regions. *winces

4 | A bespectacled Cristiano Ronaldo spotted in the VIP lounge with a 'mystery brunette'...

2 | Depor seeing the most of the ball after two minutes. Madrid swamp forward but Asensio is instantly closed down, he gets a pass through but the flag's up.

0 | And we're off!
Captains Sergio Ramos and Sidnei exchange all of the usual pre-match pleasantries, looks like Ramos won the toss. Madrid to kick-off
Out come the teams!
---
Hello and welcome to AS English's live coverage of Real Madrid's LaLiga match-up with Deportivo La Coruña at the Santiago Bernabéu (20:45 CET).
---
Real Madrid - Deportivo: starting line-ups
Real Madrid XI: Navas, Danilo, Pepe, Ramos, Nacho, Kroos, Casemiro, Isco, James, Asensio, Morata
Deportivo XI: Tyton, Juanfran, Albentosa, Sidnei, Fernando Navarro. Borges, Colak, Guilherme, Carles Gil, Andone, Babel
---
Real Madrid-Deportivo: latest news
20:31 | Under 15 minutes to kick-off, final preparations taking place.
20:15 | As expected, Zizou has significantly shuffled his pack. Although some of the absentees were forced on him, he'll have little to use an excuse if they don't have a positive result.
19:51 | Ex-Liverpool and Ajax player, Ryan Babel, starts for Deportivo tonight. AS sat down with him a couple of months ago to see how he was enjoying life in Spain.
19:30 | Out doing the Christmas shopping earlier and miss Robbie on the Barça live feed? Don't fret, you can see exactly how it all unfolded at your own, less franetic pace.
19:11 | Weather watch: high chance of sprinklers, no chance of rain. It's a cool 12 degrees in the Spanish capital with a nippy breeze. The Bernabéu heaters unlikely to be turned up high for the fans - but warm lomo bocadillos will go down a treat.
18:48 | Deportivo celebrated their 110th birthday two days ago. The club, then called Club Deportivo de la Sala Calvet, came into being on 8th December 1906 when they played their first match against Real Club Coruña; that day they beat their neighbours 2-1.
18:18 | As we mentioned earlier, Madrid are looking to maintain their incredible unbeaten run tonight but earlier today saw the end to RB Leipzig's record-breaking 13-game unbeaten streak in the Bundesliga.
17:22 | The AS Oracle's smug grin is currently beaming across AS towers after he successfully predicted a Barça win at Osasuna. But how does he think Real Madrid will fare this evening?
15:34 | He's not involved today, but here's a look at how Mr Ronaldo's position has evolved at Real Madrid.
14:58 | Toni Kroos, set to make his first start since coming back from inury, will have to find his mojo pretty quickly in a fiercely competitive Madrid midfield.
13:55 | Deportivo were the victims back in 2002 as Zinedine Zidane bagged one of his many memorable goals as a player. Enjoy.
13:33 | Your primary plan will obviously be to follow the action with us, but just in case you're also inclined to accompany our live text with sound and moving pictures, here's our guide on how and where to watch.
13:04 | Zidane can almost taste a club record - avoid defeat this evening and his side will be inscribed in the Real Madrid history books after going 35 games unbeaten, overtaking Beenhakker's record from 1989.
12:16 | As mentioned in our preview, Real have only played once before in LaLiga without the 'BBC'. It didn't go well...
11:29 | Álvaro Morata is expected to start for Real on a day that sees the striker wake up a newly-betrothed man...
11:09 | Why not get yourself started with a shufties at our match preview below?
11:00 | Good morning! Stay tuned right here for all the latest build-up ahead of this evening's LaLiga week 15 clash at the Bernabéu!
---
Real Madrid-Deportivo: match preview
In a repeat of the league fixture that kicked off Zinedine Zidane's Real tenure, this evening's encounter in Madrid sees Los Blancos look to preserve their six-point lead at the top of the Primera División table before they jet off to Japan.
Real Madrid
With one eye on Thursday's Club World Cup opener, Zidane is preparing a much-changed side for the visit of Depor. He's left out Karim Benzema, Cristiano Ronaldo and Luka Modric entirely, while the likes of Dani Carvajal, Raphael Varane, Casemiro and Marcelo are also not expected to figure in the line-up.
In a match that offers Madrid the chance to break their club-record unbeaten run, Toni Kroos and Álvaro Morata are in line to make their first starts for Los Merengues since returning from injury lay-offs.
And with Gareth Bale a long-term absentee, Real face a LaLiga match featuring not a single member of the 'BBC' for only the second time since the Welshman's arrival. Their only previous top-flight outing without Bale, Benzema or CR7 came at Celta Vigo in May 2014 - and ended in a 2-0 defeat.
Deportivo
Deportivo dispensed with Víctor Sánchez del Amo after narrowly escaping relegation last term, but have faired little better under replacement Gaizka Garitano. They've picked up only two LaLiga wins since August, and are currently perched just outside the drop zone.
However, their most recent league clash did see them end a two-month victory drought with an unexpected 5-1 walloping of Real Sociedad.
Depor it was who were at the Bernabéu for Zidane's maiden game in the Real dugout in January, the Riazor outfit leaving the Spanish capital on the end of 5-0 thumping that's reflective of their poor recent record at the ground.
They haven't tasted victory there since 2004, and Garitano's pre-match assessment that "a draw would be a very good result" pretty much said it all. The heady days of the 'Centenariazo' seem very far off indeed.
---
Real Madrid-Deportivo: possible line-ups
Real Madrid XI: Navas, Danilo, Pepe, Ramos, Nacho, Kroos, Kovacic, Vázquez, Isco, Asensio, Morata
Deportivo XI: Tyton, Juanfran, Albentosa, Sidnei, Navarro, Borges, Colak, GUilherme, Gil, Andone, Babel
---
Real Madrid-Deportivo: live build-up