With Barcelona back again to claim that the Copa del Rey final should be played at the Bernabéu, it is worth remembering one truth: the Bernabéu is not an unclaimed property, it belongs to Real Madrid. And the majority Madridristas, from Florentino to Roncero, are not amused that Barça maintain their insistence of playing Cup finals at the stadium. For two reasons: the first, because it's expected that Barcelona will win it, raising the trophy, along with the sound of the Barça anthem, to the starry roof of the stadium. The other, more importantly, is the suspicion that the separatists who support the team will whistle the King, as well as the Spanish national anthem, in the Bernabéu more than anywhere else.
Fears over Barça separatists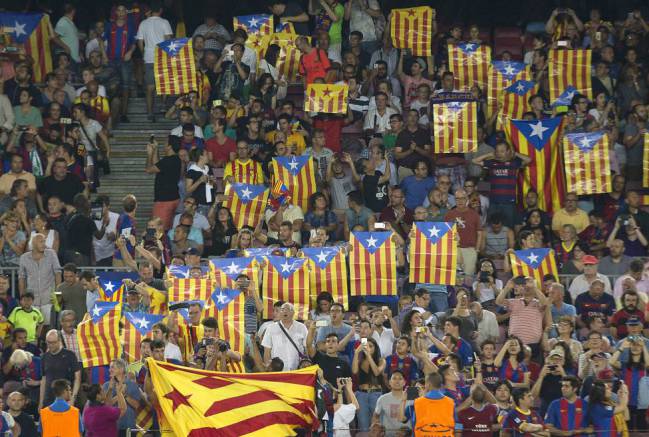 So Florentino wouldn't need an excuse of construction works to deny that happening: it would suffice to invoke the will of the club's members, or that of the board. Alternatively, it could easily be suggested that the Bernabéu would be open to Barça if the Catalan club made an appeal to its fan to respect the highest symbols of the Spanish state during their visit. They won't do that though, I'm afraid. They didn't do it last year.
There are construction works, and it is true, because they were announced before. In return, Atletico will offer the Calderon, which could be the last ever game at the ground, save for the scenario that Atleti might have to participate in the Champions League qualifying rounds in pre-season when the new stadium may not yet be fully complete.
San Mames, Calderón the other final options
So there will be a stadium in Madrid to play the final after all. In any case, Barça will not have the backing of Alavés to play the final at the Bernabéu, because there is a good deal of consensus on staging it at San Mamés, so close that it is to Vitoria. Ultimately, they think, 'was it not Athletic who had to travel two years ago to Camp Nou?' The bad thing is that three days later there is going to be a concert there, and the mounting and dismantling of stages takes some time. We will have some debate, certainly, but the Bernabeu is not up for consideration. Calderón, San Mamés or some venue that comes along, but this time it seems to me that the Cule nuisances will have less travelling to do to the Bernabéu.