I'm not embarrassed to admit it: once in my life I applauded Barça. Just once! Well, let's get this straight. I applauded a genius named Diego Maradona who wore the azulgrana shirt. It was in the first leg of the Cup de Liga final played at the Bernabeu. With 0-1 on the scoreboard, the Argentine escaped like a wolf from a trap near the Madridista area. He dribbled around Agustin with lightning speed and an empty net beckoned. We looked on helplessly in the stand: terrible!
Only Juan Jose had faith in trying to stop the star's shot, but it was impossible. However, Maradona gave him a chance. As if he had a rearview mirror in his ear, he waited for the fullback and sold him one of those prodigious feints. Sandokán almost slammed into the post. There he forgave no more. Maradona scored with the subtlest of touches.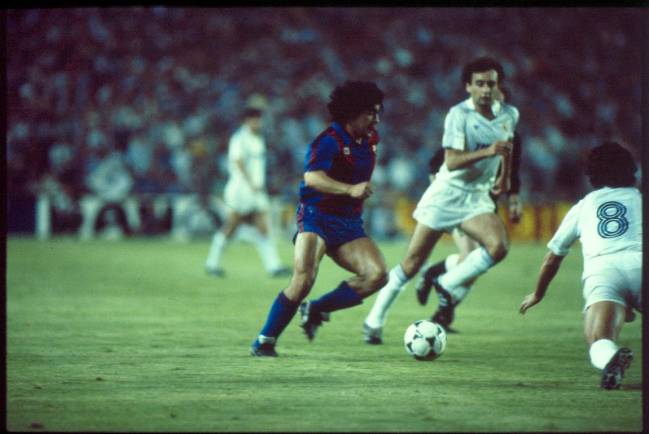 Maradona back at the Bernabéu...but not where he can hurt us!
In an uncontrollable reflex act, many people in the stands began to applaud. Madrid replied with goals from Del Bosque and Juanito, but when we all left, we repeated: "Did you see what Maradona did?"
Luckily, on Wednesday he will be in the president's suite. I'm not afraid of that. Maximum respect for the Napoli of Reina, Albiol and Callejón, but they play Real Madrid: the king of the eleven European Cups...