Napoli - Real Madrid Champions League: match report, as it happened, goals
Sergio Ramos saved Real Madrid from a nervous second half with two headers to put the game out of reach before Morata sealed the win late on in the Champions LeagueReal Madrid vs Leganés: Copa del Rey live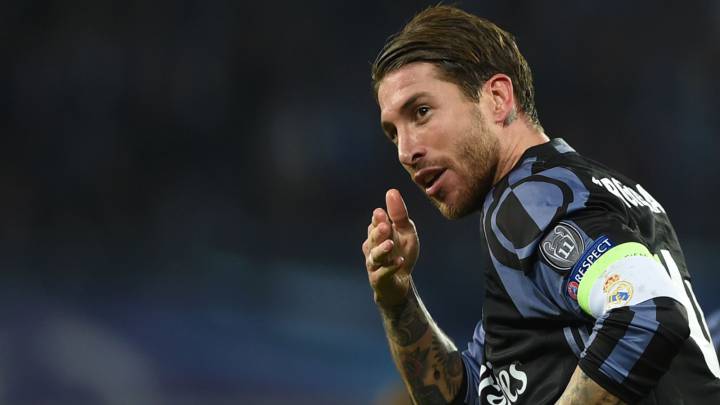 How and where to watch the Champions League quarter-final draw
Napoli 1-3 Real Madrid: full-time report
Images of Napoli fans streaming into San Paolo as many as six hours before kick-off signalled just what this match meant to the city of Naples and when the game kicked off, they were well and truly warmed up. Their intensity complemented the performance on the field as they tore into Real Madrid from the first minute.
As the half-chances continued to pile up, Napoli were no closer to the two goals they needed to take the lead in the tie. They would continue to push though and on 24 minutes, they had their opening. Some neat interplay between Insigne, Hamsik and eventually Mertens would result in the Belgian driving a low and hard shot beyond Keylor Navas and as he set off to celebrate, the noise levels in the stadium grew to the kind of levels that can cause tinnitus.
Napoli's tails were up and Real Madrid were on the ropes. The half-chances continued to clock up and it seemed only a matter of time before they had their second. Real Madrid were growing increasingly nervous in possession and retreating with every minute that ticked by. When the sweet relief that was Cuneyt Cakir's half-time whistle blew, they returned to the dressing room in an effort to figure out what was going on.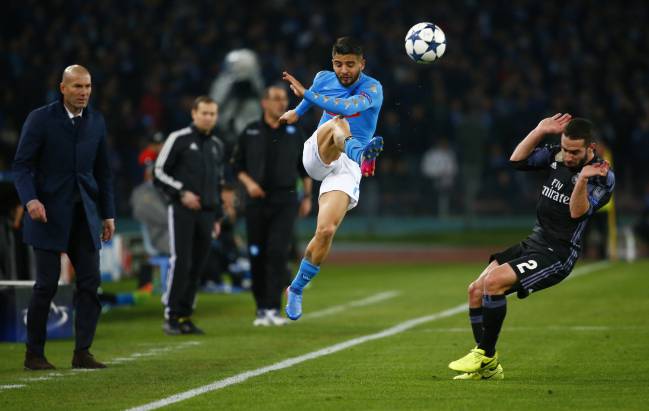 Second half
Whatever was said in the dressing room proved fruitful as Real Madrid showed up for the second 45 with more intention in the opening five than they had showed all game. That intention was rewarded six minutes into the half when Sergio Ramos met a cross and glanced it beyond Pepe Reina and into the far corner of the net after Marek Hamsik had coughed up possession with Napoli trying to build. the tables had turned and suddenly Napoli were in a very fragile position.
Another six minutes on and with Napoli needing three, Ramos popped up again and drove another header towards the goal only for it to hit Dries Mertens and loop over Reina for his second (at the time, UEFA have since given an own goal to Mertens) and Real Madrid's fifth of the tie meaning the hosts needed four. They never gave up but there was no doing and when Alvaro Morata slammed home in the 90th minute to put the icing on the cake, the game had been longer over as a contest for quite some time. Real Madrid march on with their eye on duodecima and a league title to make it a double, while Napoli are left to pick up the pieces with a manager and president who don't see eye to eye, sitting third in Serie A and 10 points behind the leaders Juventus.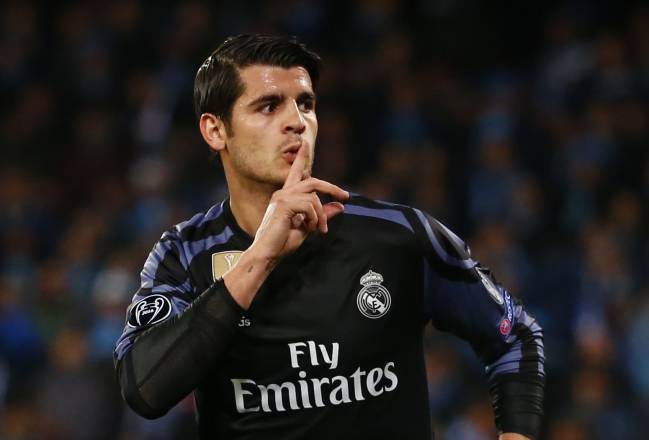 ---
All the images from Real Madrid's win in Naples.
---
AS IT HAPPENED:
Napoli 1-2 Real Madrid: second half
FT - The referee blows it up as Napoli bow out and Real Madrid drive on in their race for duodecima!
Min 90 | GOAL GOAL GOAL! Cristiano Ronaldo is slipped through by Marcelo and Reina can only parry his shot in to the path of Morata. The striker finishes with aplomb before putting a finger to his lips to shush the Neapolitan crowd.
Min 88 | Diawara arrives late on Toni Kroos and treads down on the German's foot. The young Napoli midfielder has shown impressive maturity for a 19 year old, but he is shown a booking here.
Min 86 | PENALTY SHOUT! Mertens goes down in the box after neat interplay by Napoli on the edge of the box. The Turkish referee waves it away.
Min 84 | Napoli are probing for a goal that could make things interesting, but Real Madrid holding firm at the back.
Min 81 | Rog fires a shot high over the bar for Napoli. Up at the other end, Isco flashes a cross in to the box, it bounces through to Carvajal, who almost juggles through. Out for a Napoli goal kick.
Real Madrid substitution - Zidane's last move as Isco comes on for Modric.
Min 81 | Mertens fouls Carvajal and turns and takes off with the ball. He didn't hear the whistle but when he does, he turns and pleads with the referee to no avail.
Min 78 | Ronaldo gets it to the left of Reina, controls and drives a shot against a defender.
Real Madrid substitution - Morata replaces Benzema.
75 minute update - the game as a spectacle has suffered with the two goals but that is exactly what Real Madrid wanted - to neutralise the crowd and put this one out of reach with an away goal. the second one was just icing on the cake. Napoli do look dangerous and have threatened but it seems it is a bridge to far for them with 15 left and needing four goals.
Napoli substitution - Hamsik goes off and Zielinski takes his place for the last 15.
Min 74 | Ronaldo breaks again, plays it out to Vazquez and his cross makes it way, eventually, to Benzema but he is pressured into coughing up the ball. he falls but doesn't even look for a penalty. He wasn't getting one in any case.
Min 72 | Vazquez plays Ronaldo in on goal but Reina closes his angles and forces him to go backwards. Chance gone as Reina gets a boot in and puts it our for a corner.
Napoli substitution - Milik replaces Insigne.
Real Madrid substitution - Bale is taken off and Vazquez trots on to take his place.
Min 68 | Napoli corner as Koulibaly is penalised for climbing on two defenders' backs.
Min 66 | Another chance for Napoli as Mertens drops it out to Rog, who sends it straight across the box. Navas flaps at it and Mertens is squeezed out. Close!
Min 65 | Napoli fashion a chance with Ghoulam on the left as he squares to Rog but he can't buy himself a yard to get a clean shot and he fires over Navas' crossbar.
Min 64 | Ronaldo looks to make it even more difficult for Napoli but as he is pushed out wide by Koulibaly, he is off balance and his shot goes over the bar.
60 minute update - Napoli deflated after Real Madrid's quickfire double. From looking increasingly nervous in the first half to a far more convincing performance to start the second half, whatever Zidane said at half-time certainly worked. All uphill now for Napoli now.
Min 57 | GOAL! GOAL! GOAL! Ramos with his second? It took a deflection but the Real Madrid captain will claim that as it was going in before it hit the defender. What a turnaround by the visitors. Ramos to the rescue!
Napoli substitution - Allan is replaced by Rog.
Min 55 | Allan gets a yellow for what looked an elbow to the back of Casemiro's head. he tries to confront the Brazilian now to let him know it was a dive but the referee steps in to break them up.
Min 54 | Another corner for Napoli as they try to pick themselves up off the floor after that Ramos header.
Min 52 | GOAL! GOAL! Ramos meets the corner with his head and glances it into the net. Real Madrid had started the better side and Napoli now need to score two.
Min 51 | Hamsik gives the ball away with a lazy pass and Kroos counters. He chips one towards Benzema at the back post but Albiol headers it out for a corner.
Morata and Vazquez warming up.
Min 48 | Mertens frightens the life out of Ramos as he closes in on him in a race to the ball. Ramos puts it out for a corner, employing the 'better safe than sorry' mentality.
Min 47 | Delightful pass by Marcelo with the outside of his left foot to Benzema, who takes it on his chest. He drives a shot to the left of Reina as it hits the side netting.
Min 46 | Mr. Cakir gets us underway again as the Napoli fans break into whistles again.
No changes for either side.
---
Napoli 1-0 Real Madrid: first half summary
A lightening start for the home side as Napoli bolted out of the blocks with Real Madrid unable to match their intensity. That continued for the opening twenty but half-chance after half-chance came and went without them really testing Navas. That changed on 24 minutes when a slick move involving Insigne, Hamsik and Mertens connected before the Belgian in the group buried a low shot beyond Navas. They continued to push for a goal but could not breach Real Madrid's defense and while the visitors have looked somewhat dangerous on the counter, they are looking flat and increasingly nervous at the back. Massive 45 minutes to come.
---
Napoli 1-0 Real Madrid: first half
HT at San Paolo! Very exciting half of football. Some half-time reading here as AS' editor says it is not about systems per se, but more a question of attitude. Can Real Madrid respond in the second half?
Min 45 | Carvajal down on the gorund and grabs at his ankle. Looks like he was stood on as he kicked the ball. A sore one, no doubt.
Min 44 | Benzema out wide, looks for Marcelo in the box but Diawara kicks it out for a corner. Kroos' corner is boxed away by Reina. Real Madrid starting to get a grip on proceedings but still looking shaky.
Min 43 | Ball in over the top for Bale is cut out by Koulibaly before Reina introduces his foot to the ball and send it 60 yards the other direction!
Min 41 | Another chance for Napoli down this left hand side as Insigne puts Hamsik in. He drives a shot goalwards but it's cleared and Real Madrid live to fight another day. the visitors reeling now and surely begging for half-time.
Min 39 | Hamsik through on goal but his speed, or lack thereof, lets him down and he is forced into a shot from distance. It goes well wide as Navas sees it off.
Min 38 | So, so, so close! Allan gets caught in possession but it bounces kindly to Mertens, who has a pop. It beats Navas but it hits the post and goes wide. I'll say it one more time for effect - so close!
Min 36 | Navas kicks a clearance out over his right sideline under pressure. He tries another clearance and tries the left this time - same result.
Min 34 | Insigne with another dangerous run behind enemy lines but his cross is met by Pepe, who concedes the corner. Koulibaly gets a good header on the corner but it's way too high.
Min 32 | Allan fouls Modric as he breaks from deep and tries to start an attack.
30 minute update - That goal was exactly what the tie needed and now the crowd, Real Madrid AND Napoli are up to 90. Zidane is up off his bench ensuring Real Madrid don't sit back and Napoli can smell blood. It's good to have Champions League football back.
Min 30 | Casemiro gets notions! Has a shot from deep but it goes high and over the bar.
Min 29 | Benzema with a perfect through ball to Ronaldo and he side-steps both Koulibaly and Reina before driving the ball against the base of the post. So close to an equaliser.
Min 27 | Insigne to Mertens and he has another shot, this time with the right foot, and this time with a different result as Keylor Navas cradles the ball in his arms after a tame bounce.
Min 25 | Zidane is up and off his seat on the bench. Napoli with their tails up and continuing to pressure Real Madrid.
Min 24 | GOAL! GOAL! GOAL! Napoli with an ideal start. Hamsik plays it to Mertens out on the left and he slides a low and wicked shot beyond Keylor Navas. If it's possible, San Paolo gets even louder.
Min 22 | Napoli caught with some poor passing around the middle again. Modric plays it to Bale but he can't make his way out of trouble and flicks it harmlessly back into the box to a waiting Napoli player.
Min 21 | The game seems to have settled into a more regular ryhthm now. Those opening 20 were exhausting even as a spectator!
Min 19 | Casemiro lofts a perfect pass over the top to Bale, who takes it down with precision. His left-footed shot does not match his control though and it rolls into Reina's waiting arms.
Min 18 | Real Madrid finally get some possession but it goes out for a goalkick as Hamsik pressures Bale. Have los Blancos seen the worst Napoli have to throw at them?
Min 17 | Hamsik has another shot but he drags this one well wide. Real Madri need to close down the Slovakian in those situations.
Min 15 | Bale swings a cross to Kroos, who volleys a shot straight down Reina's throat.
15 minute update - Napoli promised a special atmosphere at San Paolo tonight and it has certainly had an impact on Napoli's start. It has thrown Real Madrid off their game and driven Napoli on. Nothing too clear cut in terms of chance but they have had enough to suggest they are well on top.
Min 14 | Insigne drives a shot towards Navas and it bounces in front of the Costa Rican as he gets a fist to it and push it out for a corner.
Min 13 | Real Madrid at sixes and sevens at the back and Pepe drives a clearance out over the line. Napoli's press has been intense and organised so far.
Min 11 | Lethal counter-attack by Real as Kroos slings a ball out to Bale. The Welshman gets a cross in but Benzema and Ronaldo collide in the air and the ball dribbles to Reina.
Min 10 | Callejon with a run in around the back but Ramos gets a flick on the ball. The former Real Madrid attacker throws his hands over his mouth, which suggests he thought he could have scored then! Real Madrid under pressure to hold the home side out.
Min 9 | Allan gets a foot to the ball ahead of Ronaldo and the Portuguese kicks the bottom of his boot. He jogs it off though after a second or two of limping.
Min 8 | Hamsik has a crack from outside the box and has Navas scrambling. It sneaks just wide though.
Min 7 | Mertens decides to have a run at Pepe, who almost commits to the tackle, but stays on his feet. The little Belgian wins a corner. Mertens is first to react again to the corner and forces Navas to box it out for another corner. Nothing to report from the thirds consecutive corner as Real Madrid clear.
Min 5 | Napoli bossing the opening exchanges here. Real Madrid might not be quite ruffled but they are certainly out of rhythm.
Min 4 | Low cross nearly makes its way to Hamsik but he can't reach it. Napoli immediately win it back but Hamsik fouls and it's a brief respite for the visitors.
Min 3 | Napoli fans whistling so loud that only dogs can hear them whenever Real Madrid have the ball.
Min 2 | Kroos with a very risky header back to Navas that Insigne reads and jumps in front of. He can't curl it back towards the goal.
Min 1 | Napoli pressing high up the field and Marcelo concedes possession, and a throw before Insigne gets a shot away that Ramos deflects over for a corner.
Min 1 | Napoli kick-off and we are underway!
---
Napoli vs Real Madrid: team news
Napoli XI: Reina; Hysaj, Albiol, Koulibaly, Ghoulam; Allan, Diawara, Hamsik; Callejón, Mertens, Insigne.
Real Madrid XI: Navas; Carvajal, Pepe, Ramos, Marcelo; Casemiro, Modric, Kroos; Bale, Benzema, Cristiano Ronaldo
---
Napoli vs Real Madrid: build up
20:43 | Real Madrid wearing all black and looking like they're about to deliver some bad news.
20:39 | Napoli back in their familiar "deep sky blue" jerseys tonight. A massive tifo is unveiled showing the fans, looking quite menacing. Nice tifo though. They have another that says Thank you Ragazzi and then another one that we can't make out what it is exactly. Incredible scenes in Naples.
20:37 | To all of our new viewers, you are very welcome! The atmosphere at San Paolo is bubbling just nicely. Any theories about Real Madrid's vulnerability in recent weeks will be put to the test and answered tonight.
20:33 | Napoli have more Spaniards in their team than the Spanish side Real Madrid. Reina, Albiol and Callejon flying the flag for the Italian side and just Cavrajal and Ramos in the Spanish side.
20:25 | Napoli's record at home in this year's Champions League is not great. They won their first game against Benfica but lost the second 2-3 to Besiktas and drew their third and final home game of the group stages 0-0. Not overly encouraging for the home side.
20:15 | We are just half an hour away from kick-off and some Real Madrid fans with tickets not being allowed into the game, according to reports. They are in buses driving around and we are waiting to hear what is happening. Must be really concerned about something kicking off. The Napoli fans have been arriving at the stadium since earlier today.
20:09 | It might not be massively pertinent to Real Madrid or Napoli fans right now but the team news is in for Arsenal and Bayern Munich. To save you opening new tabs and searching and fumbling around on your phone or computer, here they are, and Sanchez starts:
Arsenal XI: Ospina; Bellerin, Mustafi, Koscielny, Monreal; Ramsey, Xhaka; Walcott, Oxlade-Chamberlain, Welbeck; Sanchez.
Bayern XI: Neuer; Rafinha, Hummels, Martínez, Alaba; Alonso, Thiago, Vidal; Robben, Ribery, Lewandowski.
20:05 | Ronaldo has not looked at his best this year, and some have attributed it to the lack of rest he got after the Euros and the knee injury he suffered in the final. That coupld of days rest last weekend might have done him the world of good.
19:59 | I wonder did the Napoli fans' plan of beeping their carn horns and banging pots and pans outside Real Madrid's hotel work last night? Very childish, immature and absolutely excellent! The Beautiful Game..
19:48 | Dries Mertens is Napoli's top scorer with four in the Champions League and Karim Benzema has five as Real Madrid's talisman. Between them, they still don't have as many as Messi (10). Cavani on seven and Lewandowski on six are just ahead of Benzema.
19:45 | The teams are in so you can have a look here at who is in and who is out.
19:40 | Napoli have named their XI and Dries Mertens starts Alongside Callejon and Insigne. Game on!
19:36 | Mr. Sarri, how do you feel about mind games? Love 'em! He said,"The pressure's all on Real Madrid, they're the world champions and are obliged to win" before the game. Brilliant.
19:31 | A much changed side to the one that beat Eibar at the weekend as Zidane makes five changes to his starting XI. Marcelo and Carvajal come back in while Kroos replaces James and Bale and Ronaldo replace Vazquez and Asensio.
19:15 | A lot of praise for 19-year-old Amadou Diawara the last day out and he is likely to kepe his starting position tonight in Napoli's midfield.
19:07 | Real Madrid left the hotel for the San Paolo half an hour age. They still got their four hours after some of the Napoli fans arrived. And with that, it's time to check back in at the crowds at San Paolo! Yes, the place is absolutely teeming with fans and the atmosphere has already picked up. They're not just there as a token gesture, they are there to make noise! Has to be intimidating for Real Madrid.
18:58 | There was growing consternation over Marco Asensio's fall from grace in January and February but Zidane tipped him for more minute a couple of weeks ago and he played a crucial role against Eibar. He won't start tonight but he could offer Zidane something different coming off the bench.
18:51 | I wonder if Butragueño will be as happy to see Maradona as he was when Napoli visited Madrid.
18:46 | Maradona played the last time Real Madrid came to town and makes an appearence in the city ahead of the Champions League clash tonight. They made a massive mural of the little genuis' curly head recently.
18:44 | And I would also like to share the "Memes of Production" with you. It was a very proud night for all of us here in AS HQ and it deserves to be shared! Hopefully, tonight will be just as meme-orable.
18:43 | Dries Mertens was taking the piss at the weekend with his goal celebration!
18:38 | Zinedine Zidane had the chance to rest Cristiano Ronaldo, while Gareth Bale served the first of his two game suspension meaning both should be ready for tonight. Karim Benzema's record in Europe is excellent with five in seven, and he added two more to his LaLiga tally during the Eibar win at the weekend. Meanwhile, Toni Kroos was rested up for tonight's clash too.
18:24 | Still two and a half hours to go before kick-off and the San Paolo is almost full of Napoli fans. Trying to understand their motives but fairly sure it will have to give the team a boost.
18:17 | Fancy having a look back at the last time these two teams played each other in Naples? Michel scored a penalty and de Napoli scored an own goal for the visitors. Real Madrid kept a clean sheet and won 2-0 despite Maradona being in Napoli's XI.
18:05 | James really grabbed his chance against Eibar and is keen to renew provided the chances keep coming!
17:15 | The BBC are reporting that there are already 10,000 Napoli tifosi inside the stadium. There'll be one heck of a noise when the teams emerge from the tunnel tonight.

17:15 | Never one to miss a beat, Napoli president Aurelio di Laurentiis spoke to El País ahead of the game and had some scathing remarks to make about Gonzalo Higuaín.

16:15 The San Paolo is starting to fill up already as expectation mounts in Naples.

15:15 | Director of AS, Alfredo Relaño agrees with Ziidane that it is about the attitude and not about the system in his editorial article today.
14:15 | With Madrid in Naples today, what better time to re-watch the fine "Why I Love Napoli" documentary made by Copa 90.
13:10 | Zinedine Zidane experienced the intense San Paolo atmosphere as a player. Watch him talk about how it may affect his team tonight.
11:50 | Read what Read Madrid boss Zinedine Zidane said in his press conference on the eve of tonight's clash at San Paolo.
11:10 | A hostile reception greeted the Real Madrid squad as they arrived in Naples yesterday.
Welcome to live online coverage of Napoli vs Real Madrid in the second leg of the 2016/17 Champions League last 16, to be played at the Stadio San Paolo at 20:45 CET on Tuesday 7 March 2017.
---
Napoli vs Real Madrid: Champions League preview
It's all or nothing at the San Paolo. Napoli and Real Madrid face off in the return of their last-16 tie, with Los Blancos leading 3-1 from the first leg at the Santiago Bernabéu.
Napoli
Napoli host Real Madrid in a second-leg clash marked in red on the Serie A side's calendar ever since going down in the opener in Madrid. Were Maurizo Sarri's men to turn the tie around against the holders and 11-time winners, they'd cause a major upset - and make club history by reaching the competition's last eight for the first time.
The Italians, who had gone into the first leg in Spain undefeated in no fewer than 18 matches, suffered a real body blow at the Bernabéu. In an encounter that saw them thoroughly outplayed, the chief positive for the visitors was the result.
They'll look to draw on their good home form this term, having lost just three at the San Paolo (once in the Champions League: 3-1 to Besiktas). It's a record that offers encouragement to a team who believe a comeback is possible.
Forward Dries Mertens is a late fitness doubt for Sarri after being brought off with a knock in the Partenopei's league win over Roma on Saturday.
Player to watch: Marek Hamsik: The mohawked Slovakian has scored an impressive ten goals from midfield this season in Serie A. Hamsik, now in his tenth season in Naples, will be crucial to Napoli´s chances of dictating the tempo of the match.
Real Madrid
Real Madrid travel to southern Italy for a second leg in which their two-goal lead establishes them as clear favourites. But they can't afford even a moment's relaxation, particularly in the wake of an unconvincing group stage on the road.
However, Zinedine Zidane's men look to have rediscovered their groove just in time for their Italian job, enjoying a thumping 4-1 weekend win at Eibar which - having surrendered LaLiga top spot after defeat at Valencia and a home draw with Las Palmas - was just the tonic.
What's more, Real head into the match-up in Naples with a superior head-to-head record against their hosts, with two wins and a draw in three previous meetings.
Zidane, who was able to rest key men at Ipurua, welcomes Cristiano Ronaldo, Gareth Bale and Álvaro Morata back into a squad in which he has everyone available except injured pair Raphael Varane and Fabio Coentrao.
Player to watch: Marcelo: The Brazilian may not generate the same headlines as his team-mates but his mazy runs on the flank and distribution will trouble the Napoli rear-guard.
Napoli v Real Madrid: bet on the game
Bet on Napoli v Real Madrid now
Napoli v Real Madrid: match build-up