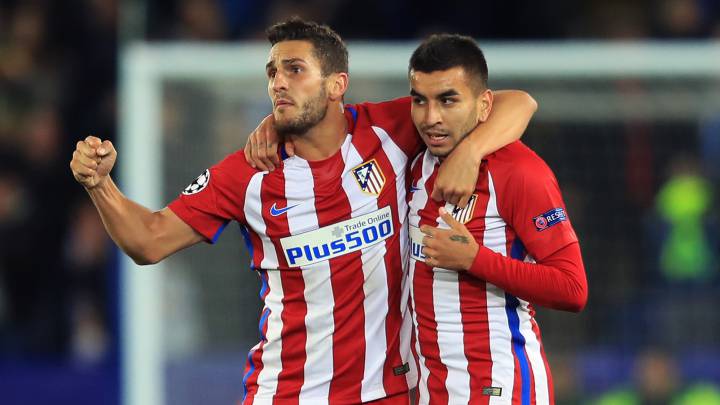 Leicester City 1-1 Atlético Madrid (agg.1-2): full-time analysis
Atlético make it through to their third Champions League final in four years but Leicester can hold their heads high after giving the Madrileños a good run for their money in this evening's Champions League quarter-final second leg in front of a fantastically enthusiatic and vocal home crowd. It might have been different had the Foxes managed to grab an early goal which was clearly their intention. Saúl's wonderful opener was a hammer blow and the had the hosts groggy for the remainder of the first half.
Leicester came out fired up for the second-half
Who knows what Shakepeare said to his players in the changing room at half-time? Whatever it was, Leicester came out like a team possessed for the second 45. The two substitutions made during the interval - Ulloa for Okazaki and Chilwell for Benalouane injected a fresh impetus for a side who just couldn't find a way to penetrate Atleti's granite-like rearguard. Within minutes o the restart, Chilwell had grazed Oblak's crossbar with a viscious volley which drew gasps from the stands. The 20-year-old England youth international found himself unmarked in an indentical position minutes later and while his half volley was on target, Savic scrambled back in time to block but diverted the ball straight to Vardy who thumped home from close range to make it 1-1 on the night.
Leicester still believed
Leicester were suddenly filled with hopes of a miracle and went looking for a second goal, leaving themselves exposed to Atlético's counter attacks - the two or three of which came to nothing. Simeone responded by taking off left-back Filipe Luis and moving Giménez into central defence to play five at the back. The guests were content to sit back and soak up wave upon wave of Leicester's attacks an wait for the home team to tire.
Atlético Madrid: three semi-finals in four years
Wes Morgan went off with an injured hamstring with 10 minutes to go and that somehow seemed to suck the last traces of life out of Leicester who faded after that. They made a courageous attempt to turn the tie around and have enjoyed a great denut campaign in the Champions League. Atlético have a few scores to settle in the competition and whoever they are drawn against on Friday for the semi-finals, they will be determined to make sure that they taste some glory in a competition which has eluded them too many times.
In the other quarter-final this evening Real Madrid went through against Bayern Munich, but needed extra-time to do so.
Leicester City 1-1 Atlético Madrid: second half
Min 90+4 | Full-time: Leicester 1-1 Atlético. (1-2 agg.)

Min 90+4 | Corner to Leicester, Schemichel's up again and it's cleared to Griezmann with an open goal but his pea-roller doesn't even reach the penalty area.

Min 90+1 | Leicester not giving up just yet but their legs are heavy. They've just won a corner - Schmeichel's in the box, just like his dad used to do.

Min 90 | That's regulation time up. Four minutes stoppage time added on.

Min 89 | Atleti in possession, playing it about and running down the clock in the Leicester half. Some very anxious faces in the stands.

Min 88 | Correa tries to curl one past Kasper from the edge of the area, no problem for the keeper who casually collects.

Min 87 | Leicester have done a sterling job on keeping Griezmann subdued. He's hardly seen the ball and has it whipped off him in a rare counter attack.

Min 85 | We're into the last five minutes plus whatever the ref adds on. Atletico look happy to just weather the storm, have the Foxes enough left to set up a dramatic finale?

Min 83 | The Leicester captain can't continue. Amartey comes on for the final 7 minutes. The skipper has covered an impressive 7.5 kilometres in this match, take a bow.

Min 82 | Morgan's down clutching his right hamstring

Min 80 | Fuchs with yet another punt into the Atleti box, it's cleared but the visitors are on the back foot.

Min 79 | Leicester are not going to go down without a fight. They are insisting here and if they get another goal who knows what might happen...

Min 76 | At the Bernabéu, Bayern have just scored made it 1-2 against Real Madrid to level the tie...

Min 75 | Mahrez sends his shot inches over the bar...

Min 75 | Free-kick just outside the 'D' - Drinkwater and Mahrez are over it.

Min 74 | Substitution: Cholo takes off his other full-back. Ángel Correa replaces Filipe Luis and it looks like they'll be playing three centre-backs with Giménez dropping back.

Min 71 | What was that? Atleti break but Torres' tries to play in Griezmann but the ball goes a good yard behind the Frenchman. Here come Leicester once again.

Min 69 | Another Leicester penalty appeal falls on defa ears. Ulloa's shot hits Lucas but Rocchi's not having any of it.
Min 68 | Substitution: Torres on for Carrasco

Min 68 | Leicester go close again. Vardy's effort is blocked by Savic. Don't be surprised if the Foxes grab another.

Min 67 | Fernando Torres coming on.

Min 64 | Uyyy!! Another Fuchs long-range special straight into the Atleti box lands at the feet of Ulloa whose shot strikes Lucas. Shakespeare's second half subs the difference maketh.

Min 60 | Well well well. Is a comeback on? Chilwell was completely free at the back post and teed up his volley which he claimed struck Lucas on the arm, as he was appealing to the ref, the ball was diverted via Savic's head to Vardy who thumped the equaliser into the roof of the net from six yards out. The King Power duly explodes.

Min 60 | Gooooooaaal !! Vardy 1-1

Min 59 | Leicester are piling forward, Atleti seem content to sit back and soak up the pressure. Only Wes Morgan remains in the Leicester half.

Min 57 | Juanfran's sat on the bench with an ice pack on his left knee, now Saúl is down with problems after a challenge for a ball with Albrighton.

Min 55 | Substitution: Simeone's make his first change. Off trots Juanfran who applauds the travelling supporters, Lucas sprints on.

Min 53 | Leicester showing more guts at the start of this second half. They're really going for it. Can they produce a miracle? It's 101/1 odds for Leicester to win 3-1.

Min 50 | Uyy!! Sub Ben Chilwell lashes a half volley which goes just over! Schmeichel can't believe it.

Min 48 | Griezmann comes haring through and squares to Carrasco - was he pulled down? No pen says the ref.

Min 47 | Mahrez's corner is cleared. Might be an idea to try playing one short, Atleti are clearing everything that is playing into the box.
Min 46 | Leicester have come flying out of the traps and have already won a corner.
Min 45 | Substitution: Ulloa and Chilwell are on for Okazaki and Benalouane
Min 45 | Leicester get us back underway
Leicester City 0-1 Atlético Madrid: first half analysis

It was Atlético who started dominating from kick-off and Simeone's side go in at the break looking in control with Leicester now requiring three goals in the next 45 minutes. The Foxes were hit just as they had the wind in their sails but it was a fine cross from Filipe and an even better finish from Saúl who placed a precision, downward header past the keeper and inside the post. It shook Leicester, who took a while to recover. They haven't been having a lot of success in breaking down Atleti and will need to find a way to penetrate the visitors defence - little dinked balls over the top of Juanfran and Savic worked for a while before the goal but all of their set-piece moves have come to nothing.
There was a dubious appeal for a penalty late on when Schmeichel committed himself too early and got himself in a tangle with Carrasco but the Belgian seemed to be looking for contact and didn't fool the ref as he went down.
Leicester City 0-1 Atlético Madrid: first half

Min 45 | Mr Rocchi blows for half-time (about 12 seconds early?!). Atleti go in with a two-goal lead and the tie all but swen up.

Min 43 | Albrighton ploughs a deep ball into the Atleti box but it's collected by Oblak. Leicester might be better giving Atleti the ball and trying to hit them on the break, then again...

Min 41 | Leicester with a throw-in out on the right, Mahrez leaves it for Fuchs who has some throw on him. It goes out for a second throw-in which Atleti easily clear.

Min 40 | It's all Atleti now. El Cholo's side swarming forward and Leicester looking a little shaky at the back as we approach half-time.

Min 38 | Filipe Luis gets sight of goal from 20 yards out but blasts his shot well over. Anyway, someone, somewhere in Leicester city centre might have just found a Champions League matchball...

Min 35 | Griezmann jinks past three Leicester players but Atleti are faced with a wall of blue shirts. They're playing the ball around among themselves on the edge of the box, finally Morgan blasts the ball clear.

Min 34 | Close!! A high ball drops to Mahrez who volleys through a crowded Atleti box, but Oblak's read it and smothers the ball.

Min 32 | Leicester are looking a bit rash when Atleti come forward - hoofing the ball clear. Having said that, it must be working, they've just won a corner.

Min 30 | Leicester letting that goal sink in and now regrouping. They need three goals, against the team with the best defensive record in LaLiga (24 goals against in 32 games).

Min 27 | Must be heartbreaking for Shakespeare's side. Saúl's goal came against the run of play just when Leicester were taking the game to their guests. Must be said though, it was a very nicely-taken header. Schmeichel was at full stretch but couldn't quite get a hand to it.

Min 26 | Goooaaal!!! Filipe Luis finds Saúl at the back post with an inviting cross and the Atleti No.8 nods past Scmeichel and inside the post. 0-1 (0-2 agg). Leicester need 3.

Min 25 | Leicester giving Atlético's back four a few problems in the last few minutes. Vardy breaks with breakneck speed but he's just offside. The Foxes on top.

Min 24 | Mahrez swings in his free-kick but that's a training ground delivery. Oblak collects.

Min 23 | Here comes Okazaki down the right this time. Filipe brings down Mahrez and that's a free-kick.

Min 20 | Uyyy!! The first chance of the match. Atleti give the hosts too much ground and Okazaki bursts forward and squares to Vardy whose first time strike from the edge of the six-yard box sails inches over - close...

Min 19 | Mahrez curls in a corner but it's easily cleared by the visitors. The home fans are deafening every time Leicester break.

Min 17 | Griezmann has been noticely quiet during the opening minutes. Leicester are doing a good job of keeping the Frenchman shackled while it's been Koke, Carrasco and Juanfran leading Atleti's attacks so far.

Min 16 | Gabi slices the Leicester defence with a threaded ball for Juanfran but it's played just a fraction too long, goal-kick.

Min 15 | Okazaki is trying to wiggle past Juanfran and Savic but Leicester aren't having much joy down the left channel.

Min 13 | Saúl whips a ball across the six-yard box but Koke arrives just to late. Atlético bossing this during the first quarter hour.

Min 11 | Koke's corner is headed clear at the near post. Atleti attack again, Okazaki dispossessed.

Min 10 | Carrasco squares to Griezmann but the ball's put out for a corner. Koke to take.

Min 8 | Carrasco storms forward but that's a great block tackle from Morgan.

Min 5 | Leicester focusing their attacks down the left targetting Atleti's Juanfran and Savic. A couple of balls over the top for Vardy to run on to, ball goes out for a goal-kick.

Min 3 | Most of the action concenrated around the midfield with possession changing hands - Leicester have the ball.

Min 1 | Atleti pressing their hosts back inside their half the opening minute, channelling their first attacks down the left through Filipe Luis.

Peeeep!! Kick-off | Griezmann and Carrasco roll the ball in play.

The match kicks off!

20:42 | The home fans making A LOT of noise and the two side perform the traditional pre-match handshakes

20:42 | Out come the teams!!

20:40 | Just a tiny corner of the stadium is reserved for Atlético fans who defiantly hold their red scarves aloft.

20:35 | The King Power has been turned into a sea of colour with blue, white and gold flags gleefully being waved by the fans as they await the teams.

20:35 | Both teams are in their changing rooms psyching themselves up and receiving the final motivational pep talk from the coach. 10 minutes to kick-off!!

20:15 | Both teams are out warming up on the pristine King Power pitch - which we must say is perfect - not a blade of grass out of place. Well done to the Leicester groundsmen once again, excellent work.

20:10 | The last time Atlético forfeited a one-goal advantage over two legs in European competition was way back in November 1993 when AS English was nothing more than a mere twinkle in our father's eye... The Colchoneros travelled to Greece to decide the second leg of their UEFA Cup Second Round tie with OFI Crete. The home team won 2-0 with goals from Machias and Tsifutis, sending the Spanish team out.

20:00 | So Foxes' skipper Wes Morgan passed a late fitness test and enters the starting XI. No real suprises on either of the two managers' line-ups. Atleti, as expected, going 4-4-2 as they hope to keep the fight contained in the centre of the park with Giménez in the sweeper, or destroyer role just in front of the back four to keep Vardy and Mahrez in check. Fernando Torres starts on the bench but we will probably see him come on at some point late on.
Must admit that Savic's inclusion in the Atleti back 4 did raise an eyebrow or two. The Montenegrin centre-back is not the quickest of players and will Leicester's front two give him a hard time of it? We'll see...

19:50 | The teams are in:
Leicester vs Atlético confirmed line-ups
Leicester XI
Schmeichel, Simpson, Benalouane, Morgan, Fuchs, Mahrez, Ndidi, Drinkwater, Albrighton, Okazaki, Vardy.
Subs: Zieler, Chilwell, Musa, King, Amartey, Gray, Ulloa.
Atlético XI
Oblak; Juanfran, Savic, Godín, Filipe; Saúl, Gabi, Giménez, Koke; Carrasco and Griezmann.
Subs: Moyà, Lucas, Thomas. Nico Gaitán, Correa, Gameiro and Fernando Torres
19:45 | Meanwhile, in Madrid Atleti's neighbours Real Madrid will be defending their 1-2 advantage against Bayer Munich in tonight's other quarter final.

19:35 | All 32,000 seats in the King Power have been taken - the match is a complete sell-out.

19:30 | This is the ninth time Atlético have made it to the quarter finals in the competition - and the fourth year in a row they've been among the Last 8.

19:20 | For stat lovers: Leicester are the 50th different club to have reached a UEFA Champions League quarter final and the 8th from England, more than any other country.

19:10 | Like son Kasper, Schmeichel Senior also played at the Vicente Calderón, back in October 1991 with Manchester United in the European Cup Winners' Cup Round of 16: "To be honest I'd completely forgotten about that! (Laughs) Well, I was in Madrid last week and of course I did remember the game but I couldn't quite picture what the stadium was like. Last week I remembered how intimidating the atmosphere was. But Leicester did well, they managed to calm the home fans down and keep them quiet".

19:00 | AS spoke to the great Peter Schmeichel ahead of the game: "I think we are going to see a very open game. Atlético have a small advantage but those who were at the King Power for the Sevilla game will tell you what this stadium can do - anything can happen.
"I don't want this to sound disrepectful to Leicester fans, but we have to remember that this is this is the first time they and the team have been through this. Atlético have made the final twice in the last three years and like Real Madrid, all of those clubs are used to winning. Leicester are the Spanish Atleti in many ways. Atlético are more technical, like all Spanish team are, but Leicester have blistering pace - they are like no other team in terms of speed. I wouldn't be surprised if Leicester made it to the semis, many people might be but not me".

18:55 | As for tonight's rivals, Godín said: "We have the greatest respect for Leicester - as we do for all of our rivals. It will be a difficult game and a tough one. Both of us will be going out to do the same and we're in for a complicated night".

18:50 | Diego Godín spoke about Atlético's woeful penalty record: "It's something which can happen to any team but we'll get through it. The penalties issue is something we have talked about among ourselves and with the coach - you can send the ball wide or the keeper can pull off an amazing save, there's nothing you can do about it it's part of football".
Leicester however, have never been involved in a penalty shoot-out in any European club competition.

18:30 | Diego Simeone feels his side have a lot in common with Leicester: "We're very similar. We usually come out with all guns blazing our ground and they do the same at home. Leicester are a very hard-working side, a very balanced team and I'm expecting it to be a close tie".

18:25 | Atlético president Enrique Cerezo flew out to England this morning, joining the 1600-strong Rojiblanco throng for tonight's match.

18:20 | Atlético and Leicester have met twice before in European competition - in 1961 in the now-defunct European Cup Winners' Cup, drawing 1-1 at the old Filbert Street ground and Atleti winning the return 2-0 at the Metropolitano.Between the sticks for Leicester in both legs was the great Gordon Banks and a young Frank McLintock in the back four.
They crossed paths again in the first round of the 1997/8 UEFA Cup, Juninho and Christian Vieri were on target in the first leg in Spain and Radomir Antic's team also won the return leg 0-2 to advance 4-1 on aggregate.

18:10 | Atlético have played 10 games in England in previous years, with a balance of two victories, four draws and four defeats.

18:00 | Leicester boss Craig Shakespeare gave his thoughts on the game in yesterday's presser: "We'll need to find the right balance as, to put it simply, we need to score against a team that are particularly strong on the counter-attack. I want the players to be positive and to be themselves, because we know what we're about and we know how to cause teams problems – especially here at our stadium".

17:45 | Fancy an outside "flutter" on the game at the King Power? Atleti defender Savic to be the first scorer pays out at 41/1.
17:15 | Italian Gianluca Rocchi is our match official at the King Power this evening
16:35 | Atleti have covered most ground of all the sides left in the UCL with a combined 1.044 km covered by "Los Colchoneros". Leicester have covered a combined 962km.
16:00 | A nippy 12C come kick-off this evening but a 1%C of rain according to the weather boffins!
15:55 | Monaco have the advantage in tomorrow's game in France but here's five reasons to suggest that BVB will be in Friday's draw.
15:20 | Can Leicester upset the odds again and qualify for the Champions League semi-final?
15:10 | Griezmann's future will be hotly debated over the Summer months but an improved contract points to a stay with Atleti
14:55 | A 1-0 home win is the only scoreline at the King Power that would see the game go to penalty kicks. Atleti to win on spot kicks ?
14:30 | Leicester defender Fuchs claims the English side have Griezmann under control!
14:00 | Tiago confesses his eternal love to the Rojiblanco cause
12:30| Stark revelations from Atleti's Saul
Latest news live: Leicester vs Atlético
Hello and welcome to our live coverage of Leicester City v Atlético Madrid in the Champions League quarter final return leg. The game is taking place at the King Power stadium in Leicester, with kick-off at 20:45 hours (CEST).
---
Leicester City vs Atlético Madrid: match preview
Recently-appointed Leicester manager Craig Shakespeare insisted that his side are not the favourites to make the semi-finals, despite having a home advantage and a slender, one-goal deficit to overturn. "We're in the tie, it's 1-0, we need to create more, we've got to get a goal back", said the coach on the eve of the game. The Foxes were in the strangely familiar situation in the previous round, also against Spanish opposition, managing to see off Sevilla at the King Power without any problems. Atlético feel they are owed something in this competition after having been cruelly denied from lifting the trophy three times – twice in extra-time and once in the shoot-out in the three finals they've contested. In the red and white half of Madrid, there is a real feeling of confidence – not exactly an inherent trait among fans who have been known for looking on the gloomy side. Under Simeone, the Rojiblancos feel that this could be their year – a sentiment which was underlined when they avoided the big guns for once in the quarter final draw. Not that they will in any way underestimate Shakespeare's Leicester. El Cholo will have scrutinized how they picked Sevilla apart and make sure his defence are rock solid. The upbeat mood was enhanced by a cavalier performance against Osasuna at the weekend; the only drawback were the two missed penalties by Carrasco and Thomas – Atleti have missed their last six spot-kicks and will be anxious to resolve this tie within 120 minutes at the most – without the need for a shoot-out…
Leicester City
Shakespeare gave an update on captain Wes Morgan's situation in his press briefing. The centre-back has been struggling to shake of a back problem which he picked up in the previous round against Sevilla and will undergo a late fitness test. "The final decision will be made tomorrow. I need to see if there is no reaction. The type of injury he has had – a back and nerve injury, you want to make sure there's no reaction", the coach said. One player who won't be taking to the pitch on Tuesday night is centre-back Robert Huth, the German is suspended after picking up a booking at the Calderón but Andy King and Yohan Benalouane have travelled with the squad despite being on the end of knocks at the weekend. Wilfred Ndidi, Islam Sliman and Jamie Vardy are all one booking away from missing the semis, should the Foxes go through...
Man to watch: Riyad Mahrez. The Algerian has everything to be able to divert the course of a game all on his own. Intelligent, skillful, quick and daring, the 26-year-old has forged a brilliant understanding with Jamie Vardy and is the team's top scorer in the tournament with four goals. If he isn't putting the ball away himself, he's serving it up on a plate for one of his team mates.
Atlético Madrid
Diego Simeone might say otherwise, but it looks like Atlético have been through their bad patch this season and they are gathering momentum for the final stretch. His players are brimming with confidence and it shows out on the pitch. The Argentinean has taken the whole squad to Leicester and wants everyone, bar injury-hit pair Augusto Fernández and Sime Vrslajko, to be present for this momentous occasion – even if it's just to lend emotional support. The casualty room has been emptying out and there was an extra boost on Monday as deputy keeper Miguel Ángel Moyà and striker Kevin Gameiro were signed off the medical list and included in the squad. Gameiro has struggled to adapt signing joining Atleti but he's gradually been getting back into his stride in recent weeks; he also offers different characteristics to Griezmann, Correa and Torres. Simeone will be able to field his strongest XI at the King Power – his team go into this having suffered just one defeat in LaLiga since the New Year started, against Barcelona.
Man to watch: Carrasco. Atlético are privileged to have a number of players to watch and one of them is the 23-year-old Belgian who is hitting peak form. He was superb against Osasuna at the weekend, proving a real handful for the Basque side and could have, and should have, claimed a hat trick. His late penalty, although struck well, was brilliantly clawed off the line by Sirigu.
---
Leicester City vs Atlético Madrid: possible line-ups
Leicester: Schmeichel, Simpson, Morgan, Banalouane, Fuchs; Mahrez, Drinkwater, Ndidi, Albrighton, Okazaki, Vardy.
Coach: Craig Shakespeare
Atlético: Oblak; Juanfran, Giménez, Godin, Filipe Luis; Carrasco, Koke, Gabi, Saúl, Torres, Griezmann.
Coach: Diego Simeone
---
Leicester City vs Atlético Madrid: betting odds
The bookmakers have Atlético as the favourites to advance to the semi-finals with Leicester at 4/1. A 2-2 draw on the whistle might be worth a punt, with odds at 19/1 – and similarly, a 2-0 full-time score with the Foxes into the semis for the first time pays 17/1. You could even throw caution to the wind and stick a fiver on recently-returned misfit Alessio Cerci to bag a hat trick currently at not-to-be-sniffed at 67/1. Stranger things have happened.
Bet on Leicester City v Atlético in the Champions League now
---
Leicester City vs Atlético Madrid: live online