Nadal storms to "dream" 10th Barcelona Open crown
Rafael Nadal capped a "dream start" to his clay court season after romping to victory in the Barcelona Open on Sunday.Getafe-Barcelona: LaLiga 2017-18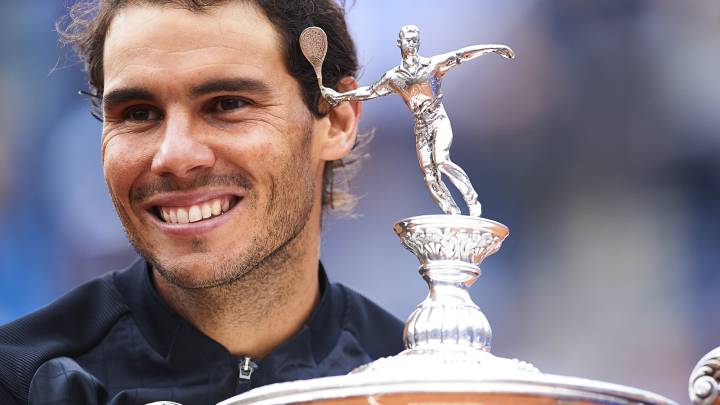 Rafael Nadal capped a "dream start" to his clay court season after romping to victory in the Barcelona Open, his tenth victory in the tournament, with a 6-4, 6-1 win over Dominic Thiem on Sunday.
Nadal eases into double figures at the Barcelona Open
The Spaniard also claimed his 10th title at the Monte Carlo Masters last week as he gears up for to go for his 10th French Open next month.
"It's two consecutive weeks winning, in Monte Carlo and here, two special tournaments for me, it is a dream start on clay", a beaming Nadal told reporters afterwards. "It means a lot for me to reach number 10 here in Barcelona, in front of the people of my club, I am very happy and emotional".
Spain's oldest tennis tournament
Nadal was victorious in Barcelona between 2005 and 2009, again from 2011 to 13 and reclaimed the title he won last year. The 14-time Grand Slam champion also looks like the man to beat at Roland Garros after winning on a Barcelona court named after him and where he didn't drop a set all week. "I thank the club and its members for putting my name on this court. It means a lot to me", the 30-year-old added.
Thiem tests Nadal to the limit
Nadal has now won 19 straight sets, but Thiem was the toughest opponent he has faced on clay so far this year. The Austrain had stunned world No.1 Andy Murray in Saturday's semi-finals and showed some early resistance. He even had his only break point of the match in the first game. But Nadal, returning to top form, upped his intensity at the crucial moment and Thiem crumbled with three errors in the 10th game to give away the only break of the set.
"The first set was vitally important. It was hard. I was having a few more chances than him but it was very even and that is why I celebrated with so much energy at the end", Nadal explained.
The second set was a procession as Thiem's frustration at his inability to break through Nadal's defences saw him consistently fire long. The Austrian held off three break points in his opening service game, but was powerless to stop Nadal thereafter as he won the last five games to seal victory in just over 90 minutes on court. However, Thiem wasn't too disheartened after losing out to the king of clay after what had been a productive week. "I really enjoyed the week in Barcelona", he said. "There are worse things than to lose against the greatest player on clay ever".