Granada - Real Madrid: match report, goals, as Morata and James seal win
Real Madrid eased to a 0-4 victory in Los Cármenes with Álvaro Morata and James Rodríguez striking in the first half to seal a comfortable three pointsReal Madrid - Alavés: LaLiga 2017-18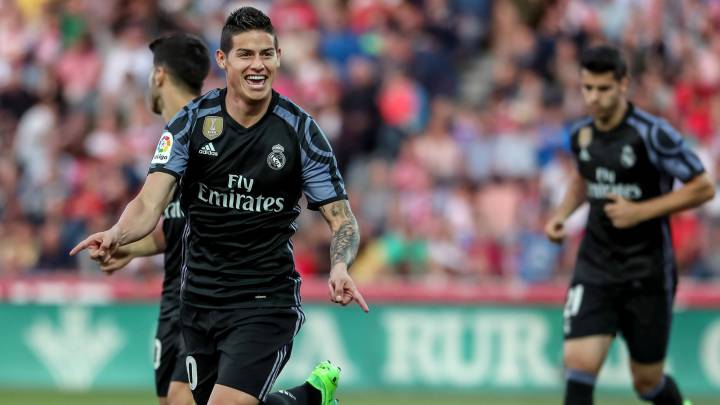 Follow the coverage live match of LaLiga Santander week 37: Real Madrid-Sevilla
Granada 0-4 Real Madrid: match summary
Real Madrid eased to victory in Los Cármenes to remain level with Barcelona on points going into the final two rounds of the season and with a game in hand on the Liga champions against Celta in Balaídos.
Granada down and out
Zinedine Zidane's side were completely untroubled in the first half by a Granada side who failed to lift themselves from the blow of being relegated last weekend, James Rodríguez and Álvaro Morata hitting braces to effectively end the contest before it had begun.
The Colombia midfielder struck after just three minutes to hand Tony Adams' side a mountain to climb and eight minutes later he had added an anvil to a collective back that has been buckled too often and too easily this season for Granada to have any complaints about their status as a Segunda side. The home side had spent the previous 30 weeks in the bottom three and their display in the first 45 minutes was the club's season in microcosm. With his side already 2-0 down Adams elected to withdraw one of his sharpest attacking weapons, Aly Mallé, for a blunt instrument in Uche Agbo, the on-loan Watford defensive midfielder.
It sent two messages: one to the fans that the game was already lost and another to his side that he had zero faith in their ability to claw their way back into the game. After Morata had rattled in a glorious third with a first time effort and then a fourth with good footwork in the area and a fizzing drive across Granada keeper Guillermo Ochoa, the home fans finally turned on their own players.
Real Madrid's second half stroll
After the restart Granada were slightly more resilient, aided by Real Madrid moving down the gears to almost a standstill with the game little more than a training exercise for the visitors. That Granada kept the score to nil in the second half is credit to the home side but in reality Real had already clocked off for the evening with other matters already moving to the forefront of their list of priorities. A late flurry of ambition from Granada briefly threatened to spoil Kiko Casilla's evening but the Real keeper was equal to what little was thrown at him. The question remaining for Granada fans to ponder was why their side threw in the towel in the first half, and what they might have achieved in the course of the season with the kind of industry displayed in the final 10 minutes in Los Cármenes.
---
Granada 0-4 Real Madrid live stream: second half live
Min 90+1 | Granada continue to drive forward and even the stoniest of hearts wouldn't begrudge them a goal, but the whistle goes and it's all over in Los Cármenes! You wonder if Granada had started as they ended what the outcome might have been.

Min 90 | Benzema! A driving run, a low shot well hit, and Ochoa adds to his season's tally of saves.

Min 89 | Mariano almost sets himself up with a turn in the area but Lombán is across to mop up.

Min 87 | Granada have come alive in the last 10 minutes, but it's too little, too late. "We'll be back" reads a banner in the stands. For Granada's sake let's hope it doesn't take 35 years this time.

Min 85 | Close! A deflected shot Ramos shot wrong-foots Casilla, but also goes just wide. He has looked a cut above when he's been facing goal this evening, the Borussia Dortmund man.

Min 82 | Benzema! The Real striker connects with a first-time shot on the run and it curls inches wide of Ochoa's far post.

Min 81 | Ramos! The Granada striker gets said sniff and fires a shot at Casilla after some neat footwork in the area but the Real keeper stands firm.

Min 80 | 10 minutes to go and neither side are really busting a gut unless there's a clear sniff of a chance. Granada win a corner.

Min 79 | Granada should have scored! The home side break, Ramos gets the ball stuck in his feet when through but manages to flick it to Angbn, who fires just wide from a decent position. The on-loan Chelsea midfielder should have hit the target there.

Min 78 | And it's a glorious delivery from the Colombian but equally well defended by Ingason, who rises highest to head it out for a corner, which comes to nothing.

Min 77 | Danilo is scythed down on the right and Real have a free-kick that James will deliver... Ramos is trotting up.

Min 75 | And here comes Mariano, Lucas Vázquez making way after another excellent performance.

Min 73 | Hongla! The Cameroonian gets in behind Coentrao and fires a decent cross into the area. Casilla wsn't going to get to it but neither could Adrián Ramos.

Min 71 | It will be no surprise if Zidane calls on Mariano for the final stages of the game. The Dominican forward has been very handy off the bench this season and there's little threat of a late comeback from Granada.

Min 70 | Lovely stuff from James and Benzema again to carve out a chance for Morata, who doesn't connect well and sees a left-footed effort skew wide of the sticks.

Min 69 | Casilla is finally called into action as a shot from distance is smothered with minimal fuss by the Real keeper.

Min 67 | Another change for Madrid. Casemiro trudges off and Isco is coming on, to huge applause.

Min 65 | James picks out Coentrao with a fine ball, the Portuguese squares for Sergio Ramos and the captain pokes it wide from close range. You sense a fifth is imminent. Real are turning the screw.

Min 64 | Vázquez! The winger fires a low drive at Ochoa, who deals with it.

Min 62 | James and Benzema combine well and the Frenchman squeezes off a shot but it's hooked behind for a corner. Ramos is up for it and forces Ochoa into a stop.

Min 60 | Isaac Cuenca twists and turns in the area and manages to get a cross in but it's bread and butter for the Real keeper. Danilo then hits the post at the other end after more good work from Vázquez.

Min 58 | Benzema is on and it's Asensio who makes way.

Min 57 | Real come again, James releasing Asensio, who works the ball to Vázquez on the right. The number 17 cuts inside onto his left foot and hits a low shot into the side netting.

Min 55 | Karim Benzema is getting ready to come on. Expect Morata to be very displeased if his number comes up.

Min 53 | James plays in Coentrao but the Portuguese can't quite keep it in and spoons a cross into the side netting. Ochoa, again, is in no hurry to hoof the ball back into play.

Min 51 | Sergio Ramos wins the ball in his own half and gallops upfield to deliver for Asensio, but the midfielder is marginally offside when he collects the captain's pass.

Min 49 | James has got a bee in his bonnet this evening and again comes thundering back from an advanced position to harry Granada in midfield, winning back possession for his side.

Min 48 | Ramos tries to find a way through the Real back line but he's up against five defenders and is bundled off the ball. A splendid ball from Hongla gives the Colombian an inch of space but Coentrao is across to cover. The Portuguese then clears the ensuing corner.

Min 47 | Kovacic dances across the Granada back line but can't find a gap to fire off a shot.

Min 46 | Another change for Granada as defender David Lombán enters the fray.
---
Granada 0-4 Real Madrid live stream: half time
It's been one-way traffic so far in Los Cármenes. What exactly does Tony Adams say to his players at half time? It will be a lot easier for Zidane, who will just ask for more of the same. Both James Rodríguez and Álvaro Morata are on second-half hat-tricks and if the visitors decide to go for the jugular after the break this could turn into a record. Real's biggest away wins in Liga history are a 7-1 against Zaragoza in 1997-98 and an 8-2 thumping of Depor in 2014-15.
---
Granada 0-4 Real Madrid live stream: first half live
Min 45 | And that's the half. No added time but another long 45 minutes for the home side to come.

Min 44 | That should have been five! Kovacic plays Vázquez in with a lovely ball and Ochoa does well to save. Casemiro then blazes over the bar with nothing but net to aim at! The Brazilian looks deservedly sheepish as he trots back.

Min 43 | Granada with nice one-touch stuff around the area but the final shot is skied by Khrin. It was a difficult one to keep down in fairness.

Min 42 | Vázquez! The winger chances his arm and gets a lovely connection, rattling the bar with his left-footed strike.

Min 41 | James sense a hat-trick opportunity but gets the ball tangled in his feet and Khrin is able to nick it off the midfielder and belt it clear.

Min 40 | Casemiro chuckles as he's pulled up for a foul in midfield. It's been a quiet night for the Brazilian so far but he reminds Granada he's there anyway.

Min 37 | Ramos has a punt from distance again but it's wide of Casilla's post. The Real keeper will happy to watch those for the rest of the evening.

Min 35 | And surely enough the approbrium rains down from the stands as the home fans get stuck into their own players.

Min 34 | Goooooooal! Morata turns a defender and buries a venemous shot in the far corner after good work from Asensio. 4-0 now and you have to feel for the Granada fans. This is not a fair scrap.

Min 32 | A reminder that Granada's heftiest defeat in Liga history was a 9-1 drubbing by Real in 2014-15.

Min 29 | Gooooooooal! Morata blasts one in, a striker's dream shot, off the underside of the bar, into the turf and into the roof of the net! He really got hold of that one. Danilo with the cut-back.

Min 28 | Morata does well to nick the ball in midfield and drives forward but when he runs out of space he turns to find nothing but grass behind him. No support there for the striker. At the other end Ramos almost gets through but Nacho snuffs out the danger.

Min 26 | Morata tries a little too hard on the left and James takes over as the canterano loses the ball, pinging in a dangerous cross towards Vázquez but Granada hook it clear.

Min 25 | Foulquier twists and turns and wins a corner for the hosts but it's headed clear easily enough and Granada go back to the drawing board.

Min 23 | This game has all the appearance of a friendly now, with Real at walking pace and Granada not looking too sure what they're up to.

Min 21 | Fernando Morientes has opined on Spanish radio: "The change reflects badly on the manager. He made a mistake with his starting 11 and he's changed it up now."

Min 20 | Angban hits a very, very hopeful shot from distance and Casilla watches it sail fully 10 metres over his bar.

Min 19 | Oh dear. It's going to be one of those night isn't it? Granada almost get an attack together, Ramos feeding Pereira on the left, but the Brazilian miscontrols twice and the ball trickles apologetically out for a throw.

Min 17 | And it's Aly Mallé, one of Granada's biggest attacking threats, who goes off, with a face like thunder. It doesn't look like he had picked up an injury and it's big Uche Agbo who comes on. A defender for a left winger. Blimey.

Min 15 | Things are not going according to plan for El Graná, who are preparing to make a change by the looks of it...

Min 14 | Álvaro Morata almost bursts through towards Ochoa's goal but Hongla puts in a fine last-ditch tackle worthy of his coach in his prime.

Min 12 | Given that Tony Adams' side have managed one goal in four games under the Arsenal and England legend, you suspect that this is over as a contest with some Granada fans still settling into their seats and peeling open a bag of pipas.

Min 10 | Gooooooooooal! It's two inside 10 minutes as James gets his second. Vázquez's overhit cross is turned back in and the Colombian gets a firm head to it, too firm for Ochoa to handle and the Granada keeper paws it into his own net.

Min 9 | Granada get their feet on the ball and try to build something from the back but an overhit pass from Andrés Pereira goes straight out on the far side. Real back in possession but Granada are pressing in midfield.

Min 7 | James releases Danilo down the right but the Brazilian's attempted cross is straight into a defender, then back into the Real number 23 and out for a goal kick.

Min 5 | The hosts have barely had a sniff of the ball so far. A hopeful hoist towards Adrián Ramos is met by the Colombian, but he's offside.

Min 3 | Goooooooooooal! Nicely worked from Real. Vázquez is played in by Morata and his cross-shot hits James on the knee and in it goes! This could be a long night for Granada...

Min 2 | The early possession is all Real's as the visitors work it around, then back to Casilla to start again.

Min 1 | Here we go! Real in black, Granada in red and white.
---
Granada vs Real Madrid live stream: starting line-ups
Granada: Ochoa; Foulquier, Hongla, Ingason, Gastón Silva; Khrin, Angban, Andreas, Cuenca, Mallé, Adrián Ramos.
Coach: Tony Adams

Real Madrid: Casilla; Danilo, Ramos, Nacho, Coentrao; James, Casemiro, Kovacic; Lucas, Asensio, Morata.
Coach: Zinedine Zidane
---
Granada vs Real Madrid: live build-up
20:40 | In the tunnels now and we're about to get going!

20:35 | The teams have been going through their paces on the pitch ahead of kick-off and it's a beautiful night in Granada, perfect for a game of football.

20:30 | Barcelona have beaten Villarreal 4-1 to ramp up the pressure on Real Madrid ahead of tonight's game in Granada.

20:15 | No Cristiano Ronaldo this evening in Los Cármenes. The Portuguese has the distinction of helping to inflict Granada's biggest-ever Liga defeat with five goals in a 9-1 win two seasons ago, while also helping Granada to a 1-0 victory in 2013 with what remains his only career own goal.

20:10 | No keeper in the league has made more saves this season than Guillermo Ochoa. No keeper in the league has conceded more goals either. Another busy night in store for the Mexican, we fancy.

20:00 | Stat attack: Real Madrid have beaten Granada by more than a single goal just once in their last 15 visits to Los Cármenes.

19:45 | Real Madrid defender Fabio Coentrão gets just his second Liga start of the season in Los Cármenes. Marcelo is on the bench just in case, along with Karim Benzema, Luka Modric, Isco, Toni Kroos, Mariano and reserve keeper Rubén Yañéz.

19:30 | The teams are in. Zidane makes nine changes to the side that beat Atlético, with Sergio Ramos and Casemiro the only players remaning from that game.

19:20 | Here's a reminder of how the live table looks.

19:15 | As things stand in Camp Nou between Barça and Villarreal, Real Madrid could regain leadership of La Liga today. It's 1-1 there, Neymar on target for the hosts and Cedric Bakambu replying for Villarreal.

19:00 | Real Madrid have added another title to their bulging trophy room: Guti's under-19s won the Youth Champions Cup with a victory over Málaga in the final on Saturday.

18:45 | Álvaro Morata has a decent strike rate this season - 18 goals in all competitions at a rate of one every 95 minutes. That still hasn't been enough to shift Karim Benzema from the starting line-up though and young Álvaro has made it fairly clear he's willing to seek his fortune elsewhere if that doesn't change.

18:30 | Real Madrid still have an extra game to play this season, the rescheduled match against Celta in Balaídos, which was orginally called off due to gale force storm winds in Galicia. That has been confirmed now as taking place on May 17 at 21:00 CET.

18:15 | Real Madrid B, as they have come to be known, were ruthless in their destruction of Depor a couple of weeks ago. Will Zidane opt for the same formula in Los Cármenes?

17:50 | In the absence of a certain Portuguese goalscorer, Real Madrid will more than likely look to Karim Benzema for goalscoring inspiration. The Frenchman has found the net in his last seven games against Tony Adams' side, bagging eight goals in total.
17:30 | Despite the form guide pointing firmly to a routine Madrid victory, in their 15 trips down to Granada they have won six and drawn six, with the home side coming out victorious three times. Moreover, of the six victories Los Blancos have only won by more than one goal on one occasion.
16:40 | Tonight's game will be officiated by Iglesias Villanueva. Of the 13 Real Madrid matches the Galician ref has overseen, Los Blancos have won 11 and drawn two. For the home side, however, the sound of Villanueva's whistle has not been accompanied by happy memories: in 12 matches, Granada have only won twice, drawing two and losing eight.
15:50 | Granada keeper Guillermo Ochoa could be a busy boy this evening, even more so given the fact that he has made the most saves (152) and conceded the most goals across Europe's top leagues this season. Gulp.
15:21 | Madrid will also be looking to hit other numbers as they currently chase down Bayern's record of consecutive matches hitting the back of the net. At the moment Zidane's men have made it 59 games in a row watching the net bulge.
14:55 | A win in Andalusia will push Los Blancos closer to the title, which apart from the on-the-field merits could mean a whole load of money splashed around from Real's sponsor Adidas.
14:20 | The AS Oracle's been soul searching this week and feels Madrid's second string could pack a punch and are unlikely to be kicking themselves. Check out his predictions.
13:51 | Ronaldo will miss his fourth straight away game in LaLiga as Los Blancos take on Granada. Without him, Madrid have won every game and have a better goal average.
13:31 | Kylian Mbappé remains the main topic of summer transfer speculation. Zinedine Zidane admits that Real Madrid came close to signing him in this video.
12:48 | Plan A? Nope. Plan B? Maybe. Plan C? It certainly seems so. Zidane is ready to roll out Fabio Coentrao to add to the measly 207 minutes he has played so far this season.
12.15 | Tony Adams says his side are far inferior to Real Madrid but recalled a time he kicked Zidane around the pitch at Wembley and got a positive result. He thinks, maybe, that his side can do the same!
11:30 | The big news heading into the game is that Ronaldo and Keylor Navas have been left behind in Madrid when the team left for Granada this morning. Zidane's rotation policy shows no sign of slowing down.
10:30 | A quick reference how and where to watch the Granada-Real Madrid match guide
10:15 | Good morning and welcome to our build-up ahead of today's 20:45 start in Granada as Tony Adams' men face Real Madrid with the Andalusian side already preparing for life in the second tier and Madrid gunning for the title.
---
Granada vs Real Madrid: match preview
Granada host Real Madrid in Los Cármenes in their penultimate game at home as a Primera División side after the club's relegation was confirmed last weekend. Tony Adams took over the struggling side a few weeks ago but has not been able to arrest the slide into Segunda and the former Arsenal defender would doubtless be delighted to pull off the score line with which he is synonymous, which was the result in Granada's last success against Madrid in 2013.
Real arrive in the Andalusian capital in pursuit of a first Liga title since 2011-12 and with the weight of recent history on their side: in the last seven meetings since that 1-0 win Granada have been beaten on every occasion, conceding 24 times overall and suffering their record Liga defeat at the Bernabéu two seasons ago during that sequence when Cristiano Ronaldo – the scorer of the only goal in Granada's last win – plundered five in a 9-1 hammering.
Granada
Adams has question marks over the fitness of centre half Matthieu Saunier and striker Artem Kravets while on-loan Roma forward Ezequiel Ponce is suspended. That will leave Adrián Ramos, the on-loan Borussia Dortmund striker, to lead the line in a 4-2-3-1 as Granada seek to trouble Real's back line in search of just their second goal of Adams' brief tenure, which has reaped four defeats and nine goals conceded.
Granada possess some trickery behind the imposing figure of Ramos in the shape of Isaac Cuenca, Aly Mallé and Andres Pereira but Adams' chief goal will be not to concede early as they did against Sevilla two weeks ago. If Granada go behind it is difficult to see a way back against a free-scoring Madrid side looking to extend their run to 60 consecutive games finding the net.
Real Madrid
Zinedine Zidane will be without Dani Carvajal, who picked up a hamstring strain in the Champions League victory over Atlético, Gareth Bale (calf) and Raphael Varane, who suffered a recurrence of his troublesome hamstring problem in training. Pepe could be in line for a return after recovering from a pair of fractured ribs and in all likelihood Cristiano Ronaldo, Luka Modric and Karim Benzema will be rested ahead of the return leg against Atlético.
That will leave "Real Madrid B" to see off the challenge of Granada. Álvaro Morata should start up front flanked by Marco Asensio and Lucas Vázquez, with James Rodríguez and Mateo Kovacic coming into the midfield. At the back Marcelo will be called on to play in the absence of a viable alternative with Nacho partnering Sergio Ramos and Danilo on the right.
Madrid have scored an average of 2.7 goals per game this season but were given a tough time by Granada in both fixtures last season. However, the visitors were seen off 5-0 in the Bernabéu in January. Zidane, as always, will urge his side to get off to a quick start and a lot will depend on Granada's ability to resist an early onslaught. Barça play earlier on Saturday and could be three points clear when Real take to the pitch. If Adams can throw up a stout defence Madrid may start to feel the nerves pinch.
Granada vs Real Madrid: possible line-ups
Granada: Ochoa; Foulquier, Hongla, Ingason, Silva; Angban, Uche; Mallé, Pereira, Cuenca; Ramos
Real Madrid: Casilla; Danilo, Nacho, Ramos, Marcelo; Kovacic, Rodríguez, Kroos; Vázquez, Morata, Asensio
The home side are chalked up at 20/1 for the win with Madrid heavy favourites at 1/8. Adrián Ramos is priced at 14/1 to open the scoring with Morata at 15/8.
Granada vs Real Madrid: live stream online updates