Alexis and Ramsey on target as Arsenal beat Chelsea in FA Cup
Arséne Wenger's side claimed their third FA Cup in four seasons at Wembley with a 2-1 victory over Antonio Conte's Premier League championsPSG - Real Madrid: Champions League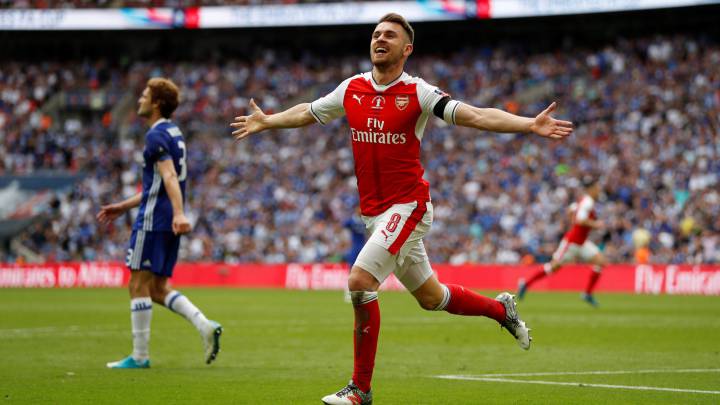 Arsenal won a third FA Cup final in four season at the expense of Premier League champions Chelsea at Wembley Stadium, upsetting the odds and handing Arséne Wenger a record seventh triumph in football's oldest knock-out competition.
Chelsea were heavily backed to achieve the domestic double when news emerged that Wenger would be without most of his first choice defence and Petr Cech would be on the bench with David Ospina between the sticks for the showpiece game. But Arsenal's stand-ins stood out with Ospina making some vital stops and Per Mertesacker rolling back the years in his first start in 14 months, in which he forged an impressive partnership with 20-year-old centre half Rob Holding.
Chelsea aided and abetted Arsenal's early vim with a sluggish start and Alexis Sánchez opened the scoring in the fourth minute when Conte's own much-vaunted back line failed to clear. The ball fell to the Chilean - and Chelsea would complain bitterly after the goal was confirmed by the linesman and the referee in conference that it also fell onto his hand - beat Thibaut Courtois with after bundling through the Chelsea defence and firing a low shot into the corner.
Arsenal had chances to extend their lead in the first half, Danny Welbeck hitting the post with a hader and Gary Cahill clearing spectacularly off the line before Welbeck wriggled through and prodded a goal bound shot past Courtois, only to be denied again by the England defender.
Chelsea levelled after the break through Diego Costa, who held off the challenge of Holding to steer a shot past Ospina with the slightest of deflections from Mertesacker but Chelsea's rally was brief and Arsenal gradually assumed the ascendancy again with Conte's men tiring. Ramsey, who scored the winner in the 4-3 victory over Hull three years ago, was again Arsenal's hero as he stole into the area to meet an Olivier Giroud cross - the Frenchman's first touch of the game after replacing Welbeck - to send the Arsenal fans into rapture and temporarily heal the rift between them and the Arsenal manager that has provided the backdrop to a season of disappointment that finally ended in cup glory a cessation of internal hostilities.
---
Arsenal 2-1 Chelsea: as it happened
And you have to say that Arsenal's win was very much against the odds. Chelsea were huge favourites before the game and credit to the makeshift back three, who were impressive throughout the game. 
90'+4'   And that's it! Arsenal win the FA Cup! No double for Conte then and some vindication for Wenger after a season of discontent among Arsenal fans. 
90'+3' Özil inexplicably plays a ball backwards when the corner flag was beckoning and Willian bursts forward. Chelsea sniff an opening but Mertesacker is there to belt the ball into the future. That's what you do when you're 2-1 up with seconds to in a cup final, Mesut. 
90'+2'  Hello, Alexis is going off. It looked like he may have picked up a hammy twang a couple of minutes ago. Elneny is on for the last few seconds. 
90'+2' Fábregas lofts a ball in the direction of Costa but it's too long for the striker to chase down. 
90'+1' Four minutes of added time. 
89' Chelsea test the solidity of the Arsenal back line but all the red shirts are back in force. Arsenal fans in full voice now and not too many calls for Wenger to sling his hook ringing out around the ground. 
86' Özil! Hits the post! The German streaks into the area and sells Cahill a dummy before placing a shot beyond Courtois but onto the frame of the goal. He had Alexis free in the middle to be fair and the Chilean was quick to point it out... 
85' Ospina! The Arsenal keeper makes a save from Costa's goal bound shot. Again it wasn't well hit by the striker but the save needed to be made. 
84' Alexis, who has run himself into the ground at Wembley, makes a challenge in midfield and concedes a foul. 
83' That deserved a goal! Bellerín goes on the gallop from within his own half and finds his way through to fire off a shot that inches wide of Courtois' post. Arsenal have the bit between their teeth now. They can see the finish line...
81'  Francis Coquelin comes on for Oxlade-Chamberlain as Wenger seeks to keep it tight for the final minutes. 
78' Goooooooal! Ramsey! The Wales international gets a firm header to an outswinging Giroud cross - the Frenchman's first touch after replacing Welbeck - and beats Courtois hands down to restore Arsenal's lead. 
75' Welbeck off for Arsenal now 
74' Goooooooal! Costa latches on to a loose ball in the area and although he doesn't wrap his foot around it with his usual venom there's enough on it to beat Ospina. It looked to have taken the slightest of defelctions from Mertesacker and Ospina managed to get a hand to it as well. 1-1
73' Cahill rises above the Arsenal defence - no mean feat when Mertesacker is included - but can't keep his header down. 
71'  And Conte indeed makes a change, bringing on Willian for Pedro. 
69' Chelsea up against it now as that will force Conte into a tactical reshuffle and free up Monreal from his defensive duties a tad as well, the Spaniard having been pinned back by Moses and Kanté for most of the afternoon. 
66' Well, well. Moses is off! The Chelsea man tried to part the red sea there but dived into it instead and gets his marching orders! Chelsea down to 10 men. 
65' Mertesacker and Holding combine to put Costa off the scent of a long ball and high-five afterwards. They have managed to keep the surly striker under wraps ths afternoon for the most part. 
63' Chelsea's early second half flurry of attacking intent has fizzled out somewhat now and Arsenal are getting their foothold back. Bellerín draws a fine low save from Courtois. 
61' Bellerín scurries to the byline and manages to get a cross in but Courtois is there to pluck it from the air. 
60' And here comes Fàbregas, on for Matic for the final half hour. 
58' Kanté finds his way into the book for a clumsy challenge on Ramsey. We're approaching the hour mark now. Surely the boss' wil lbe mulling a change around about now. 
57' Pedro has a pop from the edge of the area and it's not too far wide but Ospina will be happy enough if Chelsea are reduced to hitting them from outside his box. 
55' Chelsea sling in a dangerous cross and Holding clears from under his own bar. The 20-year-old has looked very assured this afternoon. Kanté squares for a shot from the resulting corner but hits nothing but air and Arsenal clear. 
53' It's out for a corner, which comes to nought. Arsenal break swiftly upfield but Bellerín's cross takes a slight deflection and Courtois comes out to claim with little fuss. 
52' And this time the Spain striker gets his reward as Holding brings him down on the charge. Dangerous free kick for Chelsea and a place in the book for Holding. 
49' Moses squeezes a shot off but Ospina is equal to it as Chelsea crank up the pressure up. Costa goes on a wide-eyed, spittle flecked stream of invective at the world at large after bundling through two defenders in the Arsenal box. 
48' And it's Mertesacker again as he gets across in front of Diego Costa with the striker bearing down on a cross. 
47' Pedro has a run at the Arsenal back four and manages to get two shots off but both are blocked. Arsenal may be playing a back three but Mertesacker is counting for two so far, the German has been colossal. 
46' And we're off! It doesn't appear there have been any changes at half time. 
The teams are out and we're about to get underway again. 
Arsenal have profited through their pacy players in the first half, with Ramsey also adding an extra player for the Chelsea midfield to deal with when the Gunners have broken at speed. Wenger has a couple of other speed merchants on the bench in Walcoot and Iwobi and we wouldn't be too surprised to see them introduced at some point. 
Granit Xhaka, who has not been quite the 30-million plus midfielder Arsenal thought they'd acquired last summer this season, has been excellent in midfield and Chelsea have not been able to find much rhythm with the Swiss and Aaron Ramsey buzzing about. 
Arsenal had much the better of the first 45 minutes while Chelsea did not resemble the same side that brushed aside the Gunners' challenge in the leage a few weeks ago. 
There's a fair bit for Antonio Conte to ponder at half time and we wonder if the Italian will bring on Cesc Fàbregas after the break. The Spaniard has been in excellent form in the second half of the season. 
45'+2'  And that's the half. 
45'+1' Probably the last chance of the half for Chelsea as Alonso belts a free kick high and none too handsome. Ospina in no hurry to get the ball back into play and the ref blows for half time. 1-0 to Arsenal it remains, and they could have been even further ahead.  
44' Chelsea attack with purpose around the Arsenal box but the red shirts hold firm. 
42' Hazard attempts to move up the gears but is clattered to the turf by Özil. It looked like the German got a good chunk of the ball but Hazard got up very gingerly from that one. 
40' Chelsea have a free kick and its looking dangerous until Costa bundles into the nearest available defender. 
38' Moses, from the right again, pops a hopeful cross in and Ospina gets a jumpy glove to it but Chelsea have nobody on hand to capitalize as Ramsey hooks it clear. Bit of a flap in the Arsenal back four there. 
37' Chelsea really haven't troubled this patched up Arsenal back line too much yet, despite all the pre-match foreboding. Pedro finds in inch of space but blasts a shot high from a decent position.  
35' Özil finds Alexis with a glorious ball and the Chilean twists and turns to outfox Cahill but also loses his footing just as he was shaping to shoot. How much water did the groundsmen apply before the game? Wrong type of studs... British rail would be proud. 
34' A loose ball from Xhaka almost sets Pedro scuttling towards goal but the former Barça man slips at an inopportune moment. 
32' Chelsea earn a free kick from a similar area but Pedro hoists it over defenders and attackers alike and into the paws of Ospina, who didn't even have to move to gather it. 
30' Azpilicueta concedes a foul on Welbeck in a dangerous position. Alexis lining it up... but it's overhit and no problem for the Chelsea defence. Xhaka's follow-up is more problematic though and it takes a decent Courtois save to deny him. 
29' So close for Arsenal! Welbeck prods a close range shot towards goal and a combination of Courtois and Cahill gets it clear. Arsenal could have had three already if not for the England defender. 
27' What a save from Ospina! And a brave one too as he takes a boot in the face from Costa after defelcting his point blank shot behind. A heartfelt "Mama Mia" from Antonio Conte. Petr Cech is warming up but looks like Ospina is ok to continue.  
26' Kanté gets a ticking off for a foul on Welbeck but it's no more than that as the ref elects to keep his cards close to his chest for now. 
24' Bit of a lull in the action as Arsenal look to take a bit of tempo out of the game with a long knock-about in midfield but Chelsea finally nick it back and probe down the Arsenal left, which has been their ploy more often than not in the opening 25 minutes. 
21' Matip skips through the Arsenal defence and feeds Costa but Mertesacker is there again to clear. The German is having a good game so far. 
20' Chelsea looking to build something now but Alexis is back to deny Kanté and Moses a chance to cross from the right channel. 
18' Welbeck! The England striker glances a header onto the foot of the post from Özil's delivery. Courtois wasn't going to stop that one and it's relief for Chelsea. 
17' Oooooh, a lovely Arsenal move ends at the feet of Welbeck but Alonso makes a fine last ditch tackle to prod the ball out for a corner. 
14' Take a bow big Per Mertesacker! He hasn't played in 14 months but he reacted quickest there to snuff out a chance. Cahill then clears off the line, with a back-heel no less, as Arsenal almost make it two! 
13'  Alexis tries his luck and his right-footed shot whistles not too far above Courtois' bar. The Belgian had it covered though. 
12' A throaty roar of "Arsenal! Arsenal!" rings out around Wembley, loud enough to put Ramsey off apparently as he knocks a pass through two defenders into open space in Courtois' area. 
10' Arsenal have got a spring in their step now and are taking the game to Chelsea, who look a little unsettled by that early goal and the decision going against them
8' Monreal is the first player into the book as he brings down ihs compatriot Pedro in midfield
6' Costa lets Holding know he's on the Wembley turf by dragging the young Arsenal defender into it, then doing his best "who, me?" routine for the referee's benefit
4' It is a goal! 1-0 to the Arsenal! The goal stands! It seems Chelsea were appealing for a handball against the Chilean in the build-up there but after a discussion with his lino the ref gives it and it's game on! 
4' Alexis Sánchez has the ball in the net but there seems to be some confusion as to whether it will stand... 
3' Eventually the ball goes out of play for an Arsenal corner. Özil swings it in but Courtois gathers with ease. 
2' Arsenal stroking it about and they'll be keen to keep hold of the ball as much as possible this afternoon to keep that very shaky looking back three as unused as possible. Long period of possession for the Gunners here...
1'  Diego Costa gets the ball rolling for the 136th FA Cup final
Impeccably observed, and we're about to get underway...
There'll be a minute's silence for the victims of the Manchester attacks earlier this week 
Chelsea fans displaying a "Pride of London" banner in their end. We'd suggest Fuller's have a better claim to that... 
Wenger also told reporters before the game that he never keeps his winners' medals and has no memoribilia in his house. "At home you would not even guess that I am a football manager, apart from the fact that a football game is on," he said.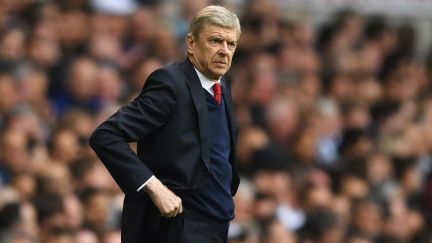 This will be Arsenal's 20th FA Cup final overall, the Gunners having played their first in 1930 (a 2-0 win over Huddersfield) and their most recent in 2015, when they retained the trophy with a 4-0 drubbing of Aston Villa. Arsenal are currently joint-top winners of the most trophies with Manchester United, both clubs having hoovered up 12 throughout the course of the competition's history.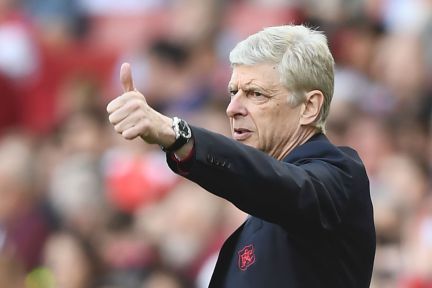 Immediately after the FA Cup final, Barcelona and Alavés will meet in the Calderón to contest the Copa del Rey final in the final game to be staged at the Calderón and Luis Enrique's final game in charge of the Camp Nou club. There really are a lot of finals today. You can keep abreast of the goings-on in the Spanish capital here.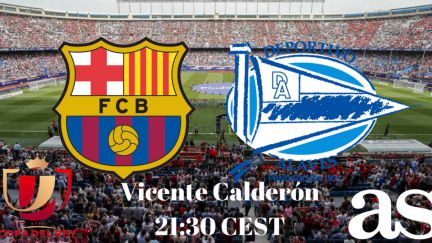 Why not get yourself prepped with a read of our match preview?
Good morning! Stay with us for the build-up to today's FA Cup final!
---
Arsenal vs Chelsea: FA Cup final preview
Arsenal and Chelsea will contest the FA Cup final in Wembley Stadium with Antonio Conte standing the cusp of an historic double and Arsene Wenger staring into an uncertain future as the empire he built engages in open revolt against his leadership.
In many ways it is a double-edged sword for Arsenal's Wenger Out campaigners: win, and the veteran Frenchman will feel vindicated and may well stay on at the Emirates. Lose, and the chances increase that Wenger will decide to call it a day. Even in victory the 67-year-old may feel that bringing his storied reign at the Gunners to a close on a high note would be more a fitting exit.
In any case, the fat lady is invariably Italian and the majority of observers can see little other outcome than Conte's all-conquering side taking their league form into the match. Chelsea won the title with the second-highest points total in Premier League history and having won 30 games, another Premier League record.
Arsenal
Wenger faces a headache at the back with Laurent Koscielny suspended and Gabriel and Shkodran Mustafi both injured, leaving the Frenchman to consider a central defensive partnership of Per Mertesacker, who has not started a competitive game in over a year, and 20-year-old Rob Holding.
Given the situation, Wenger could see attack as the best form of defence and may unshackle Alexis Sánchez, Mesut Özil and company as he did in a 3-0 victory at Stamford Bridge earlier in the season, which proved the catalyst for Conte's switch to his now much-vaunted 3-4-3 and Premier League glory.
Chelsea
Conte has his full array of talent available for Wembley and, barring any mawkish sentimentality involving John Terry, will field the side that fired him to the Premier League title in his first season as he seeks to emulate Kenny Dalglish and Carlo Ancelotti in claiming the double in his maiden campaign in England.
PFA player of the year N'Golo Kante will patrol the midfield but it is Diego Costa to who all eyes will turn. The FA Cup final could represent the Spain striker's final game in a Chelsea shirt with rumours of a big-money payday in China rife and the Premier League's pantomime villain will relish the prospect of one last day on the stage, the cries of "he's behind you" from the stands aimed firmly in the direction of the raw Holding and the creaking Mertesacker.
In support Eden Hazard is a player who enjoys the big occasion and another superlative performance from the Belgian after a season spent at his impish best may prove too much for Arsenal to handle with Costa occupying the central defenders.
---
Arsenal vs Chelsea live online: confirmed line-ups
Arsenal XI: Ospina; Mertesacker, Holding, Monreal; Bellerín, Oxlade-Chamberlain, Ramsey, Xhaka; Özil, Sánchez, Welbeck
Chelsea XI: Courtois; Azpilicueta, Luiz, Cahill; Moses, Kanté, Matic, Alonso; Pedro, Costa, Hazard
---
Arsenal vs Chelsea: betting odds
Chelsea are the clear favourites to complete a domestic double in the bookies' eyes, with Antonio Conte's men priced at just under 2/1 and Arsenal valued at a little below 5/1 to lift their third cup in four years.