NBA Finals Game 1: Warriors make light work of Cavaliers
Kevin Durant had 38 points as the Warriors ran out convincing winners in Game 1 of the NBA Finals at the Oracla Arena in California. Final NBA: Cavs vs Warriors, juego 2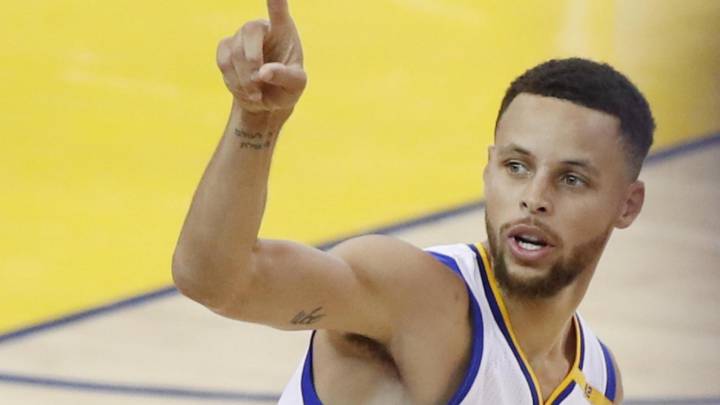 It finishes 113-89. That should never happen in the NBA finals.
Warriors are now 13-0 in the playoffs.
24 points is the biggest lead of the night. Warriors continue looking for more. This has been embarrasing for the Cavaliers.
21 points in it. 87 to 108. The Cavaliers have an awful lot to figure out.
Three minutes remaining. 
Last time Durant played LeBron in the finals was 2012 when he was with the Thunder and James was with the Miami Heat.
Another three! Durant again. He can't miss. 38 points for him in his return to the finals. 
Curry shovels a pass to Durant and he drains a three to the delight of the crowd. 
Only a matter of time now. 
Durant puts down two free throws to make it a 22 point game yet again. 
Clarke has two efforts. Neither go down after Iguodala wins the first rebound. They can't win the second though. 
Shumpert with a perfect look at a three and he misses. Clarke finished up the other end. 23 points the difference now as Jefferson is fouled and will try to close the gap again.
The Warriors have score 93 points in three quarters. Kyrie Irving closes the gap slightly with a three. Still 21 in it as we enter the last quarter.
Warriors are all sorts of fired up now. Draymond Green draws a foul from James and also hits the two. Three point play incoming...and it is good! 22 point game now.
James misses and Curry absolutely does now. Three pointer is good. He knows how important that one was. 
Jefferson drives to the basket and finishes. 14 in in now.
Klay lands a two. 18 in it now. The Cavaliers need a miracle.
Draymond Green with a block on Kevin Love. Kyrie with an off-target shot as Durant wins the rebound.
Curry nails a three. 
 Hectic. LeBron misses a jumper but wins the rebound himself and throws it down. That was after Curry missed a three and Kryie missed from close range just before that. 
Ah this is the Warriors night. Kyrie is stripped and Green falls on it throwing it back into play into the waiting hands of Curry. 18 points in this one now. Warriors are cruising. Curry then shakes James out of his boots and lands a three. 
Durant tries from three but it won't go down. 65-52 to the Warriors. Nothing going right for Cav now. Curry with a little jumper to put 15 between the team. Time-out by the Cavaliers.
J.R Smith with an offensive foul on Curry as he just pushes him in the back. 
Klay THompson offloads a pass to Pachulia after driving to the rim. He's fouled and pops up a hopful shot that goes in! three point play incoming....but he can't make the free throw.
  Back in action! 
We have reached half-time. 60-52 in favour of the Warriors but that could be a whole lot more if their shooting was better. They've missed a bunch of lay-ups.
LeBron with an offensive foul on Durant. His second. 
LeBron with two free throws. He's keeping it close. He has 21 points now. Seven points in it. Kyrie Irving fouls Kevin Durant up the other end.
Durant on a fastbreak again but LeBron makes it in front of him this time. 
Thompson picks off a LeBron pass. He gets it out to Durant and J.R Smith moves out of the way leaving Durant free to walk to the rim. 
Klay Thompson in off the glass. He'll be happy that one went down. 
Kyrie Irving lands a three and is fouled on the back of it. He was in a strange position in the air and Thompson fouls him. He lands the free throw too. It's now a six-point game.
Ohhhh, very cool. Durant finishes for two. James misses the following shot and Durant is fouled by Kevin Love.
Livingston passes to Durant, who throws it down. Warriors up to nine now. 
The Warriors take a time-out as LeBron gets two. He already has 17 points, 8 rebounds and 3 assists.
Durant misses a jumper. Korver misses a three and then Durant wins the rebound before taking off up the court and putting it down. Warriors up by nine.
Jefferson with an offensive foul. Thompson goes around Jefferson but his jumper is off. Warriors still lead by seven.
Jefferson with a jumper. Green starts again and fires a long pass to Thompson. He isn't shooting well but he sitll believes in himself. Misses again.
McGee hits both and Warriors lead by seven. 39-32. 
LeBron is stripped as he goes one-on-one with Iguodola. McGee fouled as he goes for the dunk.
Klay Thompson is 1 for 3 as his shooting continues to struggle.
Green playing with fire. Williams pivots and he gets a strip on the ball. Jump ball. 
Some good defending by Draymond Green on LeBron as he appears to geta  touch on the ball and forces LeBron to fumble it. Iguodola sinks a two before Deron Williams misses on a three and neither can Richard Jefferson sink a three. 
LeBron 13. Curry 10. Durant 10. Irving 9. The big four showed up! That was an incredible first quarter.
AT THE BUZZER! Iguodala lands a three with Deron Williams trying to put him off. Warriors up by five.
A foul on Curry as he tries to pick up an offensive foul off James but he makes contact. Curry is heating up.. He lays it up now for two before Kyrie Irving lands a three. This game is so intense! Warriors up by two - 32-30. 10 second sleft in the quarter.
McGee with the block. A perfectly timed bounce pass but McGee blocks Thompson. Curry with another three.
Iguodala misses the second of two free throws and LeBron wins the rebound. Curry picks himself up a rebound before he drains a three-pointer from deep. The crowd are loving this. Kryie with a nice move before he lands a two. 
LeBron dunks on McGee and we are all square! 24-24. Time-out by the Warriors.
Durant with a jumper that goes in and out. JaVale Mcgee gets a hand to it and Curry wins the rebound. Durant skips past James and scoops it to McGee and he throws it down. Meanwhile, LeBron improves his 3PT% to 50. 
Turnover. Lands in the hand of Durant. It was a tipped pass by Curry. Durant lays it down. LeBron James goes straight at the rim and JaVale McGee blocks but fouls him. LeBron with the two free throws. 19-20 to the Warriors. Kevin Love is on the bench.
Irving has the ball stripped and Warriors launched a fastbreak. 2! Then J.R Smith gets the ball out beyond the three and has Clay Thompson draped all over him. He gets a shot away but it won't stick; in and out. Warriors break. 
Hold up, Curry sinks a two. 
James with a dunk before he draws a foul. Cav up by two now - 16-14
Steph Curry has zero points through six minutes.
Love is fouled by Pachulia as Love catches him in the air and jumps into him. Lands the first to put Cavaliers up 13-12. Hits the second too to put them up by two.
Time-out by the Cavaliers.
Iguodala with a slam dunk as the crowd get behind the hometown Warriors. 12-12. Clay Thompson with a neat bounce pass to set it up.
Pachulia with six of the Warriors 10 points. 
Iguadola replaces Green. Cleveland up four - 12-8.
Draymond Green in foul trouble. Offensive foul as Kevin Love plants his feet and Green barrels into him. He takes a seat.
Kevin Love hits a three. J.R Smth guarding Curry and not giving him an inch. Thompson with a lay-up.
Alley-oop from Green to Durant. 
And he lands the second. Level at 4-4.
He misses the first.
Durant misses with a lay-up. Both teams a little nervous. Draymond Green grabs a handful of LeBron's arm and gets a foul and gives up two free throws.
What was Pachulia doing? He had an open basket and offloads it to Green. Strange decision but Durant eventually hits a floater. Warriors up 4-3.
Pachulia with a floater. 
J.R Smith with the first successful shot after 1:38. It's a three too. 
Curry in and out from outside the arc. Pachulia gathers the rebound. Clay Thompson misses too. 
Kevin Love launches an air ball with two seconds on the shot clock. Warriors on point to start on defense. No open shots.
Let's do this!
"We live in the moment," says James as he pumps up his team from before in the tunnel. 
 BOOOOO! The boos ring out as LeBron James is introduced. I can't imagine that he even hears them. All the other Cav players receiving similar treatment but LeBron's was the loudest.
Getting ready for the teams to be introduced! These are fun.
Focus!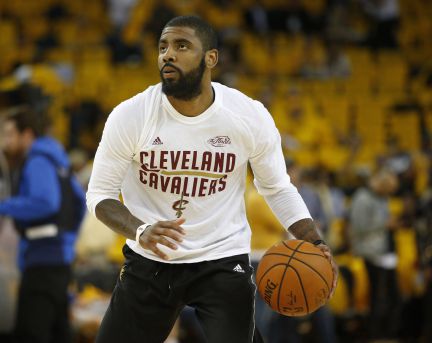 If anyone else is tuning in on NBA League Pass, the very best of luck between all the awkward silences and dead noise.
Warriors in the tunnel and ready to come out onto the court. Kevin Durant is stretching but it looks more like he is on a dance floor!
Silver finished up speaking about tanking and says they have to do something about it. Relegation is not a solution but it's something that needs to be discussed and fixed. Real well spoken, is Silver.
Question just came in about tanking. "It drives me crazy," Silver says.
Adam Silver, the league's commissioner, is currently taking question in a press conference.
Steph rocking a new pair of shoes tonight! They look more like socks though.

Have a read of this if you are trying to figure out who LeBron is going to guard in the series. http://www.sbnation.com/2017/5/30/15707478/lebron-james-defense-strategy-cavaliers-warriors-nba-finals-2017
LeBron James has averged 32.5 in this year's playoffs. Steph Curry has been averaging 28.6.
Just a reminder too that LeBron James is five points away from reaching 6,000 points in his career during the playoffs. 
The problem, it seems, for the Cavaliers is that they have to be extraordinary to win while the Warriors just need to be themselves.
There has been genuine talk of a clean sweep for the Warriors in this years playoffs. They are already 12-0 having won all of their first three playoff series in the minimum time required. The Cavs were beaten by the Celtics on a night when Marcus Smart could not miss form three. Most people believe the Warriors will win but this is an intriguing battle that has history. It also has Kevin Durant now, which is something that has not happened before. So, on one hand you have history, but on the other hand there is no precedent for this series with KD involved. The general consensus is that LeBron will guard him but there are so many individual battles that we have no idea about that this first game will be one of discovery for both fans and the players involved!
If you have some time to kill before the first game in the NBA Finals, check out this from The Ringer. It's Chris Vernon talking 10 pressing questions ahead of the series and is very good listening. https://soundcloud.com/ringernbashow/ten-pressing-nba-finals-questions-ep-120
Both of these teams have the chance to catch the Lakers 2000-01 squad for the best playoff run ever. Kobe and Shaq led the way back then.
Their playoff records: Golden State 43-14 versus Cleveland 42-12
Regular season stats show Warriors 207-39 while the Cavs 161-85
The championship series will feature 11 players who have been named NBA All-Stars as well as three players who have won seven of the past eight MVP awards (four-time MVP LeBron James, two-time MVP Stephen Curry, 2013-14 MVP Kevin Durant).
With the 2017 NBA finals a repeat of last year's championship series, we've taken a look at the five biggest differences from the showdown 12 months ago.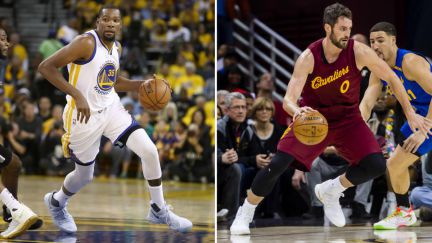 Why not get yourself prepped for Game 1 with a read of our preview below? 
Good afternoon! Stay with us for the build-up to Game 1!
Cavaliers @ Golden State: latest news NBA Finals Game 1 live stream online
NBA Finals live stream online: Cavaliers @ Warriors preview
The Cleveland Caveliers begind their defense of the NBA crown early Friday morning against the same opponents from the same series last year. With the Golden State Warriors looking good at 3-1, LeBron and the Cavaliers rebounded to win the series 4-3 in what was the first time a team had come back from a 3-1 deficit.
Despite the fact that the Cavaliers are defending champions and have waltzed through the playoffs with the same ease as the Warriors have, they remain underdogs, which is something that Golden State's head coach, Steve Kerr can simply not wrap his head around.
Steph Curry is a fantastic basketball player and Kyrie Irving is one of the most exciting but this series could easily become a showdown between Kevin Durant and LeBron James, two shooting forwards who first faced off in the NBA Finals in 2012 on different teams. Durant was still with the Thunder and James had brought his talent to Miami. James won on that occasion but Durant is back with a better surrounding cast and will be looking for revenge.
Cleveland Cavaliers
The Cavaliers stomped to the finals by beating the Pacers, the Raptors and the Celtics only losing once in 13 games. The defeat came at the hands of the Boston Celtics and was one of the biggest upsets in the history of basketball postseason play. The Cavaliers were 16-point favourites on the night and it might be a sign of the Cavs' ability to implode.
During the season, LeBron James bemoaned the lack of bodies during a particularly difficult spell in Jauary. "It's like when you don't have bodies. It's tough," James said. "The [expletive] grind of the regular season. We're a top-heavy team. We have a top-heavy team. We top-heavy as [expletive]. It's me, [Kyrie Irving], [Kevin Love]. It's top-heavy."
"I'm not singling out anybody," James continued. "I'm not. Yeah, we won [the championship], but [expletive], you know what, let's see if we can do something."
He also praised the strength of the Warriors' roster but will be hoping they don't play to their full capability when the finals begin on Friday morning.
Golden State Warriors
The Warriors got a whole lot better during the offseason when they added Kevin Durant as a free agent from the Oklahoma City Thunder and as they did not lose any of their important puzzle pieces, they just got a whole lot better. He suffered a knee injury during the season that could have been a lot worse than it was and is back to his best to lead the Warriors.
They will be rested and ready having walked to the finals beting the Trail Blazers, the Jazz and the Spurs 4-0 in each of those games. There has even been talk of the first ever 16-0 postseason but surely the LeBron factor will keep it competitive until at least the sixth game.
Steve Kerr will not be on the bench on Friday morning for the Warriors as he continues to battle back pain and migraines after surgery two years ago but he says he is playing it by ear and could be back for game 2.
Cleveland Cavaliers @ Golden State Warriors: Game 1 betting