Spain v Colombia International friendly: Match report, goals, Morata saves Spain
A late Alvaro Morata goal saved Spain against Colombia after they had taken a 2-1 lead thanks to Radamel Falcao in the second half.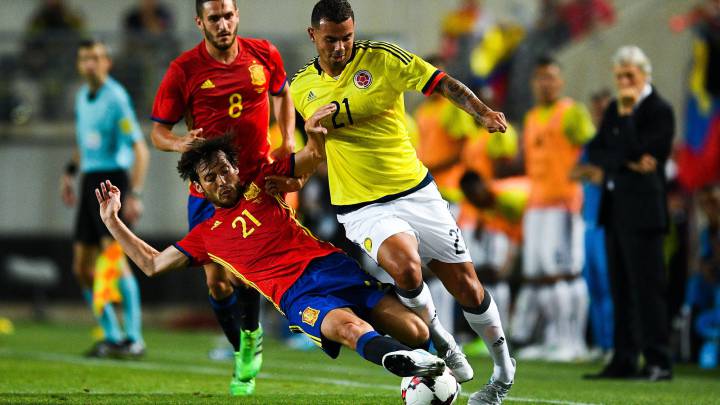 Spain 2-2 Colombia: match report
Spain geared up for their match against Macedonia on Sunday in a very worthwhile friendly against Colombia in Murcia on Wednesday night. The game was heated from the get-go and Julen Lopetegui got the chance to see some of his younger, more inexperienced stars in the heat of battle and in the red of Spain.
David Silva was pulling strings early and it was the Manchester City man who had Spain ahead after 22 minutes when he poked home from Pedro's dangerous ball into the box. Spain were looking good in possession but were looking fragile and vulnerable when Colombia managed to break at speed.
They were level on 40 minutes after a period that saw them grow in confidence and stature in the game. Cuadrado put a ball towards the goal and Pepe Reina couldn't decide whether he would come out for it or not while Edwin Cardona was in not such doubt. He stole in and nicked it over Reina and despite Pique's best efforts, the ball ended up in the back of the net.
The second half arrived with three changes for Spain in Marco Asensio, Saul Niguez and Nacho Monreal but it was Colombia who started better and had more to show for it. Radamel Falcao headed them into the lead upon ten minutes of the restart and Spain were struggling to find answers as to how to break Colombia down.
Morata was trying hard but nothing was falling his way. That all changed when Saul broke down the left and swung a cross into the near post and the Real Madrid man, who is currently the source of plenty of transfer speculation, glanced a header expertly beyond the reach of David Ospina.
Spain were level but they were not content. They continued to look for a goal like it was a competitive match and like they were down a goal. It never came though and while Julen Lopetegui has plenty to ponder over his young guns, who looked good while his veterans rested up, he will likely stick with the status quo for the World Cup qualifier in four days time.
Spain v Colombia: live stream online build-up
90'+2'   GAME OVER! Hectic finish and a really lively 90 minutes overall for a friendly. Spain really keen to win that one.
90'+2'  Moreno with a shot but Reina saves and launches a goalkick to Morata. He gets it down to Saul but they give it away and Saul fouls. 
90'+2'  Illarra is penalised and carded for a pullback as Colombia try to break.
90'+2'  Koke swings it in! Morata lurking again. So, so close! They have it again. Asensio puts it in but Vitolo's header is no good. 
90'  Morata fouled again by Zapata. 
90'  Spain pushing for a winner. Koke's free doesn't hit the spot but they have it back and are trying to build from the back. 
89'  Morata with the ball down the left again. He is fouled and Koke gets ready to swing it in.
88' What a goal! Saul puts it to the front post and Morata glances beyond Ospina. Lovely goal! 
87'  Really poor by Asensio. spain break with speed and Morata is in support but he plays it three yards behind him! Morata stops and tells him where he wanted it. He's really not happy.
86'  Muriel wins a corner after good work down the left by Armero. 
85'  Morata drops it out to Deulofeu and his cross is blocked. Corner goes short to Koke. Spain trying to figure out a way to break them down still. 
83'  Morata battles hard and wins it back for his teammates. Asensio plays it to Deulofeu and he gets thrown off the ball all too easily. 
81'  Lovely move by Cuadrado to leave Monreal in his wake but the ball out to Bacca by Muriel was way to fast. 
80' James is replaced by Muriel. The Colombian fans giving him all their love.
80'  Deulofeu with a cross but Carlos Sanchez heads away.
79'  Rabona by Moreno but Reina catches it.
77' Vitolo replaces Pedro.
77' Falcao replaced by Carlos Bacca. Ex-Atletico replaced by Ex-Atletico.
75'  Morata fouls James and he riles up the crowd telling them to cheer his side on.
75'  Pepe Reina kicks one out over the sideline as he looks for Nacho Monreal. Julen Lopetegui gets off the bench and applaus the effort. 
74'  Illarramendi whips one in after recieving it from Koke. It reaches Saul but he hand-balled it in the air. He didn't know much about it but the referee says from to Colombia.
73'  No, wait! Spain have it back.
73'  Spain looking tired. Colombia with a rare spell in possesison.
71'  Cardona is replaced by Gerard Moreno.
71' Armero flies into Monreal and flings him to the ground. 
70'  Spain trying to figure out how to break down this colombian side. They have figured out how to get at them but not break them down. They've had half chances but nothing concrete enough. Well on top though.
68'  Plenty of pressure form Spain. Deulofeu tries to break free but is stopped and then he crosses as it lands to Asensio on the half clearance. Corner. Koke whips it in but Morata gets to much on it. 
67' Aguilar is replaced by Daniel Torres. 
67'  Cuadrado bundles Morata over. Zapata on the ground as the Real Madrid striker landed on top of him.
66'  Awkward one for Falcao. Cross comes in from James and Falcao throws himself at it. Hits the ground hard. Probably not the best tactic form him because even if he reached it, he probably wasn't doing much with it.
65'  Morata with a glancing header. Just wide! Spain starting to put more pressure on now.
63'  Asensio through on goal! the ball takes an unfortunate bobble just as he goes to hit it and he misses completely. 
62'  Morata looks for Deulofeu but it's just a yard out of his reach.
59'  Free by Koke. It nearly catches Ospina out but he gets a hand to it and puts it out for a corner. 
59'  Aguilar booked for a challenge on Pedro. The Chelsea winger was moving at a lethal pace. 
59'  Asensio coughs it up again. Too slow in his thinking. He still looks dangerous but needs to move the ball quicker.
57'  Deulofeu has a run into the penalty are but is outmuscles and outnumbered. Colombia clear.
56'  Deulofeu and Morata come on for Aspas and Pique.
 55'  Falcao absolutely buries a header form the corner! Old school Falcao.
54'  Ball comes in from the left and reahces James but it slices off the top of a Spanish defender's head with Cuadrado waiting. Corner.
53'  Aspas with a chance as Asensio wins it back very, veyr high up the field. Aspas can't convert though.
52'  Lovely move by Spain again. Koke to Pedro and he runs into trouble but it makes its way to Monreal. He strikes it, which was the right idea but he gets it all wrong and slices it wide.
51'  Aspas fouled now by Murillo. spain move it forward quickly and Asensio is too slow to spot the run made by Monreal down the left. 
49'  Foul on Nacho Monreal. Free to Spain. 
48'  Koke and Saul and Asensio link up to get Spain out of trouble in midfield. Asensio is such a neta footballer. Absolutely brilliant touch by him to open the field out to his side.
48'  Ospina getting treatment. He took a knee to the eye during that scramble. Looks to be okay.
47'  Asensio does really well to link up with Koke. He takes the wrong option though as he crosses instead of pulling it back. Ospina fumbles and Saul nearly sneaks in to finish it. Nice work by the subs.
46'  Second half is underway. 
Nacho Monreal, Marco Asensio and Saul Niguez coming on for Spain. They replace Iniesta, Alba and Silva.Oscar Murillo replaces Davinson Sanchez for Colombia.
Changes galore for the second half?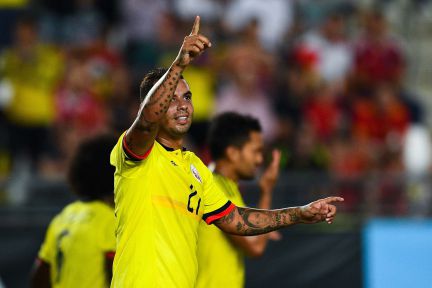 David Silva been Spain's brightest spark as he so often is. He has been helped well by Iniesta in a role further back.
Half-time. A lively, and at times heated first half!
45'+1'  Asapas with a little trip on Cardona. Free just as time expires.
45'+1' Davinson Sanchez fires himself into a tackle and takes Iago Aspas out of it. Yellow card. 
45'  James looking for a second Colombian goal. Reina comes out and saves as he closes in.
45'  Silva tries to float one over the top, or maybe scoop if a better word but Koke is body-checked and stopped in the process of chasing it down. No free. Goal kick.
44'  Well, he limped off but jogs back on. Looks like he is fine to continue.
43'  David Silva limps off. Asesnio tying up his laces? 
41'  iniesta and Silva connect and Alba is free out on the left but Silva tries to throw it through the eye of a needle. Easy for Colombia.
40' Edwin Cardona scores. A mistake by Reina. Cuadrado kicks a hopeful, aimless ball forward and Reina thinks about coming out for it before stalling. Cardona steals in and pops it over him. Pique does his best to kepe it out but he can't. 
38'  Colombia growing in confidence.
38'  Getting very heated. Cardona looking for contact against Koke but he doesn't back down and Silva launches himself into a tackle and wins the ball. Free given against him. 
35'  Cross comes in and danger level is 0. That's before Reina misses it and Colombia win it back and James has a crack with his left. Reina smothers it. 
34'  David Silva takes Falcao down and he receives a yellow card for his effort. Caught him up around the thigh. Helps him back up though.
33'  Alba looks for Aspas but he is moving the opposite direction and slips when he tries to move towards the ball. It gives Colombia back the ball as they start to look more dangerous. Ball comes into James and he tries one with the outside of his left. So close! It goes wide but Reina was at full stretch.
31'  Cuadrado and Jordi Alba going at it again. Alba takes him down now and Cuadrado tries to get him off him as he falls on top of the Colombian. A little tense for a minute or two before it's all calmed down.
30'  Lovely flick by Aspas. Koke swings it in and as it arrives fats at Aspas, he spins and catches it with his heel. Good pace on it but not on target.
29'  Pique with another nice ball over the top. Azpilicueta has to suffice with a throw.
The away side looking dangerous on the break and Spain not entirely onvincing at the back.
28'  A sharp move by Spain involving Silva, Iniesta and Alba. The Barcelona right-back with a cross that's too long for Aspas and takes the sting out of the move. Offside in the end. Colombia break and the ball arrives to Falcao. He tries to take it down but Spain scramble it away. 
27'  Cuadrado lofts it into the box and Koke clears with his head. 
26'  James down now as Pedro slides in with a clumsy challenge. 
24'  Ball over the top by Pique is perfect and Aspas takes it down but it runs just slightly ahead of him and Ospina pounces. Close!
23'  Iniesta back on his feet and ready to continue.
22' GOAL! David Silva finishes. Aspas out to Pedro and he crosses. Silva finished unconvincingly but they all count. More worringly, Iniesta is down holding his knee or the top of his calf.
21'  Free comes in and after a failed clearance, Reina gathers.
20'  Illarramendi gets caught out as James looks to skip inside. He had dived in and he takes down the Real Madrid player. Free as he is helped back up with a grimace on his face.
19'  Pedro, as lively as ever, makes a move into Colombian's defense and cuts back inside. He strikes with his left but it sails over the crossbar.
Silva has a shot.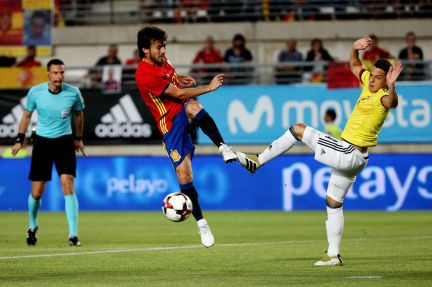 17'  Mistake by Cardona gifts it to Azpilicueta and he crosses but it's too close to Ospina.
14'  Cuadrado clips Jordi Alba's ankle. Free.
13'  James gets a low cross in and Pique gets it away. Shot comes in and Reina parries but Falcao is first to react. Pique wraps a hand around him and pulls him down. He was offside but that would have been a penalty had he not been. 
12'  Corner for Spain and it goes short. It comes in from the right and Koke picks Armero's pocket before blazing over.
11'  Silva with three attempts. Iniesta plays it through to him. He beats the offside trap and hits it with his right. Saved by Ospina. It comes back out and he hits it again. Saved again. He hits the third effort with his left and Ospina finally gets down and saves it for once and for all.
10'  illarramendi is fouled by Cuadrado and Spain have the chance to build again.
9'  Falcao takes a pass down. He plays it to James and the Real Madrid attacker launches it out right to Cuadrado. Spain win it back. 
8'  Very sterile possession for Spain. The fans in Murcia starting to get on their back. Or maybe it's just Pique that they're whistling. 
6'  Aspas versus Davinson Sanchez out on the right. Aspas gets turned and plays it back. The ball falls to David Silva on the edge of the square and he hitsa it but Colombia do well to close him down. Blocked shot is the result.
6'  Aspas put through but Ospina slides out and saves. Carlos Sanchez the guilty party there as he coughed it up.
5'  Koke sold out with a poor pass and Falcao steals in but his pass across the field is picked off and Spain build.
4'  Iniesta wins it back after Cuadrado tries to go around him. Spain building again.
2'  Spain settling in early and throwing the ball around. Trying to figure out how Colombia are setting up. Pique goes forward to Azpi and he plays it down the line to Silva. Comes to nothing though.
1'  PEEP! Underway in Murcia.
Ready for kick-off. The beginning of a smile creeping across Illarramendi's face as the play the Spanish national anthem. He is enjoying this after being ruled out for the last internationals after being called into the squad. He gets his start tonight!
Colombian national anthem blaring now and they have a right big crowd in Murcia tonight.
Just minutes away from kick-off now. Will be interesting to see how Lopetegui plays in the absence of Busquets. It will also be interesting to see how Davinson Sanchez up against an awesome Spain attack.
Coll scored El Olímpico goal at the World Cup. He beat beating goalkeeper Lev Yashin in a 4–4 draw against the Soviets in 1962 with a goal direct from a corner.
David de Gea's replacement today is Kepa Arrizabalaga, Athletic Bilbao's 22-year-old goalkeeper.
Estadio Nueva Condomina is the location for our game tonight in Murcia - the home of Real Murcia.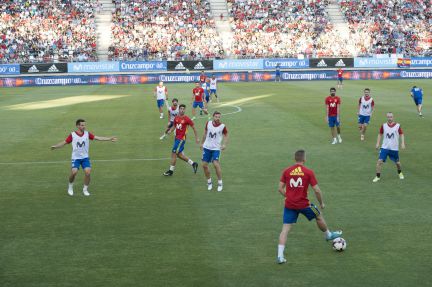 The lads heading out to warm-up.
De Gea unable to overcome stomach issues and he won't start. Good chance for Pepe Reina to showcase his skills as he looks set to leave Napoli this summer.
No Real Madrid players starting tonight aside from Nacho. Lopetegui said that Morata and Asensio would play so he should give them minutes as some stage tonight.
Illarramendi gets his first start for Spain while Pepe Reina starts instead of number one David de Gea. Koke is playing in midfield alongside Iniesta and Illarra and Aspas with his first start too.
Spain XI: Reina, Azpilicueta, Pique, Nacho, Alba, Illarramendi, Koke, Iniesta, Pedro, Silva, Aspas.
Colombia team news: Ospina, Arias, Zapata, D.Sanchez, Armero, Aguilar, C.Sanchez, Garcia, James, Cuadrado, Cardona
Pity we can't see the names. 
The last time these two teams played each other was in 2011 when a David Silva goal separated the sides.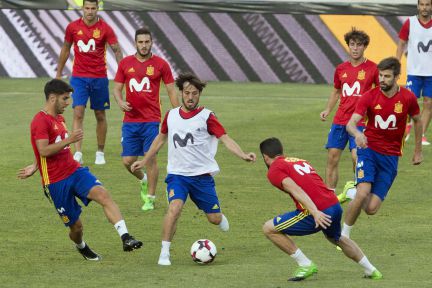 Colombia have played two games in 2017 and won both beating Bolivia and Ecuador.
Julen Lopetegui remains unbeaten as the manager of Spain after eight games. They have won six and drawn two under his watch scoring 25 goals and conceding just four. They are yet to play a team from South America though.
Just over an hour and a half to kick-off and there are clear skies above the Nueva Condomina. It's going to be a balmy 22 degrees when we get underway in Murcia. 
Colombia will have the large frame of Yerry Mina in the heart of the defence. The 22-year-old Palmeiras defender is highly thought of, to the extent that Barcelona have an option to take him to Camp Nou for €9m. That option was due to expire this summer, but Barça have extended it to beyond the 2018 Russia World Cup.
Juan Cuadrado will come in to the match fresher than José Pékerman might have expected... but not for reasons the Juventus winger will want to remember. Cuadrado came on as a second-half substitute in the Champions League final defeat to Real Madrid, only to be sent off for two yellow cards. The second of which owed a great deal to the theatrical flair of Sergio Ramos. If Ramos was playing tonight, it would sprinkle a bit of spice on this 'friendly' match.
The transfer ban imposed on Atlético Madrid could provoke a domino effect in the transfer market across Europe. One of the players who may be affected is Diego Costa, who is part of Lopetegui's squad, but there are also nine other strikers who could be impacted...
James Rodríguez will be happy enough to be back in the yellow shirt again after a difficult season at Real Madrid. Barring a miracle it will surely be the mercurial midfielder's last at the Bernabéu, with Serie A and the Premier League primed to take him off Zidane's hands. Inter reportedly tabled an opening offer of just over 40 million euros recently but it will probably take 10 million more than that for Real to talk business.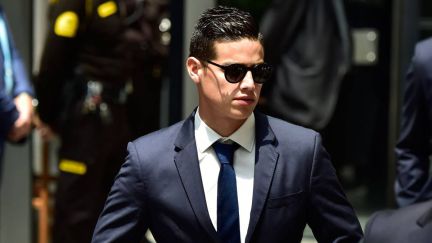 For anyone who needs a reminder of what he can do, let's have a look at the best of James Rodríguez in a Colombia shirt. 
Our Robbie is going to be charming you with his finger-tapping later this evening and throughout the game. Find out what time the game kicks off  wherever you are in the world with our little guide...which also includes some other viewing options.
With Arsenal's FA Cup winning goalkeeper in Ospina, Juventus midfielder Cuadrado and Monaco's Falcao (unrecognisable from the player at United and Chelsea) among others, Colombia can send out a strong team tonight. Keep an eye on young defensive pair Mina and Davinson Sánchez.
Tonight is a great chance for James Rodriguez to show the watching masses what he can do. He often turns it on for his national team but has not been given significant opportunity by club coach Zinedine Zidane to make a mark, and the shop window is about to open...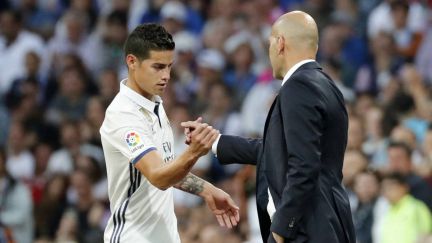 After their Champions League exploits, Real Madrid players Sergio Ramos, Carvajal and Isco will join up with the squad tomorrow.
Tonight will be the third game between these sides. The first was in Bogotá in 1981 which finished 1-1, and then in the Santiago Bernabéu in 2011 the Spanish side won 1-0.
Slavko Vincic is the man in charge tonight. The 37-year-old Slovenian has been an international referee since 2010 and last year was given two games in the Champions League and four in the Europa League.
And since everyone seemed to be speaking to the press, Gerard Piqué shared his own views on recent footballing events.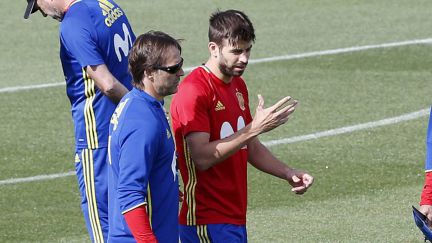 Colombia coach José Pékerman has also been speaking and said that Real Madrid didn't give James Rodríguez the right support
Ahead of the game, Spanish coach Julen Lopetegui spoke to the press. He discussed Marco Asensio, and the challenge that Pékerman's team pose.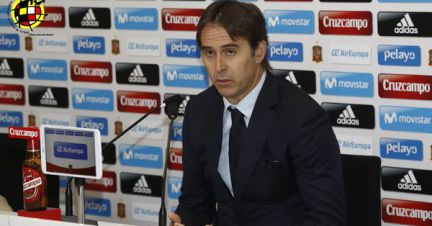 Hello and welcome to our live coverage of the international friendly from Murcia as Spain welcome Colombia. Kick off is 21:30 CEST.
Spain v Colombialive stream online: match preview
Julen Lopetegui's Spain return to action at the end of a long season, with two important matches in the offing.
On Sunday, La Roja travel to Macedonia for a 2018 World Cup qualifying match. Before that, they welcome José Pékerman's Colombia to the Estadio Nueva Condomina in Murcia for a friendly match. The two countries have not met since 2011, when David Silva scored the only goal of the game in another friendly at the Bernabéu.
Spain team news
Lopetegui will not select the players that started for Real Madrid in the Champions League final victory against Juventus on Saturday evening - Sergio Ramos, Dani Carvajal, and Isco.
It is also possible that the players who featured from the bench, Nacho and Alvaro Morata, will sit out of the encounter. The Madrid squad have celebrated their 12th European Cup in style over the last few days.
The absence of Sergio Ramos could see Chelsea's Azpilicueta slip in to the heart of the defence alongside Gerard Piqué, who has been his usual low-key self this week, rejecting claims that Real Madrid have begun a new era.
In his press conference before the match, Lopetegui played up the challenge that Colombia will pose: "I see Colombia for what they are, a great team with a magnificent coach. They have a lot of continuity and they are solid."
Colombia team news
Colombia sit in second position in the South American qualifying table, and will be staying in Spain to play another friendly early next week, against Cameroon in Getafe.
James Rodríguez is undoubtedly the main man for Los Cafeteros, and José Pékerman emphasised his ability in his pre-match press conference:
"James is an exceptional player, there are few like him in the world, and he is key for Colombia. He feels happy with the national team, and he's keen to triumph. He has plenty of time to do so."
In attack, Radamel Falcao is back to something approaching his best. He scored an impressive 28 goals for Monaco last season, as Jardim's side won Ligue 1 and made it to the semi-finals of the Champions League.
In defence, there could be an intriguing bout between Diego Costa and Yerry Mina. 22-year-old Mina plies his trade for Palmeiras in Brazil, but will be hopping across the Atlantic to European football before too long. Physically, he is a specimen.
Spain v Colombia live online: match facts
Spain have not lost since crashing out of Euro 2016 at the hands of Antonio Conte's Italy in Paris.
The flamboyantly Carlos 'El Pibe' Valderrama is Colombia's all-time record appearance holder, with 111.
Spain v Colombia live stream online: odds and betting
Fancy Falcao to carry on his club form? He's 13/2 to open the scoring.