Wawrinka through to French Open final after five-set thriller
The Swiss world number three played a perfect set in the fifth to decide one of the greatest matches ever seen at Roland Garros in defeating Andy Murray.Floyd Mayweather vs Conor McGregor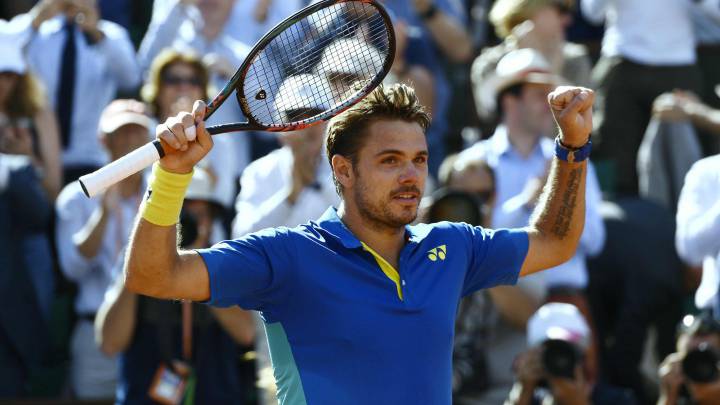 Stan Wawrinka booked a place in the 2017 French Open final on Friday with a thrilling 6-7, 6-3, 5-7, 7-6, 6-1 victory over world number one Andy Murray.
Wawrinka gets revenge for 2016 semi-final defeat
The 2015 winner will face nine-time champion Rafa Nadal or Dominic Thiem for the title after avenging his loss to Murray at the same stage last year.
Wawrinka triumphed in a pulsating four-hour-34-minute battle and, at 32 years and 75 days, becomes the oldest finalist in Paris since Nikola Pilic in 1973.
For Murray, the wait goes on to be crowned Britain's first men's champion in Paris since Fred Perry back in 1935.
Nadal vs Thiem: follow it live with AS English
Nadal vs Thiem is underway in Friday's second last-four clash at Roland Garros, and you can follow it live online with AS English.
Wawrinka beats Murray in five sets: as it happened
And needs only one! A backhand winner down the line a fitting end to a wonderful final set performance from Stan The Man, who takes the generous applause of Philippe Chatrier as he moves into the final. Andy doesn't hang about... he waves to the crowd as he leaves the court and they reciprocate, recognising their good fortune in having witnessed one of the finest games of tennis ever played. 
Andy hits a forehand long and Stan has two match points... 
A double fault at the worst possible time and Stan edges ahead 15-30
Andy defends but Stan whacks a forehand away for 0-15. A big serve and it's 15s. 
Murray breaks! This will rank alongside the greatest comebacks in tennis history if the Scot pulls this one out of the fire but he's made Stan wait and that could play on the Swiss' mind. 
Long from Stan and Andy has another bite of the cherry... 
Ace! 40s... 
A Murray whipped forehand winner and he has a break chance... 
Ace! 30-all
15-30 as Stan steadies the good ship Wawrinka... 
He hasn't put a foot wrong this set but with the finish line in sight Stan hits a wild backhand that goes nowhere near one on the court...
0-15 as Stan plonks one long... 
Picture. Words. 1,000 of 'em.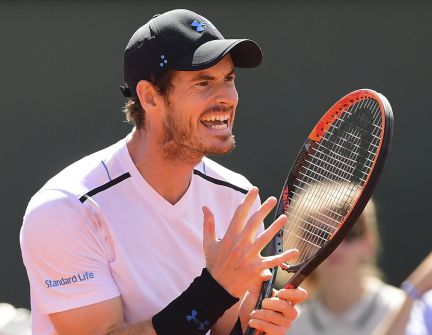 The Stanimal will serve for the match... 
And that drop shot lets the Scot down as Stan gratefully slaps it away for a winner and 5-0! 
An impossible backhand at full stretch delivered to Andy's shoes and it's break point for Stan... 
Literlly everything Stan hits is finding its mark. 30-all... 
And Stan holds! A big, big hole for Andy to dig himself out of now.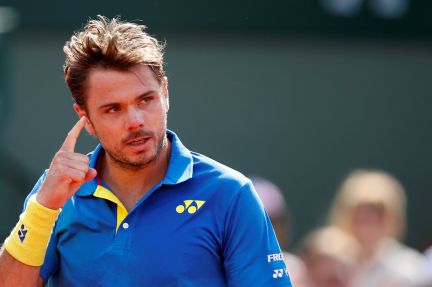 Big serve from Stan and a Murray overhit brings up 30s. More of the same from the Swiss, forcing the error from Andy and it's game point for 4-0...
Stan's third double fault a rare error from the Swiss in this set and Andy brings up 0-30... 
We have been here before though and Andy's powers of recovery can never be underestimated... 
And he's done it! Stan breaks! Incredible hitting from both players but the Swiss is fired right up now and he seemingly can't miss. 
Bullet point hitting from the Scot for 30-all. But Stan hammers an overhead onto the line and he has a chance to make it 3-0 here...  
Stan takes a wonderful rally with another rasping forehand. 15-30... pressure on the number one.  
And a consummate hold from Stan! 2-0 up and he's not finished there, dispatching a backhand winner with glee. 15-all as he sends the next one long though... 
Booming serve, forehand winner. 40-0. 
The Swiss takes the bull by the horns early in the decider and will look to consolidate. 30-0 up fast as you like as he pounds those lines... 
Stan breaks! 
And he needs just one! A forehand return winner belted away and we are going the distance. Rafa, Dom, as you were... 
Andy long and he'll have two pops to claw back a 3-6 deficit. Three sets points for Stan... 
Late, late call, but Stan's first serve is called out. A long rally dictated by Stan as he sends Murray this way and that, finally forcing the error for 5-3. 
Fine net play from Andy and he punches a volley away for 3-4. Stan back up now... 
Big second serve from Andy, then awful attempt at a drop shot and he knows it... 2-4
Huge second serve and Andy's return floats out for 2-3. The Scot on serve. 
Stan goes for broke and misses the doubles line by a foot. 2-2
Ufffff. Stan senses a winner but pelts his forehand drive into the net. Andy needed that one, it's like watching a boxer on the ropes at the moment. 2-1
Stan in the zone now as he pummels Andy into sending a forehand long. 2-0 to The Man. 
Stan swats a forehand winner away for 1-0
Huge serve out wide and into the tie-break we go! 
Murray with the perfect point to move to 30-15, an incredible volley placed beyond the reach of Stan. Game point as Stan goes long... 
Stan holds to love with a selection of shots worthy of a box of quality street. Murray serving to force the tie-break then... 
A top-class backhand return winner from Stan puts a bit of pressure on Murray but the Swiss pummels one to the baseline and beyond and we're two games from the inevitable. After the last set, who'd have thought breaks would be become an endangered species? 
Murray up to 40-15 as Stan plows one wide. We're heading for a tie-break, are we not? 
This really is - and we can't stress this enough - truly amazing stuff! Another point that would make angels weep and Stan finishes it with what can only be described as a sliced forehand drop shot, from just inside the baseline. 
More glorious net play from Stan and he holds for 5-4. 
And the world number holds with ease after that frantic last game. Looks like both men fancies a little breather after that. Stan moves to 30-0 with a glorius half volley played off his boot straps. 
Murray moves to 40-0, not a sniff of an opening for Stan in this one so far. 
Stan holds after one of the finest individual games in... history, perhaps? 
And they're at it again! This game should be framed for future generations! Wonderful stuff from both players. If only there was some platform where bite-sized moments of sporting genius are made available to the non-paying public... 
A double fault from Stan, his fourth now, gets Andy on the board but that blistering forehand redresses the balance. What a point! Plif, plaf, plof as both players pull off some amazing shots but it's Andy who has the final word to move to 30-15
Murray brings up 40-15 with a nicely disguised drop shot and wraps it up with a big serve and bigger forehand. 
Stan displaying his linguistic versatility there with a "vamos!" as he moves to 40-30 with some fine hitting. Hold, 3-2 and back to Andy on serve. 
We'd love to have a speed gun on that Stan backhand. He really leathered that winner. But Andy shows off his court craft to lure Stan into the net and then dink a volley past him easy as you like. 15-30. 
Stan finds the line with a forehand and Andy gives it a long, hard stare... and rightly so, it's called out. 0-15. 
Andy holds with the minimum of fuss.  
Stan comes into the net and puts away a crisp volley to get back to 30s. It's unclear why Stan insists on hitting Murray's defensive lobs straight back at the Scot and he is almost made to pay but Andy nets then Stan rushes the tape again and slaps a winner away for the hold. 
A sniff for the Scot here as Stan sends a forehand inexplicably long... 15-30
Stan gets up to 0-30 in short shrift and Andy is having one of those running verbal spats with himself. He finds the line with a forehand though and that seems to have cheered him up a bit. 30s with an ace, his first of the contest. A backhand winner down the line and its even stevens in the fourth. 
With an unflustered and pretty routine hold, is the answer to that. 
That has got to sting if you're Stanislas Wawrinka. From 3-0 up to losing the set and we'll have to see how he recovers from that in the next round... 
Murray takes the third set! 
Another well-worked point from Murray as he takes Stan side to side. 40-15 up and set point for the number one... 
Murray serving for the set then and he's made to wait as the crowd strike up a Mexican wave. When he does get underway Stan draws first blood but a simply glorious volley from knee level off a Stan backhand down the line brings up 15s. 
Murray races to 0-30 as Stan places a soft shot into the foot of the net. Incredible from Andy! A defensive lob is returned with venom but he somehow pulls out a stinging return and Stan can't keep it in. Another forced error from the Swiss and Murray breaks with a backhand slice down the line on the run that catches Stan off guard. 
A Stan hail mary plops just the wrong side of the line from the Swiss' point of view and we're all square again. 
Murray serving to stay in the set and Stan gives him a helpong hand with another one off the frame and into the Parisian sky... A fist pump from Stan as he forces Andy into the net but a couple of overhits and Andy's at 40-15... 
Murray tries to get over a skimming serve and whacks his return into the net. Back to 40s... A Stan ace, his third, and its advantage. Stan belts a forehand into the corner, Andy does well to get it back in play but it's blasted back over the net and Stan holds. 
Stan saves with a booming serve as Andy nets, still one to fend off for the world number three...
That pesky net cord defies the Swiss again and all of a sudden Andy has two break point opportunities...
Stan contemplates the deeper meaning of it all as he frames another backhand and Murray moves to 15-30. 
And another point for the scrapbook brings up 40-15 for the Scot as he belts a Stan smash back at the Swiss and then gives the crowd the arms-up exhortation. Definitely more Stan support out there but the crowd are enjoying every moment of this one. Murray holds and we're level pegging again. 
Drop shot, volleyed lob, overhead backhand and 15-0. Another drop shot and 15-all. They're pulling out every shot in the book now... and we have a tweener! Well, a by the side of the legger at least as Stan flips a half-volleyed lob back over the net. A titanic tussle in this third set. 
Murray breaks! What a set this is. More twists and turns than Spaghetti Junction. 
Great movement from Murray brings up break point 3... 
Stan saves a break point with another forehand winner, his 25th of the match. Amazing. 
A veritable bullet from Stan down the line and Andy doesn't bother even trying to chase that one down... incredible defence from the Scot as he plucks a forehand from the corner and forces Stan into an awkward overhead. Break point again, corner again, Andy hoiks one up again and this time Stan makes no mistake. Deuce. 
The crowd are getting behind both men here but the court erupts as Stan sends a forehand winner rasping down the line. Murray pulls back to 15-30 though...
Thw Swiss moves to 4-2 as Andy pushes an effort wide and the momentum is back with The Man...
Stan breaks again! 
But the Scot redresses the balance with a kick-serve that Stan dumps into the net. The Swiss then pins Murray to the baseline before bringing him with a dinked forehand and finishing off with a volley smacked into the open court. 
Andy can't quite believe it as Stan pulls off an audacious drop shot to bring up break point 3...
 Stan sends a backhand wide and Murray saves two break points to claw his way back to 40s. 
Game to Murray. The Scot claws back a game ... but still trails 1-3 to the Swiss player.
Wawrinka looking good in the third !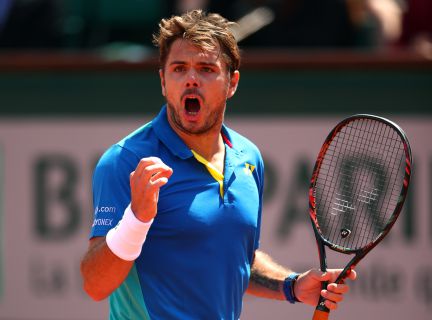 Third set: Wawrinka (1)  3-0 Murray (1)
...and the Swiss player takes the third game in the third set with the call for "new balls please"
Wawrinka has bagged 15 of the last 20 points with Murray just securing 5 !
If tennis matches were won on body language...Wawrinka is in Sunday's final !
Chance for a Warwinka break (30-40) after a sublime cross shot from Stan and he does it ... 0-2 Wawrinka leads in the 3rd 
Wawrinka takes the first game in the third and certainly looks the more composed of the two players at the moment.
Andy Murray's reaction after the second set!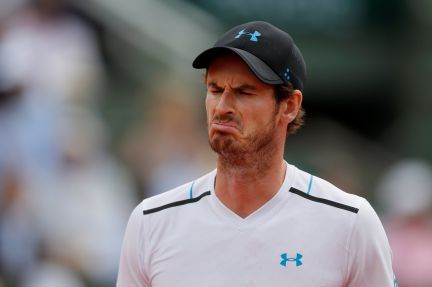 Second serve hammered back for a return winner and Stan takes the second 6-3! 
First serve into the net... 
A double fault from Andy, his third of the contest, gives Stan a freebie to kick off. Back to 15s as the Swiss glides a backhand into touch and a drop shot short hands the edge back to the number one. 14 unforce errors from Stan in this set but he moves to 30s as Andy obliges. The Scot is forced to dump a forehand into the net by Stan's heavy hitting and it's set point... 
Advantage Stan as an overhead is dispatched with relish and a Murray return into the trams and the Scot will serve to stay in the second set...
A forehand winner, a cracking serve and Stan eases to 30s. Murray on the board as Stan gets too much on a forehand and back to evens as Andy clips a backhand into Stan's shoelaces. Serve, drive volley and 40-30 but another unforced error from Stan, getting a little impatient there, and we're on deuce...
Well, well, well. Stan breaks. To love. Extraordinary. He was hitting the ball as sweetly as you like in that game. Even Andy was obliged to applaud there. Over to the world number one then... 
Stan takes his unforced error count up 11 but rectifies with a glorious passing shot as Andy rushes the net. Stan pulls out the heavy artillery to move to 30-15 and forces Andy wide with another heavy forehand. A big serve down the T and Stan holds sans problem. 
Andy is getting the better of the short rallies with Stan enjoying more success the longer a point goes on. The Swiss back on the line at 2-3. 
Murray saves with a hefty serve as we creep towards 10 minutes in this one game. A forehand winner slapped into open court brings up advantage and the same recipe sees Andy hold, not without considerable difficulty. 
Murray slaps a volley into the net as Stan attempts to pass him but then finds a winner to take it back to advantage. Stan reciprocates with a rocket into the corner to bring it back to evens then sends a backhand from the gods past Andy, stranded at the net. Break opportunity... 
Stan opens with a fizzing backhand winner but then tales his unforced error count to 31. Not a man to do things by halves, the world number three. A lengthy rally comes to a close as Stan misses the line by a whisker. Stan goes long again but pegs Murray back to deuce with a forehand winner after another slug-fest. 16 winners off that flank now from the Swiss. 
Stan with the new balls at 2-1 in the second. Solid serving and tha forehand smack again and the Swiss eases to 30s. Murray sends a return spiralling into the trams and has some choice words with himself but it was a decent serve in fairness. Stan sends him the wrong way and it's a love hold for the Stanimal. 
Murray looks on course for a koala-comfy hold but Stan has other ideas and chucks in a crafty drop shot to get off the mark. A backhand dumped into the net though and it's 40-15 but a drop shot each and Andy goes long. Stan frames a backhand and looks to his box as Andy trudges to his seat. 
Strange point as Andy gets the ball back while trying to get out the way, only for Stan to prod a horrible volley wide. Apologies from the Scot. Stan pulls out another backhand winner but adds an unforced error on the next point and it's 40s. Stan finds the line with another blistering backhand but Andy's not convinced... it stands though, despite the Scot's rueful glare, and Stan holds on the next point. 
Some nice shot-making from Murray, turning defence into attack, brings up 40-0 but an overcooked forehand gets Stan on the board. A thumping serve and it's a straightforward hold for the numero uno. 
And Andy takes it after 68 minutes of excellent fare! 
Fantastic from Andy! Stan sends the Scot scurrying from side to side and a hail mary lands in court, Stan whacks it back but Andy comes in and fashions a winner from nowhere... set point. 
First serve wide... decent return from Andy and he saves as Stan finds the net. 6-6. 
There we go! Stan eggs on the crowd after a wonderful point, tiki-taka at the net and Stan finding a glorious winner to bring up set point...
Stan goes on the offensive and pins Andy to the back court, forcing the Scot into a backhand at too much of a stretch to get an direction on it. What a shot! Andy reacts to a rasping forehand to clip it back for 5-4 but backs that up with an unforced error off the same wing for 5-5.  
Andy returns the favour, putting a regulation forehand into the fishnet. 4-3 Stan back on the oche... 
A big boost for Andy as Stan's winner-bound forehand clips the cord and flies out. 4-2 for the number one. 
The Scot gives one of his "why always me?" looks as a Stan serve kicks up and wide to force him into the tape. A "c'mon" as the Swiss pushes one long and it's a mini-break at 3-2 Andy on serve. 
The umpire is getting a workout today and he's down to confirm a Stan double bogey before Andy pushes one into the trams for 1-1. A deep, deep forehand and Stan can't keep it down. 2-1 Andy. 
Stan misses the line by about the width of a grain of crushed brick and into the tie-break we go... 
Two solid serves gets Andy to 30s as Stan hoists up a lob that drifts over the baseline. The wind is whipping up on court now and Andy's attempted drop shot is blown into the trams. Stan sends a forehand long and game point for the Scot, who misses his first serve and sees his second swatted back, setting Stan up for one of stinging backhands. 40-30...
Andy will serve to force a tie-break here. There may be a few of those today, we reckon. 
Stan is not being shy and retiring about his hitting in this first set, aiming for the line or an inch within it every time and more often than not finding it. Andy forced short and the Swiss steps into smack a drive volley away for 30s. Andu pulls one back but tries an audacious lob that Stan, perfectly positioned, just belts back with change. A cracking return has Stan digging in the dirt for a reply and he can only find the net but then puts the game to bed with a hefty forehand into the corner that Andy sends long. 
Andy eases to 40-up as he swats a Stan alley-oop into the red stuff. Stan stumbles after returning and the number one pushes the ball into open court for a love hold. 
An umpirical overrule gets Stan's goat at 0-15 but a net cord goes the Swiss' way this time as Andy forehand down the line pings wide. A backhand long from Stan and another trip to the court for the man in the chair. Andy pulls it to 30s and a long backhand and Andy has a break back point... long from Stan after some great defensive work from Andy and we're only bally well back on serve...
Longest rally of the game and Stan hits a foerehand winner after stout defence from Andy, whose first serve has temporarily deserted him... second serve, Andy drop shot, too long, Stan gets it back, draws Andy into the net and fires a forehand past the number one for the break! 
Lucky for Andy there! Stan clips the net cord with a backhand and watches as it pings back into his own court. 40s... 
That serve out wide again and Stan can't clear the net from an awkward hitting height. Andy clubs one down the T for 40-30 but then misses the line to let Stan back in. Double fault from Andy and it's break point for Stan... 
Both players hitting the back court at will now but Andy sends one a smidge long, drawing a swpie of the racket in disgust. Another overhit and the number one is off to his bag for a fresh axe. 15-30
Big serve though and it's advantage Stan. The Swiss skies a framer and back to 40s but he wrongfoots Andy with a backhand and a deep serve forces the Scot into the tape. 
15s as the combatants get into an attritional rally, Stan then sending Andy on the defensive for 30. Another forehand winner - that's eight we think - and Stan eases to 40 but then gets too much on a forehand  - his seventh unforced error off that wing - and then does the same again! Deuce and Andy in with a shout here... 
Some tardy arrivals earn a glower from Andy but he's out the blocks like a whippet, serve and drive volley, whack, no messing. Stan can only poke a return back and Andy takes control. Another serve and forehand and it' s 40-0. The Scot disagrees with a call but it stands. Not to worry, his second serve kicks out awkwardly and Stan pushes it long for a love hold.  
Stan getting his groove now with some glorious serving and ground strokes. He didn't give Andy a sniff of a point there and holds to love. 
A fine serve out wide gets Andy's nose in front and an overhit from Stan hands the world number one the game. 
Andy to serve. A glance up at the sky to gauge the sun and he sends down a Hammer of Thor job. Stan pushes him back in to corner but a drop shot - the Scot's weakest shot earlier in his career - is beautifully judged. Stan hits back with a winner down the line but Andy pushes him wide on the next point and a flashed forehand goes wide. A glorious backhand winner from Stan leaves Andy stranded at the net - the Swiss' eighth winner already - and he wallops a forehand to bring up deuce...
Stan holds with a cross-court forehand but Andy showing early signs of making a dent in that formidable serve. 
But Stan stands his ground at the net and a couple of overheads, that Andy does well to get back at all, and it's saved. 
Andy wrongfoots Stan to bring up a break point opportunity...
Stan gets stuck into a couple of returns as he loosens up that glorious backhand of his but Andy holds comfortably. Early exchanges fairly tame as both players feel each other out while getting a bit of rhythm going. 
A couple of decent returns from Murray, one of the best in the game in that respect, but Stan holds to love without breaking much of a sweat. 
Stan to get us started...
The players are out on court now, arranging their bottles and such... we're about to get underway. 
The Philippe Chatrier Court is filling up nicely as we wait for the players to trot out for a warm-up. A light breeze in the air in Paris, the flags are fluttering on the roof. 
Come on in to our build-up to and coverage of Murray v Wawrinka, make youself comfortable. The preview below is a fine way to get yourself up to speed with proceedings at Roland Garros. 
Murray vs Wawrinka live online: preview
Andy Murray and Stan Wawrinka will face each other for the first time since the ATP finals last November when the first and third seeds take to the court in Friday's second semi-final at Roland Garros.
It will be the 18th meeting between the current world number one and number three, with Murray holding a 10-7 advantage in their head-to-head record and a repeat of last year's last-four encounter in Paris, which the Scot took in four sets to reach his first French Open final. Wawrinka was the defending champion last year after claiming the title in 2015 in a four-set defeat of Novak Djokovic.
Wawrinka holds a slight edge on clay
Both Murray and Djokovic are more comfortable on other surfaces but the world number one was schooled on clay in Barcelona and the Swiss won the junior French Open title in 2003. Of their 17 career meetings only three have taken place on clay, with Wawrinka holding a 2-1 advantage, although those victories came in 2013 and 2008.
The most recent game between the pair, whose rivalry stretches back to a Davis Cup tie in 2005, which Wawrinka won in straight sets, is the most pertinent and Wawrinka will not hold fond memories of his 6–4, 6–2, 4–6, 6–2 defeat last year. However, the Swiss retained his title at the Geneva Open in preparation for the second slam of the year.
Murray has become more consistent on clay since winning his first title on the surface in Munich in 2015, going on to claim Masters successes in Madrid and Rome, the only three of his 45 career titles to date garnered on the slower surface. A career win-loss record of 102-45 on the red stuff underlines the adjustments he has had to make to gain a competitive edge on clay and the length of the process. His only comparable record on any other surface is a win percentage of just over 50 percent on the now-defunct carpet.
Wawrinka's record is only marginally better than Murray's, the Swiss enjoying a 49-percent win rate on clay to the Scot's 44 percent and the third seed has yet to drop a set in Paris. He has been taken close in four tie-breaks but prevailed in all, his finger-to-head celebration after key moments a note to his team that the strength of mind occasionally lacking in his earlier career is consigned to history.
Murray growing into Roland Garros 2017
Against Murray, one of the fiercest competitors on the ATP Tour, Wawrinka will need every ounce of that self-belief and a straight sets drubbing of seventh seed Marin Cilic in the previous round was the perfect preparation. The world number one was blown off the court in his quarter-final in the opening set by Kei Nishikori but adjusted his tactics, stepping in on the eighth seed's inviting second serve and took the next three sets 6-1, 7-6, 6-1, winning the tie-break 7-0.
Murray dropped a set in each of his first two games in Paris but found his groove against old foe Juan Martín del Potro and has showed time and again at Roland Garros that he has the stomach for what will potentially be a five-set marathon on Friday.