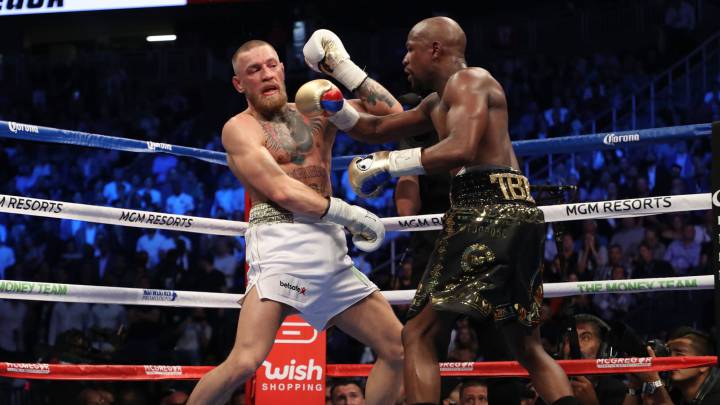 Floyd Mayweather outclassed Conor McGregor with a 10th-round stoppage here Saturday to win their money-spinning superfight and clinch his 50th straight victory.
Former welterweight boxing champion Mayweather, who had emerged from a two-year retirement to take on the Irish mixed martial arts star, took his time to get going before dominating from the fourth round.
The end came with a tired McGregor doubled over on the ropes as Mayweather landed two hard left hooks, prompting referee Robert Byrd to intervene and declare a technical knockout.
It was an explosive finale to their much-hyped contest at the T-Mobile Arena which proved surprisingly competitive in the early rounds as McGregor managed to land a string of scoring punches.
But once Mayweather began to find his range and McGregor wearied rapidly, there was only going to be one winner.
The 40-year-old American scored at will after the fourth round, snapping back McGregor's head with a series of stinging blows.
McGregor somehow survived an onslaught in the seventh round when a right counter from Mayweather staggered him badly.
Finally McGregor's resistance broke in the 10th when a Mayweather right sent him lurching across the ring.
A hard left put him on the ropes and another hook saw him bent over and helpless, prompting the stoppage.
The fight had followed a largely expected script but McGregor, in his first ever boxing appearance, by no means embarrassed himself.
Mayweather will now head into what he says is a permanent retirement with a perfect 50-0 record, one better than heavyweight legend Rocky Marciano.
The American is also expected to be around $200 million wealthier, taking his career earnings to around $1 billion.
McGregor, who was an unemployed former plumber four years ago before emerging as one of the biggest stars of the Ultimate Fighting Championship, is expected to earn around $100 million.
As it happened
10'  Ref stops it. Mayweather is the winner! 
10'  McGregor's legs are gone. 
10'  Ding ding. Is this the round? Or can McGregor land a punch that troubles Mayweather.
   He made it but is wrecked! McGregor can take punches, we will give him that much, and has exceeded expectations.
9'  Mayweather with the cleanest shots of the fight in this round. eight seconds left and McGregor holding on.
9'  McGregor is gasping.
9'  McGregor is up against it now. Mayweather throwing a lot more and looks ready to finish this.
9'  McGregor and Mayweather retreat again. McGregor standing up to Mayweather.
8'  McGregor continues to do way more but whether the judges see that and whether he is connecting is another thing. Has thrown far more.
   Any time Mayweather goes for McGregor, the Dubliner grabs him and turns him around. Getting a little tiring.
7'  McGregor has him in the corner again. 
   McGregor makes it through another round. Every round from here on in is a bonus for McGregor and the possibility of a rematch.
6'  Mayweather stepping it up. 
6'  Mayweather not messing around anymore. He is throwing with more intent. 
6'  Ooooh. Mayweather with a big right hook.
6'  McGregor turns Mayweather around and starts boxing him. Ref takes a few second to step in. 
5'  The end of the round and Mayweather with a little push off for McGregor. There really seems to be bad blood here. Mayweather is looking tired now too. 
5'  Just get the feeling that Mayweather has enough in the tank to finish this if he wanted to. He's too conservative for that but still, he is comfortable here. 
   5'  Mayweather smiling before the start of the round.
   a little bit of mouthing after the fourth. Let's see if McGregor can keep it up. Both fighters landed shots there. That's Mayweather's round though.
4'  McGregor looking slightly tired.
4'  start of the round and McGregor has Mayweather back up. Mayweather points to below his belt and says McGregor hit him there. fight carries on. McGregor is fine. 
   End of round 3 and it's as you were. Disappoint. Neither fighter landing much but a fair amount of shaping.
3'  McGregor has him turned around again.
3'  McGregor throws an uppercut that barely misses. Mayweather way more comfortable now. Starting to expand his game.
3'  Round 3. Disappointing sor far. McGregor with another box to the back of the head and gets a warning from the referee.
2'  McGregor tries to mount Mayweather. He grabs him from the side. If this was a UFC fight, McGregor would have kneed him in the head there.
2'  Mayweather a little looser in this round but still nothing doing. McGregor looking for opportunities.
2'  McGregor making his reach count but Mayweather not letting any shots in. 
   2'  Round 2. McGregor hjas Mayweather in the corner. 
   Okay, round one is finished! Both men fine and nothing much to report.
1'  McGregor grabs Mayweather by the head and goes on the attack. Mayweather escapes.
1'  McGregor puts his hands behind his back. Crowd love it but Mayweather doesn't bite.
1'  Nothing landing yet. 
1'  Ding ding! McGregor in early. 
   Mayweather remains calm during ref's instructions. McGregor with a look of confusion as to why Mayweather is so confident.
   And Floyd, looking as relaxed as ever, Floyd Mayweather. He walks out to the middle of the ring and back. He's really strutting around the place. McGregor stays in his corner but Mayweather making sure to let Conor know whose ring this is.
   Introducing the Notorious Conor McGregor. Massive cheers from the T-Mobile Arena in Las Vegas. 
   It's..... SHOWTIME!
   Here is Mayweather's balaclava effort.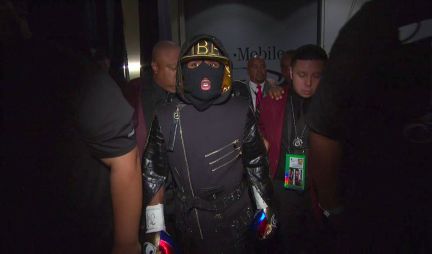 Mayweather wearing a balaclava. Weird!
   Ready for action. McGregor is walking to the ring and LITERALLY STARING at the camera. It got slightly uncomfortable for a second.
   Mayweather weating his black and gold tracksuit and ready to walk to the ring! 
   Demi Lovato singing the Star-Spangled Banner. 
   We seem to be in business! The national anthems being sung. First up is Imelda May, from Dublin too, singing Ireland's. 
   P. Diddy in the house.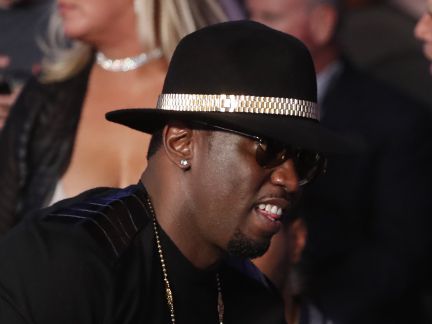 There seems to be the quiet before the storm. Plenty of people deflated after hearing the news of the delay. After sitting through a pretty dodgy undercard for the most part, it's now time to play the waiting game.
   We are currently watching Mayweather versus Andre Berto from 2015. 
   According to the market, this is a little more than a lottery. NBA players miss free throws all the time! 
   The replies to that UFC tweet about Fight Pass are hilarious. Although if I paid $100, I'd want a better service than that. 
   Ref counts Fonseca out while he's on the canvas holding the back of his head. Davis goes up and seemingly mocks his position by copying him? Strange ending to a decent fight.
   Davis catches Fonseca with a punch in the back of the head. Looks to be all over.
   Round 8. Fonseca really improving now. But Davis comes straight out of the corner and lands one on fonseca. 
   Fonseca actually has him up against the round and lands a few before the ref steps in to break it up. Fonseca knows he has to win it out from here or land a knockout.
   Fonseca and Davis getting sluggish now as the pair continue to get locked up. Fonseca the instigator more often than not. Into round 7.
   Meanwhile... school is in session and Gervonta Davis is giving Fonseca a lesson.
   It doesn't say for how long but that is frustrating. Given how much time they had to prepare and the demand that would be on their servers!
   Davis even has time for a little laugh during that round. Fonseca feeling the burn now. 
   Much of the same in round 4! Davis is battering him.
   How Fonseca stood up to those two uppercuts is beyond me.
   Fonseca battles back and brings it back under control. 15 seconds left and we have a standoff. 
   This is about to end! Surely. Davis has Fonseca backpedalling. A number of clean shots. 1.15 remain in the third.
   The end of round 2. Davis enjoying himself a little more but nothing much in it.
   And round 2 is underway....almost. Davis sent back to his corner to cut off some weird contraption on his shoe?
   Davis with the Mother and Father of uppercuts but he misses. Fonseca was lucky he dodged that one too.
   McGregor on the fight: "I don't care about his record or achievements. A fight is a fight, it's man vs man. You're only as good as your last fight. Add to that my hard work, my focus, my dedication, that's what I get my confidence from. I'm going to go out and be myself. Free, spontaneous, creative and paint a beautiful picture. I see me truly outclassing this man by putting him to sleep."
   Meanwhile Davis and Fonseca gets underway.
   I'm not sure what this is even supposed to be.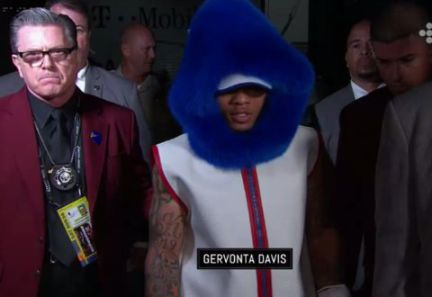 Gervonta Davis seems to be wearing some form of a snuggy around his neck? A blue one. Looks comfy but a little out of place.
   Francisco Fonseca making his way to the ring. 
   LeBron and Mike Tyson!
   Still seems to be plenty of loitering and hanging about waiting for the big one. I know it's an undercard for a reason but the Main Event tonight is unlike any we've ever seen. Chances are, most of the UFC in attendance couldn't care less about the fights before hand.
   Baltimore's Gervonta Davis fighting Francisco Fonseca of Costa Rica next before the Main Event!
   McGregor getting his taped too but with a lot more nervous energy.
   Mayweather getting his hands strapped now in a pair of lumberjack boxer shorts and a white vest. Having his right shoulder massaged and he looks as calm as you like.
   Never thought I'd say it but there's a video on ShowTime of McGregor taking a sip of water and he looks genuinely nervous.
   Jack is the new light heavyweight champion of the world! 
   That's it. Jack ends it in the fifth round. Cleverly was breathing heavy and couldn't keep up. Ref steps in and Jack is the winner. A couple of jabs started it before Jack really opened up and unleashed a flurry of punches. Two, maybe three, uppercuts and the ref had to intervene.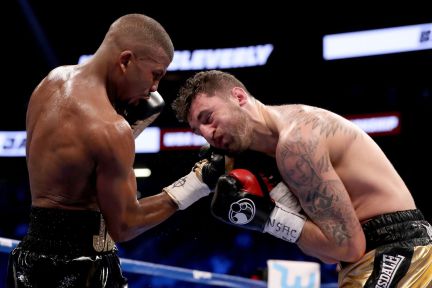 the end of four and much of the same except Jack is pushing Cleverly further back into the ropes.
   Yep, we are at the end of three and Jack enjoying himself. In control of the ring and his opponent. Cleverly needed that break.
   Jack unleashes a left hook now and that works too. Jack the better boxer through three.
   Jack's jabwork is impressive.
   Jack turning up the heat on Cleverly now. Landing quite a few on Cleverly and the Welshman is starting to breathe a little heavy. 
   My word, that McGregor strut is even more pronounced than ever.
   Jack and Cleverly at the end of Round 2. 
   I'm both nervous for McGregor and slightly embarrassed. Is this going to be the hiding everyone says it is going to be?
   Nathan Clevrly versus Badou Jack setting up now. Both fighters in the ring and ready for action.
   Just been celebrity spotting. Michael Irving, the wide receiver from the Dallas Cowboys the most recent. 
   Just a reminder of the entire card! With Mayweather and McGregor at the top of the Christmas tree!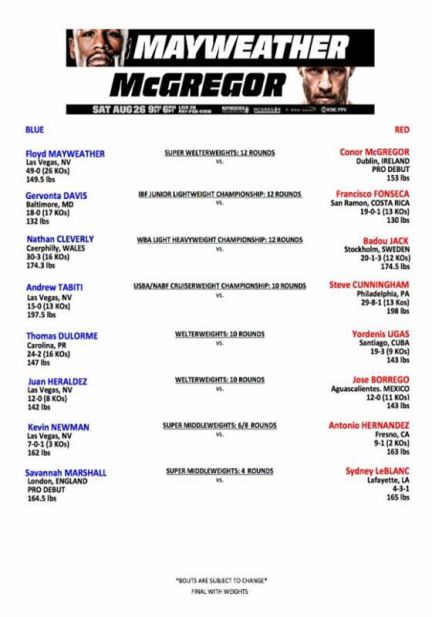 The firts fight it's starts. Jose Miguel Borrego (12-0, 11 KO) vs Juan Heraldez (12-0, 8 KO). 
Floyd Mayweather and Conor McGregor go toe-to-toe in the T-Mobile Arena in Las Vegas in one of the most eagerly anticipated fights in history as the undefeated boxing world champion takes on the two-weight UFC title-holder.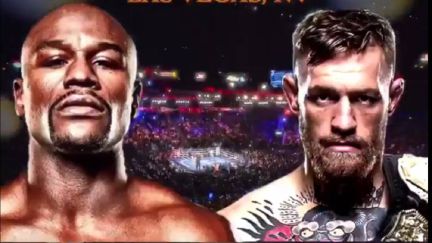 One of the most hyped-up fights in the history of boxing takes places on Saturday night in T-Mobile Arena, Las Vegas (early Sunday morning in Europe) as Conor McGregor and Floyd Mayweather finally step into the ring together. The fight, being dubbed "The Money Fight", is an invention by both camps and egged on now for months by millions as the talking, of which there has been plenty, ends and the scraping begins.
The Irishman and the American will battle for the "Money Belt" which has 3,360 diamonds, 600 sapphires, 300 emeralds and weighs 1.5 kg of gold. Make no mistake about it, this fight is all about prestige, ego, money, status and bragging rights. Acting as a symbol of what the winner gets, the "Money Belt" is an apt one for what is the biggest money-spinning fight in the history of boxing.
Conor McGregor
The Dublin-born 28-year-old appeared on David Letterman at the beginning of his meteoric rise and said "who wouldn't like to dance around the ring for 180 millions dollars?" when asked if he would fight Mayweather. He is set to land the biggest paycheck of his career with a guaranteed $30 million before you factor in his share in the promotion of the fight.
He currently ranks third in the pound-for-pound ranks in the UFC behind Jon Jones and Demetrious Johnson. He has fought 24 times and won 23 of those (18 by knockout).
McGregor has won his last two fights having lost to Nate Diaz during UFC 196. He is also the only fighter in the UFC to successfully hold two titles in different weights at the same time when he won the lightweight and featherweight belts with wins over Eddie Alvarez and Jose Aldo. McGregor's style of fighting includes a blend of movement that can not be used in a boxing ring but he can swing with the best of them in the octagon and if he can break down Mayweather's excellent defense, he might hurt him. Whether he has enough to outsmart Mayweather is another thing entirely and one of the main reasons why many experts are writing him off.
Floyd Mayweather
Mayweather is considered to be one of the finest boxers to have ever laced a set of gloves. He boasts an unbeaten record in the ring and is one of the most technically excellent boxers in the history of the sport to boot.
His approach to McGregor's antics started out with the 40-year-old trying to match the Dubliner before he realised it was best to watch him entertain the crowds and sit back and enjoy it. Since then, Mayweather has been reserved in his approach and has let McGregor do the talking. While Mayweather's approach, which includes camping out in a strip club before the fight, has been questioned and McGregor saying he has never seen Mayweather in worse shape, "Money" Mayweather has decided he will let his fighting do the talking on Saturday night in Las Vegas.
The narratives surrounding this fight are manifold. There's the MMA fighter fighting the boxer. There's Mayweather's 49-0 unbeaten record at stake against a man who quit boxing to take up fighting in MMA when he was in his teens and then you have the likes of Paul Malignanni, who reportedly joined McGregor's camp in order to spy on the UFC fighter.
Things have quietened before another story emerged and then quietened again but with the fight closing in, all seems to be calm as both fighters retreat to their corner to figure out how to win the "Money Belt". The narratives might be endless but time is running out on the biggest, and strangest fight, we are ever likely to see.