Nadal hammers Thiem to book spot in 10th French Open final
The nine-times champion made light work of the sixth seed and will face Stan Wawrinka for the title in Paris on Sunday.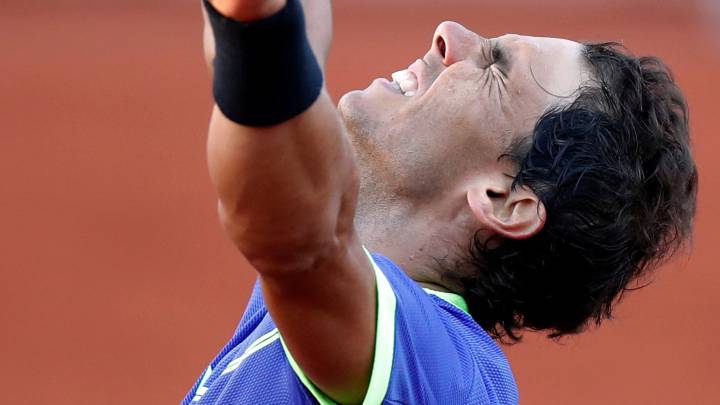 Nine-times champion Rafa Nadal swept into a 10th French Open final after steamrollering Dominic Thiem 6-3 6-4 6-0 on Court Philippe Chatrier on Friday.
The Spaniard, who has been in ominous form this year after relinquishing his Roland Garros crown in 2015 after five straight titles brushed off the challenge of the sixth seed with a crushing display of power.
Nadal has dropped only 29 games on his run to the final -- surpassing his previous best of 35 in 2012.
On the other side of the net will be Stan Wawrinka, the 2015 champion who saw off world number one Andy Murray in an epic five-setter earlier on Friday.
Nadal 3-0 Thiem live online: as it happened
A huge serve and Dom slaps it into the net! Game, set and match Rafa! Into his 10th Roland Garros final where he'll play Stan Wawrinka for the title. 
Rafa unfazed though and brings it back to deuce. A wild backhand and it's match point Rafa... 
Two solid serves though and he's back to 30s. An unforced error from Rafa thwacks into the net and Dom has a break point opening here...
Oops! Rafa lines up a smash but frames it in the general direction of Lille. Dom gets his wind up and pushes Rafa back, forcing a forehand into the tape. 0-30...
Two more punishing forehands send Dom scampering about the baseline and the second is unreachable. Rafa breaks again and will serve for a place in the final! 
What a shot! Nadal leathers a backhand return winner and clips the line to bring up three break points... 
Dom nets and he looks rather like he's prefer to be anywhere else at this stage. Strolling by the Seine perhaps or tucking in to some escargots. Long again and Rafa is 30 up. 
An ace down the T gets Rafa off the mark and he wrongfoots Dom, forcing the Austrian into a defensive lob, which is smacked back with relish. A net cord flops into the Austrian's court and Rafa is up to the tune of 40. Another forehand deep into court and another smash later and it's a love hold for the king. 
Rafa breaks! A poor choice of shot from Dom as he fires a return straight to the Spaniard with the backhand court gaping and Rafa says gracias amigo as he sends a forehand down the line. Two sets and a double break to the good now and Dom looks spent at this stage. Will has predicted a doughnut in the third. He may well be right... 
A wild forehand from Dom and Rafa has break point... 
Rafa builds up to an approach shot and rushes the net, which spooks the Austrian into an unwieldy lob and he's pegged back to deuce. A colossal forehand edges him but Rafa pummels the backhand side and a hail mary drifts out. 40s again... 
Wide from Rafa and then a backhand slumps into the net, drawing remonstrations from the Spaniard. He's something of perfectionist, Rafa, and he wasn't happy with that at all. Another error from the Spaniard and Dom has game point... 
Dom serves up a third double fault of the contest and Rafa then sends his opponent side to side before unleashing a backhand winner down the line. 0-30...
Rafa races to 30-0 and he's in the mood to make sure this one doesn't get stopped due to the fading light. 40-0 on the back of another whacking great delivery. Long from Dom and Rafa eases to 2-0. 
Which he takes! 1-0 to the Spaniard. 
After tamely giving up the first point, Thiem gets himself back to 30-15, before pummelling one into the net for 30-30 and then following that one up by wildly thrashing a shot long to give Rafa a break point...  
Off we go with the third set, Thiem to serve...
Collosal serve, forehand whack, volley and set! Rafa leads 2-0. 
Dom narrowly misses the tramline and Rafa has three set points... 
A mishit from Dom gets the Spaniard up and running. A huge serve is returned but sits up nicely for Rafa to slap it into next week and it's 30 up...
Rafa to serve for the set then... 
No gifts from Dom though as two blistering serves set up 30-0 and an ace whizzes past Rafa's ear for 40. A miscue on a backhand return and the Austrian holds to love. 
Long again from Dom and Rafa holds as easy as pie. He'll be all over second serves and anything sent back even the slightest bit short here, will Rafa... 
Nadal on the delivery with new balls. Eight euros they charge at Roland Garros for a used one incidentally. Decent bit of business. Rafa dumps a second serve worthy of AS English into the net for a double fault, his first if we're not mistaken. Dom spots an opening but gets too much welly on a forehand and he overcooks the next one as well as Rafa eases to 40-15... 
Another dinked volley on the back of a huge serve sees Dom to 40 and Rafa obligingly punches a volley long as the Austrian holds. 
Rafa treats a lino to a thunderous glare as what he thought was a winner is called out. The umpire is summoned and confirms the Spaniard's suspicions. A seventh unforced error of the set sees Rafa up to 0-30 but Dom pulls out a perfect drop shot to get back to 30s. 
Dom prevents a love service game for Rafa but it's a brief stay of execution and a booming first serve forces the Austrian long and the Spaniard holds. 
The shadows are lengthening on Philippe Chatrier and so is Rafa's forehand, as he pushes his opponent back to a couple of feet behind the baseline before unleashing a forehand winner. Little drop of the head there from Dom and you can see why. His best is very, very good but not really making much of a dent in the best clay courter of all time. 
Dom holds fairly comfortably and will now have another crack at the Rafa serve...
Great work at the net again fromn the sixth seed, sending Rafa hurtling across the baseline and pinging back his increasingly desperate returns barely without adjusting his racket. He may profit from a bit more of that approach. 
Rafa whittles his way to 30-0 as Dom fires a forehand wide. Both players finding that sweet spot within a foot off the baseline on the next point and Dom sends down a sizzling forehand. Rafa not impressed though and replies with a muscular serve to move to 40. Dom long and Rafa consolidates. 
The opening set was the first Dom has dropped at this year's tournament and it's worth remembering he beat Novak Djokovic in the previous round, love set included, the first the Serb had suffered since the 2005 US Open. That's the Rafa effect on clay. 
Rafa sends Dom practically into the crowd with a fizzing backhand and then goes on the offensive to force the error and pick up an early break in the second set. 
A vicious kick serve bamboozles Rafa and he sends his return well long. Dom then closes in on the net again and displays his volleying skills to bring up advantage, only to push one long on the next point. Rafa drop shots by Dom is quick to the danger and whips a forehand back at the Spaniard to take advantage. Long again from Dom though and back to 40s for the third time... 
Nadal exmaines his racket as another ball goes flying off the frame and Dom moves to 30-15 with a big serve. A net cord thumbs its nose at the Austrian when a winner beckoned and Rafa bludgeons his way to a break point opening...  
Narrowly wide from the Austrian on a cross court forehand and Rafa closes it out with an ace. 1-1 
Rafa saves one with a "vamos!" and another with a booming serve and deep approach shot that Dom sends into the Paris sky. Deuce. 
Take a bow young fellow me lad! Dom peppers the Rafa forehand and then adds a salty drop shot to open up two break point opportunities... 
Uffff. Rafa dumps an inviting forehand into the net and Dom eases to 0-30... 
Dom absolutely creams a couple of forehands and even the recovery skills of Rafa are powerless to get a racket on the second. The sixth seed then shows his lighter touch at the net to hold with considerable style. 
Dom's second double fault of the match allows Rafa to nose ahead at 15-30 but an untimely framer loops well out of court, earning the errant ball a scowl. A 200km ace from the Austrian is followed by a forehand wide and we find ourselves at deuce...
Oooooh, that's a cute lob from Rafa. He doesn't usually bother going over when he can go through but that was a pearler. 
Rafa also holds a rather imposing 100-2 win-loss record over five sets on clay. 
Dom scoops an awkward forehand beyond the paint and Rafa has three set points. A lengthy glower at a forehand on the line as Dom pulls one back but Rafa outguns the young pretender on the next point and wraps up the opener 6-3. 
Rafa scurrying about like a 20-year-old and he leathers his ninth winner of the match. Dom goes long with a forehand and the king is two points away from the set...
A thunderous forehand winner from the Mallorcan is almost backed up by another off the backhand side but it misses the line by a millimetre. Game Dom.  
Nadal pegged back by some robust hitting from his opponent but Dom nets to get Rafa off the mark. Huge serve out side and a forehand winner into the acres of space on Rafa's backhand wing and it's 40-15. 
Dom serving to stay in the first set at 2-5. New balls. 
Another statement of authority from Rafa, who swats a Dom backhand down the line. A straightforward hold for the nine-times champion. 
A backhand - forehand duel unfolds and Dom blinks first, sending a ferocious shot into the trams. A deft touch from Rafa at the net forces an error and the Spaniard moves to 30-0. 
The sixth seed holds. Rafa back on serve. 4-2 up. 
Rafa pulls a drop shot out of his bag of tricks to move to 15-30 but Dom plays a solid point to level things up. 
Rafa 4-1 up in the first set then as Dom serves to pull one back.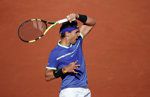 Nadal with his first forehand winner of the match, spanked into open court with a grunt and a grimace. A cross court backhand brings up advantage and a huge serve on to the frame of Dom's racket and the king holds on the court he has made his own over the years. 
But Dom's got dynamite in his racket and after clipping the line with a forehand winner he brings up 15-40... 
Rafa would whip cream with that forehand of his and he hammers Dom further and further back, forcing the error. 15 apiece
And Dom goes for the line but misses by a yard to hand Rafa the break, which he celebrates with some throaty self-encouragement. 3-1 then
Rafa invents an angle with a backhand winner to bring up break point 4
Rafa scrambling on the defensive as Dom pounds his backhand side and the Austrian back on deuce. 
The first is saved with a lighning forehand winner. As is the second... 30-40
But Dom's in trouble here as he double faults to bring up three break point opportunities for Rafa... 
Thiem also holds the distinction of being the only player to have beaten Nadal on clay this season as the Spaniard helped himself to titles in Monte-Carlo, Barcelona and Madrid before coming unstuck in Rome at the hands of the Austrian. 
This of course is the sixth seed's second consecutive semi-final at the French Open. It's Rafa's 10th. 
Nadal holds with an ace, plenty of zing on that one, but Dom has shown plenty of ambition early on. 
Huge serve from Rafa saves one. A whopping backhand from Dom just misses the line and the king is back to deuce. 
15-all as Rafa starts to find his range with those top-spin heavy forehands. Dom noses ahead though as he belts a few backhands deep into Rafa's court. 15-40 and break points for the 23-year-old again... 
An unforced error from Dom elicits the first "vamos!" from Rafa as the world number seven dumps a forehand into the net. Back on serve then... 
Break back chance for Rafa... 
223km... that's quite a serve Dom's got on him. 30-all as Rafa surrenders a 0-30 lead.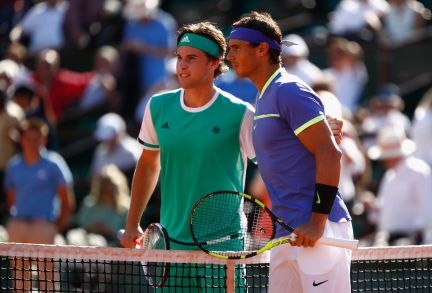 Well, well... Rafa broken in the opening game! 
Dom gets up to 30-all with some searching hitting. We're being treated to two of the finest backhands in the modern game today, the Austrian sharing Stan's elegant one-handed delivery. And he only has a break point... 
 Rafa to serve... 
A scattering of white clouds meandering over Roland Garros, perfect conditions for a spot of tennis. 
The first semi-final will be a hard act to follow. Let's see what Rafa and Dom can drum up next on Philippe Chatrier... 
They are becoming familiar foes, Nadal and Thiem, having met three times on this clay season already.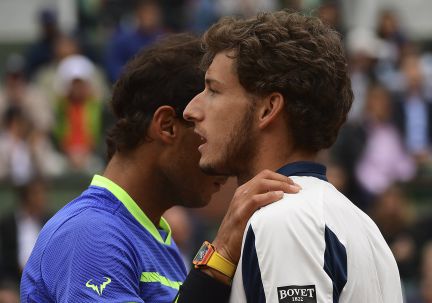 Remember this slip of a lad? Rafa Nadal won his first Roland Garros title back in 2005 and is bidding for his tenth this year. Pretty impressive.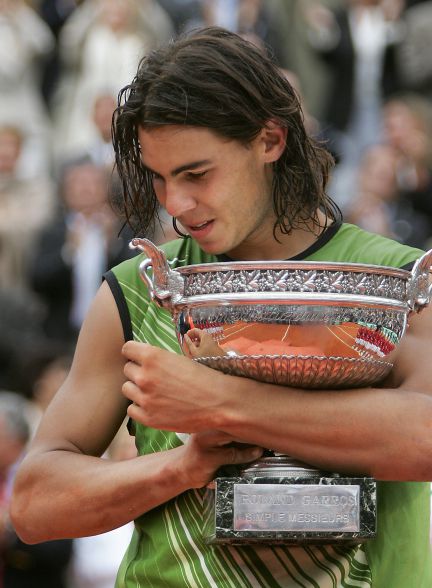 Welcome to our build-up to Nadal vs Thiem. At the moment, Murray and Wawrinka are doing battle at Roland Garros, with the match at a tie-break in the first set. Rob is bringing you incisive commentary from that first semi-final. 
Nadal vs Thiem: live online preview
Rafa Nadal continues his quest to become the first player in the Open Era to win the same Grand Slam tournament 10 times when he faces Dominic Thiem in the semi-finals on Friday.
Thiem, seeded sixth in Paris, is at the age of 23 already no stranger to beating the greatest player ever to leave his mark on a clay court and has done so twice, on the surface Nadal has made his personal fiefdom. The last meeting between the two was at the Rome Masters last month where Thiem derailed the Spaniard's bid for an eighth title with a straight sets victory in the quarter-finals.
Thiem a genuine threat to Nadal's title challenge
The Austrian world number seven, who burst onto the scene in 2014 with a three-set victory over then-world number three Stan Wawrinka, is one of few players to have beaten Nadal on clay more than once, also scoring a victory in Buenos Aires in 2016. The two players have never faced each other on any surface other than clay and in recent months have become extremely familiar with each other's game. Before Rome, they squared off in the final in Madrid and Barcelona, with Nadal victorious in straight sets on both occasions.
With the Spaniard back to his imperious best on the crushed brick, Thiem will have to pull out another performance of the caliber of his three-set defeat of Novak Djokovic in the previous round, which included the first love-set the Serb had suffered since the 2005 US Open. However, the sixth seed achieved in Rome what no other player has managed to do on clay this season as Nadal has swept all before him en route to a 22-1 won-loss record and titles in Monte-Carlo, Barcelona and Madrid.
Nadal's 100-2 record in clay-court five-setters
However, Nadal's record in five-set encounters on his favoured surface highlights the task Thiem faces, the Spaniard holding a 100-2 record in the long format. But if anyone can challenge Nadal on clay in the nine-time winner's current form it is the Austrian, who reached the same stage at Roland Garros last year, losing to eventual champion Djokovic. Clay is Thiem's natural habitat, six of his eight ATP titles to date coming on the surface, and his aggressive baseline hitting and troublesome top-spin serves can cause Nadal problems.