Ostapenko seals historic French Open title with Halep victory
The 20-year-old Latvian became the first unseeded player since 1933 to win at Roland Garros, in a blistering three-set classic in Paris.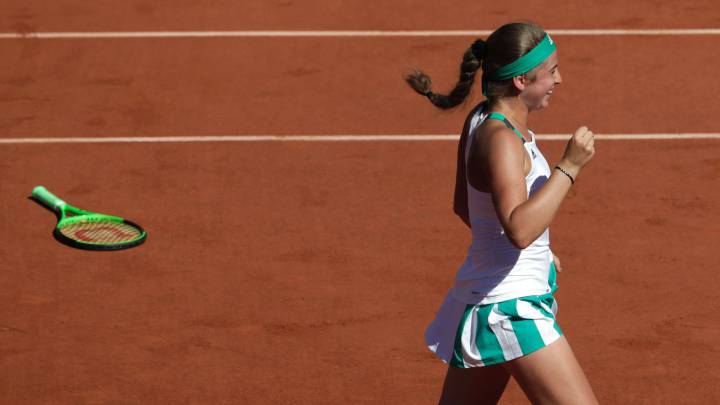 Jelena Ostapenko stunned third seed Simona Halep with a 4-6 6-4 6-3 comeback victory in a thrilling French Open final on Saturday to become the first Latvian to win a grand slam title.
The 20-year-old Ostapenko, the first unseeded player to lift the Suzanne Lenglen Cup since Britain's Margaret Scriven in 1933, was 3-0 down in the second set when she overturned the situation.
Ostapenko, who hit a staggering 54 winners, won four games in a row and sent the match into a decider during which she overwhelmed her opponent on a sun-bathed Court Philippe Chatrier.
It was the second defeat in the final here for Halep, who was also bidding to become world number one by winning the trophy.
Ostapenko was the first woman since American Jennifer Capriati in 2001 to win the singles title at Roland Garros after losing the first set in the final.

Ostapenko 2-1 Halep: as it happened
A hug between the players at the net after a corking final. What a story this is, Penko becoming the first unseeded player to win the French Open since Margaret Scriven in 1933...
She's done it! Penko whacks a final forehand winner and the 20-year-old, unseeded, is the 2017 Roland Garros champion!
A mishit from Penko but it drops in and she's got match point!
Penko goes for it but she hammers it wide. 30-all
15-30 up with a huge backhand down the line and Penko is two points away... second serve...
Big serve and a backhand winner and it's a solid hold from Penko. Halep serving to stay in the match....
Big miss from Penko with the line begging but she rallies and pings a forehand winner down the line, her 50th of the match, for 30-15. Long from Simona and Penko has two chances to tie up the game...
What a turnaround from the unseeded Latvian. She's come back from the brink twice in this match and will serve for a 5-3 lead...
Break points... Halep saves one but Penko has the bit between her teeth now... and breaks! 4-3! Incredible stuff from the 20-year-old!
Penko delivers another winner and she's 0-30 up...
40-40 the match beautifully poised as Penko delivers an ace. Brief rally and the Latvian is back in contention. 3-3 in the third set...
Penko a point away from tying the match in the third set ....40-30 and serving ...
Good baseline rally which sees Halep outfox the Penko to secure the point (15-15)
Whopping forehand return, Halep clips the cord and it's back on her side of the court. Booming forehand winner, absolutre belter, and Penko breaks! 3-2!
Return buried in the net! Big chance spurned there by Penko...
First serve wide....
30-all as both players dig in, neither wanting to give an inch here. Cracking backhand down the line and it's break back point Penko!
And Simona breaks! 3-1
One saved, two to go...
Trouble for Penko here as Simona races to 0-40...
Big hitting from both players as the game gets to the nitty-gritty with some longer rallies unfolding. That stat about Penko and five-shot rallies bears out as she dumps the seventh shot of that one into the tape and Simona holds comfortably.
And an ace down the T as Penko holds without too much fuss.
30-0 up as Simona goes for a sitter but finds the net. Huge backhand down the line and it's 40-15...
22 winners and 18 unforced errors from Penko in that second set. 3 and 4 respectively from Simona.
A slightly overcooked forehand drive off the halep serve and Simona holds. Penko not taking prisoners though and she had chances to break in that game.
15-30 as penko finds the line with that forehand from the wide position again. A soft Simona serve is slapped back with relish and the net cord comes to the Romanian's aid on the next point.... fortunate. Penko then leaves a Simona forehand at the net with the volley on and it clips the line! Deuce.
Simona Halep gets the decider underway...
A defensive return from Halep plops onto the line, Penko nets and one is saved. But that forehand down the line is spot on again and into a third we go! Second set Penko!
Glorious! An absolute welly of a forehand winner down the line and it's three set points...
And a big serve out wide to get underway, Simona netting the return. Forehand winner and it's 30-0. Two points from a decider...
Huge roar from the crowd and one of those Mexican waves prevents Penko from getting going. Part of the deal for tennis players though and she seems unruffled. Big game this though...
And Penko races to 0-40 with more crushing winners off both sides... and she breaks! To love! And she'll serve now to take the final into a third set...
And it's long from Penko. A plaintive look to her box and you can see why. Moments of pure brilliance followed by inexplicable errors. It's a real double-edged performance from the Latvian. Simona level pegging again.
15-all as Simona goes long, 15-30 as Penko pings another error into touch. Break points for Simona...
That crowd swing we mentioned seems to have happened. Big love for Penko out there now as the crowd sense a classic cooking on Chatrier.
Break point again and Penko's done it! Two drive volleys off either wing and what a turnaround. That Simona second serve is a real Achilles' heel. She's won just five points off it in the entire match.
Simona saves. Twice. Deuce.
She may be a precocious talent but Penko showed true grit there to pull back from 0-3 down. Simona hurtling from side to side on the baseline but a Penko cross court backhand is too much to ask and a Halep second serve is gift-wrapped for that backhand down the line. Break points...
Wide, huge kicking serve and even Simona can't guide that one in. Another miscue off the backhand and Penko holds, to huge applause!
One saved with a backhand zinger down the line and Simona goes just too long to bring it level at 40s.
Just wide and break points for Simona....
Simona sends up a ball that Penko just can't resist - of course she can't - but she belts it just long for 15-30.
Penko comes out clubbing with another winner off the forehand wing and curiously since going 3-0 down she's been finding her mark a bit more regularly.
Backhand return winner, Penko almost in the service box when she hit that. And she misses a line by a whisker! So close to the break there. But she gets it as Simona clubs one out of the trams and all of a sudden we're back on serve!
Backhand winner, forehand error from Penko, the game in microcosm, then that drive-volley again and Penko is 15-30 up...
And she holds to a huge cheer after an audacious cross court forehand that just, just clears the net. 3-1!
That's harsh... a net cord on second serve and the ball spirals long. Back to deuce 4 though as Simona gets too much on a regulation forehand. Advantage Penko now...
Penko into the net as Simona jumps on a second serve but the Latvian saves the break point... only to net again. You don't want to give Simona too many freebies but Penko finds her range again and saves.
Long again from Penko. 30 unforced errors up. 40s.
And promptly double faults as she tries to send a second serve deep. 15-30. A blistering forehand and 30-all then a rare error from Simona and it's game point...
Halep wraps her forehand around a weak second serve and Penko grimaces. She knows she has to land more firsts from here.
Another flying drive volley hits its mark and Simona sportingly gives the thumbs up. That is quite a shot Penko has there. Simona weathers the storm and grinds out the hold as she draws Penko into the net and the Latvian can't get it over the tape on the run.
A huge risk from Penko there, leathering a return on to the line. The umpire conforms the clip and Penko pulls out a well-worked point to get back to 30-40
Simona races to 30-0 and this is in danger of getting away from Penko. Who nets for 40.
Saved, with a cracking forehand drive. Back to 40s...
Another unforced error and Simona has break point again...
A forehand winner gets Penko back level and an ace, the first of the game, takes her to advantage. Just long, drifting past the baseline, and Penko pegged back to 40s.
Simona's turn now as she unleashes a forehand return winner for break point...
Incredible defence from Halep but Penko takes the point with a drive volley. From the baseline. 30-all
A couple more added to that running total and Penko puffs out her cheeks. Then cracks another backhand winner, of course. 15-30
And Simona holds! Yup, it was one winner, to 14 from Penko, who also hit 23 unforced errors.
0-40 as another backhand winner zips past Simona's ear. She replies with a winner of her own down the same flank but is still on the back foot . A deep, depp cross-court forehand has Penko at full stretch and she can't keep it in. Long from the Latvian again and Halep nods to herself as she pegs it back to deuce.
Penko races to 0-30 with some menacing work on the Simona serve as we get back underway.
We think, pending confirmation, that Halep took that set with just one winner. Funny old game. But two unforced errors shows what a consistent hitter the Romanian is.
30-all as Penko delivers another hammer but Simona has a break point as her opponent nets... and long from Penko! First set to Halep.
A glance to her box and a "what the blazes" look as Penko overcooks another. Going for a winner every shot will do that, but it is fun to watch. A pace switch and Penko pulls out another into the service box, Simona stranded behind the baseline. halep can hit the ball as well mind and she rushes in to a drop shot and pelts the ball back. Unreturnable. 
Halep back to 40-30 after another Penko overhit. Another Penko club and Simona finds the net. A long rally ensues, a straight battle of the forehands, both players hammering it cross court, eyes narrowing. Penko blinks first, just missing the baseline with a direction switch, and Simona holds!
That forehand... goodness. Two more winners takes Penko to 0-30...
Penko's hard-hitting is forcing Simona into plenty of short returns, which the Latvian is whacking back with serious bite. Even a leaping backhand can't put the 20-year-old on the back foot and she holds.
A seventh backhand winner from Penko and an unreturnable serve are followed by a third double fault... Simona narrowly misses the chalk with a backhand return but gets up to 40s as Penko again misjudges a forehand with the point going her way.
Penko's 13th unforced error prompts a tap of finger to the head from the Latvian. Simona edges to advantage as Penko nets and lands a booming serve out wide to hold, eventually.
Another backhand winner and it's break point again. First serve into the net... and just long from Penko! Close though. Back to 40s...
Halep forced long and we're on deuce....
Blimey. Penko's inside the baseline for Simona's first serve now. Intimidatory tactics? Halep responds by sending one right at her opponent, who paws a volley wide. Two solid serves and it's 40-15 but Penko works a good point and hits a clean winner off her backhand side.
Penko nets and Simona breaks to love! As we were then...
A couple of wild shots puts Penko in a spot of bother at 0-30... Simona stepping in to the second serve as well but a double fault brings up three break point chances.
Halep is wily enough to know that she'll have to try something a bit different on her second serve - Penko is merciless on the current delivery.
Ufff. Simona gets an impossible recovery back and it sits up begging to be hit. Penko obliges, it clips  the cord and lands in. Another clubbed forehand and Penko breaks again!
Another error as Penko tickles a line on the Halep backhand. She then steps into a second serve again and unleashes a backhand winner. A well-worked point as Penko drags Simona from side to side and a bit of pressure on the higher ranked player here...
Six unforced errors from Penko to Simona's one so far. That will be a feature of the game, with the younger player not measuring her shots in any way but going for everything while Halep is an expert at keeping the ball in play. Penko slaps a forehand winner on the run en route to a hold.
She won the junior title in Paris in 2008, did Simona Halep, but she has to win a senior Grand Slam.
Halep deploying all of her court craft to deny Penko a clean shot with that forehand of hers and she holds to love, to chants of "Simona, Simona" from the crowd.
Wide from Penko, under no pressure there really but she sends a forehand into touch and we're on serve again.
Simona spots an unguarded line and goes for it woth a huge forehand but just too much on it... 15-40. A thumping first serve from Penko and one left for the fourth seed...
Halep has similar ideas and the 20-year-old's second serve could do with some work to be fair. Simona 0-40 up as Penko nets a forehand. Three break back points...
Penko has come out swinging and breaks Simona to love in the opening game! The Latvian is punishing the fourth seed's not very powerful serve and standing well within the baseline for second deliveries. A series of crunching ground strokes and she couldn't have asked for a better start...
We're about to get started. Simona to serve...
Penko first out on to the court, big cheer for the unseeded 20-year-old. Simona follows and the crowd give her a warm welcome too. We'll see which way the pendulum swings from the stands as the match progresses.
The Latvian likes to keep points short, winning 82 percent of rallies of five shots or fewer so far at the 2017 French Open.
Blimey. Ostapenko has hit 245 winners on her run to the final. That's a lot.
Two things we've just learned about Jelena Ostapenko. She is an avid ballroom dancer apparently and back in her native Latvia expectations have reached fever pitch, with even the country's president, Raimonds Vejonis, giving her a call to with her all the best.
There have been five three-setters for the two players coming into today's final.
3-SIMONA HALEP (record at French Open 2017)
First round: beat Jana Cepelova (Slovakia) 6-2 6-3
Second round: beat Tatjana Maria (Germany) 6-4 6-3
Third round: beat 26-Daria Kasatkina (Russia) 6-0 7-5
Fourth round: beat 21-Carla Suarez Navarro (Spain) 6-1 6-1
Quarter-finals: beat 5-Elina Svitolina (Ukraine) 3-6 7-6(6) 6-0
Semi-finals: beat 2-Karolina Pliskova (Czech Republic) 6-4 3-6 6-3
JELENA OSTAPENKO (record at French Open 2017)
First round: beat Louisa Chirico (U.S.) 4-6 6-3 6-2
Second round: beat Monica Puig (Puerto Rico) 6-3 6-2
Third round: beat Lesia Tsurenko (Ukraine) 6-1 6-4
Fourth round: beat 23-Samantha Stosur (Australia) 2-6 6-2 6-4
Quarter-finals: beat 11-Caroline Wozniacki (Denmark) 4-6 6-2 6-2
Semi-finals: beat 30-Timea Bacsinszky (Switzerland) 7-6(4) 3-6 6-3
Halep, the world number four going into the tournament, will rise to number one in WTA rankings on Monday if she wins today. She is aiming to land her first grand slam title after being beaten by Maria Sharapova in the 2014 Roland Garros final and if victorious will the first Romanian woman to win in Paris since Virginia Ruzici in 1978.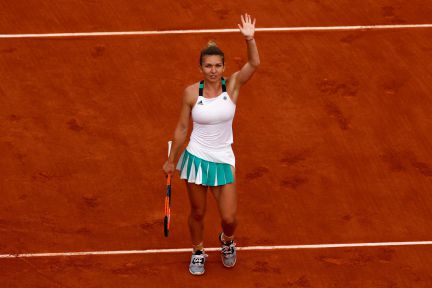 If she wins the final today, Ostapenko will become the first unseeded champions at Roland Garros since 1933, when Margaret Scriven won the title.
Pliskova saw the strength of third seed Halep in the semi-final. Here's what happened.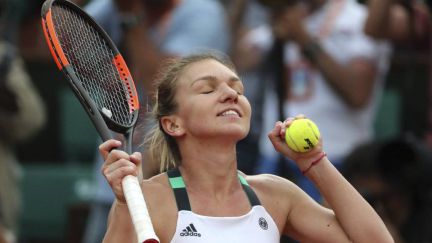 Just two days ago young Ostapenko was celebrating her birthday with a semi-final win. Now she's going for a first major title.
Good morning and welcome to our live build up and ball-by-ball coverage of the largely unexpected women's final between Simona Halep faces Jelena Ostapenko