Portugal 1-3 Spain: UEFA Under 21 Euro match report, Spain advance to semi-finals
Spain advance to the semi-finals of the Euro under-21s with a win over Portugal that adds fuel to the fire that they are unstoppable in the competitionPSG - Real Madrid: Champions League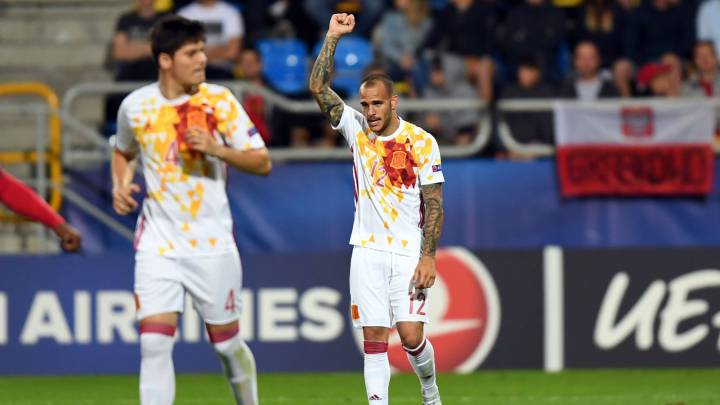 Portugal 1-3 Spain: match report
For many, this was the game of the group stages. A dynamic Portugal versus an excellent Spain side was the perfect solution to sift through the rubble in an effort to see who would contend and who might fall away as the tournament progresses.
Portugal, as it turns out, did not wilt but had nothing to respond with when Spain turned on the heat as they proved they are more than just an attacking juggernaut under Albert Celades. They picked off Portugal on the break and were capable of soaking up pressure without ever giving giving their opponents too much hope.
Spain took the lead when Saul Niguez danced by a couple of Portuguese players before driving a shot towards goal. It took a slight deflection and caught out Varela but the build-up alone was worthy of high praise. In another big game, Atletico's midfield maestro proved his credentials.
It was the perfect antidote to a relatively quiet start by the Spaniards and from that point, they always held Portugal at arm's length.
They continued to look both robust in defense while causing problems for Portugal on the counter with Hector Bellerin, in particular, showing off some close control and good, direct running to ensure Rui Jorge's side could never rest easy.
Spain doubled their lead when captain, Gerard Deulofeu, crossed to the front post only for Sandro Ramirez to turn it home with an inch-perfect strike that wrapped up a comprehensive performance by the Malaga man.
Portugal gave themselves a fighting chance on 77 minutes after a prolonged period of frustrated long shots and half chances. Bruma was the man to drag them back into it when the ball landed on his left foot only for him to direct a volley past Kepa. The Athletic Bilbao keeper could have grown a foot last night and he still wouldn't have reached it, as it looped perfectly over the arching keeper.
In an effort to protect their lead, Spain continued to sit deep and the introduction of Iñaki Williams meant if they could get him free even once, the game could be put soundly to sleep. That was the case when Ruben Semedo was on the wrong end of a gaffe and he gifted the ball to Williams with work to do.
The Athletic Bilbao attacker powered forward and stood Semedo up before driving a low and ultimately unstoppable shot into the far corner to end the game at 3-1 with time expiring.
Spain will continue to the semi-finals while Portugal will hope that they can beat Macedonia and earn a spot in the last four as the group stage's best runner-up.
Portugal U21 v Spain U21: live online build-up
90'+3' And with that, the referee blows the full-time whistle! Spain advance to the semi-finals with a 3-1 win.
90'+3' Mistake by Semedo. Iñaki pounces and beats Semedo to it. He drives it beyond Varela and that is the end of that.
90'+2'  Can Spain hang on? Portugal struggling to keep the ball. They might get just once more chance though. Semedo gets it and plays it to Rodrigues as Spain set up for one last stop.
89'  Bruma tries to attack down the left but he let the ball drift over the line. Throw to Spain. three minutes of added time.
88' Marco Asensio is replaced by Mikel Merino. 
84'  Asensio makes his way across the edge of the penalty area looking for a chance to shoot. It never arrives and he plays it to Suarez. The Barca midfielder tries to thread one through to Bellerin but it's too forceful. 
83'  Bellerin with some good passing as he makes it into Ceballos, who feed Asensio. The attacker drives just wide. So, so close to his fourht of the tournament.
81'  Joao Cancelo shots wide from a good position. He had options out wide and men in the penalty area. A chance goes a-begging.
79' Denis Suarez replaces Gerard Deulofeu.
79' Semedo booked now.
77' Goal of the tournament. Bruma hits it with his left foot and curls beyond Kepa. The keeper had no chance. What a finish! They have been knocking but were shooting from distance. It's not bad when you have shooting like that to rely on.
77'  Another corner as Saul headers a Bruma cross away.
76'  Horta has a crack from distance, which is what they've been reduced to all game, and it takes a nick of a Spain defender. Corner.
75' Sandro Ramirez is replaced by Iñaki Williams.
74' Paciencia booked.
73' Horta replaces Renato Sanches.
73'  Bruma breaks into the box but he runs out of options. Portugal keep it but in a les dangerous position and have plenty of Spain jerseys in front of them.
70'  Bruno Fernandes with a strike from distance. It fell lovely for him but he drags it wide.
69'  Bruno Fernandes booked for a nasty one on Asensio. Bit of afters in the aftermath too. Portugal frustrated.
65' Carvalho is replaced by Paciencia as Rui Jorge tries to shake things up. 
64' Deulofeu to Sandro and the Malaga striker finished perfectly at the near post! Absolutely lovely finish.
63'  Portugal have Spain pretty well pinned back here. Kepa with a kick-out that goes straight over the line. 
62'  Sanches takes down a kick-out and gets it to Fernandes but his ball forward goes straight to Kepa.
61'  Portugal continue to push. Neves to Guedes now but it all gets a little claustrophobic. Just after that, Sanches has a shot that goes wide.
60'  Sanches gets involved! He has a strike on the half-volley and Kepa saves. It was close to him but he needed concentration to stop it.
58'  A poor clearance by Vallejo is met by Bruno Fernandes on the volley. His technique with volleys is excellent. It flies over the bar but, again, he caught it lovely!
57'  Bruma's first contribution is a foul on Llorente. The Real Madrid midfielder grabs him his back. He's back up again though.
56' Podence is replaced by Bruma. 
55'  Varela boxes this one away.
55'  Deulofeu with a corner. Semedo heads away. Another corner.
54'  Free to Spain. Deulofeu eyes up Varela to see if it's wort a shot. Looks like he might. He does, but it can't beat Joao Cancelo.
53'  Jonny and Ceballos link up and Ceballos tries to give it back to him but overhits it.
51'  What a chance! Bellerin breaks free and has just Varela to beat but he tries to give it to Sandro. He is too tightly-marked and it lands to Asensio. He rifles a shot towards goal but Edgar clears it off off the line. Looks like it just hit him as opposed to him kicking it. It was coming at him at some serious speed. 
49'  Bellerin tries to break through Portugal's back line. He can't and Semedo clears to Sanches but his touch is poor. After another quick scare Portugal break and Podence gets inside and shots just wide. Another good chance for Portugal.
48'  Podence plays it to Bruno Fernandes and he rifles a shot low at Kepa. The keeper gets down and gets it away with his leg. Close! Best effort for Portugal so far.
48'  Ruben Neves with a ball into the box but Kepa gathers again.
47'  Portugal with an early corner. Cancalo wins it as Jonny keeps tabs on him.
46'  We are back underway for the second half!
Spain still winning the possession battle but Portugal have looked dangerous. That final effort is letting them down.
Half-time! Nice half of football.
45'+1'  Deulofeu fouls Podence. Bruno Fernandes crosses it in but it can't beat the first Spanish defender. It come sback in but Semedo can't do anything with it. 
43'  Podence tests Kepa again. His left-footed shot is saved easily by the Athletic Bilbao keeper.
42'  Portugal knocking on the door again. Cancelo has a shot, that was disguised as a cross. Kepa gets down and smothers it.
40'  Bruno Fernandes breaks free but has Jesus Vallejo to contend with. His shot is blocked by the Real Madrid defender.
39'  So close. Ceballos gives it to Asensio, who finds Sandro with precision. The former Barca attacker drives just inches wide with his right.
37'  Sandro has a crack after Delufeo gives it to him. He was miles out and at a tough angle but got plenty of power behind it. Over the bar. Spain definitely figuring Portugal out now and taking control of this one.
36'  Bellerin will be kicking himself. Put through on goal by Asensio and he hits it straight at Varela. The keeper did well to make himself big but Bellerin probably needed an striker's cool for that one.
35'  Neves lines one up from deep south! He mishits it and Ceballos is fouled by Carvalho. The Rela Betis midfielder is complaining about all the fouls and the referee has a word and explains himself. All good now as Spain get us back underway with a free.
34'  Spain starting to attack with a little more frequency now. Leaving them a little more exposed at the back but Podence gets it up front and can't get turned to shot. His cross is too deep then and drifts away to safety.
33'  A slightly impatient shot there fom Deulofeu. He tries to curl one over Varela from a difficult angle. Needed to be perfect and while it was good, it wasn't perfect.
32'  Guedes down the right now as he has changed out to that position. He drives a cross in but Kepa gathers as it is too close to him.
30'  Spain winning the possession battle but just barely. Very even game so far and aside form Saul's moment of magic, they are struggling. Portugal look far better going forward.
27'  Guedes goes down under pressure from Vallejo. The referee has a word with Guedes, and does not book him, but he tells him no penalty. Think it was all completely fair. Guedes wasn't really looking for a penalty and Vallejo was well within his rights to challenge for the ball.
24'  Llorente penalised for a foul on Podence as he breaks. Quick free to neves and he plays it to Guedes. The striker has a go but he still can't beat Kepa - even though he did fumble it.
21'  Reall neat ball over the top by Neves in search of Podence but Jonny headers it away for a corner. Spain struggle to deal with it properly before Jonny is fouled. spain get a breather.
20'  Portugal look to respond. Guedes gets it with his back to goal but he turns and strikes just wide of  Kepa's goal.
20' GOAL! Saul with what is becoming a trademark run. He goes around two Portuguese players and strikes with his left. It took a deflection off Edgar and loops over Varela.
17'  Deulofeu down the right and he crosses with a tame effort. Cleared by Portugal. Spain are struggling to ignite anything going forward. No clear plan either as to how they want to attack.
14'  Lethal ball in behind Spain's Jonny and Cancelo gets on the end of it. He whips a low-ish cross in and Kepa gathers.
14'  Sandro hits the ground after Semedo collides with him in search of the ball. The new Villarreal defender comes out with it but no free. Maybe a hand to the face, but nothing more and hardly look like he did it on purpose.
13'  Sanches tries to go down the line with Bellerin for company. The Arsenal defender fouls him and Portugal win the free.
12'  Sanches leaves it a little short for Rordigues, who has a race against Deulofeu. The defender slides in and puts it out. The Bayern Munich midfielder really left him in it that time!
11'  Podence has a crack from outside the box on his left. Kepa knew little about it and looked to have lost out but it strikes the upright, whizzes back across the goal and clear. Close call for Spain.
10'  Carvalho proving troublesome for Jonny. The Celta Vigo defender gets a foot in to clear and Portugl restart with a throw.
9'  Ceballos looks for Sandro with a through ball but he leaves him short. Edgar recovers.
9'  Kepa with a ball out to Bellerin. He headers it onto Deulofeu, who returns the favour. Bellerin continues down the flank and crosses low but Varela gets down and gathers.
7'  Carvalho again. Crosses this time but Kepa collects. 
6'  Joao Carvalho drives forward down thw endline and after a half clearence, it lands to Bruno Fernandoes on the edge of the penalty area. He has a go on the volley and while it was never going on target, he hit it with great technique.
5'  Bellerin sets Deulofeu free down the right but he is offside. Looked very, very close upon further inspection.
4' A foul too many. Neves booked for a foul on Ceballos. 
3'  Quite a fractured start to this one. Ball hasn't really seen much of the ground as it bounces around all over the field.
2'  Ceballos wins another free and launches a cross field pass to Bellerin but it's too much for him and he can't reach it.
2'  Ceballos fouled early on by Podence as he tries to break out from the back. 
1'  We are underway!
Bruno Fernandes and Gerard Deulofeu exchange handshakes and introduce themselves to referee's. Ready for action.
Spain first, no singing in that one!
Teams are on the field and ready for action. Some national anthem singing first though.
So many players in this Spanish side have older players to hide behind in big games for club. Not the case tonight as we are going to see just how good the mental side of their game is.
Saul Niguez won't be backing down in that battle either!
Sanches will be tasked with controlling the middle of the field for Portugal where a battle of some exciting talent will take place. 
Atletico Madrid's Diogo Jota also dropped tonight as Renato Sanches replaces him.
Spain arrive. Marco Asensio taking up all the coverage, and rightly so, after his hat-trick the last day out. Can he have the same influence tonight?
Portugal starting team in too! Varela, Cancelo, Edgar, Semedo, Neves, Podence, Fernandes, Rodrigues, Sanches, Guedes, Carvalho.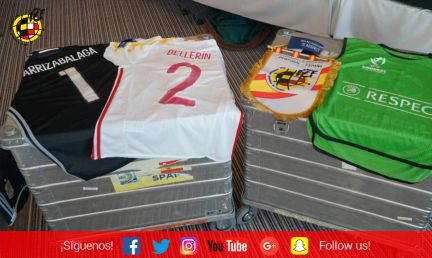 Spain team news: Kepa; Bellerín, Meré, Vallejo, Jonny; Llorente, Saúl, Ceballos; Deulofeu, Sandro, Asensio.
Portugal were unbeaten in qualifying for the tournament. There are many who believe that the winner of this game will win the tournament. Portugal got to the final in 2015 and lost on penalties to Sweden so they will be very keen to avenge that loss.
Spain will wear their white strip tonight as Portugal will get to wear their home colours.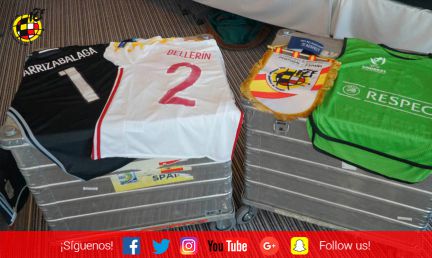 Albert Celades might sitch up his team tonight with Dani Ceballos ready to come in for Denis Suarez.
Portugal U21 star Renato Sanches failed to set the Bundesligs alight as Bayern are open to sale with Man United circling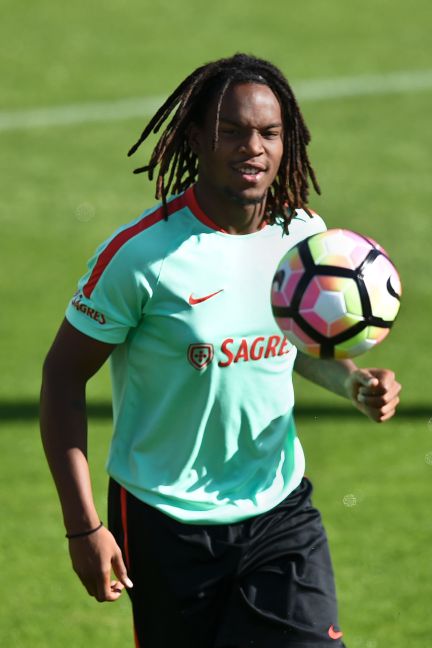 Here's how Spain gunned down Macedonia on Saturday putting five past the Balkans.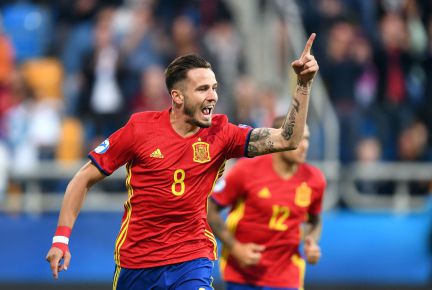 All eyes will be on this man tonight at the Gdynia Stadium....Marco Asensio...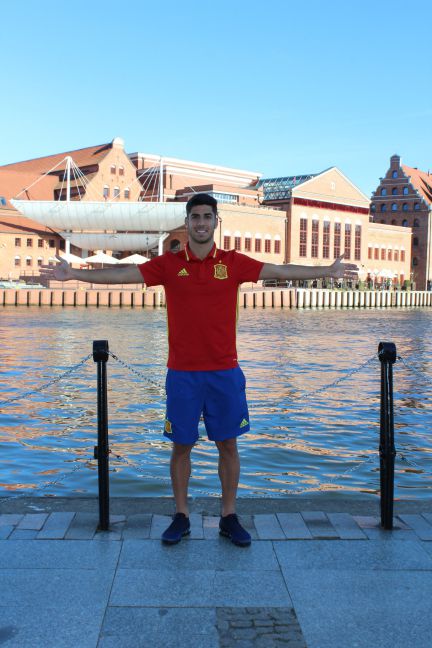 Portugal U21 v Spain U21 live: preview
Two of the stronger teams of the 2017 UEFA U21 Euro face off when Spain play Portugal to see who will finish as top dogs in Group B. Gdynia Stadium is the venue and the game kicks off at 20:45.
Portugal
While many stand in awe of Spain, Portugal are no slouches either. Within their ranks they have Villarreal new boy Bruno Semedo and Valencia's Joao Cancelo along with Renato Sanches in midfield with Bruno Fernandes. While Spain are strong all over, one of their stronger areas is midfield, which bodes well for Portugal as they will try to win that battle with their own superstars in the making and it has the possibility of becoming a very attritional affair in that sense.
They won their first game against Serbia comfortably on a 2-0 scoreline with goals from Goncalo Guedes and Bruno Fernandes, their captain, and while Renato Sanches wasn't his usual excellent self, it may have been cobwebs after a difficult year with Bayern Munich. If the real Renato Sanches shows up, Spain could have a problem on their hands.
Spain
The sky is the limit for this group of players given the talent in their ranks. After a comfortable 5-0 win over Macedonia that saw man of the moment, Marco Asensio, end with a hat-trick, the question has been asked 'Can anyone stop Spain?' They are strong all over the pitch with experience in LaLiga's biggest and best teams overflowing from the squad. They have Champions League winners and some of the hottest young defensive talent to come out of Spain in year including Jorge Mere and Jesus Vallejo, who could be the post-modern Sergio Ramos and Gerard Pique.
This will be the game of the group stages and while Spain's attack that consists of Asensio, Sandro Ramirez and Gerard Deulofeu is as good as you'll get, there are still one or two tweaks that could be made to further improve the side. Macedonia were brushed aside based on individual brilliance but Albert Celades might feel getting Dani Ceballos on from the start could make them even better.
Portugal U21 v Spain U21 live stream online: betting
Fancy a 1-0 win for the Portuguese with Ricardo Horta netting ? A handsome 61/1 price awaits if that materialises.