Audacious Cristiano bid as Shountrade cut across United and PSG
Limerick-based Shountrade AFC have penned a letter to the Portuguese star in a bold attempt for him to swap the Bernabéu for Kiltenan South,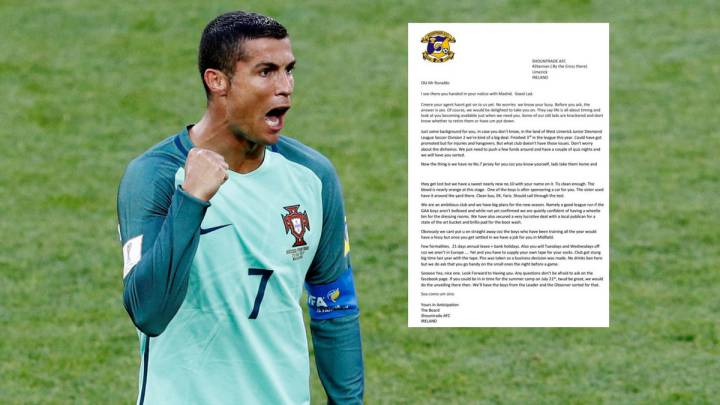 There is no end to speculation as to where Cristiano Ronaldo will play his football for the 2017/18 season with the most adventurous bid for the Madeira born star conning from the West of Ireland with the mighty Limerick based Shountrade AFC eager to secure the services of the Portuguese striker.
Letter to CR7
The club claim to be "ambitious and have great plans for the new season" and admit that last season promotion bid was hampered by "injuries and hangovers". The good humoured letter goes on to remind Cristiano that a move to Shountrade would ensure the Portuguese star has Tuesdays and Wednesdays off as the club are not involved in the Champions League. Another enticing lure comes in the form of the transportation the club propose to offer the Portuguese international with one of the player's sisters putting forward her 2004 Toyta Yaris which "should sail through it's road test".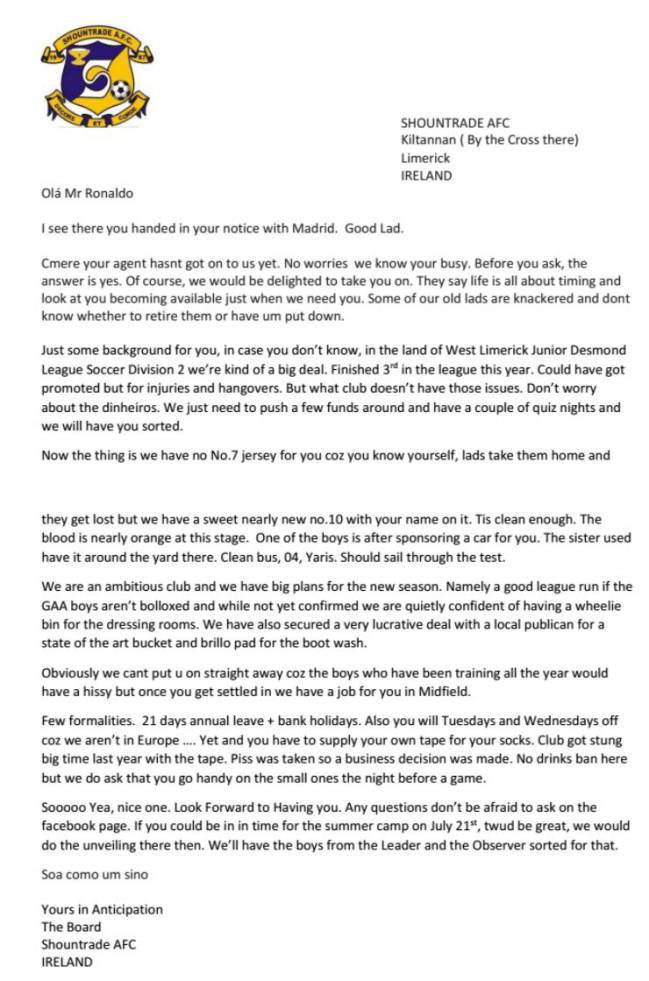 Sock tape snag
The one snag in the proposed move that may see the deal ultimately floundering is that CR7 will be forced to bring his own sock tape to Limerick after the club experienced financial turbulence last season with monies from the club's meagre funds being embezzled in that essential for all top players, sock tape.
Jorge Mendes has yet to respond to the latest offer for Cristiano and a Real Madrid club official declined to speculate on this latest bid for the No. 7 from Shountrade AFC.