Getafe 3-1 Tenerife LaLiga 123 play-off final: match report as Getafe promoted
A first half goalfest with Getafe coming out on top was enough to see the Madrid-based side return to the top flight one year after their relegationPSG - Real Madrid: Champions League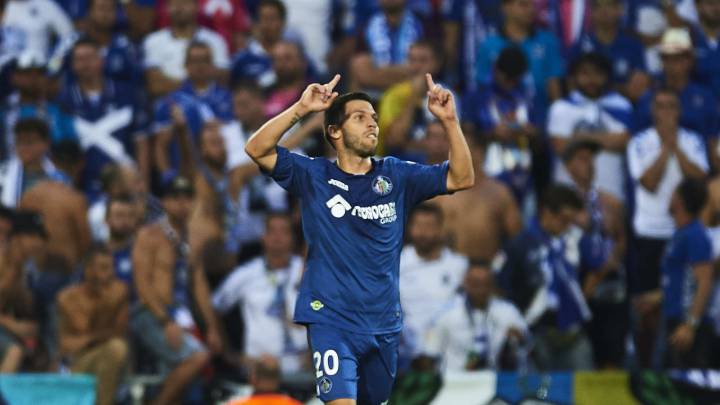 Getafe 3-1 Tenerife: match reports
Pepe Bordalás changed his attack as his Getafe in search of a goal as they trailed 1-0 from the first leg against a Tenerife side who dine out on counter-attacking football. What we were treated to was a goalfest of epic proportions that ended with the Coliseum Alfonso Perez erupting as Getafe go back up to the top flight at the first time of asking.
A frenzied first 45 ensued that seemed like every chance created resulted in a goal. The first real chance for Getafe fell to Alejandro Faurlin and he vollied home with his trusty left foot to give the home side the lead.
The Madrid side couldn't believe it themselves when they went 2-0 up after 13 minutes when Dani Pacheco struck just inside the penalty area where he found himself unmarked with an opening in the goal that he slotted the ball into with precision.
Tenerife were struggling massively on the defensive side of the ball but still had that spark that carried them this far when they attacked. A Gaku Shibasaki cross was met at the front post by Tony Lozano and he slid home to push Tenerife ahead on away goals in the tie, which meant they were making the jump to LaLiga at that point.
But Dani Pacheco, who missed the first leg due to suspension, was not to be denied as he struck after 37 minutes to turn the game on its head yet again. Jorge Molina saw his shot saved first time but Pacheco arrived late and sent a shot crashing to the back of the net to leave Tenerife scratching their heads yet again.
The second half didn't have as many goals, or as many chances, but the tension and consequences of every pass increased. Getafe refused to back off until the bitter end with the finish line in sight while Tenerife were called for offside on a number of occasions as their eagerness got the better of them. With a little bit more awareness, they might have sprung the trap and created more.
In the end, with Getafe running down the clock in the hope of subduing their opponents and Tenerife trying desperately to get that goal, it was Getafe who would prevail in the game and on aggregate as they will play in LaLiga next season.
Tenerife will have to go back to the drawing board in an effort to mastermind their return to the top flight for the first time since 2009. For Getafe, however, they will hope their second ever trip to the top will be as long and longer again than their first. That stint started in 2004 and ended last season after 12 seasons. They have a busy and exciting summer ahead of them as they find themselves amongst the big dogs yet again.
Getafe v Tenerife: live stream online
90'+5' GAME OVER! Getafe are back in LaLiga.
90'+5'  Getafe won't be in any hurry to take this one.
90'+5' Surely game over. Molina is fouled and Camille gets booked.
90'+5'  The tension is very real!
90'+5'  Alvaro has a chance to put this one to bed. he misses though. Tenerife move forward and Guaita grabs a ball over the top that Amath was closing down.
90'+3'  Guaita comes out and clears with a big boot. Lucky he got to that first because Amath was in if he missed.
90'+3'  5 minutes of added time.
91' Booking for Saenz. He's not happy with the time wasting, as he sees it, by Guaita in Getafe's goal. 
90'  Amath again. He is closed down by Guaita. The ball falls to Tayron and he fires over off balance.
90' Peña booked for taking too long over a free as soon as he comes on.
90'  Pacheco comes off to a rousing round of applause. He is replaced by Peña. 
86'  So close! A couple of times. Tayron with a shot out just to the left of goal. Guaita puts it into the path of Amath and he strikes once, gets it blocked, and then strikes again with a chilena. That goes wide. 
85'  Getting a little bit desperate from Getafe now but that's to be expected. Not looking where they hit it anymore as any clearance is a good clearance.
82'  Getafe remain resolute in defense. Gorosito has stepped in for Cala admirably.
79'  Tenerife want a penalty! They might have a point too. From a corner, German Sanchez has his jersey pulled while he is jumping for the ball. It impedes him and they shout for it but the refere, who is well positioned, say no! Well, he didn't actually say anything, he just kept going on with his business.
78'  Amath and Lozano looking for a chance in behind. Cata Diaz clears but if Amath got a touch on that he was away.
77' Mora is replaced by Lacen.
75'  Tayron pulled up for offside but replays show he wasn't. Gorosito has a clip at his ankle at the end of the play for good measure.
74'  Mora down now and is making his way off the field. He walks off under his own weight but it's unclear as to whether he will return or not.
72'  Lovely ball over the top and Amath takes the acrobatic approach. He connects lovely with a scissors kick but it's always going wide.
71'  Molina makes a surging run into the box. He turns one man and pokes a shot just wide. The 35-year-old still has it!
70' Alvaro replaces Chuli indeed.
70'  Alvaro Jimenez is going to replace Chuli, it looks like.
Quite a long stoppage now as Chuli is treated again.
67' Mora booked now for a fairly reckless challenge on the sideline on Camille. 
66'  Mistake from Cata Diaz and he lets Amath in but he squares to Lozano instead of shooting and it dribbles wide. His position was quite wide but he could have done better with that.
64'  Lozano fouls Pacheco now as the game gets a little bit unruly. Lots of stoppages. Getafe the ones killing most of the time, not surprisingly.
63'  Aaron fires over. Chuli down and needs treatment.
62' Captain Suso replaced by Tayron.
62'  Pacheco has a shot from the free but it drifts wide.
60'  Vitolo next to fall foul of the ref. Molina turns him and falls in a heap. No yellow but a free in a dangerous position for the home team. All Getafe now in the last five.
60' Suso booked now for sayng something to the ref. Looks like he was obstructed but nothing doing. He took it up with the ref and got himself a yellow.
59'  Molina with another chance. He's offside though along with two of his teammates. 
58'  Faurlin gets the ball from Molina and he hits it with his right but Hernandez saves with a strong right hand. Corner to Getafe.
57'  Aaron Niguez with some slick moves to break free in the box. His shot is eventually blocked though.
56'  Amath does battle with Cata Diaz and wins a corner for himself.
55'  Dangerous ball in and Molina nearly gets something on it but Hernandez saves. 
54'  Jorge Molina goes down under a challenge from German Sanchez. Looked nasty but very little in it.
52' Shibasaki replaced by Aaron Niguez. 
51'  Chuli threads a through ball to Portillo but too much sauce on it.
50'  Amath can't temper his speed yet again and gets caught offside. Just slightly but still another attack breaks down.
48' Yellow card for someone on the bench. Perdomo is the man booked for saying something the referee didn't like.
47'  Tenerife far more proactive to start the half. Putting pressure on Getafe as they try to come out and looking more dangerous with the forward passing.
46'  Game back on in Getafe.
Two teams re-emerge for the second half.
The only problem with that half is that both coaches set up their teams to play like that as Getafe needed a goal. I would assume we will see a far more conservative approach from the home side in this half. Tenerife the opposite.
Half-time. give us all of that you've got! Getafe 3-1 Tenerife. We will have the Madrid side back in Laliga if it stays this way.
45'+1'  Gorosito meets it with his head but can't get it on target.
45'+1'  Camille puts the ball out for a corner as Getafe look for another chance before half-time.
44'  Tenerife likely pleading for the half-time whistle now. Getafe can't be stopped. Winning every second ball and generally looking very dangerous every time they go forward.
42'  Tenerife really struggling. Faurlin's left-footed strike is parried by Hernandez and Getafe follow that up with another strike that the keeper saves easily this time. Getafe are fired up for this one.
41'  Camille downs Chuli as their little personal battle continues! It looked a lot worse than it was. Getafe players over to help their fallen comrade. He survives, you'll be glad to hear.
40'  The Coliseum Alfonso Perez is buzzing. Getafe have LaLiga in their sights!
Tenerife's defending leaving a lot to be desired. 
This is incredible stuff.
37' GOAL! Pacheco strikes. Molina has the first chance and Hernandez saves but Pacheco with the follow-up and he makes absolutely no mistake.
35'  Amath breaks free again but Getafe do well to get bodies between him and the goal. He thinks about shooting not once but twice and decides against it completely in the end. Tenerife lose out. 
33'  Amath in a race with Cata Diaz and there's only one winner in that. Amath makes it first but Cata Diaz uses his experience to win it back and Getafe break.
31'  Amath gets a little too excited too as he is caught offside.
30'  Pacheco sets Molina free and he hits the ground but Saenz just defending. He put an arm across the striker's chest but nothing more in that. 
28'  Offside for Getafe in a pomising position. They argue with the referee but realise how rare it is for a referee to change his mind and give up. 
26'  Chuli has a shot from outside the box. Hernandez saves and gets it away but not sure that he needed to dive. He might have been able to gather that one as there wasn't much pace on it. He wants his defenders to close down Chuli with a little more urgency. The resulting corner comes to nothing.
25'  Chuli gets it on the right and gets tangled up with Camille. Home fans want a free but refeee not interested.
24'  That's not going to cut it. Damian trying to build from the right. Faurlin heads a ball forward but too much on it and Hernandez takes it at his feet and calms things down.
22'  Suso down after catching an elbow to the head as he jumped for the ball with Faurlin.
19'  What a start. The game had the characteristics of a lively one from the start but three goals in 17 minutes exceeds all expectations.
16' GOAL! What a game. Lozano finished at the front post as a low cross comes in.
15'  Tenerife doing their best now to control some aspect of the game. They're shell-shocked. Problem is that Getafe can sit back.
13' GOAL! Pacheco strikes to give Getafe the lead in the tie. What a lovely strike that was. The ball came to him at the edge of the square and he struck back across his body. 
11'  Lozano double-teamed as he falls to the ground. Free. Chance for Tenerife to attack. They're a little under the cosh. 
We will see how Getafe respond to this. They would have had a tactic looking for that goal. They might not have expected to get it so soon! Keep attacking is what the neutral would say! 
10' It doesn't matter! Alejandro Faurlin scores from the corner. He hits the rebound after Molina heads it down, on the volley with his left.
9'  Camille takes Molina down. Penalty! It has to be but the referee leaves his whistle by his side.
7'  Excellent move by Getafe. Portillo takes it forward, lays it off to Pacheco and he passes to Chuli but the attacker drives it just over the bar. 
5'  Chuli taken down now. This is rough and ready for a start! Referee leaving the whistle by his side for now. A tackle before than by Saez with Molina going down in a heap.
4'  Molina clears.
4'  Suso turned upside down by Molinero and the free is given out on the right hand side. Chance for Tenerife to whip on into the mixer. Shibasaki polished his right foot last night so this could be dangerous! 
3'  Offside on Cata Diaz from a Getafe free. He heads it towards Molina but the flag goes up. Some decent chances so far.
2'  Amath in behind again but he's offside.
1'  Very, very early chance for Tenerife. Amath uses his speed to put pressure on Guaita and Getafe get it away for a corner. Guaita punches the subsequent corner away.
1'  We are underway! 
Tenerife in their stylpush pink kit! Getafe revert back to their blue strip.
Cata Diaz and Suso greet each other for the coin toss.
Pepe Bordalás speaking with his players individually before the game in the dressing room.
Getafe spent 12 years in the top flight upon their first promotion in 2003-04. They welcomed that same team onto the field today before the game.
That looks like a far more potent attacking line than Getafe's the last day out. Alvaro, who struggled is replaced by Chuli, who played well despite coming on late last day. Pacheco, who was suspended for the last game also improved the attack.
Gorosito replaces Cala, Mora replaces Lacen, Pacheco replaces Fuster and Chuli replaces Alvaro.
Getafe team news in too:  Guaita, Damian, Gorosito, Cata Diaz, Molinero, Faurlin, Mora, Portillo, Pacheco, Chul, Molina.
Exact same XI that started the last day. 
Tenerife XI: Hernandez, Camara, saenz, Sanchez, Camille, Vitolo, Sanz, Suso, Shibasaki, Amath, Lozano.
Still awaiting team news. There were a number of injuries in the first leg. Cala seemed to tear his hamstring for Getafe. Suso also looked uncomfortable as he was replaced in the second half.
Not as warm as it has been in Madrid but still in the high 20s.
Tenerife boss Martí is confident: "If they [the players] play at the level they can, they will achieve the objective".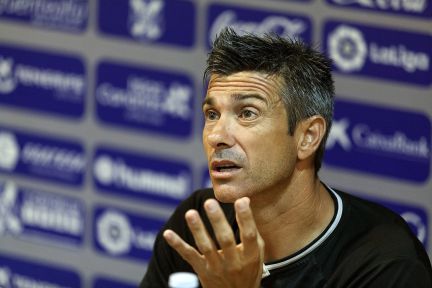 Getafe manager José Bordalás admitted the size of the task his team face, but remains positive: "We are up against a great team and it will be difficult, but we're mentally prepared and we'll have the support of our fans, who are going to fill the stadium."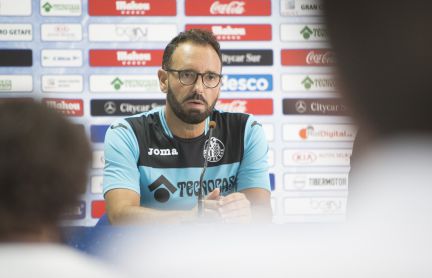 Eduardo Prieto Iglesias, from Pamplona, will referee Getafe v Tenerife this evening. He is 36 years old, and returned to the second division in 2016 after three seasons in the top flight. 
1500 fans will make the journey from Tenerife for tonight's game. Given the extortionate ticket prices, that's fine backing. 
The complexion of the match may play in to the hands of Tenerife. The islanders boast scintillating pace in attack, in the form of Amath, Suso (if fit), and Lozano. As Getafe push forward in search of the comeback they need, there will be space for Tenerife to exploit on the counter attack. 
Good afternoon from Madrid as we build up to the play-off final between Getafe and Tenerife. If you need to remind yourself of how the first leg panned out, here's our match report from Wednesday night's action.
Getafe v Tenerife: live stream online preview
Tenerife travel to the Coliseum Alfonso Pérez with a slender advantage from the first leg of the play-off final. A headed goal from Jorge Saenz was the difference on Wednesday evening on the Canary Islands. Tonight, the stakes are high. The two teams will battle for the final place in the Primera.
Whoever emerges victorious will have little time to prepare for the upcoming season in the top flight. Many clubs are nearing a return to pre-season, yet Getafe and Tenerife do not yet know which division they will form part of. It is little surprise that two of the last three clubs to gain promotion via the play-offs (Osasuna and Córdoba), were relegated straightaway. Las Palmas bucked the recent trend in managing to consolidate their top-division status.
As a reminder, if Getafe win 1-0, they will be promoted by virtue of having finished in 3rd place, one place higher than Tenerife. The match would not be decided by penalties, but by league position in the regular season.
Getafe
Getafe recovered from the wobble in the first leg of the semi-final against Huesca to march on to the final. The team from the outskirts of Madrid have responded well to relegation from LaLiga at the end of the 2016/16, quickly cultivating the winning mentality that is often so hard to regain following a drop down the divisions.
Veteran striker Jorge Molina was decisive in the semi-final, netting twice in the first leg. Getafe will need his nous in front of goal. Former Liverpool man Dani Pacheco will return from a one-match ban to bolster El Geta's attack.
Yet José Bordalás may have some injury concerns to contend with. Cala and Francisco Molinero both limped off during the first leg at Tenerife, the former with a hamstring injury that will rule him out this evening.
Ángel Torres, the Getafe president, has generated controversy by charging travelling Tenerife fans an eye-watering €80 for tickets. Interestingly, he maintained that "for us it is not expensive", while talking on Spanish radio programme El Larguero. Torres' pricing structure leaves a particularly bad taste given that, in the semi-final, Cádiz and Tenerife reached a reciprocal agreement to cap tickets for travelling fans at €15.
Tenerife
The last time Tenerife won promotion to the top flight of Spanish football in 2008/09, they finished third behind Xerez and Zaragoza, before the introduction of the play-off system. They finished the following season 19th, and then 20th the year after to plummet to Segunda B. They have had mixed fortunes in the Segunda in the four years since their return, but are now on the cusp of another stint at the summit of Spanish football.
The islanders boast one of the most potent attacks in the second flight. Young Senegalese forward Amath, on loan from Atlético Madrid, has been the spearhead, scoring 13 times.
Gaku Shibasaki runs the show in midfield. The Japanese international is on loan from Kashima Antlers, for whom Shibasaki scored two goals in the Club World Cup final against Real Madrid.
José Luis Martí may be without captain Suso, who limped off during the first leg with a grimace on his face.
Getafe v Tenerife: live stream online betting and odds
Getafe are at 5-1 to secure the 1-0 win that would see them promoted as a result of finishing above Tenerife during the regular season.