Saúl is Barcelona's plan B if Verratti falls through
Barça have been following the Atlético Madrid man for two seasons and Robert is going to the Euro Under-21s semi-final to see himBarcelona vs Atlético: UEFA Youth League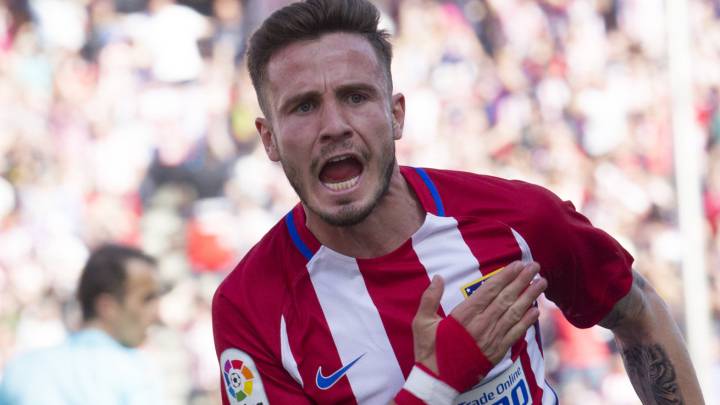 Barcelona are keen to sign Saúl Ñíguez if in the end they can't land Marco Verratti from París Saint Germain. Bosses at the Camp Nou are well aware of the difficulty posed by the deal, with Atleti unable to sign players this summer due to the FIFA transfer ban, but they feel the midfielder has the idea profile to reinforce their side in the middle of the park, and so are reactivating the interest they've had in the player for the past two years.
Saúl would fit perfectly into Valverde's Barcelona philosophy
Saúl would fit perfectly into the football philosophy Ernesto Valverde wants to bring to the team, with no need to stick solely to the habitual 4-3-3. The Barcelona sporting team have been watching the Atlético Madrid player at games for a fair while now, including nearly all his games last season (33 games in LaLiga, 12 in the Champions League and eight in the Copa del Rey). The conclusion is that his acquisition would follow the club's idea of rejuvenating the squad (on 14 November he'll turn 23), adding to their moves last season for Digne, Umtiti, Alcácer, André Gomes and Denis Suárez.
Barcelona's technical secretary watching Saúl
Barça now are sending their technical, Robert, to the Euro Under-21 semi-final to watch Saúl, with the Atlético Madrid man being one of the outstanding players at the tournament.
Barcelona also had the chance to get first hand information on their possibility of landing the player, with agent Jorge Mendes in the Catalan capital this week. The player's buy-out clause is 80 million euros.
Saúl's skills tempting Barça
Barcelona are highly impressed by the player's wide range of footballing resources. He's utterly comfortable on the ball and has a sensational touch; he's a tireless runner across the midfield, dangerous coming into the box from deep and versatile enough to be able to drop back into a more defensive role, or even right into the defence, as he did in 2013-14 when on loan to Rayo Vallecano. It's not hard to see why Barcelona think he'd be a star straight away at the Camp Nou.