RFEF | Operation SOULE
Spanish FA chief Villar arrested in anti-corruption operation
Angel Maria Villar, his son, Gorka, and two others have been arrested as part of an investigation into corruption in football. This comes two days before the RFEF assembly.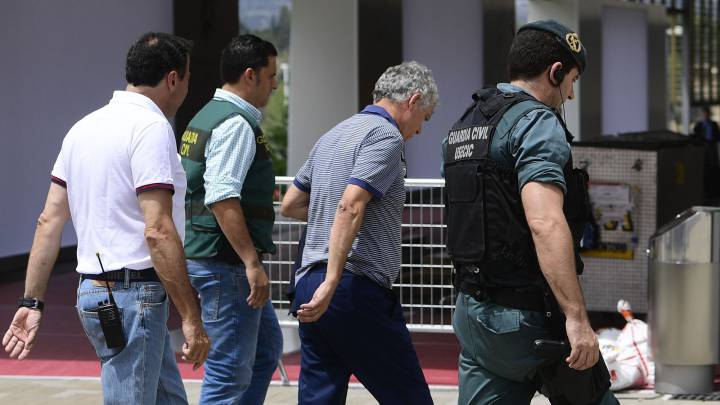 Live streaming video from Las Rozas
Ángel María Villar and his son Gorka, among others, were arrested on Tuesday morning by Spanish national police in an operation investigating several alleged corruption offenses during Villar senior's time as president of the Spanish Football Federation (RFEF). He has held this position for 29 years and was re-elected less than two months ago.
Alleged misuse of federation finances
The operation, known as Operación Soule and which is being overseen by High Court Judge Santiago Pedraz, is focused on the president's alleged misuse of the federation's finances to support his re-election to the role by paying off regional federation heads. His current tenure is his eighth consecutive term, The raid has come just two days ahead of the federation's general assembly where the fixtures for the upcoming LaLiga season were to be announced.
---
General Assembly postponed; LaLiga draw set to go ahead
The RFEF has announced that its General Assembly, originally scheduled for Thursday, has been postponed. However, the draw for the 2017/18 Primera, Segunda and Segunda B fixture lists - which had been due to take place at the Assembly - is set to go ahead, either on Thursday or Friday.
---
The agents involved in the raid were looking for evidence of financial management by both father and son. Possible crimes under investigation include corruption, embezzlement, improper management and possible asset stripping. Various companies of the latter are also being investigated. Following previous allegations of wrongdoing, Gorka Villar - a former member of Fifa's Reform Panel - stepped down in the summer of 2016 as director general of CONMEBOL.
Reaction to Villar arrest
Iñigo Méndez, Spanish Minister for Education, Culture and Sport, has been the first politician to react to the news of the FA president's detainment: "the laws are to be obeyed, the laws apply to everyone".
Juan Gaspart, ex-Barça president, has defended the honour of the arrested Villar: "Villar is my friend and I hope that there's nothing in this"
José Ramón Lete, Secretary of State for Sport: "It's not good for the image of Spain".
President of LaLiga, Javier Tebas didn't want to get into a discussion on the matter but did offer this about the man he described as a feudal baron: "I'll not say anything. I have spent 10 years saying what I thought, you only have to open the newspaper archives."
Detained as part of Operation Soule
As well as Villar and son, others arrested in the operation that we know about are Ramón Hernández Baussou, secretary of the Tenerife Federation, and Juan Padrón, Finance Vice President at the RFEF, member of Uefa's Finance Commission and generally seen as Villar's right-hand man in the RFEF.
More to follow as we get it...