Juventus-Barcelona International Champions Cup (ICC) 2017: Goals, action, match report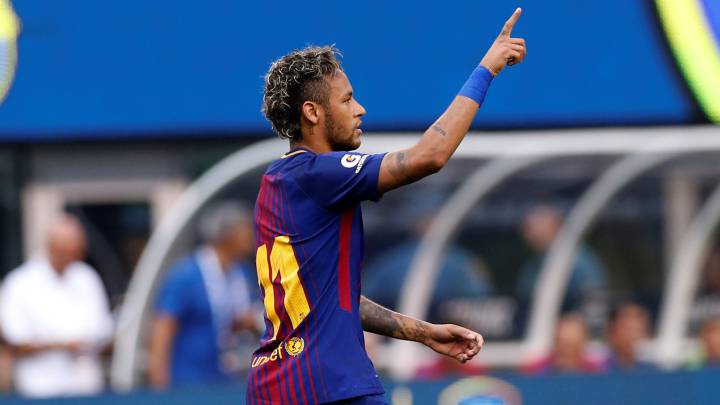 Juventus 1-2 Barcelona: report
Barcelona and Juventus kicked off their preseason in New York on Saturday. In a game that was meant to be filled with tension over Neymar's future, he lit the MetLife up in the first half with two goals and a wonderful performance that had Juventus frustrated and Barcelona delighted in equal measure.
The game was only 15 minutes old when he had his first after good work involving Messi and Digne but it was all Neymar, really, as he drove past Buffon to give Valverde his first lead as a Barcelona coach.
Just 11 minutes later, Neymar topped his first goal when he skipped past no less than four Juventus defenders and drove another shot, to the other corner this time, beyond Buffon as he doubled Barcelona's lead and showed Barca's directors what they could be missing should he leave the club this summer.
He was turning on the style and Juve were not keen on being on the recieving end of a Neymar masterclass as they continued to pull him down any time he touched the ball, and even sometimes when he didn't. As half-time arrived, Barcelona were well in control of an opening 45 that saw them work extremely hard as they pressed Juventus relentlessly.
Both managers made numerous changes to their teams to start the second half but it wasn't until the 60th minutes when Cuadrado, Higuain, Sandro, Costa and Dybala were sprung from the bench that they had a fighting chance.
Just three minutes after the change, Juventus had a breakthough. It came after Dybala won a corner after he forced Ortola into a wonderful save. Chiellini drove a header home from the corner and Juve had life in them yet.
It was as close as they would come to troubling Barcelona's lead, however, as Luis Suarez and Arda Turan teamed up on numerous occasions but failed to beat Szczesny in his debut for the Serie A champions. The game served as a good run-out for both teams as we will see massive improvement over the next couple of games as their preseasons kick into gear starting Saturday night in New York.
Juventus vs Barcelona live stream online: latest news
90'  Game over in MetLife as Barcelona beat Juventus thanks to two Neymar goals in the first half. 
90'  Over!
90'  No Messi or Neymar for this one. Luis Suarez wants to take it. 
88'  suarez fouled by Chiellini. 
88'  Sergi Roberto takes the ball from Luis Suarez and cuts inside to shoot on his left but he strikes it poorly and well wide. 
87'  Denis Suarez corner is boxed away by Szczesny. 
86'  Denis Suarez on the counter but his pass to Arda is overhit. He knows it himself. 
83'  What a move, almost. Suarez plays a lovely ball into Arda but he can't finish. Just moments later and the reverse happens but Suarez, who comes closer, can't finish either.
82'  Quite the crowd at MetLife stadium. 82,104 there tonight in New York.
80'  Alena somehow manages to wriggle his way into a shooting position. His pot shot goes just wide of Szczesny's post.
78'  Arda squares to Suarez but he doesn't think the ball is going to make it to him and he hesitates. He has a tame shot that Szczesny saves to his right.
76'  Juve seem to be getting closer. Douglas Costa with a cross into the box and Higuain curls just over. Nice move by the Serie A side.
72'  That looked, based on Suarez' reaction, to be a lot worse than it was. He's back up again and fine. 
71'  Luis Suarez goes down in an absolute heap. 
70'  Cuadrado has it out on the right. Higuain wants it but the Colombian decides against it. He gets turned around and the ball eventually comes into Higuain but he is complaining that the chance was earlier. He might be right but Juve win a corner that comes to nothing. 
67'  Jordi Alva breaks free down the left. He pulls it back to Denis Suarez but he drives over the bar. Good chance that he needs to get on target.
64'  Suarez looking for a goal but De Sciglio does enough and puts him off. 
63' From the corner, Chiellini risest highest and slams a header home. 2-1. 
62'  Ortola with a really good save from Dybala. Juventus were always going to improve with the reinforcements they brought on. 
61'  Busquets gets a pass out to Denis Suarez as he cuts inside and tries a shot but it's blocked. Some half-hearted calls for a penalty for hand ball but never doing.
60'  Cuadrado, Dybala, Costa, Sandro and Higuain come on for Juventus.
57'  Umtiti down as he catches an elbow, it seems, from Mandzukic. Het gets some treatment and is right as rain after.
55'  Really poor from Juve. Ball comes across the box and they fail to deal with it. Suarez wins it back and his pass to Arda has too much pace on it. The Turkish attacker can't get a foot to the ball. Very close to three.
53'  Bentacur gets a ball across the box and Pjanic is waiting for it. Slightly over zealous as his volley goes well over the bar. 
Here is Juventus' team for the second half. Szczesny, De Sciglio, Chiellini, Benatia, Asamoah, Sturaro, Bentancur, Lemina, Rincon, Pjanic, Mandzukic
51'  Busquets pulls back Pjanic quite cynically. 
50'  First meaningful attack for Barcelona as Luis suarez breaks free. He tries to look for a teammate inside but his shot is blocked. Corner Barcelona. 
49'  Second half has started the same way the first half went. Barcelona in possession and Juve sitting deep.
46'  Back underway for the second half. 
Also: Rakitic, Iniesta, Messi, Neymar, Alcácer all off too.Aleñá, S. Roberto, Arda, Denis, Suárez on.
Changes for Barcelona: Cillessen, Piqué, Mascherano, Digne, Aleix Vidal, Samper all off.Ortolá, Marlon, Umtiti, Jordi Alba, N. Semedo, Busquets all on. 
Will Valverde make any changes at the half? Allegri surely needs to change things up. The players on the field are rusty and unfit. They are really struggling to keep up with their opponents so far.
Plenty of praise for Barcleona and their intensity. Valverde getting through to them early! 
45'  Fitting way to end the half with Neymar being fouled. 
43' Neymar fouled again and this time Marchisio stands over him and has a word with him. Neymar does not like what was said to him and jumps up to respond. Yellow for Marchisio.
42'  Neymar looking for a hat-trick. Messi drops a little chipped pass over the top to him and he is one-on-one with Buffon but from a tight angle. He tries to put it beyond the Italian but is foiled.
40'  If Neymar continues to get this kind of treatment, it might be best for Valverde to sub him at half-time or he won't be available for the start of the season. 
38'  As good as Barcelona have been, Juve look to be lost at sea.
36'  Neymar gets the ball in the centre of the pitch just outside the box. He plays it to Messi but gets minced just after it byt four Juve defender.
34'  Digne nearly finds Alcacer with a pass across the box. 
33'  Bentacur makes a run down the left but a mixture of Messi and Piqué box him out and he runs it out over the endline.
30'  Neymar and Barcelona looking for more. Juve manage to withstand their attack this time.
26'  Good lord, this man is good! Neymar with his second. He beats four Juventus players and fires beyond a helpless Buffon again.
25'  Vidal makes his way into the box again. He is under pressure this time and falls to the ground. No penalty though as he realises himself it was a bit fanciful to expect one and he picks himself back up off the ground.
22'  Lichtsteiner with a tempting cross into the box. Bentacur gets a head to it but a Barcelona defender clips it too and it goes out for another corner.
20'  Corner Juventus!
19'  Neymar growing more confident. Has a shot with his left from outside the box. He's blocked this time though.
18'  Neymar unmoved by the rumours linking him with a move away from Barcelona. He has been the best player on the field.
15' Really nice finish! Messi plays it to Neymar and he plays it to Alcacer before he returns the favour. Neymar drives a shot with his right beyond Buffon. No chance for the keeper.
14'  Straight up the other end and Sturaro finds Mandzukic at the back post but he heads wide. 
13'  What a chance for Barcelona. Aleix Vidal takes down a cross-field pass, steps inside the penalty area with a nutmeg to boot. He strikes but Buffon saves and Juventus clear.
11'  Iniesta looks for Digne, who has made a run down the left, but he puts too much on it. 
10'  Neymar getting some rought treatment early on. He is fouled but Barcelona play on. Ball in high lands to Messi and he strikes it but it's blocked and cleared.
9'  That one was made for a right footer but Messi looking to get his eye in and tries it with the left foot. Wide of Buffon's post.
8'  Marchisio trips up Neymar now as Barcelona win another free in a dangerous area.
7'  That ball over the top catchs Digne off gaurd again. Chested down by Sturaro and into the path of the French defender as he recovers.
6'  Barcelona looking sharp given it's their first game this summer but still lacking that final pass. Good start by them. 
6'  Ball over the top catches Digne off guard. He recovers and concedes a corner.
5'  Barcelona putting Juventus under all sorts of pressure as they try to play it out from the back.
3'  Messi runs straight through the heart of Juventus. Sturaro tries to foul him but fails. He doesn't fail at the second time of asking though. Free at the edge of the square. 
2'  Another chance as Messi has it in the box. He looks for Neymar but it's blocked and cleared by Juventus. Hectic start!
1'  Early chance. rakitic puts Neymar in on goal but he can't break free enough to shoot. Instead he cuts back and fires a pass to Messi but it's too far ahead of the Argentine.
Underway at MetLife Stadium in New York! 1'  
Legend!

Although the replies on social media to the training kit is good! Maybe, I just have a terrible eye for design.
Thoughts on Barcelona's warm-up kit? Nice sentiment but the design isn't great, it has to be said. 

Big chance for Sergi Samper replacing Sergio Busquets today as the last man in midfield with Ivan Rakitic and Andres Iniesta ahead of him. Another player, Iniesta, who will be keen to get up to speed after struggling through last season with injury. His contract is out in 2018 and there seems to be an impasse between club and player. 
Despite speculation swirling around Barcelona that Neymar is off, he starts tonight for Ernesto Valverde's first game in charge of the club.
Juventus team news: Buffon; Lichtsteiner, Benatia, Barzagli, Asamoah; Khedira, Marchisio; Sturaro, Lemina, Bentancur; Mandzukic.
Barcelona team news: Cillessen, Digne, Pique, Mascherano, Aleix Vidal, Iniesta, Rakitic, Samper, Messi, Neymar, Alcacer.
Neymar is set to play against Juventus at some point. 
It will be fun to turn into a body language specialist tonight for the game to read Neymar's mood. There will likely be plenty of analysis of that after the game. Also very interested to see how Valverde deploys his team. 
MetLife Stadium a sell-out tonight too, in case you were wondering what kind of crowd we are expecting!
will we be seeing Neymar's silky skills tonight?

A game of firsts is how Barcelona are selling this one.New manager Ernesto Valverde's first game as head coachBarça's first game wearing the new shirt sponsored by RakutenBarça's first game in the New York area since the Club opened its Park Avenue office last SeptemberBarça's first match at MetLife Stadium (their previous New York visits were to Giants Stadium)
It might be a little awkward for Dybala, who has been targeted as a Neymar replacement. That is assuming he reads transfer rumours...
Anyone reading this will know about the strong speculation connected with Barça star Neymar heading to the French capital this summer (if not, you've more than likely clicked on the wrong link!) but one news source was claiming today that his teammates may have changed his mind. Peer pressure's a b...eautiful thing! Obviously we'll just keep waiting till the decision is confirmed one way or t'other.

There's certainly an American feel about everything around this game...well, apart from it being the Italian league champions versus the Spanish cup winners!
The build-up to today's friendly is dominated by one man: Neymar. The latest news in the saga is that Neymar has met with Barcelona President Josep María Bartomeu to inform him of his intention to leave the club. According to reports in the French media, Neymar has already told his Barça team-mates that he is leaving for Paris Saint-Germain. 

Hello and a very warm welcome to the AS English coverage of Juventus v Barcelona. 
Juventus vs Barcelona live stream online: match preview
Juve and Barça kick off their pre-season fixtures with an ICC clash that is their first meeting since a one-sided Champions League quarter-final in April.
That tie saw Neymar left in tears on the Camp Nou pitch after the LaLiga side had been comprehensively dispatched 3-0 on aggregate by Massimiliano Allegri's men.
Juventus
Last season's domestic double winners, who go into their fourth campaign under Allegri, prepare for their first outing since June's painful 4-1 defeat to Real Madrid in the Champions League final.
Juve's European heartbreak was their second at that stage in three years, having lost the 2015 trophy decider against their upcoming opponents in New Jersey.
The Bianconeri have new signings Mattia De Sciglio, Douglas Costa, Rodrigo Bentancur and Wojciech Szczesny in their squad in the USA, but have also lost major figures.
First Dani Alves joined Paris Saint-Germain on a free after just one season in Turin, before Leonardo Bonucci, one third of their fabled defensive 'BBC', became the latest player to join big-spending AC Milan a week ago.
After Barça, Juventus face ICC match-ups with Paris Saint-Germain and Roma in Miami and Foxborough.
Barcelona
Barcelona begin life under new boss Ernesto Valverde, who replaced Luis Enrique at the end of a 2016/17 season that brought victory in the Copa del Rey but disappointment in LaLiga and, as mentioned above, in the Champions League.
So far, the summer transfer window has been equally underwhelming, with just the two major signings arriving in the shape of right-back Nelson Semedo and returning winger Gerard Deulofeu.
And it's a window that could get worse for Los Azulgranas if, as mounting speculation suggests he might, Neymar really does seal a sensational switch to PSG.
Only Marc-André ter Stegen and André Gomes are missing from the group in the US, having featured at this summer's Confederations Cup for Germany and Portugal, respectively.
After coming up against Juve, Barça have further box-office ICC clashes in prospect against Manchester United - and, most notably, arch rivals Real Madrid.
Juventus vs Barcelona: possible line-ups
Juventus XI: Buffon; De Sciglio, Chiellini, Lemina, Alex Sandro; Kedhira, Marchisio, Pjanic; Dybala, Mandzukic, Higuaín.
Head coach: Massimiliano Allegri
Barcelona XI: Cillessen; Semedo, Piqué, Umtiti, Jordi Alba; Busquets, Sergi Roberto, Iniesta; Messi, Suárez, Arda Turan.
Head coach: Ernesto Valverde
Juventus vs Barcelona live stream online: betting
Despite being deservedly dumped out of Europe on the most recent occasion they faced off against Juventus, Barcelona are the bookies' favourites to take the spoils at MetLife Stadium. Valverde's men are priced at 6/5 to win, with Juve only slightly further back at 2/1.
Place your bet on Juventus vs Barcelona now.
International Champions Cup
*Update 22 de julio de 2017
International Champions Cup
*Update 22 de julio de 2017