Casemiro: 'Neymar would be welcome at Madrid'
The midfielder joked when asked about his Brazil team-mate by Globoesporte. He wished Neymar luck whether he stays at Barcelona or joins PSG.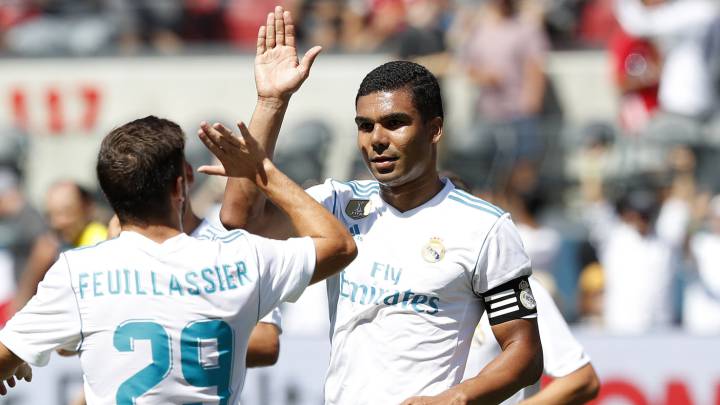 Real Madrid midfielder Casemiro has waded in to the Neymar affair. After scoring in the defeat on penalties to Manchester United in Santa Clara, Globoesporte asked the Brazilian about his compatriot. Casemiro jokingly suggested a move to the Bernabeú: "Neymar is the one to decide his future… he knows what he has to do. Why not play here at Real Madrid? He would be welcome here."
Casemiro wishes Neymar 'all the luck in the world'
Casemiro, who has shared the Brazil dressing room with Neymar, said he has not spoken to his international team-mate about his future, but wished him the best with whichever course of action he chooses.
"I wish the best for him. He's a great player, I have a lot of admiration for him. He knows what he is doing, and behind him they are prepared, his father is a good person and he knows what he is doing," said the 25-year-old.
"If he leaves Barcelona, I wish him all the luck in the world. If he stays, I also wish him all the luck in the world."
Neymar's associates do not understand Piqué picture
It appeared that the soap opera surrounding Neymar was drawing to a close on Sunday evening, when Gerard Piqué posted a picture with Neymar on social media, with the caption "he stays".
Yet it continues to drag on. According to ESPN, those in Neymar's inner circle do not understand the picture.
Neither do some of Piqué team-mates. "Ask Piqué about that message, I hope that it's not a joke. I haven't spoken to Neymar," said Jordi Alba on Monday.
Barcelona hope that the Brazilian will decide his future imminently, in order to put the rumours to bed. But another twist in the plot would not come as a surprise.