Barcelona 1-0 Manchester United ICC 2017: match report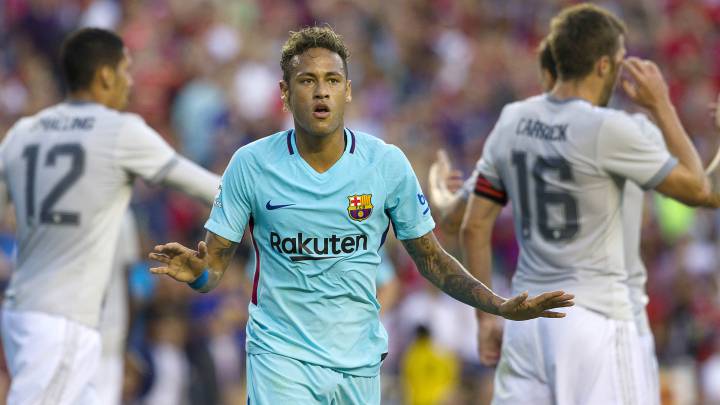 Barcelona 1-0 Manchester United: match report
Manchester United looked to remain unbeaten in the preseason as they faced Barcelona in FedEx field in Washington on Wednesday night. With rumours swirling around about Neymar, Barcelona were looking to build on a solid opening against Juventus in their first game in the States this summer.
The game was open from the get-go and it was clear that whatever scrutiny Neymar was under, he was leaving all the of that off the field. In their first start together in the preseason, Lionel Messi, Luis Suárez and the Brazilian looked sharp and looked to pick United's fragile looking defense off time and time again. If it wasn't for David de Gea in the opening minutes, it might have been 3-0 after 10 minutes.
United were looking decent at times too and Paul Pogba's willingness to try and create for Romelu Lukaku was proving they have life in their attack. Marcus Rashford, arguably United's best player this preseason was also looking dangerous and was proving a handful for Barcelona's defense.
Pogba had a strong effort that Cillessen gather in his chest but might have gone through him if it was any harder. Messi had a handful of chances that he would normally tuck away but the ball wouldn't fall kindly enough to him.
He didn't score in the opening 45 but he was involved in the only goal. He put Neymar through on the left but left him short as Antonio Valencia intercepted. Neymar came around the Ecuadorian and he fell on the ground only for Neymar to poke home from almost point-blank range and with David de Gea looking on helplessly.
Luis Suárez had a good effort from an acrobatic volley after Mesis popped a free through to him but De Gea was quick to get down and save again as the score remained 1-0 and with a host of changes at the break.
Jose Mourinho made just four changes to his side but will be disappointed that his side could not create more against a completely new Barcelona side save for Jasper Cillessen in goals.
Anthony Martial had a chance that he curled over with his first involvement and Paco Alcacer simply had to score before Romero turned the ball around the post as he broke free when Eric Bailly got caught out watching the flight of the ball over his head.
It remained 1-0 to Barcelona deep into the game and while Manchester Until looked like the more likely party to get a goal, it never arrived. A late chance for United came when Martial found himself with the ball in the box but Aleix Vidal slid in to win it back and Rashford drove over just second later as time expired.
Mourinho has work to do in the next week to make sure United are primed for Real Madrid while Barcelona will be glad of the 45 minutes their first team put in to start the game in preperation for El Clásico in just a few days time.
Barcelona vs Manchester United: live stream online latest news
90'+4' GAME OVER! Onto El Clásico for Barcelona and onto the European Super Cup for Manchester United.
90'+4'  As time expires, Rashford has a crack but it goes well over! 
90'+4'  Excellent challenge by Aleix Vidal. Tuanzebe breaks free and crosses to Martial and vidal slides in to win it back.
90'+3'  United want a penalty for handball but referee waves it away late on.
90'+1'  One last chance maybe for United. Rashford races through but he was offside. 
89'  Ball comes over the top and Rashford knows he can't make it to it so he clatters into Digne and gives away a free. He is down injured now. 
88'  Lucas Digne looks to have pulled up now. He is on the sideline. 
85' Sergi Roberto, a half-time substitute, comes off for Sergi Samper.
84' Tuanzebe replaces Valencia.
83' Fellaini gets a yellow as he falls over Sergi Roberto quite clumsily. 
81'  Pereira with a really dangerous cross but it's between Pogba and Lukaku and neither can get it. 
79'  United fans want action taken. It was actually Sergi Roberto but he just stood on his foot and it didn't seem to be on purpose.
79'  Aleix Vidal catches Fellaini slightly late and the Belgian ends up on the ground. 
77'  Martial with his own trademark move down the left and cuts inside along the goalline. But he over hits it and it goes out for a goalkick.
76'  Iniesta with a cross from a free. Arrives at the back post and Barcelona have bodies there but it's cleared.
72'  Pogba comes veyr close to pulling United level but Cillessen does well to save. 
71'  Rashford has a shot that's blocked.
70'  Pereira now but his effort flies over the bar.
68'  Martial takes it down well on the left but he is said to have handled it in the proces. Free to Barca but he's not happy.
66'  What a miss! Alcacer through on goal after Bailly gets caught by th flight of the ball. Romero saves. Terrible miss.
65'  Rashford to Lukaku and back again. Rashford then feeds Martial and he curls over with the right. Close, and the closest United have come in this half.
62' Martial and Pereira come on for Lingaard and Mkhitaryan.
62'  Lingard down with what looks like a groin injury. He won't continue. 
61'  Lukaku breaks as the game picks up again slightly. throw to United.
59'  Eric Bailly absolutely reckless as he flies into Sergi Roberto. Lucky no card.
57'  57'  57'  Very tame start. No chances for either side.
55'  Piqué the latest to fall victim to Fellain's flailing limbs. Getting his head looked at by the trainers now.
52'  Darmian clears as Barcelona knock on the door.
50'  More tame start to this half than the first.
48'  Arda Turan down in a heap and grabbing his ankle after Bailly goes in from behind and catches him with the studs.
Romero, Jones, Darmian and Fellaini on for De Gea, Lindleof, Bling and Carrick.
46'  Back underway! 
Pogba looking dangerous for United too as he continues to try and break down Barcelona's defense. the French man De Gea and Rashford United's best players. The rest? Not great at all.
HT chat pointing out how exposed United have been. Carrick hasn't been cutting it and nobody in their defense either aside from De Gea. Blind has been poor all preseason and nobody really capable of living with Neymar, Messi and Suárez. But who is?
45'  HT. It took 31 minutes for Barcelona to break Unite down. Both teams improving in sharpness as the preaseason continues and as you would expect.
45'  BLind with a cross now to nobody after good work by Pogba. 
44'  Valencia does so well to beat Jordi Alba but his cross is to nobody! Wasted chance.
43'  Cross comes in from Pogba but Lukaku can't reach it and Lingard fails to control it just after that.
41'  Messi takes the free quickly and Suárez gets on the end of it after a header by a defender. He goes the acrobatic route with his volley and De Gea saves. 
40'  Surely a yellow? Blind pulls Messi down on the break. He pulled the jersey off his back nearly. 
37'  Probably suits a right footed player but Messi has it and it goes just over.
36'  Messi fouled by Pogba in a dangerous position. 
31' Neymar goal! Messi puts him through but there was a hint of a foul on Valencia. referee gives no free. 
29'  Rakitic makes a move down the right and loses out to Carrick. It falls to Semeso, who knees it towards Suarez and he crosses to Messi via a Smalling deflection. Barcelona's number 10 heads over. 
28'  Suarez and Neymar trying to ruin United's night now. Neymar gets a shot away and De Gea saves. Corner.
27'  Suarez and Messi team up this time. Messi gets the shot away but his trademark left-footed curling effort goes high. Frustrated figure at the moment. 
25'  Powerful run by Lukaku now ends up being cleared before Aleña gives it away. Ends with a tame effort by Pogna off his left.
23'  Free hits the wall but Barcelona keep it before Rakitic fouls Lingard to end the spell of possession.
22'  Messi fouled by Mkhitaryan as he tries to squeeze him but ends up just throwing him out of the way.
20'  Pogba with a powerful run up the right hand side. He nearly makes it past everyone but Busquets gets a last minute challenge in. 
19'  Rashford links up with Lukaku but it's a bit strong and Rashford handles it to try and control the ball. Free to Barcelona. Nice move and United really growing into this one once they figured out Barca's attack. 
18'  From the corner Rashford gets in at a difficult angle. Cillessen saves. Another corner.
17'  Lingard with a looping effort now. Not quite as much power but it nearly goes over Cillessen and in. Corner as it took a nick on the way over.
16'  Mkhitaryan has a crack now and it goes just wide. Plenty of shots from distance to start.
14'  Lukaku has a shot now with his left! So much power in that shot. It hits Cillessen in the chest and the noise can be heard around the stadium. 
13'  Like the flick of a switch. Messi picks it up and makes a burst before firing with his left. It hits the post and goes wide. Lethal.
11'  United have a rare chance. Blind crosses but Barcelona clear.
10'  Neymar down grabbing his knee after Carrick dives in and dispossesses the Brazilian. No free and Neymar is back up.
9'  Smalling fouls Suárez as he tries to get a foot in front of the striker but can't. 
6'  Suárez through this time. De Gea saves United's bacon.
6'  Messi to Neymar and the Argentine continues his run. Neymar pokes it towards him and Messi strikes but it isn't far enough away from De Gea and he saves despite bobbling the first effort.
4'  Quick free and Neymar goes straight through the middle and shoots directly at De Gea.
3'  Antonio Valencia fouls Neymar. 
3'  United win the ball back and break with Rashford on the right. He whips one in for Lukaku, who has to reach for it. He gets there but directs it well over.
1'  We are underway as Manchester United get us started!
Surely that's a clash of jerseys? Barca in their light blue and United in grey. 
Just minutes away from kick-off in FedEx field.
According to further reports, PSG are currently trying to negotiate with Neymar to get the price of the transfer down.
Neymar will surely be the man everyone is watching tonight. Is this going to be his last game with Barcelona?
Ander Herrera is currently doing a session on his own before the game. He is injured for the game tonight. This comes after Juan Mata and Ashley Young trained alone earlier. herrera is expected to be back shortly.
Lindleof and Semedo, teammates last year with Benfica, will be on opposite sides tonight.
United team news in: De Gea, Valencia, Smalling, Lindleof, Blind, Carrick, Pogba, Mkhitaryn, rashford, Lingard, Lukaku.
 United set to debut their third kit tonight. 

Barcelona team news: Cillessen, Semedo, Mascherano, Umtiti, Jordi Alba, Busquets, Busquets, Aleña, Neymar, Messi, Suarez.
Mourinho speaking about his reputation of not trusting in youth. 
"The reputation is the reputation. But the other day I found myself in the tunnel before the Real Madrid game," he said of the match in Santa Clara that United won 2-1 on penalties after a 1-1 draw. "I'm not talking about the second half because [those players] were kids who were 15-16 during my time there. But in the first half more than half the Real team, which is their first team because they were only missing [Cristiano] Ronaldo and [Sergio] Ramos, all these guys started with me and had debuts with me."
They remaing unbeaten in the preseason though.
"I am not obsessed with the result. It's more important to train well and give minutes to everybody. But we want to play and it is good for us. I know that we cannot play Barcelona in the Champions League group phase because we are in the same level for the draw so it is even better to play now," says Jose Mourinho.
Jose Mourinho is looking forward to the Barcelona challenge, "Real Madrid in the first half almost played their best team. Only Ramos and Ronaldo didn't play. Now with Barcelona, it looks to me that everybody is here with a new manager and new players. So I think it is the best way to finish the pre-season, to play against the best players, the best teams, and it is an experience we want to live."
 Video: Gerard Pique's latest take on the ongoing Neymar Jr. possible exit saga

Barcelona vs Manchester United: live stream match preview
Two of the biggest clubs in world football meet tonight in the International Champions Cup, as Barcelona face Manchester United in the FedEx Field, Washington DC. Although fitness and preparation, rather than the result, are the ultimate aims of this game for the opposing managers, taking any confidence boost so close to the start of the season would be very much welcomed. The game kicks off at 19:30 local time (01:30 CEST on Thursday morning) and we're building up to our live coverage throughout the day.
Barcelona: International Champions Cup
Barcelona will be delighted to focus once again on football. The last fortnight has been primarily filled with daily speculation over the transfer to PSG of their Brazilian star, Neymar. As the narrative of the story has swung to and from Paris, along with the inter-related potential signings, the club's new manager Ernesto Valverde will hope it is resolved as soon as possible to allow him to work with the final squad ahead of what will be a busy, and challenging start to the season.
This is the second pre-season match for the Catalan side, and there was early optimism for Valverde as he watched his team beat Italian champions, and European finalists, Juventus 2-1. Potentially frustrating for him, given the current situation, Neymar was the star of the show, and gave a sign of just how much he could be missed if he was to leave ahead of the new season.
Despite there being an ICC Clásico in Miami in a few days, the two-legged Spanish Super Cup against Real Madrid is what he is building towards. Many will choose to see that duel as a marker for the 2017/18 campaign so this test against United (who should be sharper being further into their preparations) will allow him to see more of his squad in action while honing some of the tactics employed during his short tenure to date. Expect Neymar, Messi and Suárez to all be given a chance to fully test David De Gea and the United back line.
Manchester United: International Champions Cup
Although individual fitness and gelling the XI on the pitch is of utmost importance, United manager, José Mourinho made it clear that he wants to get the upper hand in these pre-season quasi-competitive matches. He was quick to point to his team outplaying a Real Madrid side "only missing Ramos and Cristiano" in the first half of the 1-1 draw at the weekend, which the Red Devils then won 2-1 on penalties.
Again it will be a chance for Mourinho to try out various combinations, with a mix of youth and experience at his disposal, with one particular desire to keep new signing Romelu Lukaku amongst the goals. Another player that sparked life into the game against Madrid was Anthony Martial whose dazzling footwork created the tap-in for Jesse Lingard. His manager asked for more consitency from the Frenchman in a bid to give him more regular starts and this game is another chance for him to show what he is capable of when the pressure is light.
Barcelona vs Manchester United live stream online: betting
A tie between two giants of European football is the outside result in Washington with a draw between the AzulGrana outfit and Red Devils paying out at 4/1.
Place your bet on Barcelona v Man. United now.